Enjoy fresh seasonal produce with this colorful summer salad recipe, showcasing fresh raspberries, blueberries, green peas and toasted pistachios over crisp greens, topped with an easy, zesty sugar free lime + mint mojito vinaigrette dressing.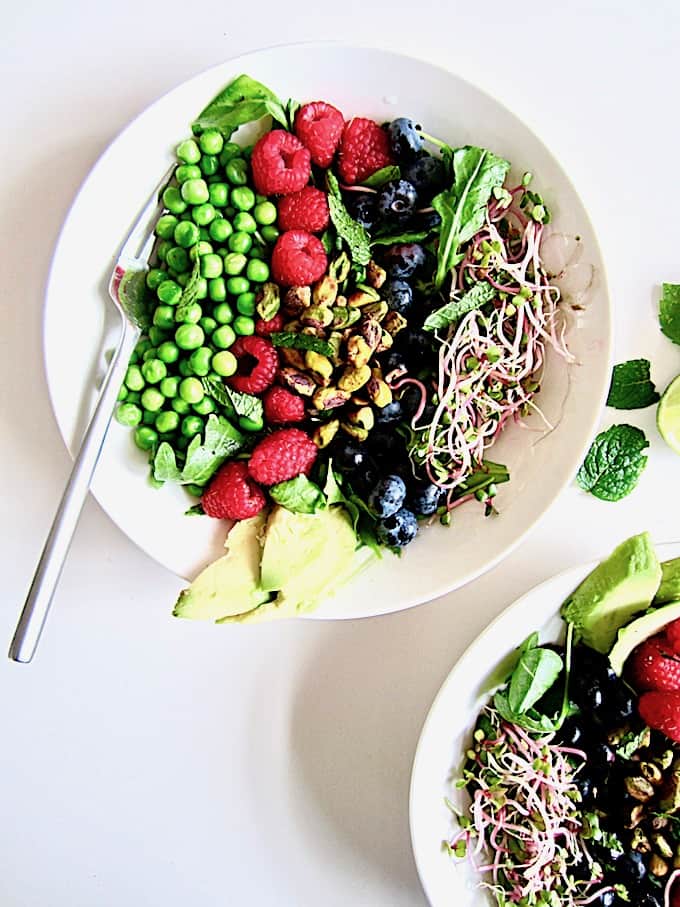 So I realized something crazy a few weeks ago. I eat a salad almost every single day, and yet I only have TWO salad recipes on this site. TWO!!! Whaaaat?!?! After an entire year of blogging? How is that possible!?
Well, that's all changing today as I bring you this fresh and fun summer salad recipe with berries, peas, pistachios, avocados, sprouts and a zesty lime and mint mojito dressing (sugar free!).
I think I haven't posted more salad recipes because I don't typically follow recipes for salads. I always have fresh greens on hand and then just combine those with whatever leftover veggies/meals I have from nights before, and possibly cut up some carrots, beets, cucumbers, tomatoes or other raw veggies. Then I top it all with some nuts, seeds, chickpeas or lentils, plus some fresh herbs if I have any.
If I'm lucky and happen to have my favorite dressing on hand – this Best Ever Tahini Garlic Sauce (Sugar Free!) –  then I'll drizzle that on top, but otherwise I just use fresh lemon juice or vinegar, some fresh cracked pepper and a tiny bit of oil. Sometimes I have hummus or homemade vegan pesto in the fridge, which I'll also use as a salad dressing.
So my salads are really just a random concoction of whatever is in my fridge. 😉
However, I know many of you want to eat healthier and get bored out of your mind when you think of eating some salad greens with tomato and cucumbers, yes? Sound familiar?
---
---
Well my friends, I have a unique and refreshing salad recipe for you today! I was inspired as I looked outside in the garden here in the Netherlands where I'm staying with one of my friends (shoutout to you Satya – thank you!). She has a small, fresh raspberry bush that only had a tiny harvest this year, but the couple of berries I had the delight of tasting were so fresh – there's just nothing like a ripe berry right off of the vine!
She also has a fresh mint bush, which is really common here in the Netherlands. People here commonly drink mint tea, which is just hot water poured over mint leaves (and they often add honey to it, but I like mine plain – plus, honey isn't vegan!). So, the mint + the raspberries got the wheels turning for a berry salad, and since I also adore blueberries and they are bountifully in season right now, I decided to toss some of those into the mix as well.
While fresh peas are at their peak in April and May, I still found fresh peas at the market here. I've also found that buying organic frozen peas and leaving them in the fridge overnight to thaw out actually works really well – they taste quite fresh that way!
Finally, I incorporated avocado and pistachios for the very scientific reasons of a) that I love avocado; b) I haven't had pistachios in a long time and they sounded really good; and c) to keep a 'green' theme going.
---
---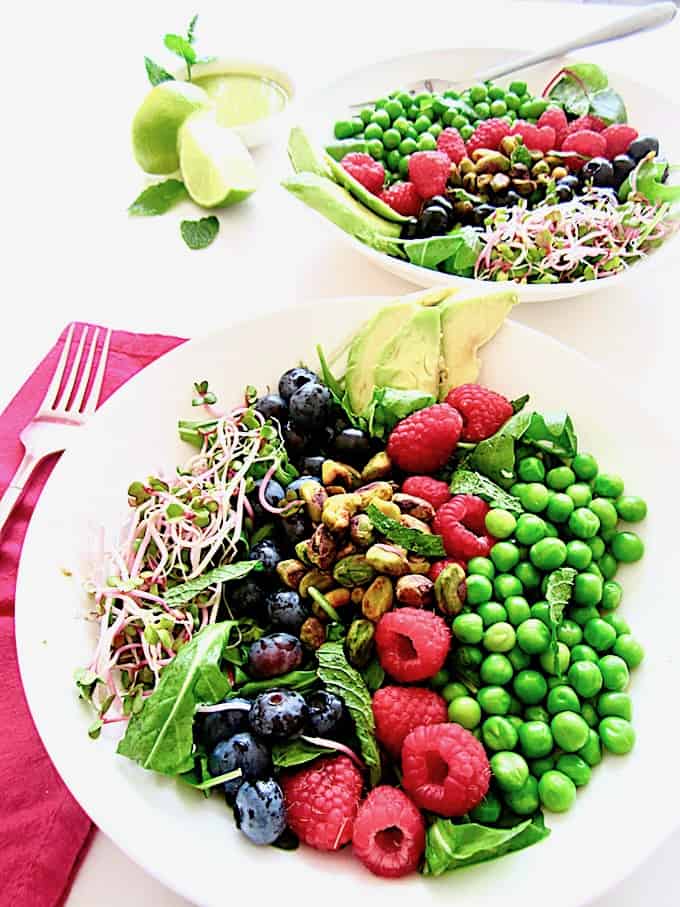 Sugar Free Mojito Vinaigrette
I thought it would be fun to make a dressing inspired by a favorite summer cocktail – the mojito! This mojito vinaigrette dressing uses lime juice, fresh mint, olive oil, and a squeeze of fresh orange juice.
Typically mojitos have a ton of simple syrup, which is sugar water, but I opted here just to use a pinch of stevia for a touch of sweetness. The dressing is tart, but remember that it's going to be mixed with sweet berries, fresh peas, creamy avocado and earthy pistachios, so it's ok if it's extra tart on its own as it will balance out once everything is combined.
(Tip: Use the extra dressing to baste veggies like sweet potatoes or cauliflower and then roast in the oven for dinner!)
I used this Trader Joe's organic powdered stevia
, which honestly I don't like all that much but it's all I had on hand, and it did the trick. Use whatever stevia
or xylitol
you like, or alternatively use 1 – 2 tablespoons of agave or another liquid sweetener of your choice if you want more sweetness.
---
---

HEALTH BENEFITS OF THIS SALAD
PROTEIN
Did you know that 1/2 cup of green peas and 2 tablespoons of pistachios each have 4 grams of protein? A medium avocado also has 4 grams of protein, meaning that this salad has about 9 grams of protein per serving. Of course you can always add more by sprinkling on some hemp seeds (5.3 grams per tablespoon), extra peas, edamame, seeds or any other plant based protein of your choice!
PISTACHIOS
Per serving, pistachios pack more potassium and vitamin K than all other nuts.
Pistachios are reputed to lower body weight and risks of heart difficulties.
These nuts are inflammation fighters – they make the artery lining more pliable ( = less at risk for clots) and prevent plaque.
RASPBERRIES & BLUEBERRIES
These berries are both high in antioxidants, which protect against the free radicals that cause cancer, heart disease and other illnesses.
They are also one of the top anti-inflammatory foods, important for keeping the body healthy and in balance.
Several studies have shown a positive correlation between intake of berries and memory improvement; they may also decrease the decline in cognitive ability related to aging.
I hope you enjoy this healthy recipe, and please let me know in the comments below if you want to see more salad recipes, or if you prefer other types of dishes! I love getting your feedback. 🙂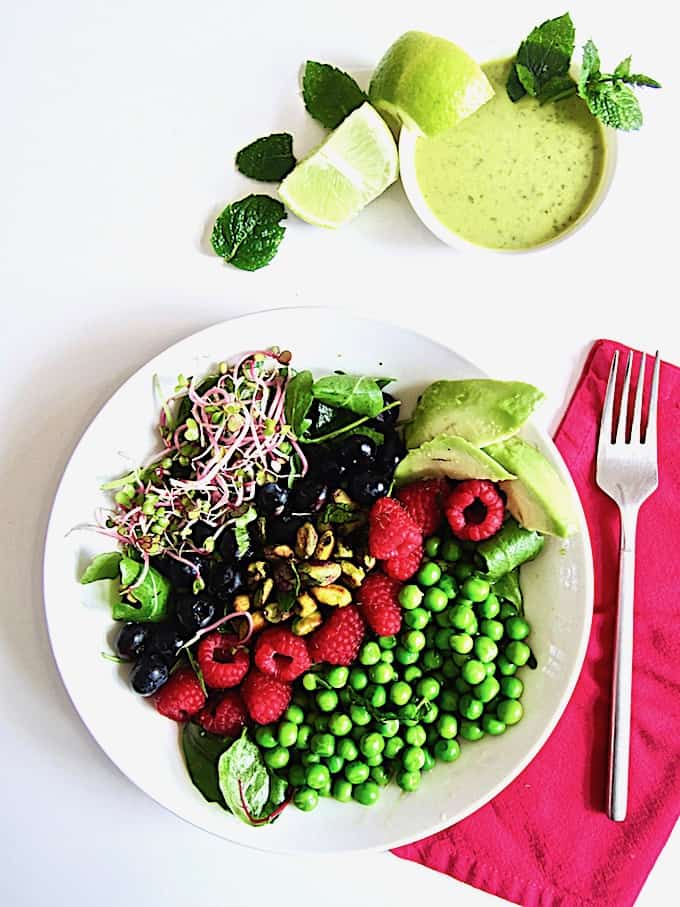 Sarah Newman, Vegan Chickpea
serves 2 people
Berries, Peas & Pistachios Summer Salad + Sugar Free Mojito Vinaigrette
Enjoy fresh seasonal produce with this colorful summer salad recipe, showcasing fresh raspberries, blueberries, peas and toasted pistachios over crisp greens, topped with an easy, zesty sugar free lime + mint mojito vinaigrette dressing.
15 minPrep Time
15 minTotal Time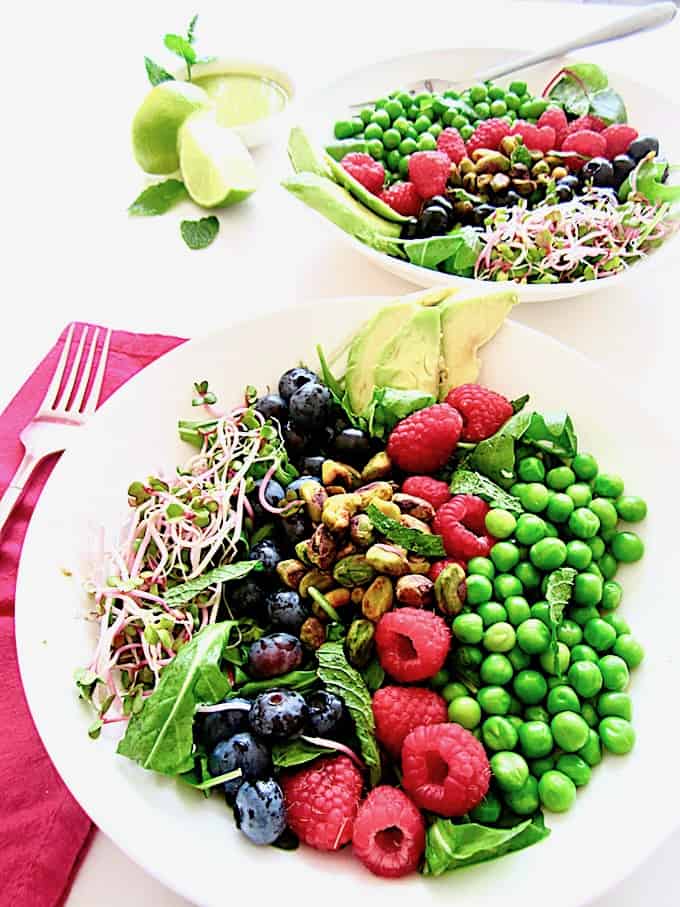 Ingredients
4 cups mixed greens
1 cup fresh peas (or frozen that have been thawed)
3/4 cup raspberries
1/2 cup blueberries
1/2 avocado, sliced
1/4 cup raw pistachios
handful of sprouts
extra mint leaves, sliced on top for garnish
2 Tbsp of the mojito dressing (below)

FOR THE MOJITO DRESSING:

1/4 cup lightly packed fresh mint
1/4 cup fresh squeezed lime juice
1 Tbsp fresh orange juice
1 tsp lime zest
1/2 tsp sea salt
1 pinch of stevia (for sugar free) OR 1 - 2 Tbsp agave or date syrup *see notes
Instructions
OPTIONAL - Dry roast the pistachios in a skillet. Simply put the skillet on medium heat, then add the pistachios. Stir occasionally until roasted, being careful not to burn. You can also keep the pistachios raw; the roasting just adds another flavor dimension.
Make the dressing: Combine all ingredients in a blender and whirl together.
Toss 2 Tbsp of the dressing with the mixed greens.
Top mixed greens with all remaining ingredients. Enjoy!
Notes
*For the stevia, use whichever brand you like. Xylitol
also works. If you want something a little sweeter, you can use agave or date syrup instead of the stevia (just note the recipe is no longer sugar free, but refined sugar free).
7.8.1.2
59
https://veganchickpea.com/berries-peas-pistachios-summer-salad-sugar-free-mojito-vinaigrette/
Sarah Newman, SKN Creations
Disclaimer: This post contains affiliate links. If you make a purchase on Amazon after clicking one of my links, your costs stay the same but I receive a small commission to help support Vegan Chickpea. Thank you for your support!