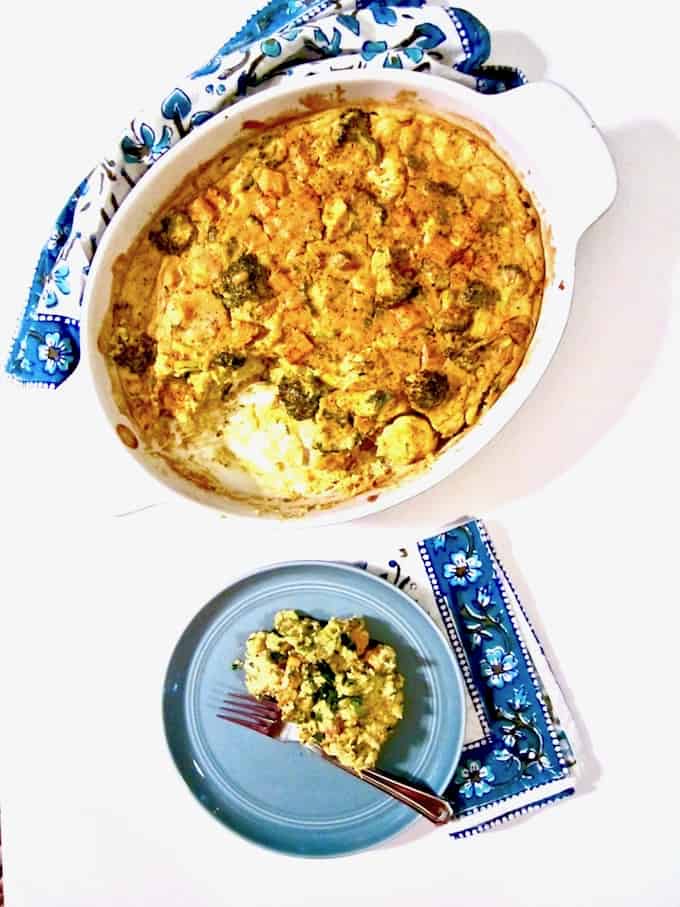 Happy May my friends!
What are you most excited for this month?
I'm going to be all over the USA in the coming weeks, starting with Salt Lake City tonight for a Food Blogging Conference which I am SO excited for! I've had my ticket for almost a year, eagerly awaiting this fun and educational opportunity where I'll get to meet other bloggers, learn more about the industry and get mega inspired for what's to come next with Vegan Chickpea! I'll be sharing some updates from Salt Lake, mostly on my new Twitter account, so be sure to follow me here!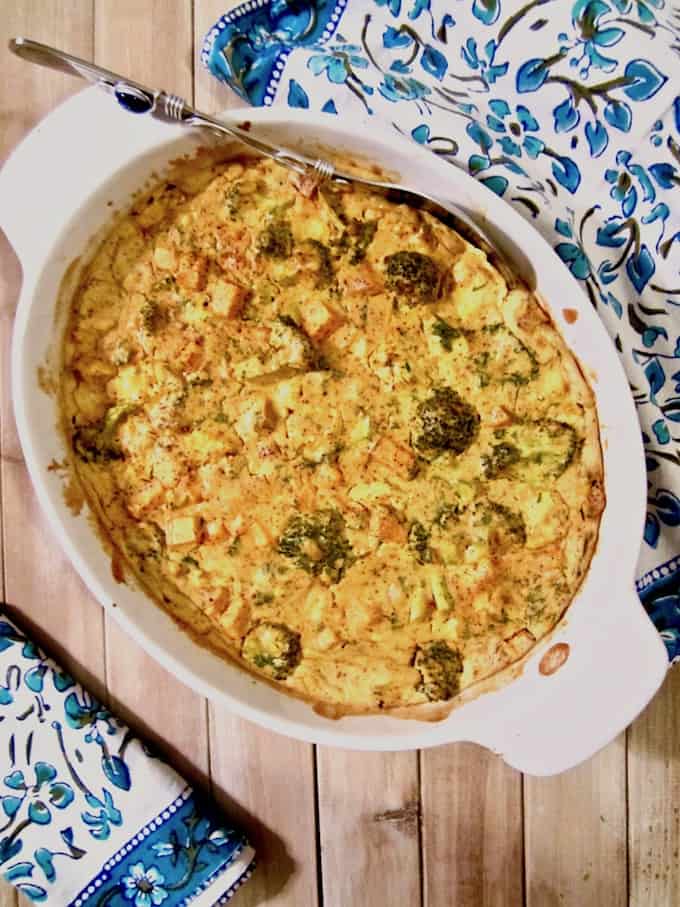 Today I have another healthy casserole recipe to share with you, which came about when I realized that my most viewed and popular recipe to date is this Broccoli, Kale & Rice Casserole. This tells me that everyone loves a clean, real food upgrade on traditional family friendly meals!
I've also been reviewing the survey responses that I collect when someone new joins my mailing list. Thank you to all of you who have filled that out! It's really important to me to know your interests and challenges. One common interest I found is that so many of you are looking for plant based, gluten free main dish recipes that you can make for a family friendly dinner. 
With that in mind, I knew I wanted to create another casserole recipe that the whole family can enjoy. What I love about this Cauliflower, Broccoli & Sweet Potato Turmeric Casserole is that you can think of it as a template that you can modify with other vegetables and seasonings. Don't like turmeric? Use other seasonings or your favorite blend! Don't have these veggies? Use butternut squash, zucchini, asparagus or whatever else you may have in the fridge that needs to get used.
You could also assemble this dish ahead of time and then just bake it when you're ready, so it's done in just 30 minutes. Or, you could actually bake it in advance and then reheat the next day. This makes a great solution for busy nights!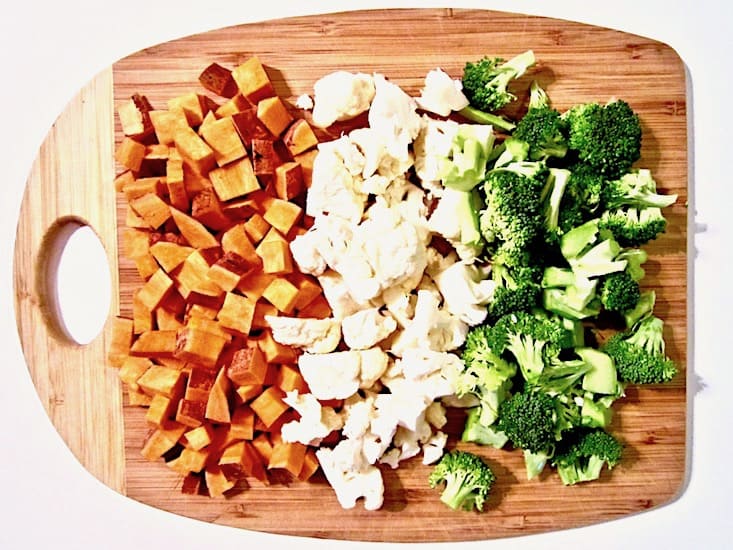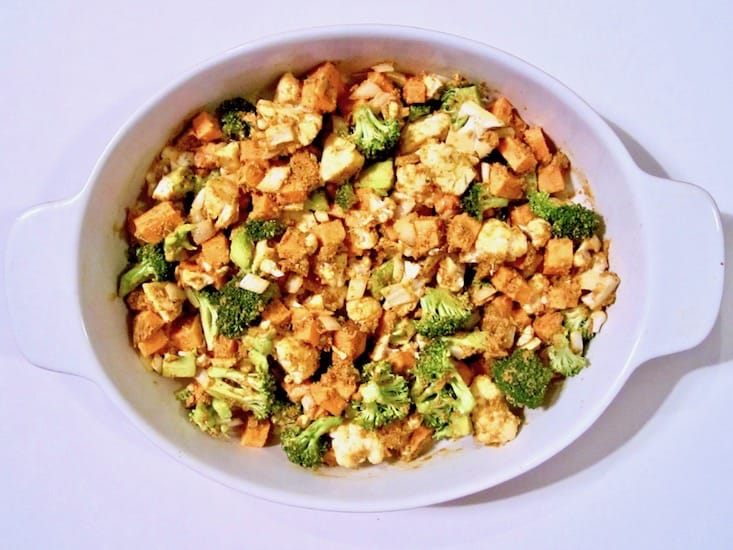 The cashews get blended with water to create a creaminess that thickens as it bakes, instead of needing to use heavy cream, regular milk or cheese. If you have a nut allergy, you can substitute sunflower seeds. I particularly like this casserole leftover and reheated because all the flavors have time to meld, and it gets nice and thick!
Topping recommendations: 
More fresh parsley or other herbs
Kelp seasoning – a seaweed/algae that give a similar affect to salt but with less sodium and a ton of minerals, vitamins and enzymes, including being one of the highest natural sources of iodine. This is a staple in my house!
Trader Joe's 'Everything but the Bagel' Seasoning Blend – I just discovered this stuff and am seriously addicted to it! Anyone else? It has sesame seeds, sea salt flakes, dried minced garlic, dried minced onion, black sesame seeds and poppy seeds. Perfect on, um, just about anything.
Ingredients used to make or enhance this recipe:
                     
I hope you enjoy this casserole, and let me know in the comments below what main dishes you love to make for your family dinners!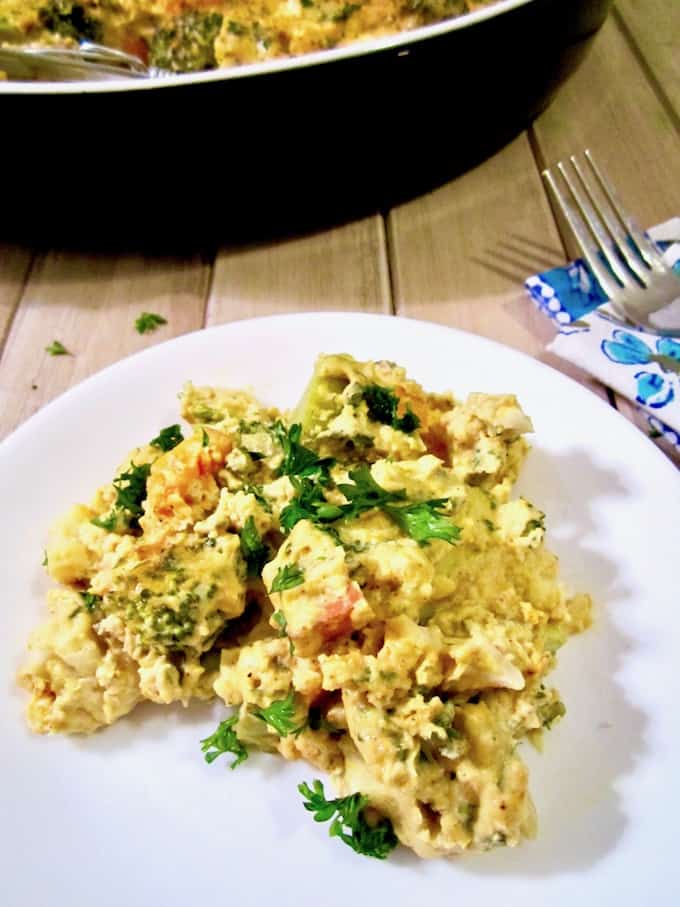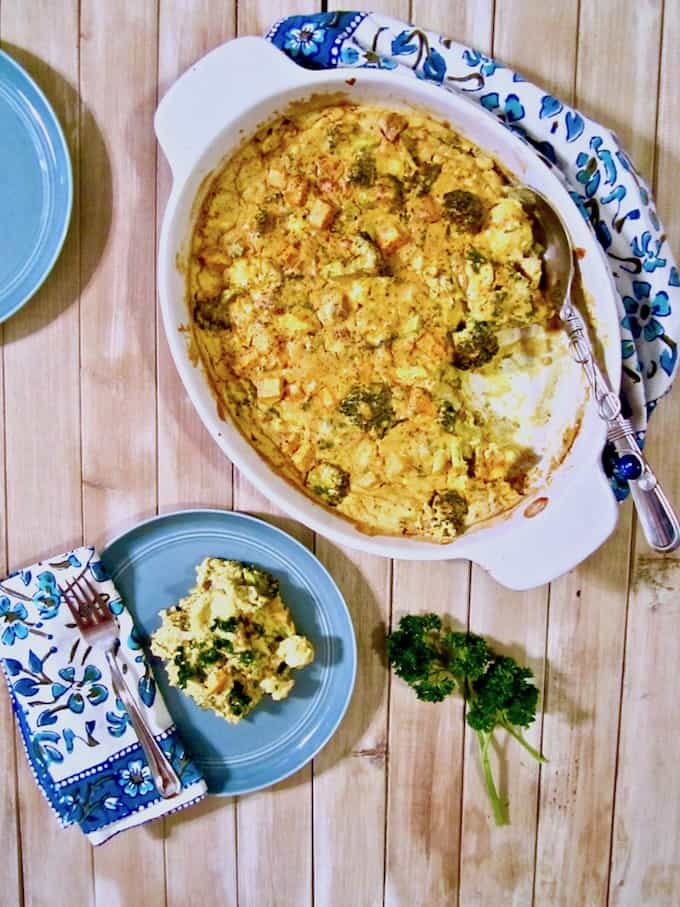 Sarah Newman, Vegan Chickpea
Cauliflower, Broccoli & Sweet Potato Turmeric Casserole
A healthy, clean, real food recipe to nourish your entire family! Also use this recipe as a template and sub whatever veggies and seasonings you have on hand!
30 minPrep Time
30 minCook Time
1 hrTotal Time
4.2 based on 5 review(s)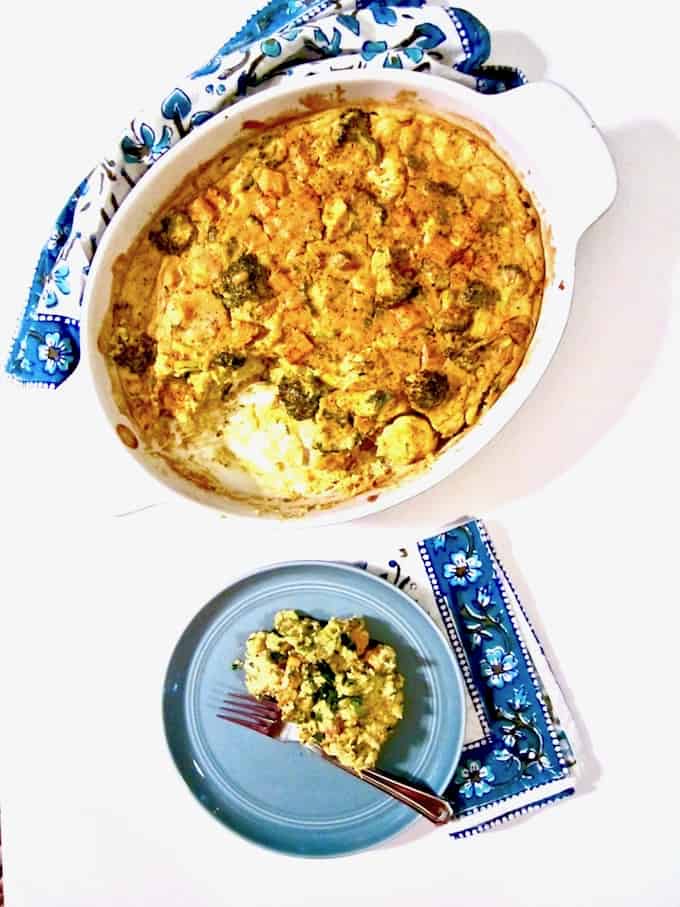 Ingredients
1.5 cups cashews, soaked at least 20 minutes (for nut free, use sunflower seeds)
2 cups sweet potato, small chopped (about 1/2 in pieces)
2 cups cauliflower, small chopped
2 cups broccoli, small chopped
3/4 cup onion, diced
1/4 cup tahini
1/2 cup nutritional yeast
2 Tbsp water
1/4 cup parsley, plus more if desired for topping
3 Tbsp apple cider vinegar
1.5 Tbsp garlic powder
1 Tbsp chili powder
1 tsp sea salt
1 tsp ground turmeric
2 cups nondairy milk (almond, soy, oat)
extra sprinkles of salt and pepper on top, to taste

OPTIONS FOR TOPPING:

extra parsley or other fresh herbs
Kelp seasoning
Trader Joe's 'Everything but the Bagel' Seasoning
Any raw or toasted nuts or seeds you desire (sesame, cashews, sunflower seeds, etc.)
Instructions
Cover the cashews in water and soak at least 20 minutes, or up to overnight.
Preheat the oven to 400 degrees F.
After chopping the sweet potato, cauliflower, broccoli and onion, add to a bowl.
In a separate bowl, combine all remaining ingredients except the nondairy milk and lightly whisk. Don't over mix, it will thicken as you combine it. Pour mixture on top of veggies and combine well. The mixture will be sticky. I used my hands to rub the mixture over all the veggies, making sure everything got coated evenly. You can use spatulas but I find getting in there with my hands is easiest!
Place the veggies mixtur in a nonstick or lightly oiled or sprayed large baking dish.
Drain and rinse the cashews. In a high speed blender, combine cashews and nondairy milk until well mixed. Pour over veggie mixture, and stir with a spatula to lightly combine everything together. Sprinkle with extra salt and pepper if desired.
Bake for 30 minutes.
OPTIONAL: Top with extra parsley, kelp seasoning, Trader Joe's 'Everything but the Bagel' seasoning blend, or any raw or toasted nuts or seeds you desire (sesame, cashews, sunflower seeds)!
Notes
Slightly adapted from Mark Reinfeld's cookbook Healing the Vegan Way

.
7.8.1.2
49
https://veganchickpea.com/cauliflower-broccoli-sweet-potato-turmeric-casserole/
Sarah Newman, SKN Creations
This post contains affiliate links. If you make a purchase on Amazon after clicking one of my links, your costs stay the same but I receive a small commission to help support Vegan Chickpea. Thank you for your support!