Happy New Year everyone! As I reflect on 2016 I am super grateful that I followed through on my dream of creating this food blog. It was something I had in the back of my mind for a few years, so finally I just dove in and did it. No more excuses! I've had a blast learning the ropes and getting to meet so many new and wonderful people, like you! Thanks for being my fan, my friend and here with me on this delicious veggie inspired journey!
So far this new year (all 3 days of it) I've been craving to keep things super simple and healthy – which bring me to this High Protein Broccoli and Hemp recipe! Super simple? Yes! Super healthy? Yes! Still super delicious? Yes yes yes! Are you with me or are you with me?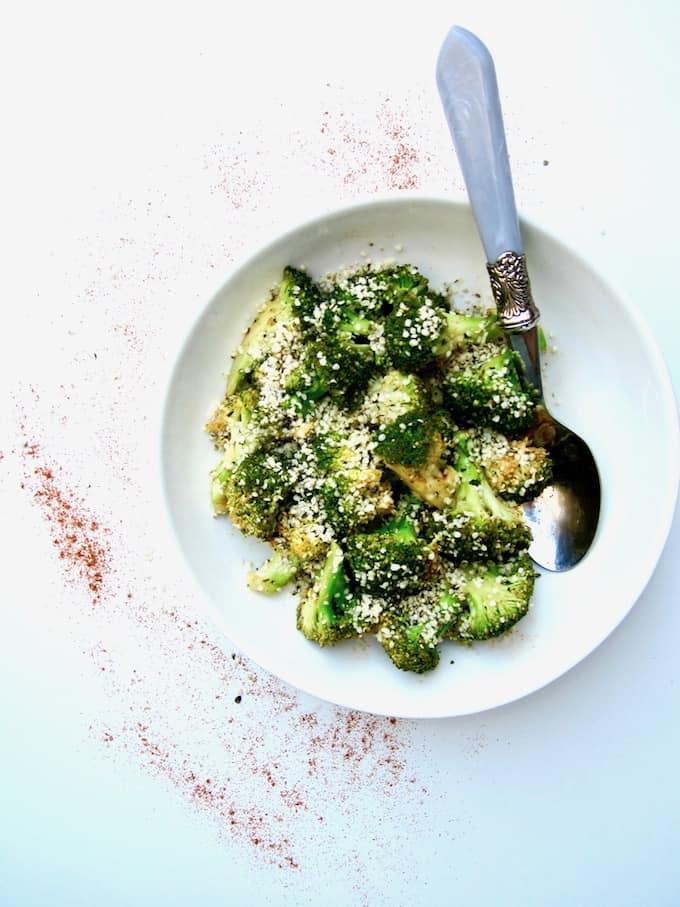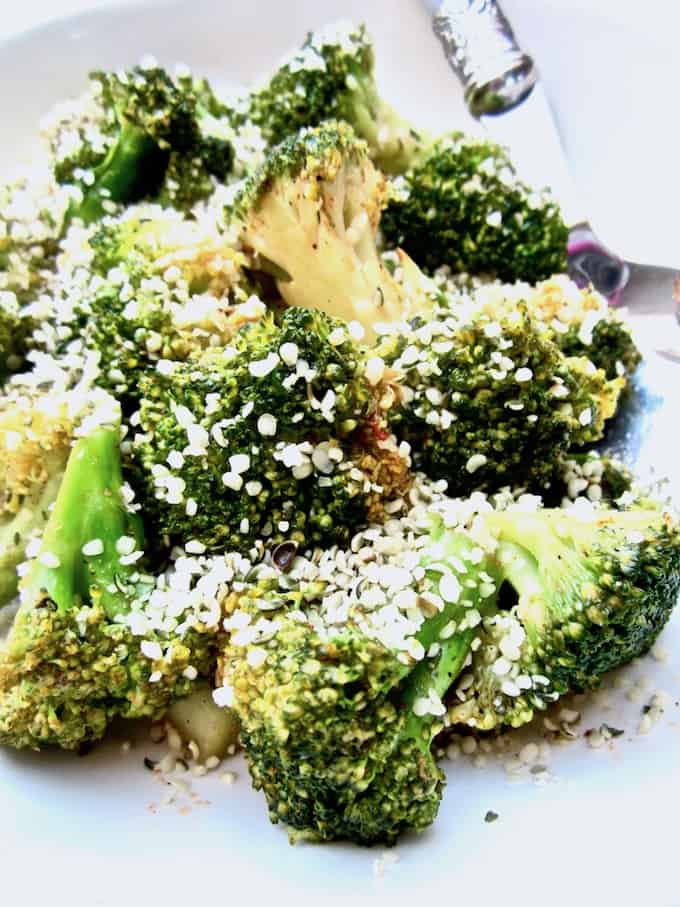 I don't understand how someone could NOT like broccoli. It's definitely one of my favorite veggies. If I don't buy it at my weekly run to the grocery store, it's a rare day.
CONFESSION: I have been known to sit down and eat this (almost all 4 cups of it…) in one sitting. Yep, just one big ol' bowl of broccoli and me, BFFs. Nothing else on the side… just perfectly crispy florets with a hint of spice and plenty of protein, and that's all I needed for a satisfying meal! Don't think you could be happy just eating a bowl of broccoli for lunch? Try it before you naysay!
That said, this recipe really serves 2 – 3 (but being the veggie lover I am I'd say it's 2 servings)! 😉 You can eat this as a side accompanied by a veggie burger, some soup, tofu or tempeh, baked sweet potatoes or anything else your heart desires.
There are 9 grams of protein and 9 grams of fiber in this little dish! (Calculated assuming 2 total servings.) I hope this recipe helps get your 2017 healthy habits off to the right start! Do you have any health or food-related goals or intentions for 2017? I'd love to know in the comments below!
INGREDIENTS I USED TO MAKE THIS RECIPE: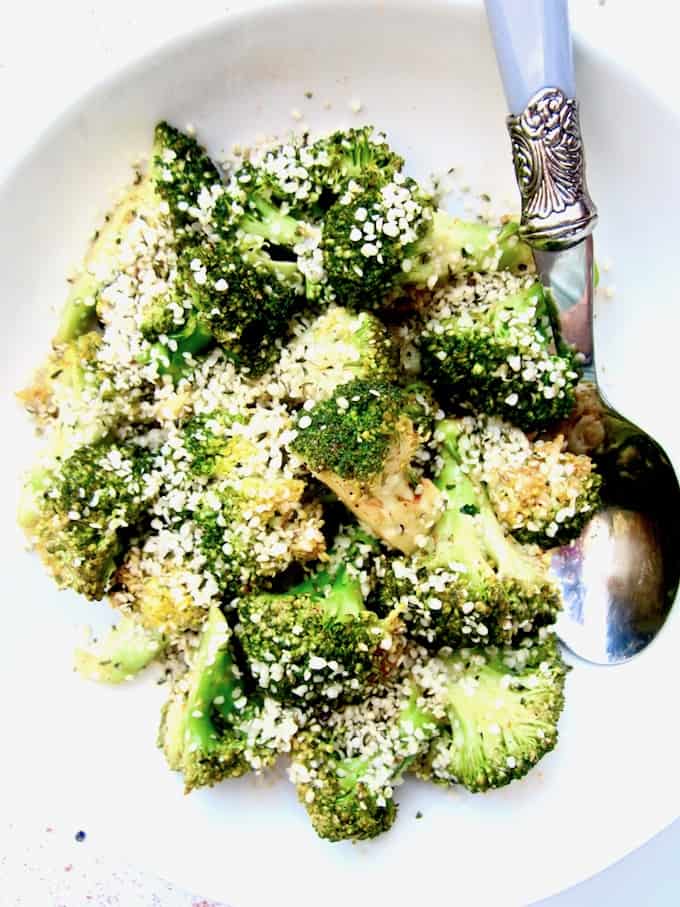 Sarah Newman
Easy Weeknight Side: High Protein Broccoli with Hemp
With 9 grams of protein and ready in 10 minutes, this healthy and easy side dish is perfect to pair with any weeknight meal!
5 minPrep Time
5 minCook Time
10 minTotal Time
3 based on 2 review(s)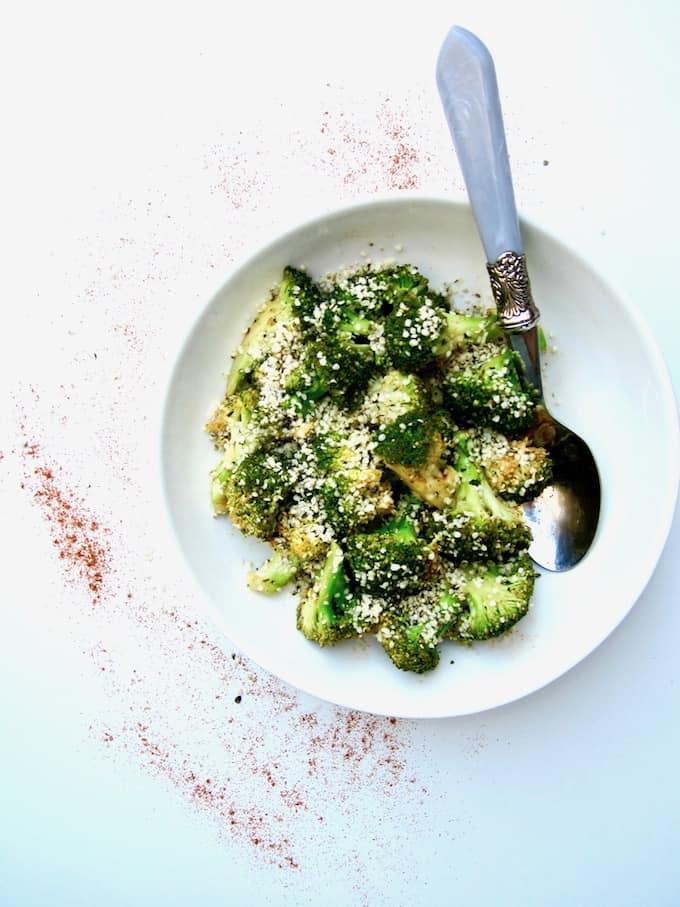 Ingredients
About 4 cups broccoli (1 head)
1/2 tsp paprika
1/2 tsp Herbamare
1/4 tsp garlic powder
1/4 tsp pepper
2 Tbsp hemp oil
1/8 cup hemp seeds
Instructions
Mix together the paprika, Herbamare, garlic powder and pepper.
Steam the broccoli on the stove for just a few minutes, where it has started to soften but still has a nice crisp.
Drain the water used to steam. Turn off the stove and return the pot to the stove, adding the hemp oil and spices. Mix together until broccoli is covered.
Top with hemp seeds.
7.8.1.2
36
https://veganchickpea.com/easy-weeknight-side-high-protein-broccoli-hemp/
Sarah Newman, SKN Creations
This post contains affiliate links. If you make a purchase on Amazon after clicking one of my links, your costs stay the same but I receive a small commission to help support Vegan Chickpea. Thank you for your support!
Save
Save
Save
Save
Save
Save