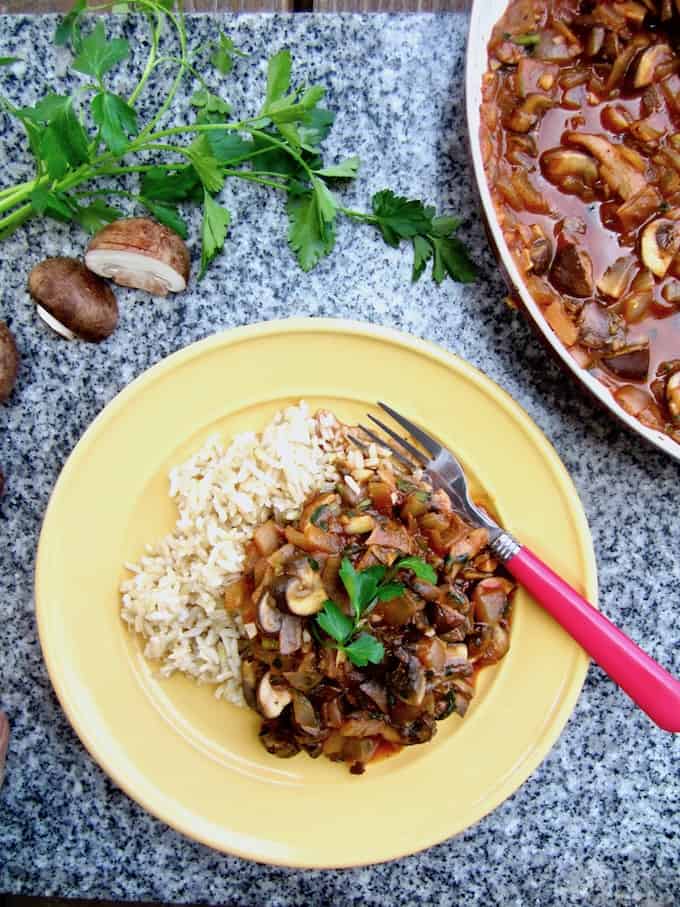 Today I'm bringing you the first ever cookbook review here on Vegan Chickpea! Kate Ford, the blogger behind one of the leading UK vegan and vegetarian food blogs over at The Veg Space, has recently come out with her first cookbook called Vegan in 15: Delicious Plant-based Recipes You Can Cook in 15 Minutes or Less. In exchange for providing an honest review, I received the book for free. Thanks Kate! 🙂
A WORD FROM KATE
"I'm not here to tell you why you should eat less meat and dairy, nor why you should go vegan. Instead, if you are thinking about it, or have decided to do so, I hope simply to show you that you can eat incredibly tasty food that doesn't take hours to prepare or involve trips to multiple health food shops for obscure ingredients.
These recipes aren't gluten free, sugar free, low calorie, low carb, paleo or detoxing. They won't necessarily give you an 'inner glow', a 'bikini-ready beach body' or cure medical ailments. They just offer really good food which is quick and easy to make, and which happens to be vegan.
I'm passionate about writing recipes which look and taste like the sort of food you see in mainstream cookery books and magazines – recipes, above all, which will lift your spirits when you've had 'that' conversation about protein with a well-meaning friend for the hundredth time."
~ Kate Ford
STRUCTURE
The book is divided into the following sections, and I've listed a couple sample recipes from each chapter:
Easy Brunch – Smoky 'Full English' on Toast; Griddled Asparagus with Lemony Sauce on Crumpets
Speedy Soups – Chunky Green Minestrone with Curly Kale; Oyster Mushroom Tom Yum Soup with Rice Noodles
Salads – Tenderstem, Cucumber and Soba Noodle Salad; Speedy Spinach Falafel with Carrot and Apple Salad
Fast Lunch – Broccoli and Kale Pine Nut Pizza; Speedy Bean Burger with Gherkins and Mustard Mayo
Small Plates – Courgetti (Zucchini Spaghetti) and Sweetcorn Fritters with Coconut Yoghurt; French Beans and New Potatoes with Fresh Basil Pesto
Main Dishes – Portobello Mushroom Stroganoff (recipe below!); One-Pot Linguine with Olives, Capers and Sun-Dried Tomatoes
Decadent Desserts – Amaretto-Sozzled Figs with Candied Walnut Crunch; Salted Caramel Chocolate Mousse Cups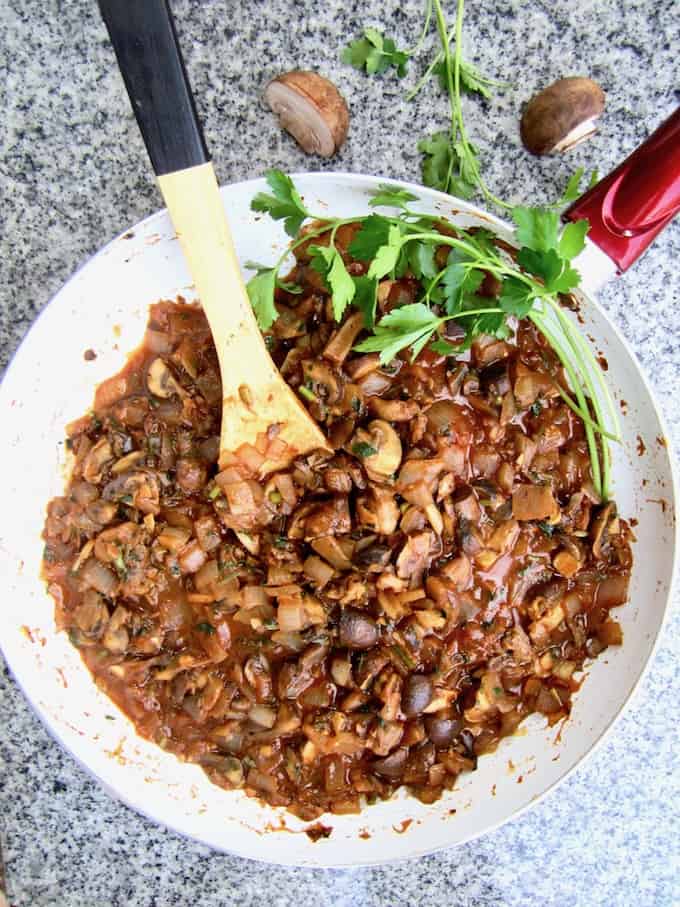 WHAT I LIKE ABOUT THE RECIPES AND CONTENT: The recipes on the whole are very simple; hence the name Vegan in 15. For people who either don't like to cook or don't have time to cook, I think this book provides a lot of great ideas and shortcuts by using ingredients like ready-chopped garlic and ginger and pre-cooked rice. Kate also provides some tips on how to go vegan, cook vegan and shop vegan, as well as a list of common ingredients you'll want to stock your pantry with.
MY OPINION: For the most part, I like to use fresh ingredients. To me, nothing beats the flavors of fresh herbs and spices! Therefore I substituted ingredients like fresh garlic and ginger in the recipes I tried, which was an easy swap. I also personally keep my cooking largely 'clean', unprocessed and use whole foods as often as possible. Kate seems to use ingredients like sugar, flour and prepackaged items more often than my preferences, yet not in huge amounts, and again, it's easy to substitute her recipes for fresh ingredients instead if that's your thing too.
I'm not sure all of the recipes can actually be done in 15 minutes though; seems like a bit of a stretch when you take the time to chop, cook, etc. – yet with the pre-done ingredients I would guess that many of them can be assembled in about 20 minutes or so.
FYI: Since this is a gluten free blog, please note that not all recipes are gluten free, but many are or can be substituted to be so.
WHAT I LIKE ABOUT THE STYLE: The book is small and light so can be taken anywhere with you (it easily fit into my carry-on luggage to peruse while I've been traveling recently), and therefore doesn't take up a lot of space like some other bulkier cookbooks.
MY OPINION: The book is a paperback with just a handful of pictures, which honestly was not what I was expecting when I received it in the mail. Personally, one of the appeals of having a cookbook in my hands is to see the big, beautiful pictures – so if this is important to you, then take this into account when deciding if you want to order this book. I also like bigger books so that they naturally stay open when following along with the recipes, versus having to hold the small book in my hand and opening it up again and again when cooking. That said, the recipes are pretty easy so don't require frequent reference back to the book as compared to other, more extensive cookbooks.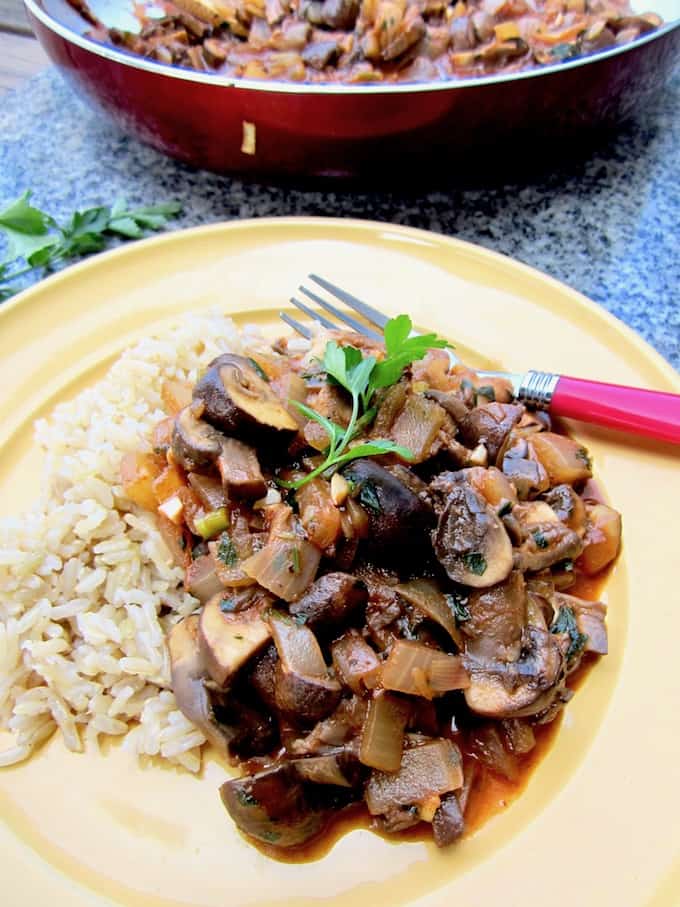 FINAL WORDS
I think this cookbook is suitable for new vegans, particularly those who lead a busy lifestyle and don't want to spend much time in the kitchen. For those of us who like to cook and work with whole foods as much as possible, I think this book can provide inspiration for easy meals when we don't feel like going all out with our cooking and want to keep things simple.
If you want a copy of Vegan in 15, order it here on Amazon
!
THE RECIPE – PORTOBELLO MUSHROOM STROGANOFF
The recipe I decided to try for this post is Kate's Portobello Mushroom Stroganoff. I made some tweaks to the recipe and I doubled it as well. Overall I was happy with the outcome, though I think I would prefer it over pasta or zucchini noodles instead of rice next time.
Here are the original ingredients (republished here with Kate's permission):
2 Tbsp rapeseed or sunflower oil
1 onion
1 tsp ready-chopped garlic / garlic puree
500g mix of mushrooms
1 tsp paprika
80ml white wine
1 tbsp tomato puree
50ml water
1 tsp vegetable stock powder
100ml dairy-free single cream (oat, soy or nut)
handful fresh parsley
250g pouch pre-cooked long grain or wild rice
Find my modifications below!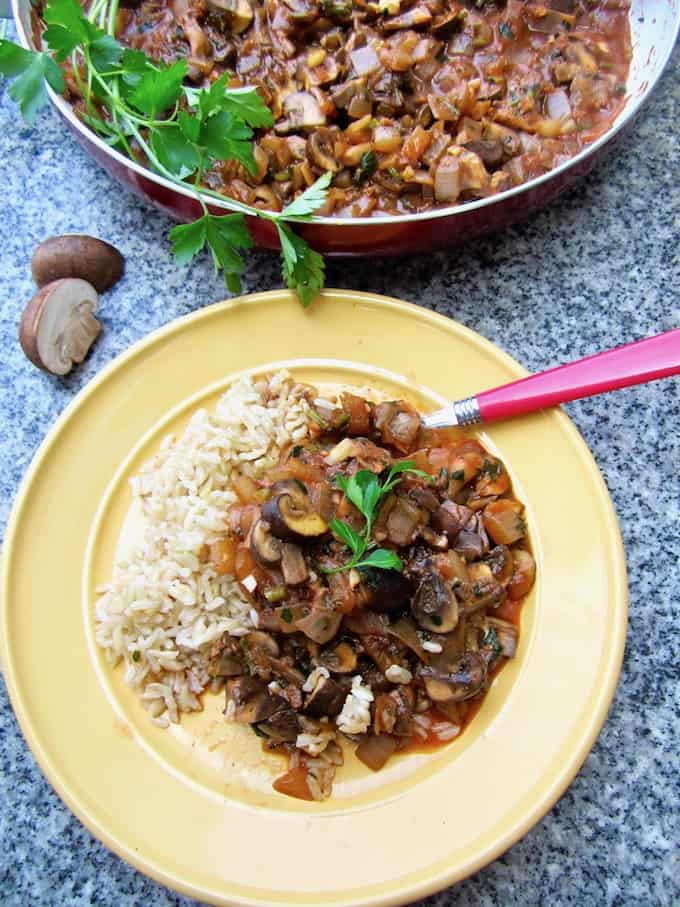 Sarah Newman, Vegan Chickpea
serves about 6
Mushroom Stroganoff + 'Vegan in 15' Cookbook Review!
A healthier and lighter take on the classic recipe, plus a review of the 'Vegan in 15' Cookbook!
10 minPrep Time
20 minCook Time
30 minTotal Time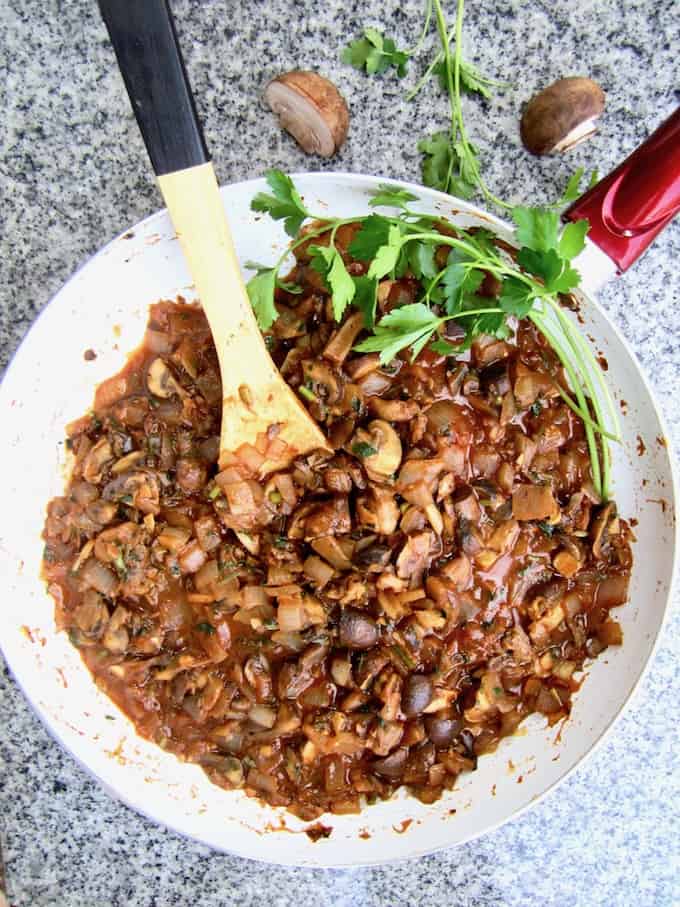 Ingredients
3 cups cooked long grain, brown or wild rice (or use a pre-cooked pouch of reheatable rice as called for in the book)*
2 Tbsp olive oil
2 onions, chopped
6 cloves minced garlic
8 cups baby bella musrooms or a mix of types, largely chopped
2 tsp chili powder (original recipe called for paprika)
2/3 cup white wine
3 tbsp tomato puree
1/3 cup water
1 tsp vegetable stock powder or bouillon base
3/4 cup non dairy milk (unsweetened, plain)
a few handfuls of fresh parsley, chopped
Instructions
Heat a large frying pan on medium-high heat and add the oil. Add onions to the pan. (Note: original recipe says to add the garlic here, but I prefer adding it later to get more of the flavor punch, right before adding the wine).
When the onions are softened, add mushrooms to the pan. Sprinkle the chili powder in the pan, season well to taste with salt and black pepper, and stir to combine. Cook for 4-5 minutes until the mushrooms are starting to soften and release their juices.
Add the garlic, stir, and then add the white wine and bring the pan to the boil. Then after a minute add the tomato puree, water and stock powder. Cook for 2-3 minutes, then add the milk and continue to cook until the sauce has reduced a little.
Meanwhile, cook the rice according to packet instructions if using precooked reheatable.
Stir the parsley through the stroganoff, and serve it on a bed of rice.
Notes
*You can also substitute pasta or zucchini noodles for the rice
Slightly adapted with permission from Kate Ford's Vegan in 15
Cookbook
7.8.1.2
45
https://veganchickpea.com/mushroom-stroganoff-vegan-15-cookbook-review/
Sarah Newman, SKN Creations
This post contains affiliate links. If you make a purchase on Amazon after clicking one of my links, your costs stay the same but I receive a small commission to help support Vegan Chickpea. Thank you for your support!