Being an eco-friendly conscious consumer and caring about sustainability goes beyond our food choices – it's about supporting the companies that are responsibly and ethically making a difference in all areas of life. Find out more about sustainable clothing practices and how prAna is doing it right – with comfortable and stylish clothes to boot!
Plus, get 15% off your online purchase through October 25th now extended to November 22nd with the code MSF17SN!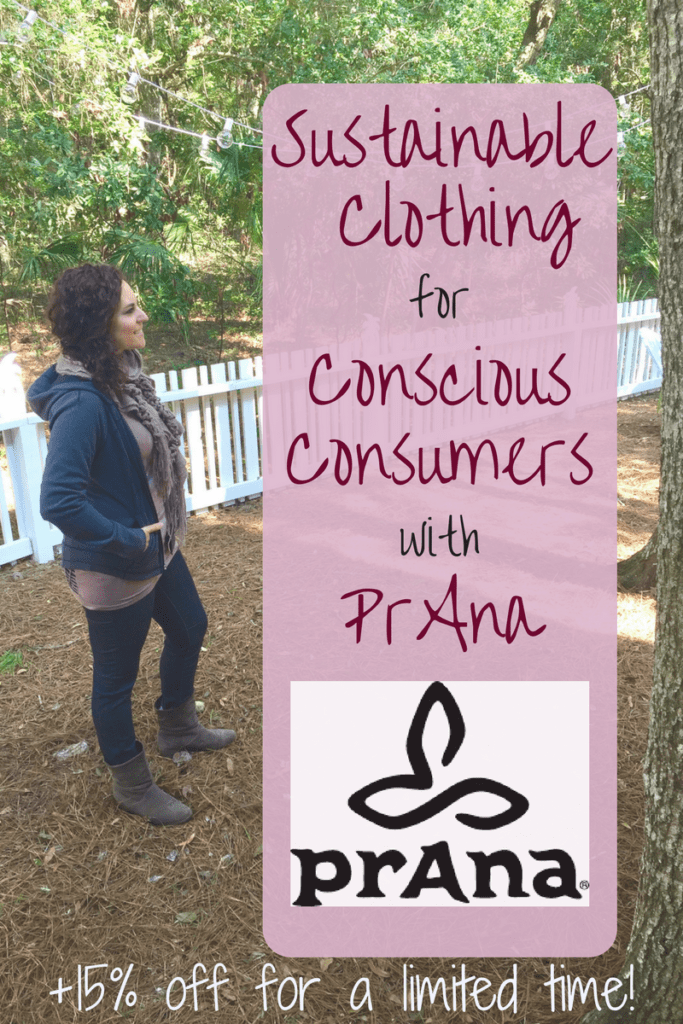 This post is sponsored by PrAna. All opinions are mine alone. @prana #MamboprAna
Thank you for supporting the brands that make it possible for Vegan Chickpea to provide free recipes and healthy plant-based living inspiration.
Today, we're taking a break from the kitchen to talk about another popular topic dear to my heart: sustainability. I bet you didn't know that the #1 reason I went vegan was for environmental sustainability (with animal rights being a *very* close runner up).
I'm not one to preach and I wholeheartedly believe that we all need to take responsibility for making choices in our lives that we feel are highest and wisest.
For me, as I started to learn that…
Animal agriculture is the leading cause of species extinction, ocean dead zones, water pollution and habitat destruction
The oceans are depleted – due to overfishing, 3/4 of the world's oceans are exploited or depleted
The rainforest is getting destroyed – 1-2 acres of rainforest are cleared every second with livestock and their feed crops being the leading cause of rainforest destruction (source)
I knew that it was time for me to make different choices. I want my food choices to support the nourishment of this beautiful planet that gives us life – not destroy it – and felt that I could at least make my personal contribution through my daily choices. After all – this is the only planet we have (at least for now!?), so we better take care of it!
BUT IT GOES BEYOND FOOD. It's about being an overall conscious consumer.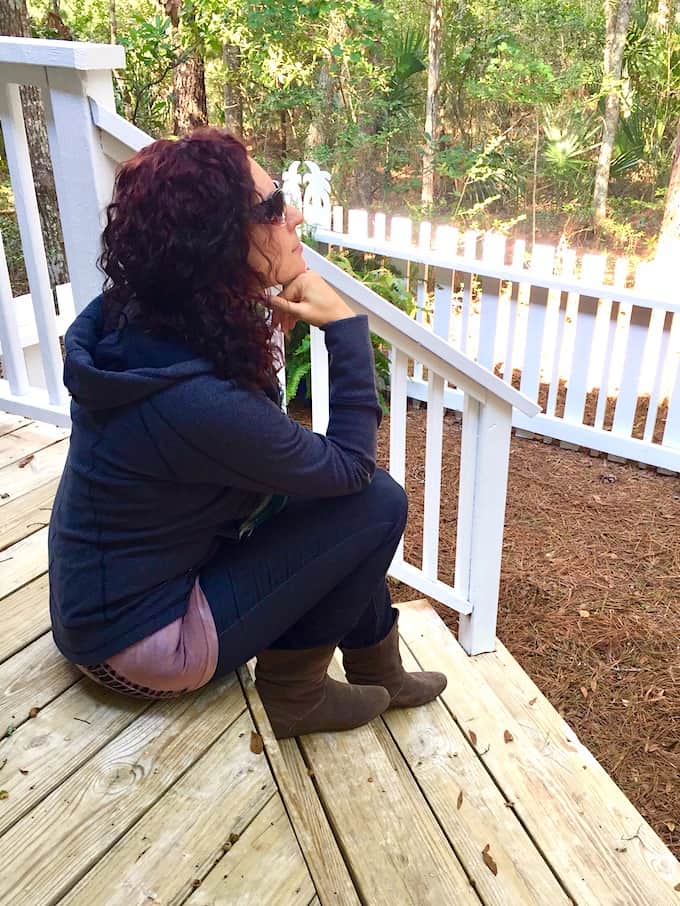 There are so many ways that our daily choices affect the planet, from the amount of garbage we through away, to what we do/don't recycle, to the energy we use in our homes and transportation, to how we source materials – and the list goes on!
One of the areas that a lot of people don't think about is clothing. Truth be told, sustainable clothing hadn't been on my radar until fairly recently, but I'm slowly learning more about it. Part of being vegan includes not wearing any animal materials – wool, leather, down, fur, skins – but that doesn't address the sustainability factor of how clothes are made and where those materials are sourced.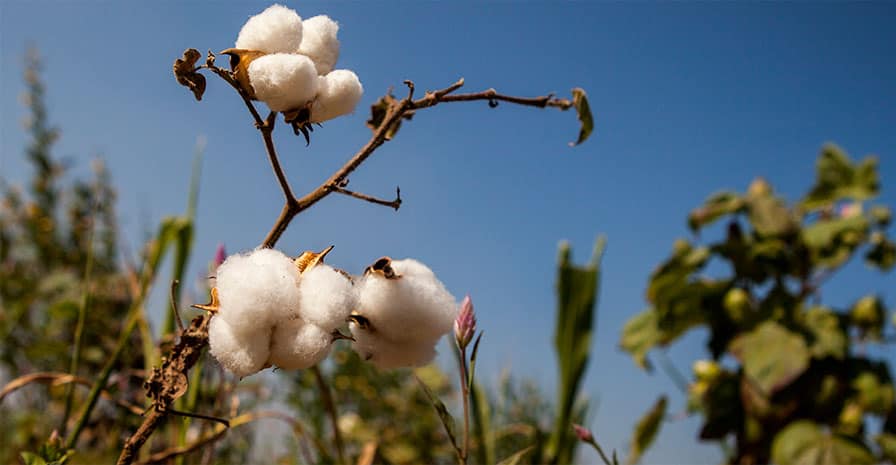 WHAT IS SUSTAINABLE CLOTHING?
Sustainable clothing refers to fabrics derived from eco-friendly resources, such as sustainably grown fiber crops or recycled materials. It also refers to how these fabrics are made.
I recently discovered prAna, a company that creates versatile, stylish, and sustainable clothing and accessories suitable for all activities – daily wear, adventure, yoga and swimwear. I wasn't familiar with them but when I asked my sister if she had heard of prAna she was so excited to say 'Yes!' and tell me about her favorite pair of pants she adores, which happen to be made by prAna.
PrAna is committed ethical, sustainable manufacturing practices. They use materials like organic cotton, hemp,  recycled wool, recycled polyester and 100% responsible down. PrAna is proud to be one of the first major clothing companies to offer Fair Trade Certified™ products, and aim to offer as many Fair Trade Certified products as possible through partnerships with newly certified factories.
Watch this video to learn more about prAna initiatives.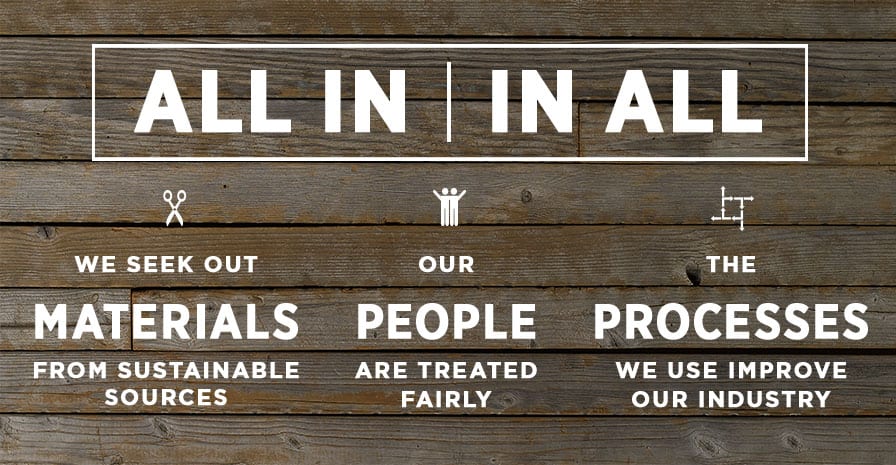 But is the clothing vegan?
Cotton, hemp and polyester are vegan. Even though down and wool come from animals (thus would not be classified as 'vegan'), to me what matters is a) how are the animals treated? and b) is the process sustainable? PrAna's recycled wool comes from old garments and the cuttings from new garments, so they're making use of what's already available.
Their down is Responsible Down Standard Certified, meaning that there is no live plucking or force feeding with lifelong humane treatment of the waterfowl. The down is traced throughout the production process to the final shipment, and the entire supply chain is audited by a 3rd Party Certification Body.
All of this and more makes me feel really good about prAna's practices, and I feel happy to support them. (For those of you vegans who really care, the clothing I personally received from PrAna is not wool or down based on my preference  not to wear animal products, even if they are sustainable.)
---
---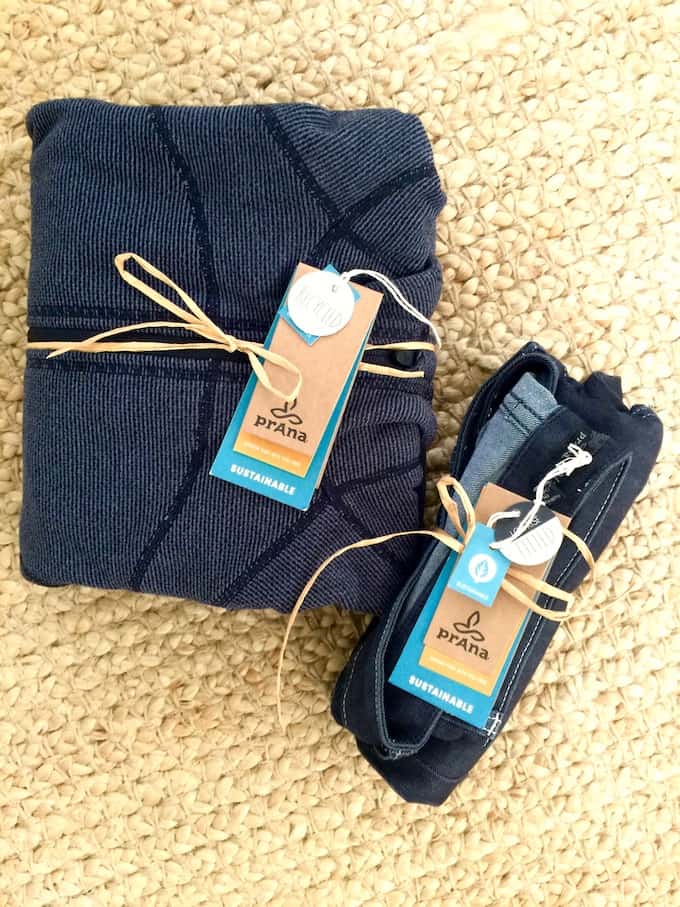 When I ordered online, the clothes arrived in pretty hand-tied bundles instead of plastic bags. Their website says:
We remain stringently committed to our polybag reduction initiative. From 2011 through 2016, we have eliminated 10.6 million+ polybags from landfills. That roughly equates to the same weight as 25 adult blue whales. Today, 79% of our products are shipped without the use of polybags.
Awesome, right?!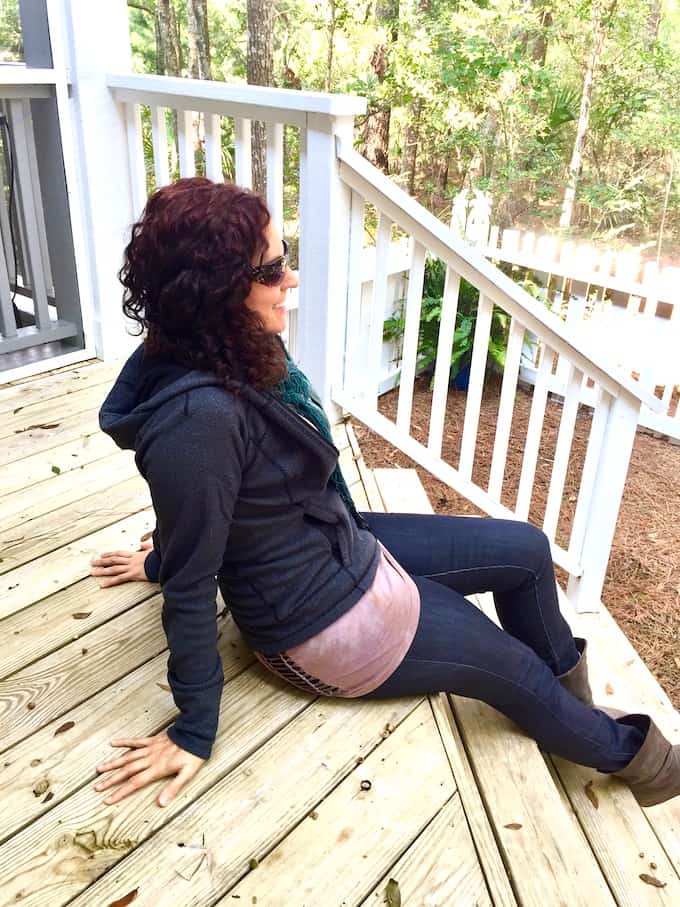 How does prAna's sustainable clothing fit?
Honestly, I've never been someone to spend money on higher-end clothes. Spending money on clothes, yes. Spending probably too much money on clothes, yes. But buying expensive clothes has never been part of my experience.
After all (I would think) – why would I buy one pair of pants for $100 when I could buy 4 pairs somewhere else for the same price? I used to judge that a lot of the higher-end clothing was just to get a brand name, but that the quality didn't really make a difference.
After trying PrAna clothing, my first experience with a higher notch brand, I can tell you: I was wrong. The minute I tried on a pair of their Moto Leggings at a store one day, I fell in love. They were extraordinarily comfortable, flattering, moved seamlessly with my body and – real talk here! – didn't create a muffin top effect like so many pants tend to do.
I thought, "Oooh… I finally get it now!" I would actually pay $79 for those leggings and be super happy about it, because they will last forever, be a staple in my closet, and I could basically just live in them if it was socially acceptable to not change clothes, like, ever.
Plus, I also feel really good about supporting a brand committed to sustainability, so in addition to the comfort, I know I'm hitting my 'conscious consumer' marks with prAna too.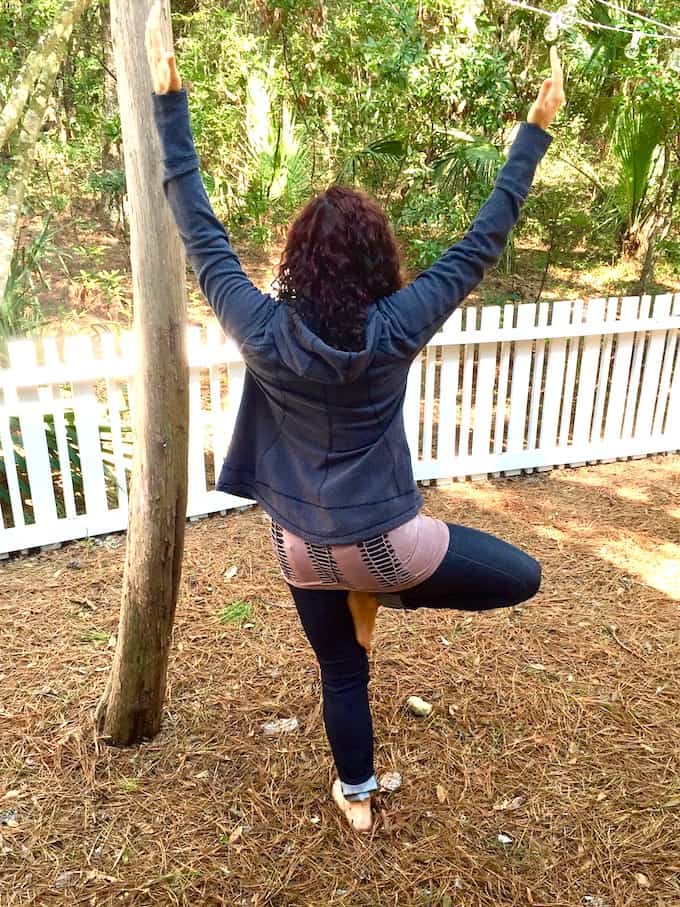 Let's talk about jeans for a minute.
I'm one of those rare people who doesn't like to wear jeans. We're an anomaly, but we exist. Most people think that jeans are the most comfortable things in the world, but to me, they're stiff (even most of the 'stretchy' ones we have nowadays) and dig right into my waist. Not a good feeling.
Or, they can be too stretchy and slip down my waistline the second I stand up, which then requires a belt to keep them in place. If you couldn't guess – I'm not a fan of belts either!
Thus, I much prefer leggings, jeggings, skirts or dresses, as my friends will attest to. Many of them have never even seen me in a pair of jeans before. So, when one of clothing items I could pick from PrAna to sample for this post was their Kara Jean, I was interested. They had great reviews and, after my legging experience with PrAna, I thought – could this finally be a pair of jeans that I love? I had to give it a go.
After wearing the jeans a couple times now I can faithfully say, again, that I am impressed with the quality and fit. I can comfortably move in them – no stiffness here! – and actually like the way they look on my body. That, combined with the fact that they're sustainable and don't fall down without a belt, is a win-win-win across the board for me!
I was so excited about the fit and comfort the other day that I took some photos before my afternoon walk. I love all the details on the hoodie!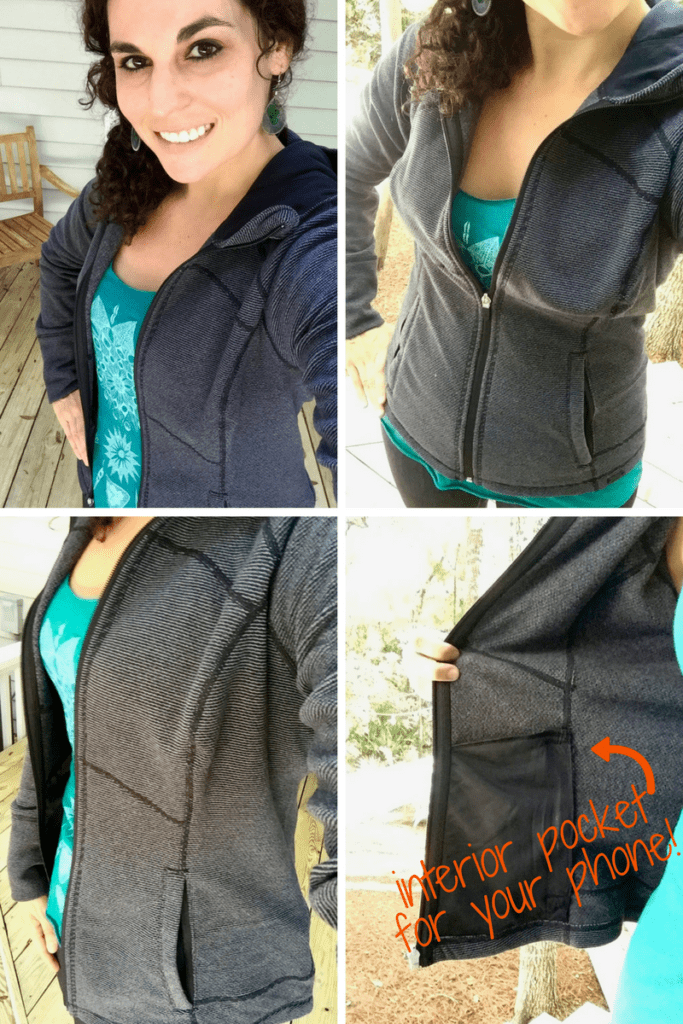 Pictured in this post: the Kara Jean in indigo and Rockaway Jacket in black (more like a dark grey).
COUPON ALERT!
If you want to try out prAna for yourself – or if you're already familiar with the brand and have your eye on some of their beautiful new Fall collection – use the coupon code MSF17SN to get 15% off your purchase through November 22nd! All orders over $99 ship free.
Happy shopping!
Let me know in the comments below: What's your favorite apparel from prAna? What are other sustainable clothing brands you recommend?