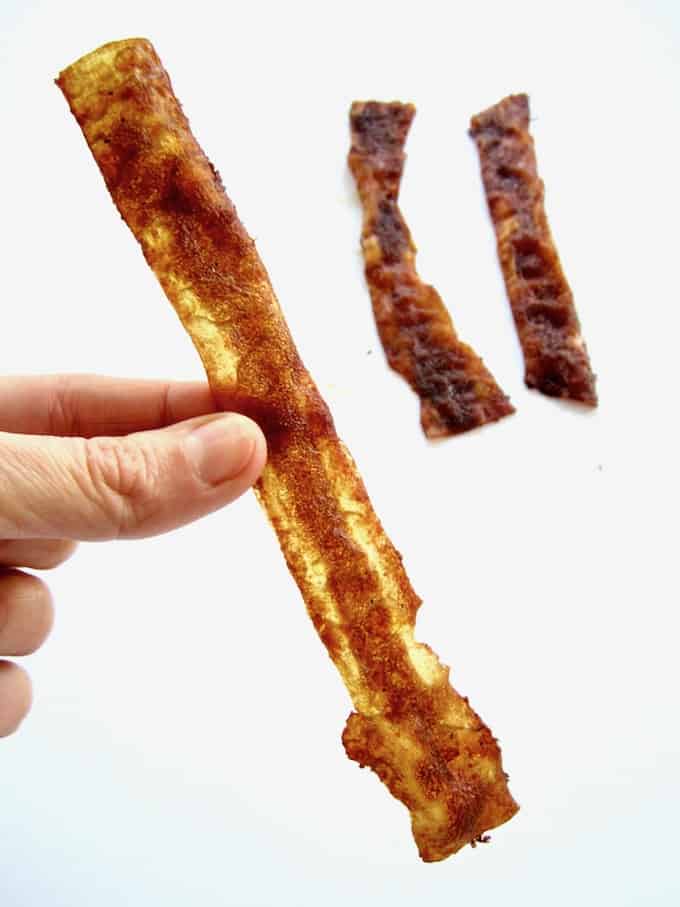 Chewy. Salty. Crispy.
The first time I tried Rice Paper Bacon (thank you to my friend Sumir!) I went… "WHOA. No way. It… can't. Be!" Can this really be a delicious vegan bacon substitute to help you forget about the real thing? Yes, my friends, it can.
Welcome to a whole new world of – RICE PAPER BACON.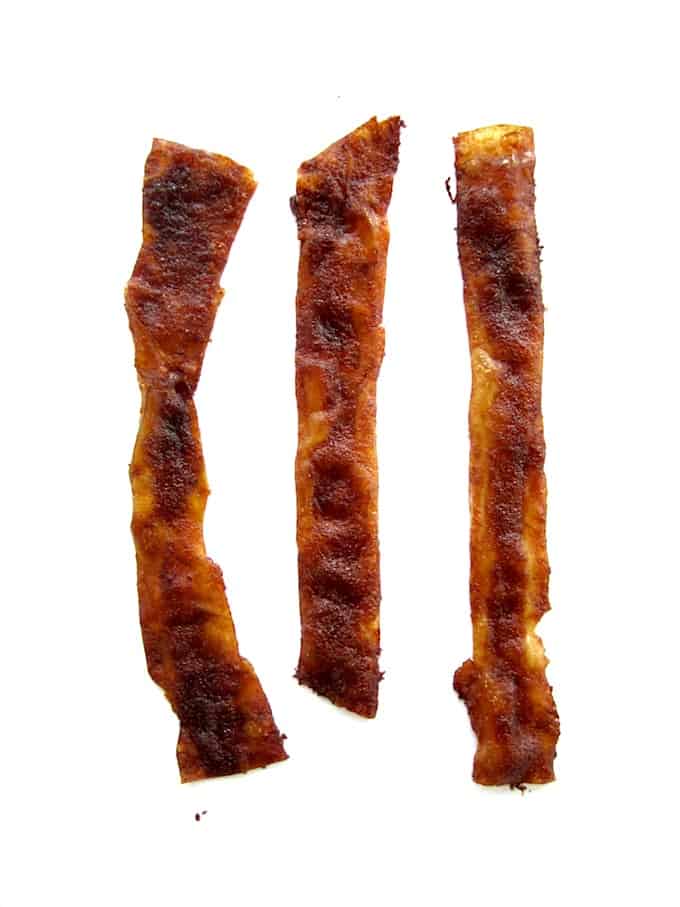 The beauty of this recipe is that it has all the qualities of bacon without the large amounts of cholesterol, fat and taking of a pig's life.
Did you know that pigs are incredibly intelligent? They are widely accepted to be smarter than dogs, some primates and children of at least 3 years old. (Source)
I mean, just watch this video below. Could your dog do that?
I find it fascinating how we're conditioned to eat certain animals and not others, and how that differs depending on where you grow up. Some cultures and religions don't eat pigs or cows; in North America and Europe we don't eat dogs or cats. Social Psychologist Melanie Joy, PhD, coined the term 'carnism' to describe this phenomenon, and wrote a fascinating book about our belief systems related to eating animals called Why We Love Dogs, Eat Pigs, and Wear Cows: An Introduction to Carnism. You can check out the book here on Amazon
if you're interested in discovering more!
Now, getting back to this delicious Vegan Rice Paper Bacon Strips recipe – you can eat these strips plain, on the side of your tofu or chickpea flour scramble, on a sandwich, broken up into pieces on a salad or baked potato – the options are really endless. If you're a bacon eater, try this substitute next time in place of the real thing and see how delicious it can be. 🙂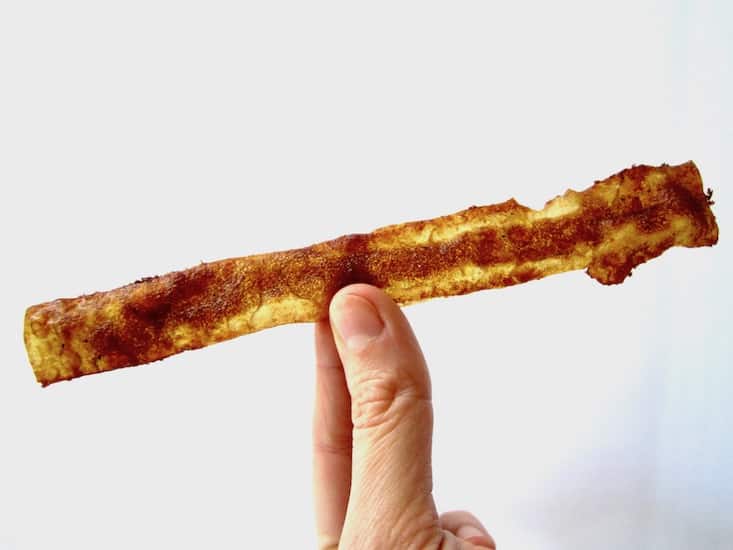 I have to give credit to other bloggers for coming up with this recipe. I don't know who was the first to come up with this genius idea, and I even saw rice paper bacon on the menu the other day at a vegan cafe here in Hawaii, so it's quite common these days. But, I want to give a shoutout to Veganer and Yup It's Vegan for their recipes and recommendations on how to make this!
If you're looking for other vegan bacon ideas, definitely check out this Coconut Bacon recipe and, my brother's personal favorite, the Eggplant BLT (he swears it's better than a real BLT).
What are your thoughts on bacon substitutes? Have you found one you love? Leave a comment below to share your knowledge!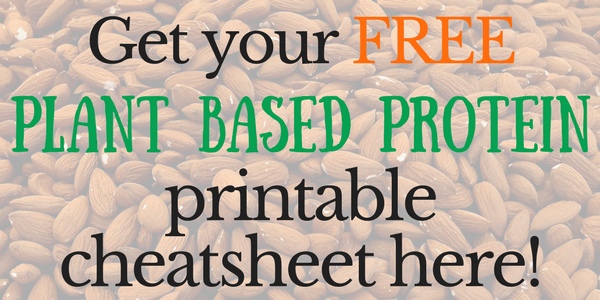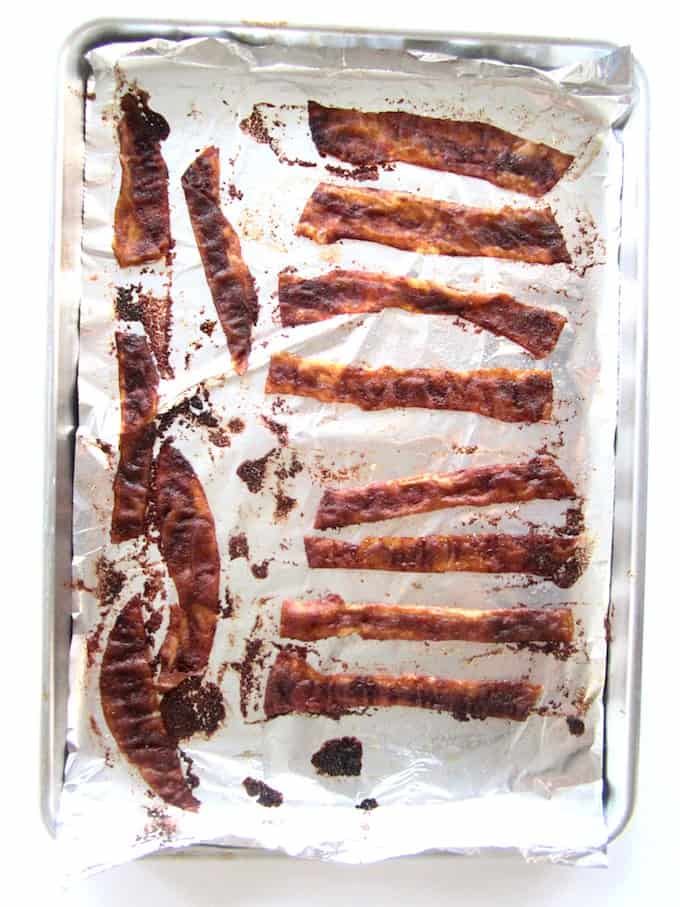 INGREDIENTS USED IN THIS RECIPE:
Sarah Newman, Vegan Chickpea
Vegan Rice Paper Bacon Strips
Looks real. Tastes real. 100% plant based. Try this as a substitute the next time you cook bacon!
25 minPrep Time
10 minCook Time
35 minTotal Time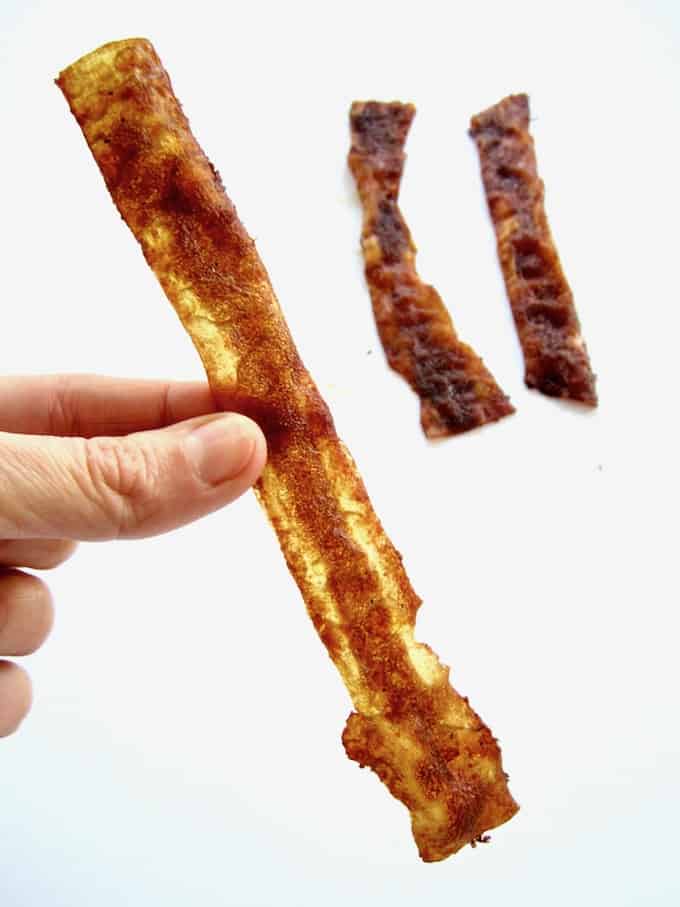 Ingredients
8 rice paper wrappers
2 Tbsp oil - coconut or olive oil
3.5 Tbsp organic tamari - for soy free use coconut aminos
4.5 Tbsp nutritional yeast
.5 tsp liquid smoke
.5 Tbsp maple syrup (this only gives a slight sweetness to round out the flavors, but you can feel free to omit or reduce it)
1/4 tsp ground black pepper
1/8 tsp paprika
OPTIONAL: balsamic vinegar, for marbling effect if desired
Instructions
Preheat oven to 400 degrees F.
Whisk together all ingredients except rice paper (and optional balsamic) until well combined.
Fill a wide bowl partway with water.
Cover a baking sheet with parchment paper or foil. (If using foil, brush with a little coconut oil to grease it.)
Using clean scissors, take 2 sheets of rice paper (one on top of the other) and cut the rice paper into thick strips.
Take two strips of the same size and stack them. Holding them together, dip them very quickly into the water. They should stick together. Gently squeeze excess water from the joined pair of rice paper strips.
Dip the strip into the marinade and coat it well; place it onto the baking sheet.
Repeat until done. (Note: You may need to stop to whisk the marinade again to re-emulsify it.)
OPTIONAL: you can twist some pieces of the rice paper to give them more of an authentic look, but keep in mind that those parts will be less crispy and more soft and chewy, akin to less cooked bacon.
OPTIONAL: Pour a little balsamic vinegar in a small bowl. Use a brush to dab a very light amount of the balsamic down the strips or just onto random places on the strips.
Bake for about 7 to 9 minutes, or until crisp. Rotate the tray halfway through. The strips can burn easily, so keep an eye on it and take them out as soon as they're done. The end result will be mostly crispy with some slightly chewy parts.
Once fully cooled, store leftover rice paper bacon in an airtight container at room temperature.
Notes
7.8.1.2
40
https://veganchickpea.com/vegan-rice-paper-bacon-strips/
Sarah Newman, SKN Creations
This post contains affiliate links. If you make a purchase on Amazon after clicking one of my links, your costs stay the same but I receive a small commission to help support Vegan Chickpea. Thank you for your support!