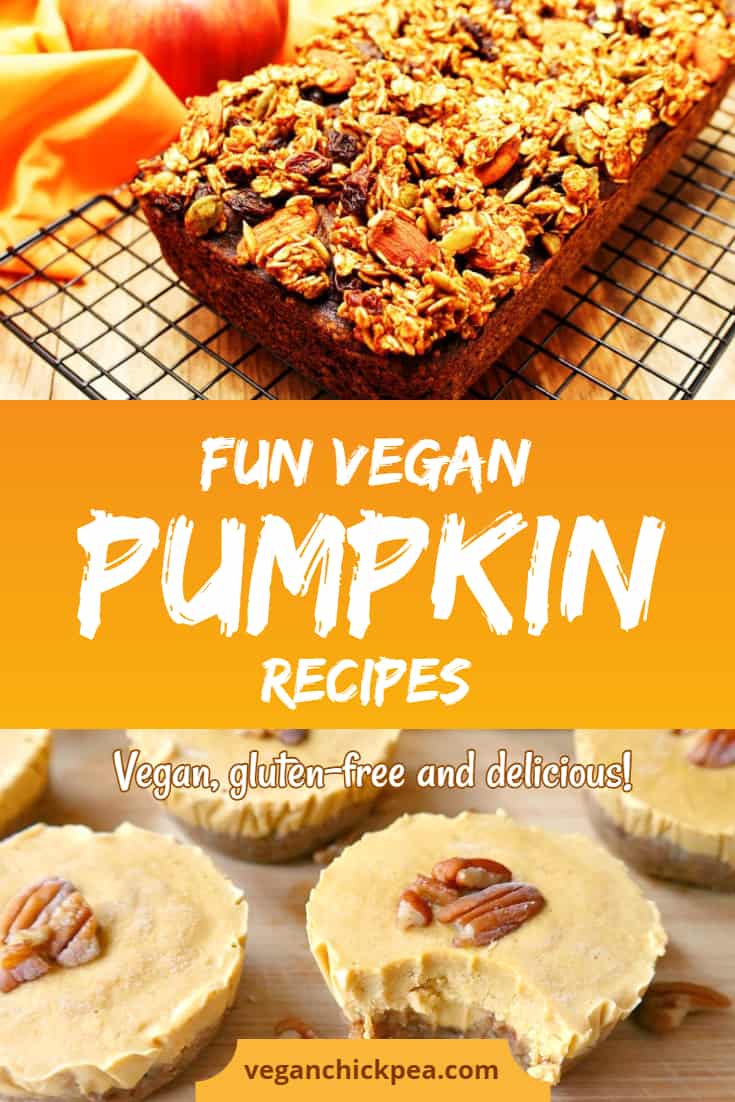 It's finally Fall and everyone is obsessing about the sweet and savory breeze of the cool autumn air. You can finally turn off your a/c and enjoy the more welcoming crisp, fall air after the scorching summer! But that's not all, there's something special about this season that drives most of us foodies to get excited! And it's pumpkin season! And it's time for vegan pumpkin recipes!
Crazy with Pumpkins!
While a lot are busy planning for their next social media adventure, pumpkin lovers (like us) can't afford to miss this chance of enjoying our favorite pumpkin recipes and take full advantage of this seasonal extravaganza! But not everyone shares the same excitement with this concept. Believe it or not, some would even say that pumpkin-based recipes are totally overrated and just a seasonal thing! Yes, there's definitely a "love it or hate it phenomenon" in pumpkin recipes especially in the vegan kitchen, but that doesn't stop a lot of brilliant recipe makers from experimenting with this humble ingredient and reimagine the recipes that we enjoy today!
Pumpkin recipes could go from breakfast starters to desserts! What's not to love? Your holidays will never be the same with these amazing pumpkin recipes that we have rounded up for you today. These recipes are fun to make and comfortingly delicious! Your family will go crazy with these as much as you had fun preparing them! So without much ado, here are 5 fun vegan pumpkin recipes that you'll love this Fall! Enjoy!
5 Fun Vegan Pumpkin Recipes for Fall
This recipe is an ultimate winter warmer and also a delicious heartwarming blanket! This goes well with chickpea pancakes or even just with a crusty vegan pastry. Enjoy a rich and velvety creaminess from the coconut milk that goes amazing with the spicy pumpkin base. Recreate this recipe here.
High fiber, whole grain, low fat, low sugar, vegan, gluten-free and absolutely tasty! This version of delicious pumpkin bread is light and airy but with amazing texture that almost melts in your mouth. You'll satisfyingly love this recipe anytime, all the time! Link for the complete recipe here.
Sweet and savory, these roasted chickpeas are both vegan and gluten-free. They are also nut free, which makes this recipe also guilt-free and perfect for every meal or snack. Recipe here.
These little treats are perfect for Fall parties or just to have something sweet on hand. The tasty flavor of spiced pumpkin is not too sweet and hits the perfect spot and gives you the comforting feeling of Fall. Check the recipe here.
Everyone will love this delicious plant-based meal topped with a sage cream sauce that your whole family will love! And this goes well even with a non-vegan crowd. Recreate this amazing recipe here.
Excited for more of these fun and exciting vegan round-ups? Click here or let us know what you want us to cover for the next round-up through the comment section down below!