This vegan and gluten free burrito harvests the best of fall and winter flavors – brussels sprouts, butternut squash, apples, pistachios and thyme, all uniquely topped off with a homemade raspberry mayo sauce. Tantalize your tastebuds with this unique, healthy and delicious recipe!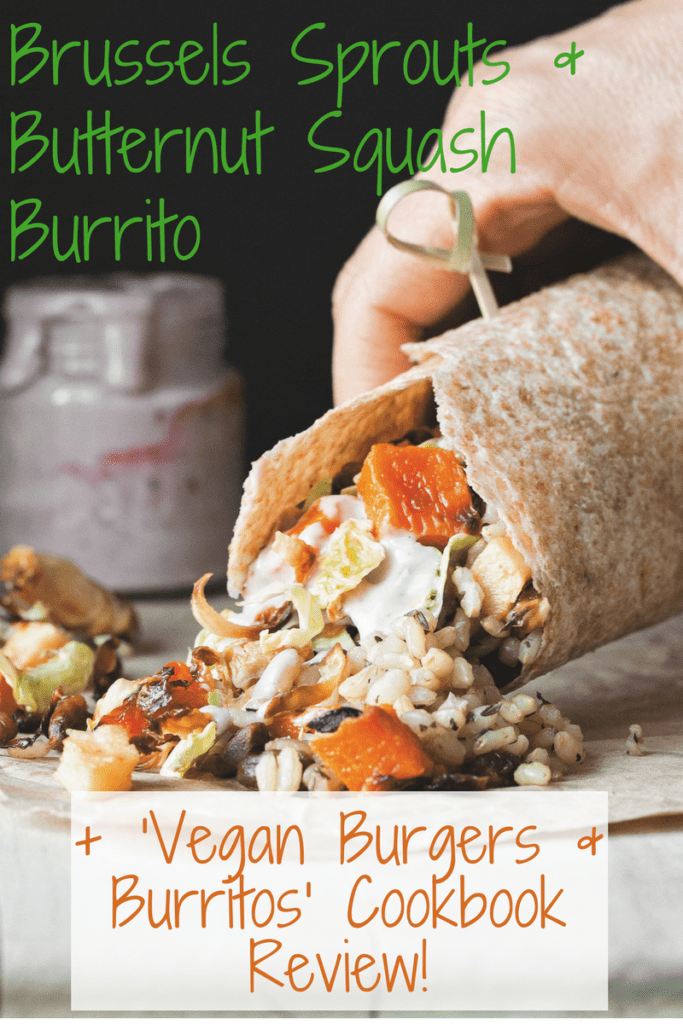 Happy 2018, my friends!
I know  – we're halfway through January already so I may be a teensy bit late in wishing you a happy new year, but I took a blogging break for a few weeks to enjoy the holidays and take a little time out. It was much needed and I'm feeling super excited about some new ideas I have for 2018 – which I'll reveal in time, but in the meantime will leave you in suspense. 😉
For now, we're kicking the new year off with a GIVEAWAY! *Cue the trumpets*
Today's post shares a recipe from Sophia DeSantis' cookbook that came out a couple months ago called Vegan Burgers & Burritos ( <– affiliate link), which I've been testing out myself and trust me, you're going to want your hands on a copy of this beauty! If you're not familiar with Sophia, she's the amazing blogger behind the site Veggies Don't Bite and – guess what?! – ALL of her recipes are also gluten-free and refined sugar-free! Whoop whoop! Be sure to check her out her awesome blog.
For the giveaway, we're giving one lucky winner a copy of Vegan Burritos & Burritos. I'm trying a new approach this time and am running the giveaway exclusively on Instagram! Head over to this post and follow the instructions to enter – but you better act fast because the giveaway ends January 17th @ 9pm EST!
---
---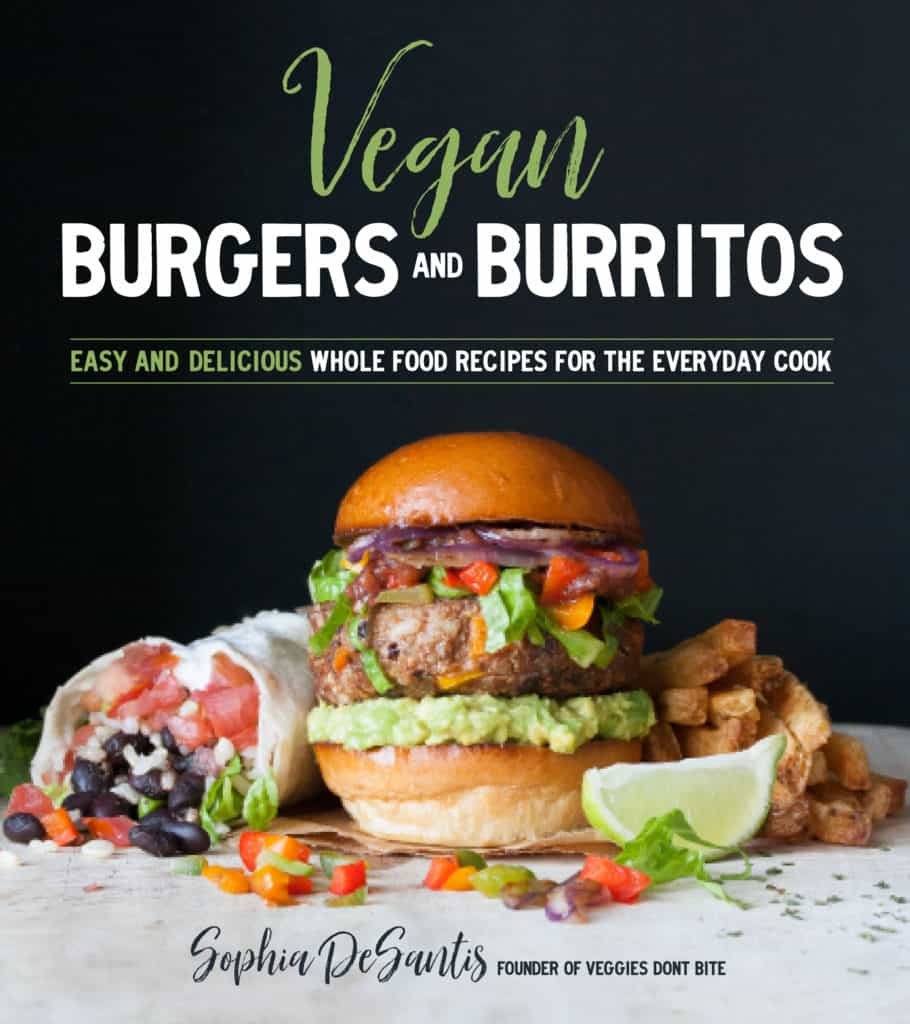 'Vegan Burgers & Burritos' Cookbook
The Vegan Burgers and Burritos cookbook features approachable recipes that are delicious and enticing, whether you're a longtime vegan or not a vegan at all. 'Cause really, who doesn't love burgers and burritos?
I love when vegans can show that what we eat is 'normal' – it's not all specialty ingredients or rabbit food. Especially being both vegan and gluten free, sometimes people cock their heads at me, furrow their eyebrows and ask, "What do you eat then?" As if meat, dairy and wheat/barley/rye are the only food groups.
Sophia does a beautiful job showcasing a variety of veggie burgers and burritos for any palate, and gives tips on how to make the recipes kid-friendly too. The recipes are leveled from I to III, with most of them being fairly simple to follow, though the II and III levels can be more time-consuming.
In total, there 75 recipes and 75 mouth-watering photos, featuring ingredients that are easily found at your grocery store, breaking down into 27 burgers recipes, 26 burritos, 19 sauces and 4 sides!
I love how all of the recipes are:
plant-based
gluten-free
refined-sugar free
feature real, whole food ingredients
paired with a special sauce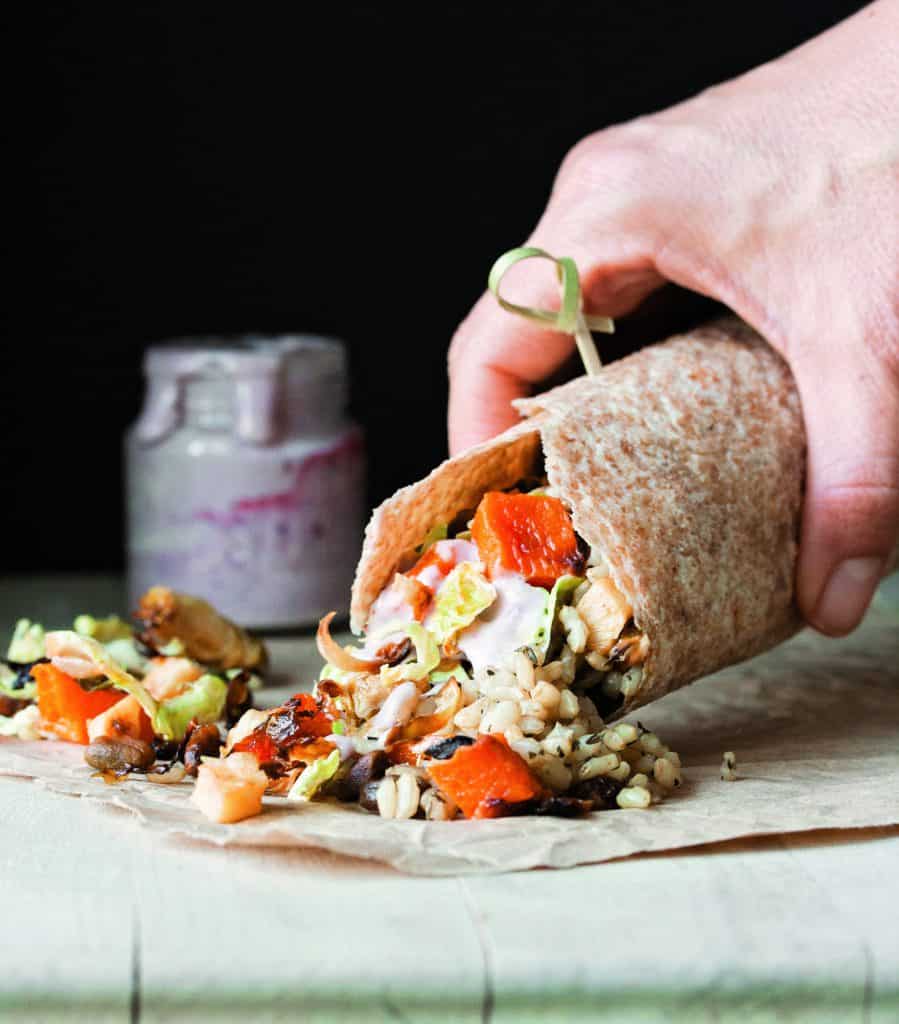 ---
---
Brussels Sprouts & Butternut Squash Burrito 
The recipe below is an example of what you'll find in Vegan Burgers & Burritos. I've called it the Brussels Sprouts & Butternut Squash Burrito, or a.k.a. the Fall Harvest Burrito, which is its title in the book.
I absolutely loved this recipe because it showcases flavor combinations that I wouldn't have thought to put together. Brussels sprouts and butternut squash, yes, but paired with apples, pistachios, thyme rice and – most surprising of all – a raspberry mayo, are definitely not ingredients I would have put all together on my own. The result? Super delicious, and my mom (non-vegan) also gave it two thumbs up!
I did make a couple changes to the recipe. For one, I didn't have tortillas on hand, so just made this a burrito bowl and ate it with some chips on the side. (If you're looking for vegan and gluten-free tortillas, one of my favorite brands is Follow Your Heart.)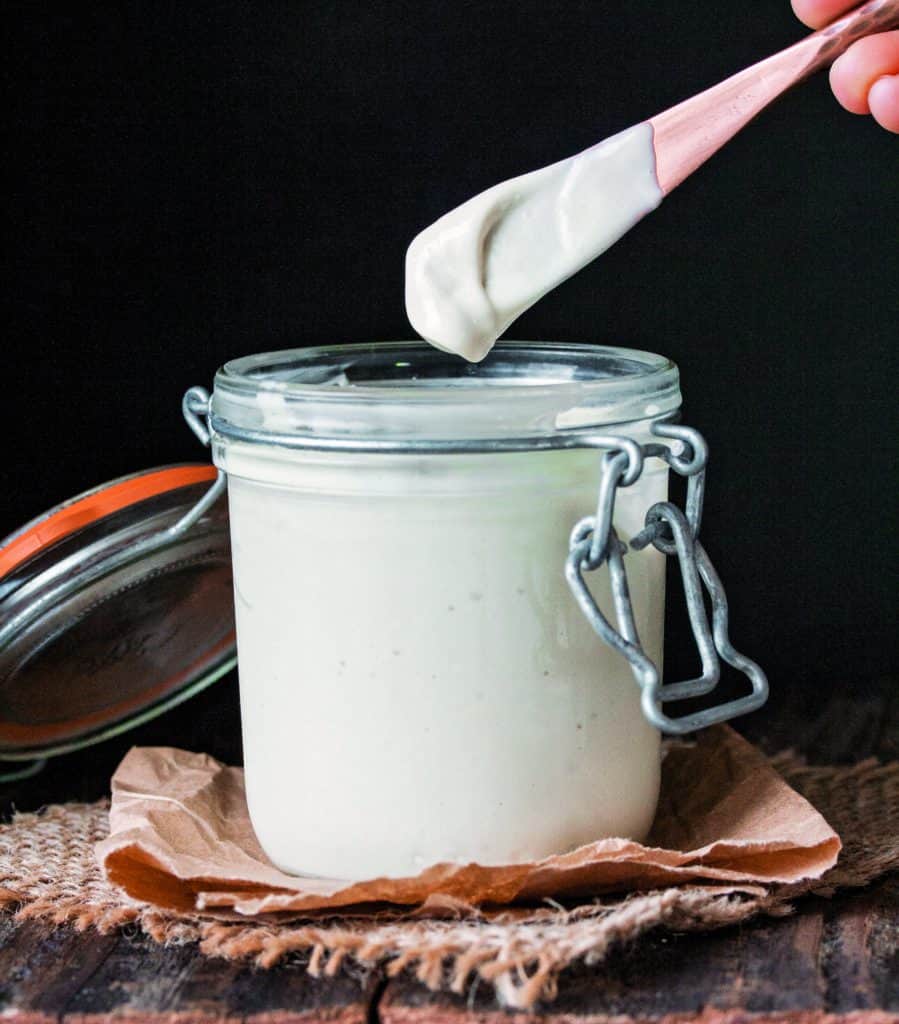 I also added in a couple more seasoning to the veggie mixture, including pepper, dried sage and dried coriander. Finally, I didn't make my own mayo as outlined in the book but used a vegan mayo I had on hand and mixed in the raspberry jam. Cheating, I know… but hey, sometimes time is of the essence!
This recipe is bursting with fall flavors, but all these ingredients are still in-season in winter so it makes for a fresh yet hearty winter meal as well.
---
---
 Ultimate "Meatball" Burger
Another recipe I made over the holidays was the Ultimate "Meatball" Burger, made from mushrooms, kale, lentils, breadcrumbs, oats, walnuts and – interestingly – pizza sauce! I'm a big mushroom fan so loved the base of this burger. (By the way, have you tried my Portobello Pizzas with Basil Cheese yet?). I did find my mixture was dry so had to add a lot more of the pizza sauce into the recipe than called for.
Again, I cheated and used a pizza/marinara sauce from the jar (it was the holidays and there was A LOT of other cooking/baking going on… I can only make so much from scratch sometimes!), and didn't eat this on a bun but had just the patty served with some extra marinara sauce. Overall I was happy with the result but would definitely be curious to try this baby on a bun… I mean, just LOOK at this jaw-dropping masterpiece!! ?You'll have to buy the book to get the recipe for this burger. 😉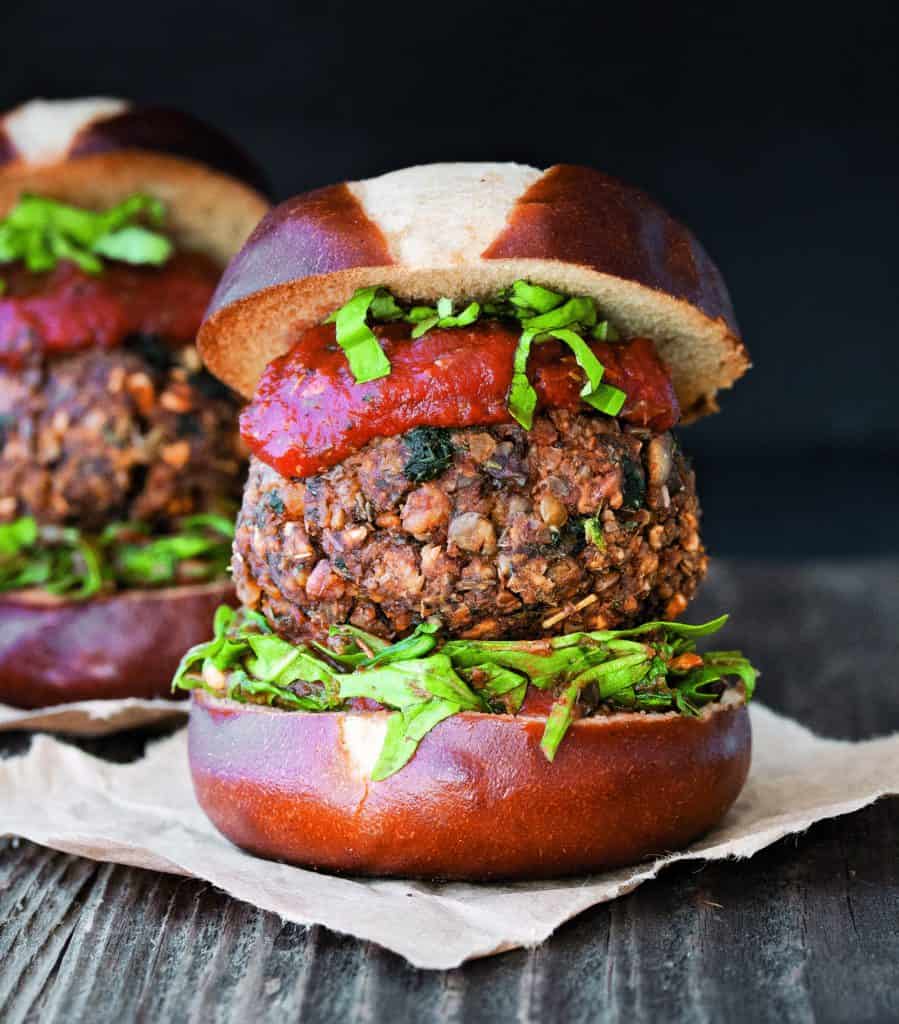 I'm excited to try some of Sophia's other recipes from this cookbook, including:
Apple Sage "Sausage" Burger
Crabless Cake Burger
Buffalo Wing Sliders
S'mores and Apple Pie 'Burgers' (Yes, really!)
Cauli Hash Brown Breakfast Pockets
My Big Fat Greek Burrito
Flaky 'Fish' Burrito
Pad Thai Meets Mexico Burrito
Wrapped-Up Chile Rellenos
The Ultimate Mexican Churro
Fully Loaded "Fried" Banana Split
Enjoy your sneak peek with the Fall Harvest recipe below, and don't forget to enter the giveaway over on Instagram! If you're not the lucky winner, be sure to order your copy of Vegan Burgers & Burritos and impress your friends and family with these awesome recipes. 😀
---
---
These photos are reprinted with permission from Vegan Burgers and Burritos by Sophia DeSantis, Page Street Publishing Co. 2017. Photo credit: Sophia DeSantis
**Lifestyle Photos by Chris Nelson Photography
---
This post contains affiliate links. If you make a purchase after clicking one of my links, your costs stay the same but I receive a small commission to help support Vegan Chickpea. Thank you for your support!
Sophia DeSantis
makes 4 - 5 Burritos
Brussels Sprouts & Butternut Squash Burrito + 'Vegan Burgers & Burritos' Cookbook Review
This vegan and gluten free burrito harvests the best of fall and winter flavors - brussels sprouts, butternut squash, apples, pistachios and thyme, all uniquely mixed with a homemade raspberry mayo sauce. Tantalize your tastebuds with this unique, healthy and delicious recipe!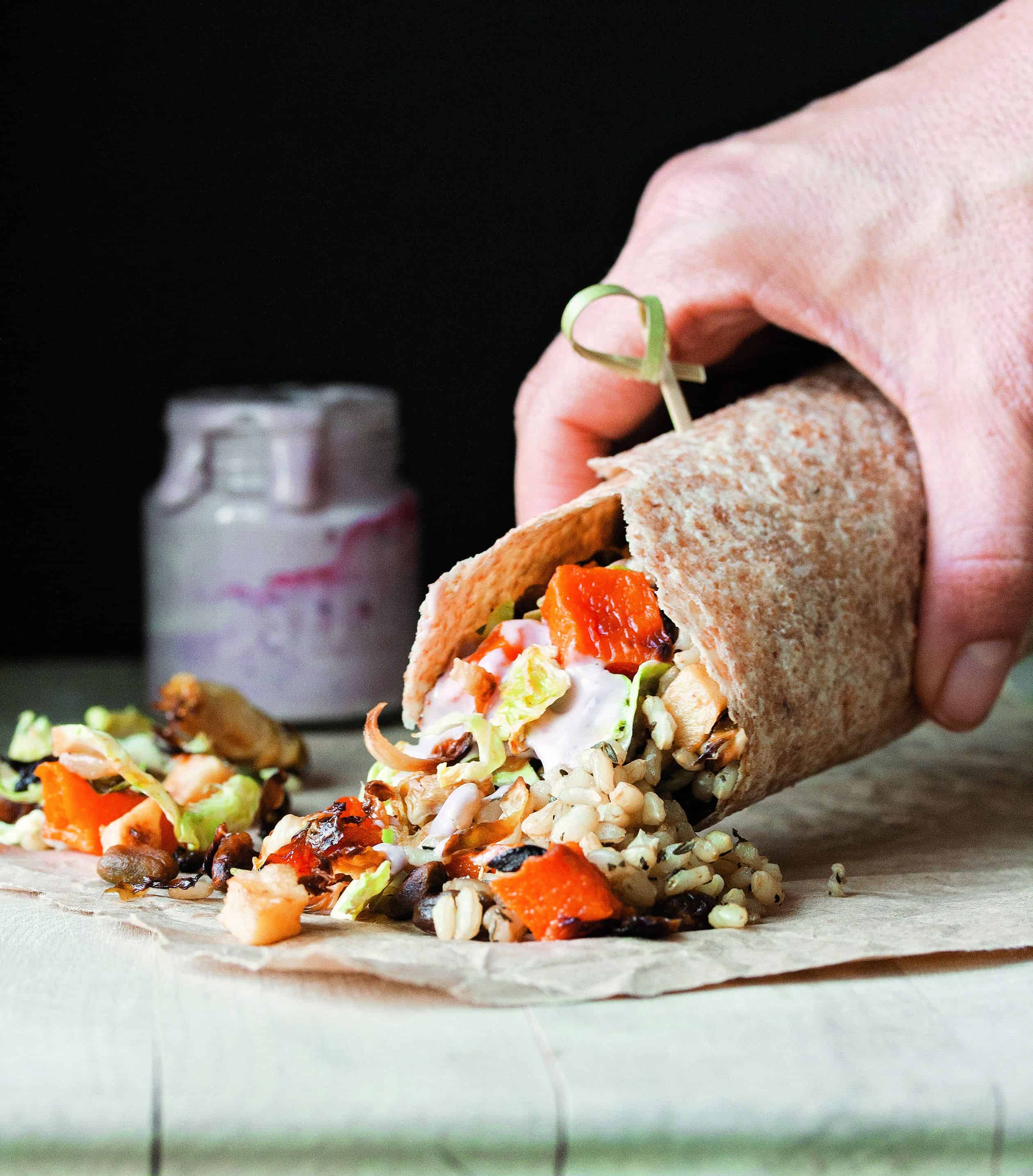 Ingredients
THYME RICE:

1 cup (210 g) uncooked brown rice (see notes)
1 ¾ cups (414 ml) low-sodium veggie broth (see notes)
1 tbsp (2 g) dried thyme
¾ tsp sea salt (see notes)

VEGGIE BAKE:

2 cups (360 g) chopped butternut squash
½ cup (120 g) chopped shallots
¾ tsp sea salt
Low-sodium veggie broth (about ½ cup [118 ml]) or drizzle of oil, plus more for roasting
3 cups (1 kg) shaved or sliced Brussels sprouts, divided
1 cup (180 g) peeled and chopped apples
¼ cup (28 g) pistachios

RASPBERRY MAYO:

½ cup (118 ml) Healthy Vegan Mayo, WHAT? (also from this cookbook - recipe below)
2 tbsp (30 g) raspberry jelly or jam

TO SERVE:

4 to 5 tortillas
Raspberry Mayo

Healthy Vegan Mayo, WHAT?:

1 ½ cups (167 g) raw cashews (see note*)
¾ cup plus 1 tbsp (192 ml) water
2 tbsp (30 ml) distilled white vinegar
2 tsp (10 ml) fresh lemon juice
¾ tsp sea salt
1/8 tsp ground mustard seed
1/8 tsp freshly chopped garlic
Instructions
FOR THE MAYO: Put the cashews, water, vinegar, lemon juice, salt, mustard seed and garlic into a high-speed blender and purée until smooth. Refrigerate the mayo to thicken.*
Preheat the oven to 400°F (204°C).
Place the rice, broth, thyme and salt in a small pot and mix well. Bring it to a rapid boil. Reduce the heat, cover and simmer for about 30 minutes or until the liquid has evaporated. Remove the pot from the heat, let it stand for 5 minutes and then fluff the rice with a fork.
Mix together the butternut squash, shallots, salt and broth, and bake for about 15 minutes. Remove it from the oven and add 2 cups (680 g) of Brussels sprouts, apples, pistachios and the rest of the broth if needed. Using a spatula, mix everything together well. Bake it for 30 minutes or until the squash is browning at the edges. When it's done, put it into a bowl with the reserved cup (340 g) of raw shaved brussels sprouts and mix well.
While the veggie bake is cooking, make the raspberry mayo by mixing the mayo and raspberry jelly together in a small bowl. Set it aside for serving.
Serve in tortillas with raspberry mayo. To fold the burrito, fold the sides over toward the center, then roll upward to create a burrito. You can grill the seam for 7 to 8 minutes until it seals and closes the burrito. You can also grill the other side to make it crisp.
Notes
*For the mayo: If you are not using a high-speed blender, there are a couple of options for making your sauce smooth: You can use a coffee grinder to grind everything to a fine powder, or make sure to soak your cashews overnight, or for at least 2 to 3 hours. If you forget, you can also boil them for 30 minutes.
Notes from Sophia: I like my rice on the al dente side, so when cooking you may need to add another ¼ cup (60 ml) of broth and cook for an extra 5 minutes if you prefer it well done. The rice isn't overly salty. The other parts of this burrito have plenty of salt, so I keep the rice on the milder side. You can use water instead of broth for the rice, but the broth adds great flavor. You may need to adjust the amount of salt if you don't use broth. Kids: This can be served as a bowl if folding a burrito is too hard!
7.8.1.2
84
https://veganchickpea.com/brussels-sprouts-butternut-squash-burrito/
Sarah Newman, SKN Creations