This warming Hazelnut Spiced Hot Chocolate recipe uses a combination of hazelnut butter with cinnamon and nutmeg essential oils to create a creamy and healthy refined sugar free treat, perfect for a cold winter day! Drink through a cinnamon stick 'straw' for extra fun and deliciousness.
(Note: You can substitute cinnamon and nutmeg spices instead of using the oils if you don't have them, or omit for a more traditional hot chocolate.)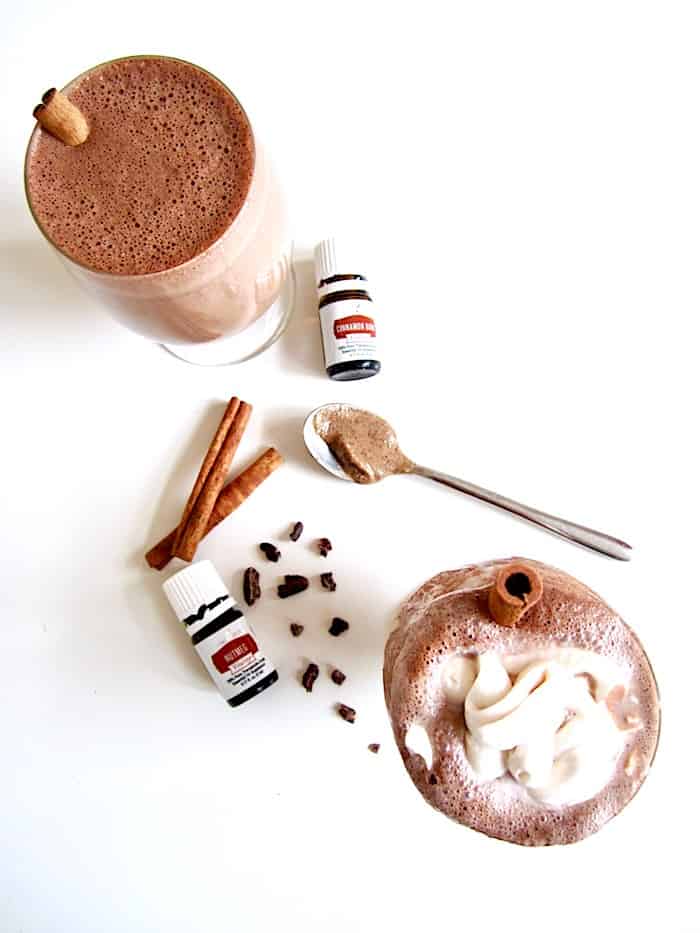 It's the middle of winter and I, for one, am ready for spring. I'm not even in an especially cold place here in North Carolina, though we have had some uncharacteristically extra cold days and wintry weather. It snows here once every 10 years maybe, and a couple weeks ago we got a little snow and a TON of ice! I like the wintry weather for a day or two, and then I'm kind of over it. I really don't know you people who live in cold climates do it!
One thing I love most about the cooler weather is enjoying delicious seasonal foods and drinks like lots of hot tea, herbal coffee, hot golden (turmeric) milk, and the occasional hot cocoa. I love to get out of the house (working from home is awesome and yet, I need to mix things up sometimes!) so I often go to a local coffeeshop for a few hours and work from there. I'm a sucker for the coffeeshop vibe and yes, the lattes.
The thing is, those yummy warm drinks that we all love to get at our favorite coffeeshops often not only have dairy in them, but are typically loaded with huge amounts of unhealthy and artificial sugars, fake colorings, GMOs and more icky ingredients that I imagine none of us want to put into our bodies. I almost always just get a plain latte with almond, coconut or soy milk, but those chocolatey and seasonal drinks just sound SO tempting sometimes – amiright!?
That's where making your own seasonal drinks comes in, and it can be fun for your kids too!
---
---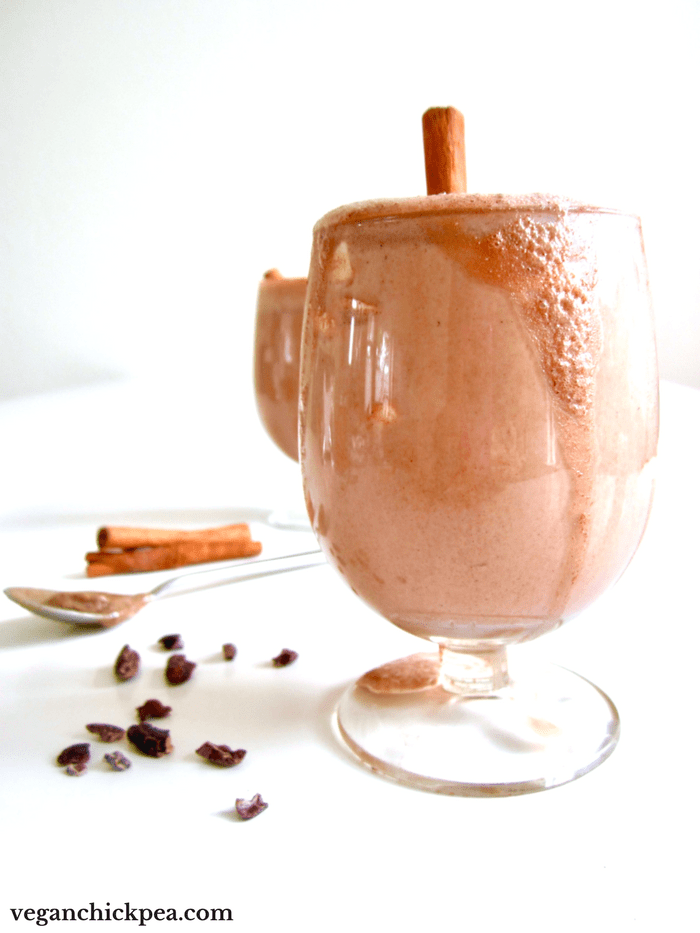 This Hazelnut Spiced Hot Chocolate is warming and rich enough to feel satisfying and perfectly balanced, without the heaviness of those standard hot chocolates you get at coffeeshops, drive thrus or from paper pouches. Those hot chocolate powder packets you buy in the store also contain tons of unhealthy sugars and additives, and really – to me anyway – don't even taste very good. Homemade not only tastes better, but it's much healthier too!
This particular recipe is only sweetened with unrefined sugars – your choice of date syrup or maple syrup – so you can drink it without guilt. The hazelnut butter delivers a nutty, toasty creaminess, and hazelnuts are known for their antioxidants and promoting heart health.
The cinnamon and nutmeg give an uplifting, energizing aroma; the raw, unsweetened cacao powder is a superfood that has antioxidants, contains a mild stimulant that has feel-good effects, and supports a sense of alertness. It really is the perfect treat for a chilly afternoon, a freezing cold winter night or lazy Sunday morning!
---
---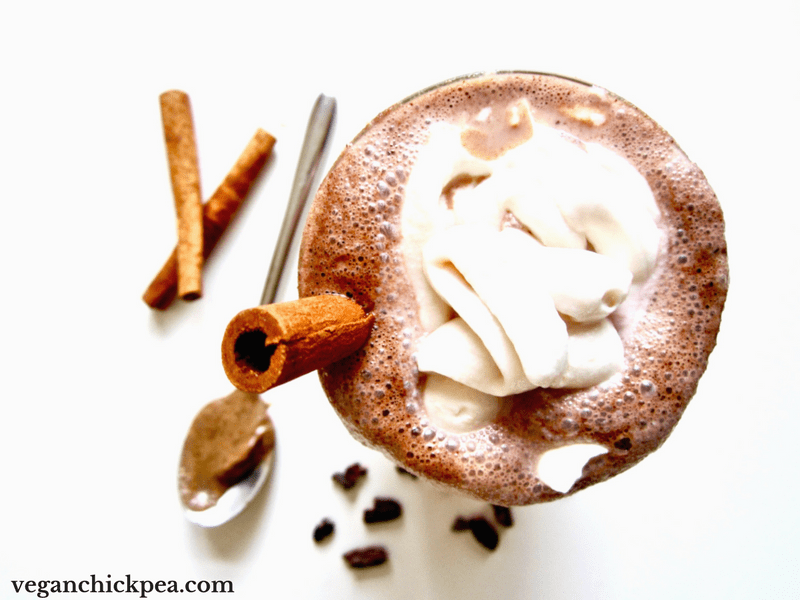 USING ESSENTIAL OILS IN COOKING
I'm a newbie when it comes to essential oils. Last year I made this DIY Facial Moisturizer that I enjoyed. I've since learned that you can eat and drink essential oils that are food grade approved – how cool is that?! I immediately wanted to learn more about it and test this out for myself.
Essential oils have a myriad of health benefits that your body can utilize when you use them in your food. In this recipe I used Young Living's Cinnamon Bark and Nutmeg oils ( <— you can buy on Amazon using my affiliate links; look for the 'Vitality' line of Young Living to ensure food grade).
I really liked using the oils because ground cinnamon and nutmeg can be hard to dissolve, so the flavor doesn't get dispersed as evenly which = you ending up with a big mouthful of spice as you take your last sip from the mug – not so enjoyable!
Here are some of the health benefits of adding these essential oils in your diet (according to Young Living's site) and ways you can use them.
CINNAMON OIL:
Can support healthy digestion
Helps maintain a healthy immune system
Is anti-inflammatory, antibacterial and has been used since ancient times to treat sore throats, arthritis and coughs
Can be used to spice up your hot cereal or chia pudding
Enhances your morning smoothie with one drop
Can be substituted in any recipe that calls for ground cinnamon (start with 1 – 2 drops, you can always add more)
NUTMEG OIL:
Can be used to treat muscular and joint pain, reducing swelling of the joints
Helps increase blood circulation
Is an essential part of Chinese medicine when it comes to treating abdominal pain, indigestion and inflammation
Enhances the flavor of winter produce like acorn squash, sweet potatoes, and pumpkin
Can be substituted in your favorite holiday baked goods (start with 1 drop – you can always add more)
---
---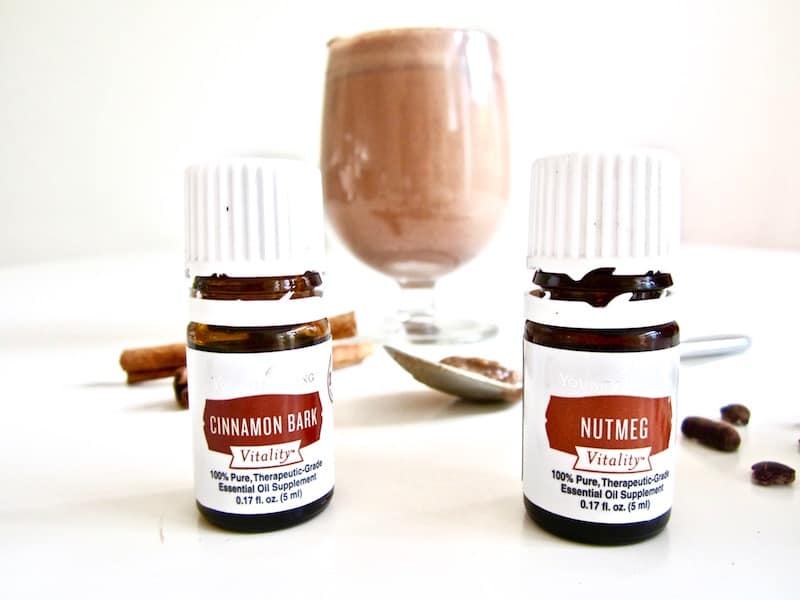 ESSENTIAL OIL TIPS
Essential oils provide incredible flavor to food with just ONE drop of oil – so don't overdo it!
The oils have a long shelf life and can last for years, potentially making them more cost effective in the long run than fresh herbs and spices that spoil faster.
Leave out the essential oils for young children or picky palettes.
The oils are multipurpose – they can be diffused as potpourri and aromatherapy, added to base oils like coconut or avocado and be applied topically for DIY beauty recipes, or added to your DIY cleaning recipes.
Keep these oils in your purse when you're out and about and add a drop in your favorite unsweetened latte – thus getting all the warm, energizing fall flavors without the sugar and additives!
I shared this Hazelnut Spiced Hot Chocolate recipe last year with Jenny Melrose's readers on The Melrose Family, and now – I get to share it with you! (Thank you Jenny for the Young Living oils and having me as a guest contributor on your site!) I hope you enjoy this recipe and exploring all the benefits of essential oils.
Sarah Newman, Vegan Chickpea
serves 2 people
Healthy Hazelnut Spiced Hot Chocolate (With Essential Oils!)
This warming Hazelnut Spiced Hot Chocolate recipe uses a combination of hazelnut butter with cinnamon and nutmeg essential oils to create a creamy and healthy refined sugar free treat, perfect for a cold winter day!
5 minPrep Time
5 minCook Time
10 minTotal Time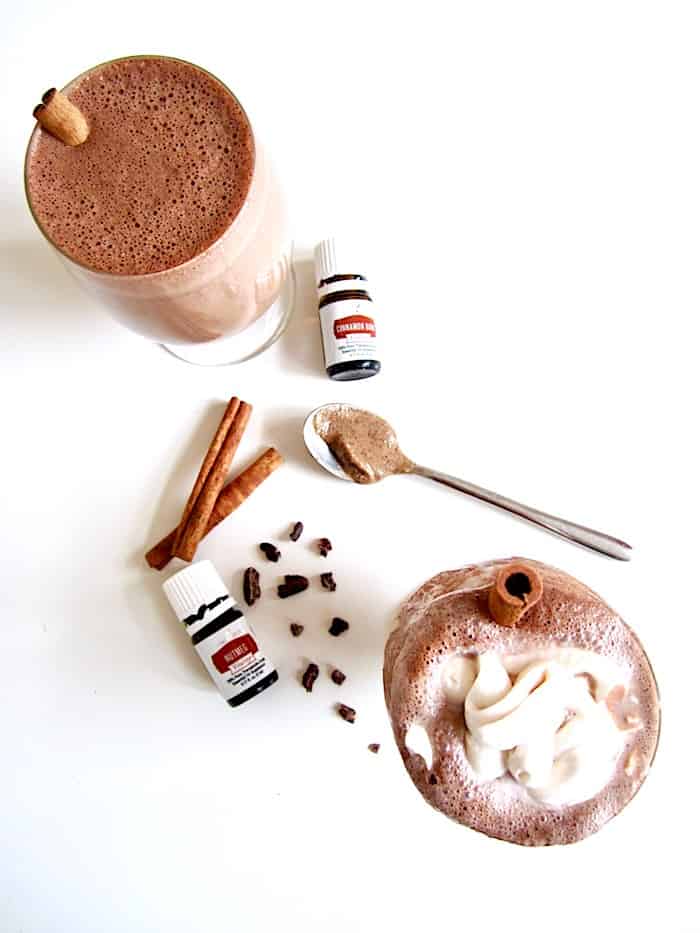 Ingredients
2 cups milk of choice (I recommend almond, hazelnut or oat milk for dairy free/vegan version)
3 Tbsp raw unsweetened cacao powder
2 Tbsp hazelnut butter
1/2 Tbsp maple syrup or date syrup (more to taste)
1/2 tsp vanilla extract
1 drop cinnamon bark essential food grade oil
1 drop nutmeg essential food grade oil
pinch of salt

OPTIONAL GARNISHES:

2 cinnamon sticks - to use as straws
whipped cream (you can find dairy free/vegan versions or make your own coconut whipped cream)
Instructions
Add all ingredients to a blender. Blend to get frothy!
Heat on the stove until warm.
If desired, top with whipped cream and a cinnamon stick straw - this makes for a delicious and fun finishing touch!
Notes
You can omit the essential oils to make a more traditional (non spiced) hot chocolate.
!Substitutions: 1) In place of the oils, you can substitute approximately 2 tsp ground cinnamon and 1 tsp ground nutmeg. 2) For hazelnut butter, you can substitute almond or cashew butter.
7.8.1.2
85
https://veganchickpea.com/vegan-hazelnut-spiced-hot-chocolate-essential-oils/
Sarah Newman, SKN Creations


---
Disclaimer: These statements have not been evaluated by the Food and Drug Administration. This information is not intended to diagnose, treat, cure, or prevent any disease. The information on this site is not intended or implied to be a substitute for professional medical advice, diagnosis or treatment. Please confirm any information obtained from or through this web site with other sources, and review all information regarding any medical condition or treatment with your physician. Never disregard professional medical advice or delay seeking medical treatment because of something you have read on this website.