Halloween is fast approaching, and this holiday is a sure hit with the kids as they go Trick or Treating around the neighborhood in their costumes. However, we all know that what really makes these young trick or treaters giddiest with excitement are the sweet treats that they look forward to enjoying afterward.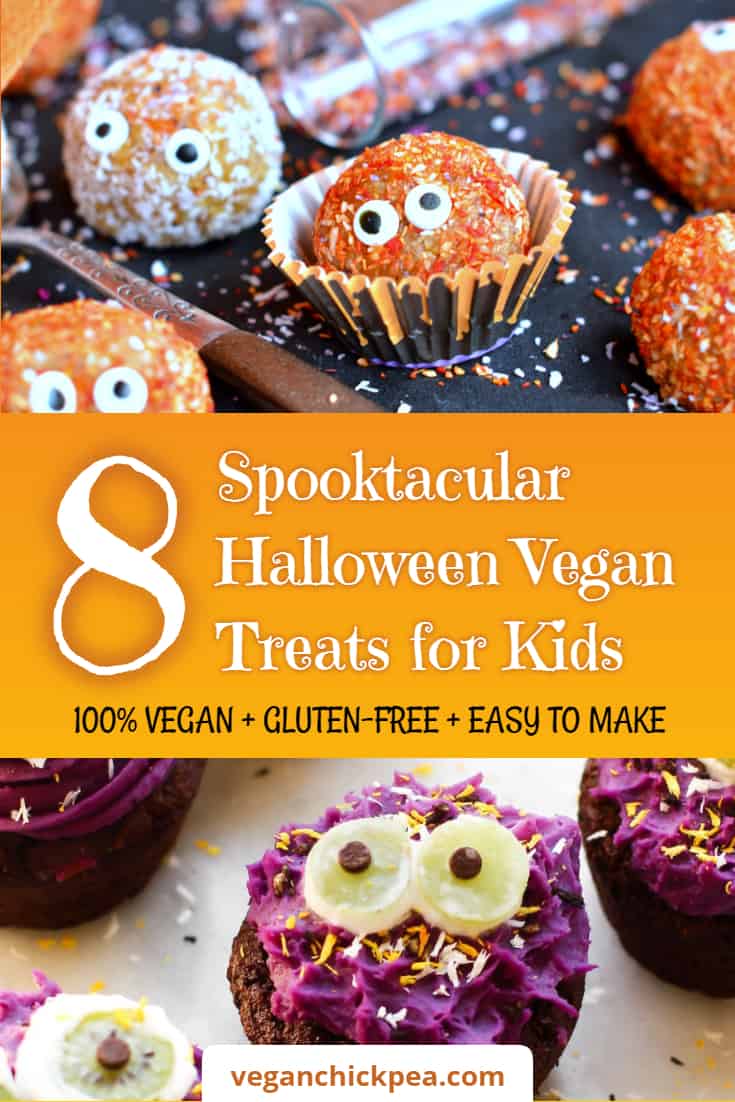 As vegan foodies, we know that we have to come up with a list of festive vegan treats befitting this day. This round-up is a collection of the most popular spooktacular treats that are vegan and gluten-free, aesthetically pleasing to both kids and adults, and definitely easy to prepare. We're certain that you and your little ones are going to enjoy these Spooktacular Halloween Vegan Treats.
Stress-free Recipes
Preparing Halloween treats will never be the same with these stress-free recipes that you and your kid can easily make together. Your kids will enjoy either bringing these treats along with them when they go trick or treating, or even just handing these treats out to the other trick or treaters in the neighborhood. Also, if you are planning to celebrate the day with your family at home, it will now be easier to prepare an enchanting Halloween-themed dinner by simply adding these spooky treats to your dinner spread. Your loved ones will surely enjoy a vegan, gluten-free Halloween feast.
Creative, Healthy, and Delicious
These recipes are a big hit with the kids because of how adorably cute each treat looks, and how delicious each one tastes. The best part is us knowing that these treats are made from healthy ingredients, so we won't have to worry about setting our "my-kids-ate-too-many-sweets-already" alarm on. Even your guests will never know that these treats are vegan and therefore, healthy.
So make sure to pin these recipes to enjoy a Spooktacular Vegan Halloween.
With the purple fur frosting and the big round green grape eyes, these cupcakes, made with dark vegan chocolate, scream ADORABLE rather than spooky. You and your kids will definitely have a blast baking and decorating this one! Check out the complete recipe here.
Who would have thought that an apple treat could look this cute and slightly creepy at the same time? Your kids will love that this treat looks so silly with its tongue out. They're also certainly easy to make. So go ahead and check this recipe out and have your kids giggle at those googly eyes!
All in one bite! Surprise your kids with the crazy googly eyes and colorful chocolate bits of this bite-size Vegan Candy bark. Making this treat is as fun as it looks so check out the recipe here to start enjoying making it with your kids.
Cookies are a staple treat every Halloween so why not make a vegan version of this treat decorated like a mummy, right? Your kids will love these tasty vegan Mummy cookies. They look so adorable, and the best part is that they are surprisingly easy to prepare that you'll have more time to work on your little one's Halloween outfit. So check out the complete recipe and shop for the ingredients now.
Don't let its simplicity deceive you! These skulls may look really spooky – but your kids will definitely enjoy munching on these creepy little treats. This is easily one of the simplest treats to prepare, so go straight to the recipe and make sure to pin this one.
There's something about googly eyes that make anything it is added on adorably spooky. These Apricot Coconut Balls are made with dried fruits and coconut, which make it a healthy Halloween treat for your kids to bring to school or to when they go trick or treating. Definitely a fun and exciting recipe for you and your kids to try. Get the vegan and gluten-free recipe here.
Fake spider webs on front porches simply scream Halloween. So this treat easily made the list because a recipe for decadently rich brownies decorated with spider webs using peanut butter is what Halloween treats are all about. Your kids will definitely enjoy this spooky chocolatey-goodness. Recipe here.
This list would not be complete if we would not include a treat honoring the most famous creatures of the night – BATS! So to cap this list off, we are featuring these super cute Sugar Cookie Bats. A treat that your kids will love even if it's not Halloween. Check out the complete recipe so you can include the ingredients in your next grocery list!
We hope you enjoyed this list of Halloween vegan treats for you and your kids. Here's another festive vegan round-up that you may also enjoy!
Show us some love through the comments section and definitely share your thoughts on what you think our next list should be.