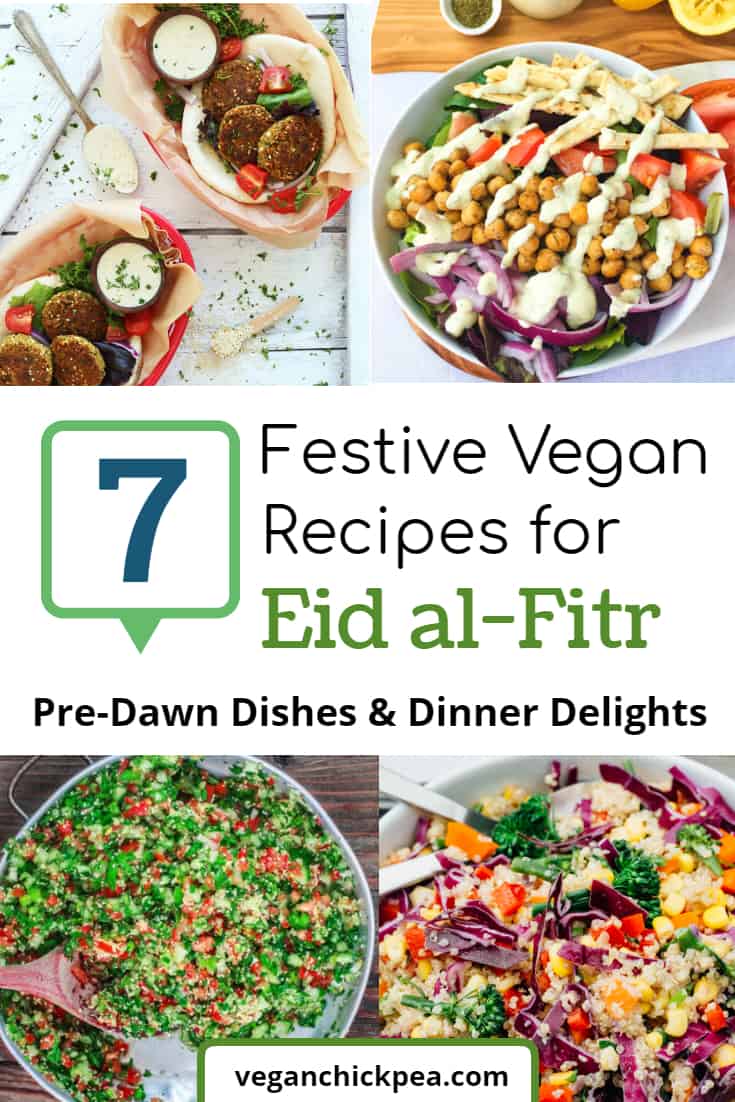 Celebrate the end of Ramadan with these vegan mouth-watering dishes from different culinary influences that will guarantee an extraordinary Eid al-Fitr feast.
Festive Vegan Recipes for Eid al-Fitr
Eid al-Fitr marks the end of Ramadan, a holy month of fasting. It is usually celebrated with a festive banquet featuring amazing appetizers and delicious main courses. This vegan round-up will ensure you that there will be no shortage of dishes to enjoy with your family and friends. These festive vegan recipes will surely make your celebration a memorable one!
Pre-Dawn Dishes
Let's start light with these pre-dawn dishes: a generous mix of salads and chickpea dishes that are both delicious and healthy.
Rainbow Quinoa Salad with Tahini Ginger Dressing

This colorful dish tastes as good as it looks! Feast your eyes and tastebuds on crunchy vegetables and nourishing quinoa drizzled with tahini ginger dressing. It's gluten-free, 100% vegan, and bursting with flavor! But don't take my word for it… try it yourself! Get the full recipe here.

Healthy Vegan Gyro Salad with Chickpeas and Tzatziki Dressing

Inspired by a classic Greek gyro, this salad is packed with all the protein you need! Sautéed chickpeas, Greek spices, tomatoes and red onions are tossed in a tangy, creamy vegan tzatziki sauce. Here's the recipe for you to enjoy firsthand!

Tabouli (Tabbouleh)

The true star in a tabouli recipe is finely chopped parsley. This dish is light and balanced but with a bit of spice to keep your palate wanting for more. Pin this recipe as your entrée salad dish and start your Eid al-Fitr feast super fresh. Grab the complete recipe here.
Dinner Delights
After a full set of refreshing dishes, it's time for the main event. Don't be fooled by the simple ingredients. These classic dishes are absolutely delicious!
Remember: you don't need a special celebration to prepare these vegan dishes. Excited for more vegan goodness? Click here for scrumptious recipes!