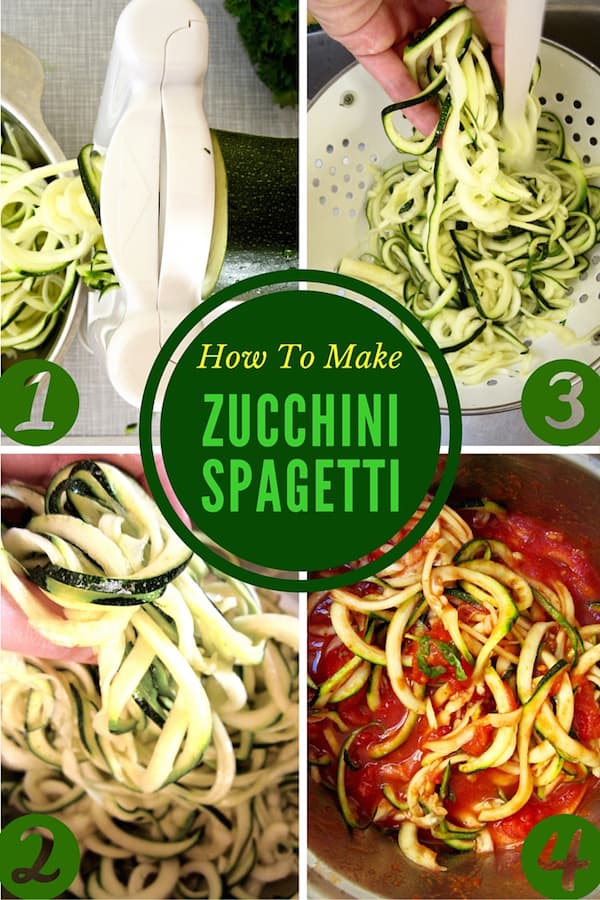 Zucchini and yellow squash pasta… undoubtedly one of the best creative alternatives to regular spaghetti! If you're looking to add veggies into your diet, or want to reduce your carbs, or simply want to enjoy a delicious and healthy meal, then this is something you need to try ASAP.
What's so great is that it's fast, easy and fun!
Try it as a substitute for spaghetti in my Spicy Bean Balls with Zucchini Spaghetti recipe. If you're hesitant to replace your regular pasta with this veggie alternative, then try adding in these zucchini noodles WITH your regular pasta as an addition and see how you like it.
You can even eat these noodles raw as the base of a nice summer salad.
For the easiest way to make these noodles, I recommend this spiralizer

. While you can use a vegetable peeler (see instructions below), the spiralizer gives you perfectly curly shaped, even noodles with 3 different noodle options – thin, medium or wide. It has suction cups to your counter to keep the base in place while you spin the handle. It's also BPA free and dishwasher safe.
Yes, it is a little bulky so takes up some storage space, but to me it's well worth it and much better than a vegetable peeler because of 1) the different blade inserts and 2) the versatility – you can spiralize not just zucchini and yellow squash, but carrots, beets, potatoes, parsnips, cucumbers, radishes and more! I prefer this to the hand held ones on the market because it's sturdier, well designed and just plain easier to use.
I hope you have as much fun eating these noodles as I do!


STEP 1: SPIRALIZE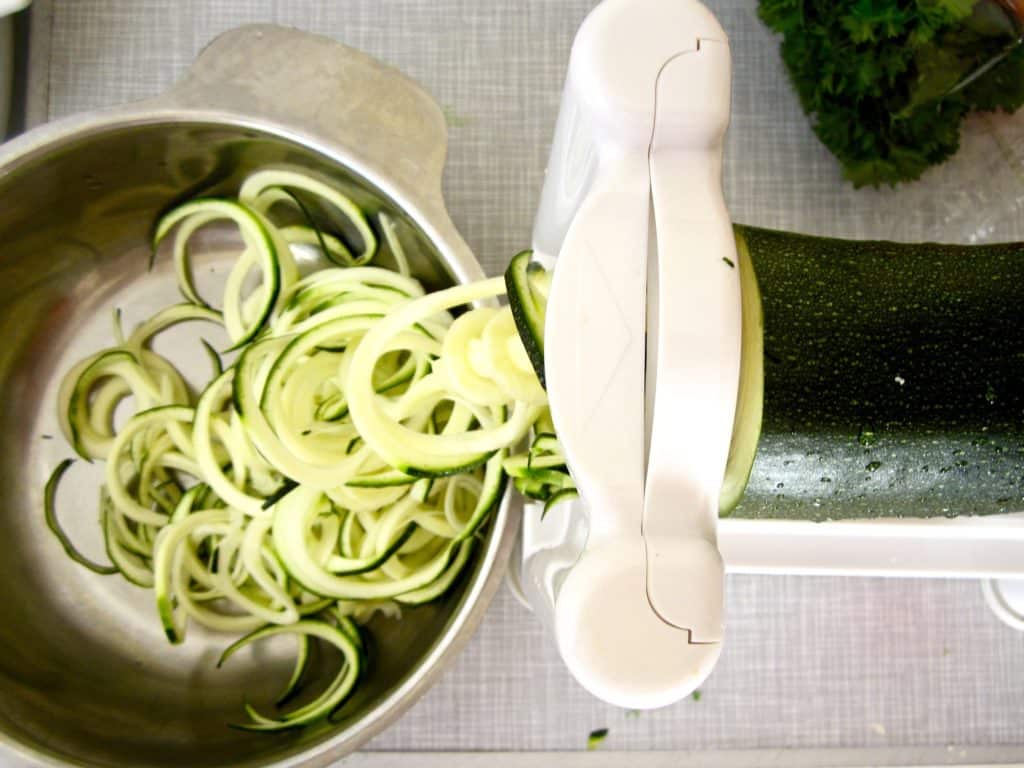 STEP 2: SALT & SIT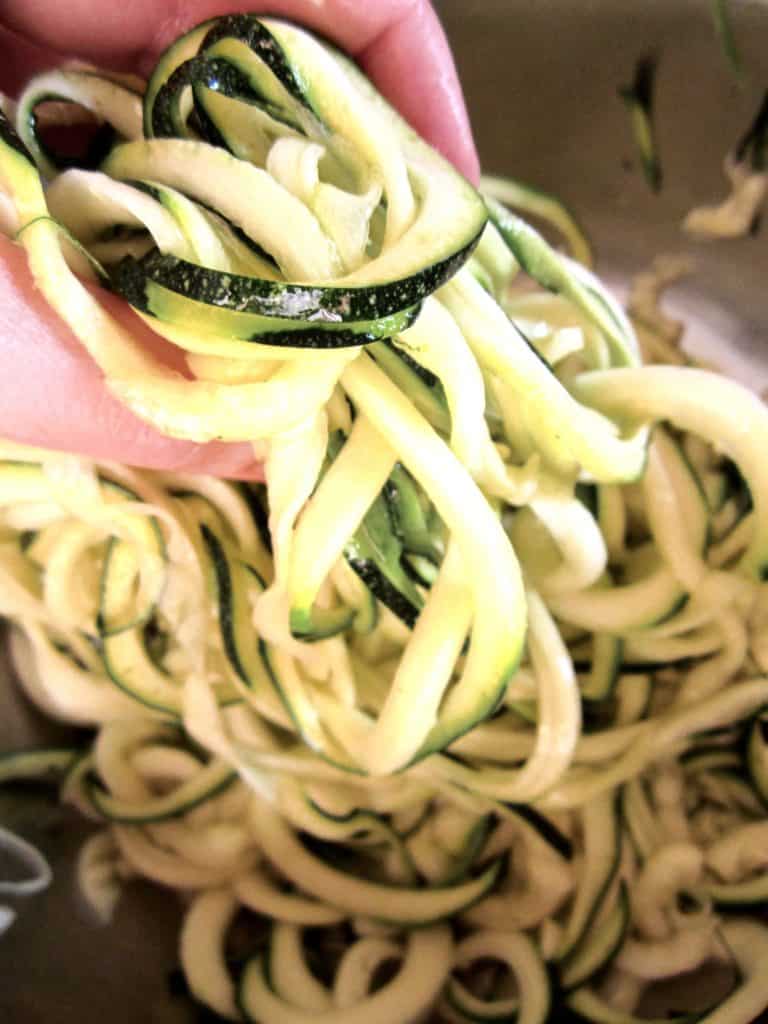 STEP 3: RINSE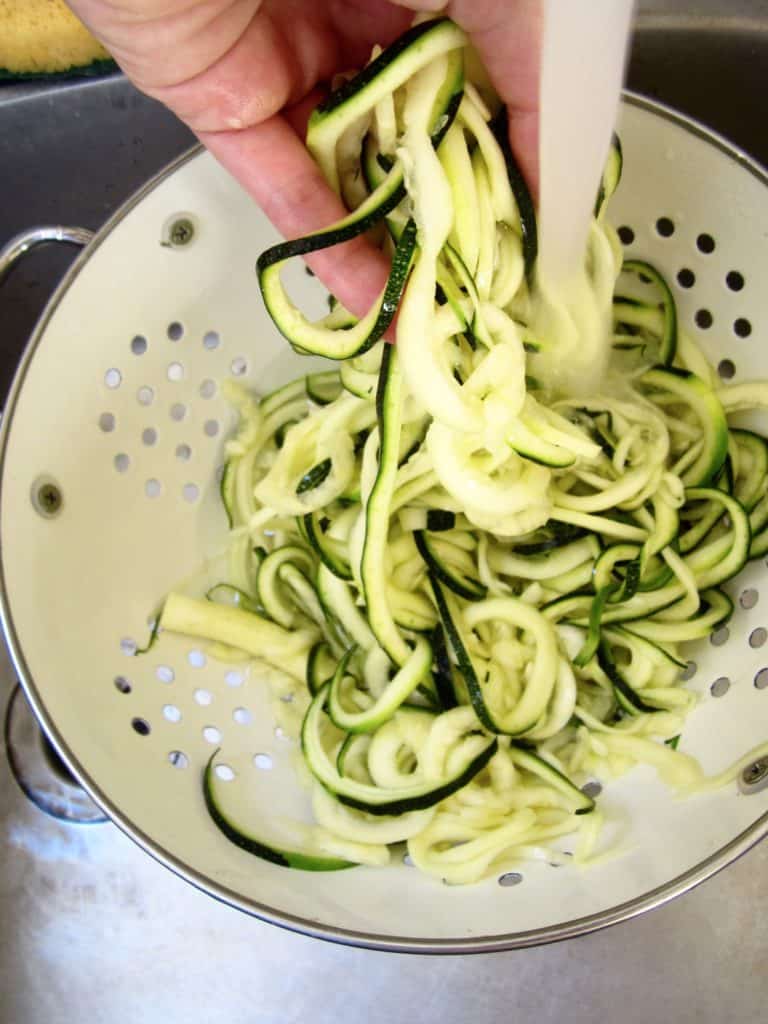 STEP 4: ENJOY!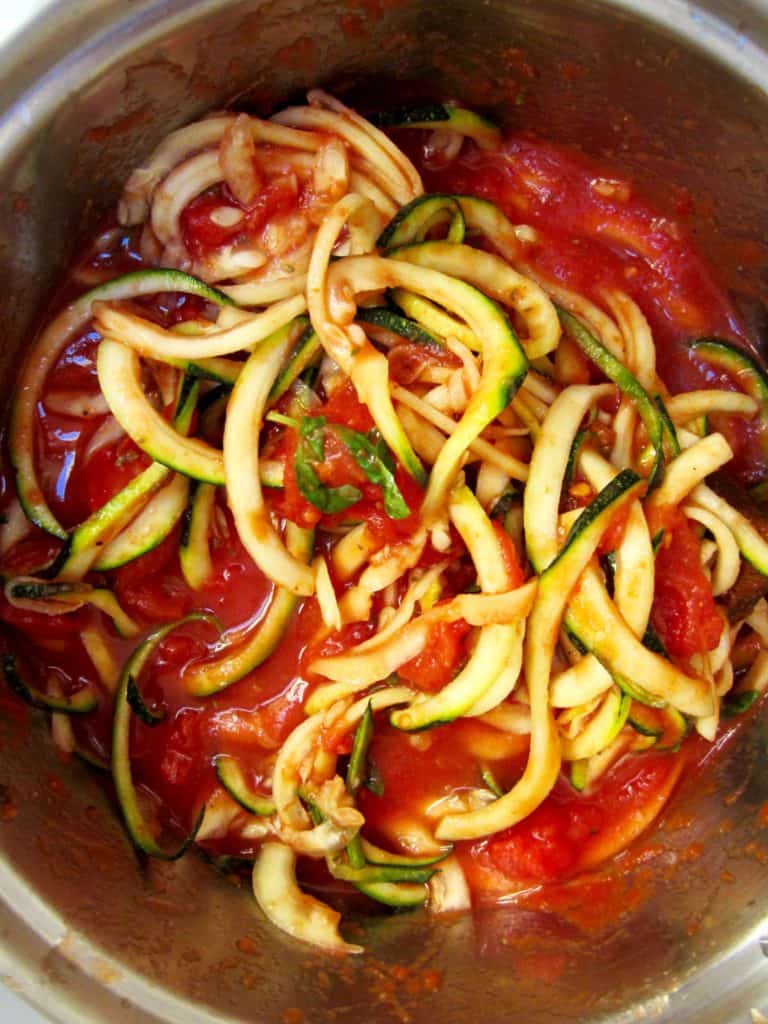 Sarah, Vegan Chickpea
How to Make Zucchini & Squash Spaghetti
Quick, easy, fun and healthy pasta substitute.
20 minPrep Time
20 minTotal Time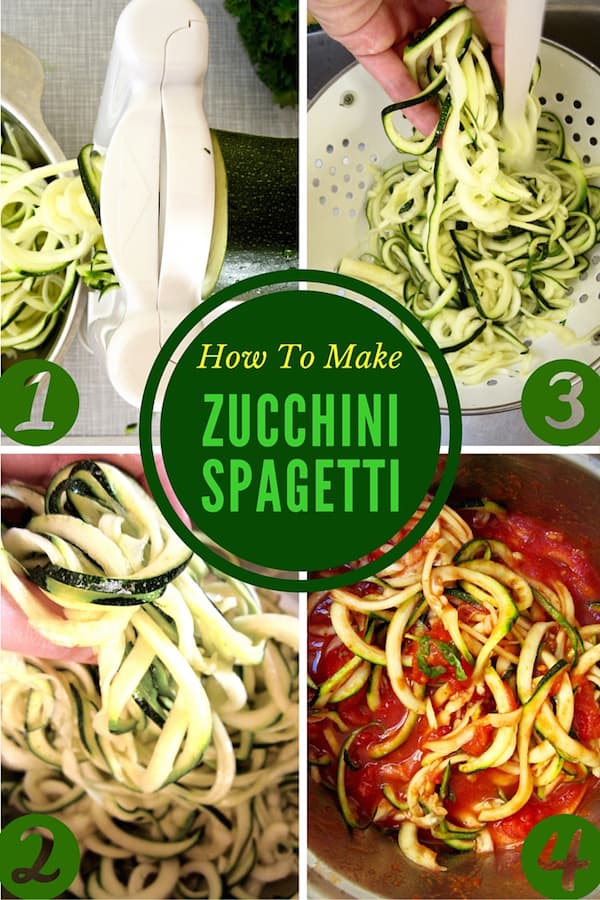 Ingredients
zucchini or yellow squash, or a mixture of both; about 1 - 2 per person for a main course, depending on size of zucchini
this spiralizer or vegetable peeler
sea salt
Instructions
If using the spiralizer:

Chop off the ends of your zucchini/squash. place the large end in the spiky part of the spiralizer (near the handle) and then snugly fit the smaller end into the opposite side, piercing with the small round slicer. Place a bowl to the side of the spiralizer to catch the noodles. Turn the handle and have fun spiralizing away!*

If using a vegetable peeler:

Chop off the ends of your zucchini/squash. On a large cutting board, hold the vegetable steady and slice lengthwise from top to bottom. Carefully continue, peeling the zucchini into long strips. When you get the soft middle with the seeds, you'll notice that this part of the vegetable is too soft to shape into noodles. Leave this part in tact and see the note below for what you can do with it.* Place the finished slices into a large bowl.

Both methods:

When your noodles are all ready, sprinkle liberally with sea salt (this will get mostly washed off later so don't worry about the amount of sodium). Give a quick stir with your hands to coat the noodles.
Allow the mixture to sit at least 15 minutes. This will make the noodles plump without needing to cook them separately!
When you're ready to use the noodles, rinse them in a strainer under running water to remove excess salt. If eating raw, they are ready to go!
If eating as a warm pasta, then either a) place them directly in your sauce to quickly warm them up on the stove, or b) add a splash of olive oil to a separate pot and warm them up for a couple minutes if you prefer to keep the noodles separate.
They are ready to enjoy!
Notes
*The long piece of zucchini that comes through the middle round slicer (and looks pretty funny!) isn't typically used with the noodles because it's the super soft center of the zucchini. I usually save it for later to add to stir frys or on top of salads, or you can freeze it and add to soup.
7.8.1.2
10
https://veganchickpea.com/how-to-make-zucchini-squash-spaghetti/
Sarah Newman, SKN Creations
This post contains affiliate links. If you make a purchase on Amazon after clicking one of my links, your costs stay the same but I receive a small commission to help support Vegan Chickpea. Thank you for your support!