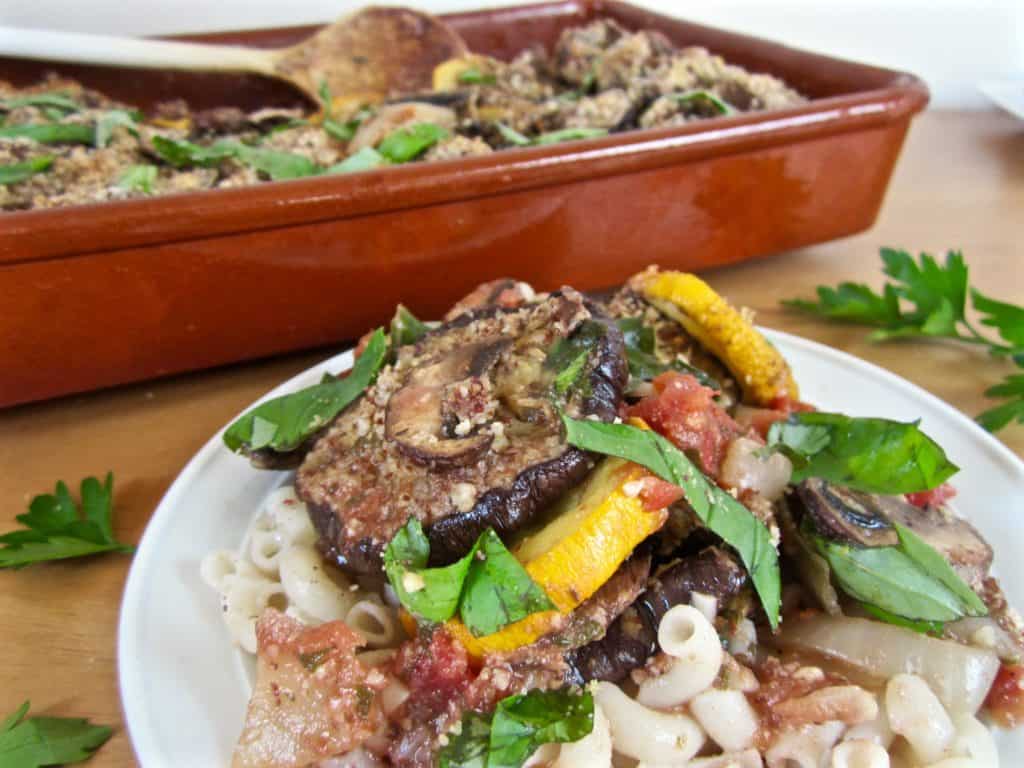 The other day I was craving eggplant parmesan but knew I wanted to incorporate other vegetables into some kind of baked, casserole-esque melty goodness. I couldn't decide what I wanted to make exactly, so just started cooking and this baked veggie dish was the result! Layers of marinated mushrooms, roasted eggplant and squash, tomato sauce, fresh basil and of course, homemade vegan Parmesan. YUM!
Feel free to mix up some of the vegetables and herbs you have on hand. I haven't tried it but I imagine that red peppers and broccoli would be nice additions or substitutions.
These leftovers are really good cold the next day for lunch. Side note: am I the only one who loves cold leftovers of, well… basically anything?! My mom used to cook in big batches so that my family would have leftovers to eat for days, which me, my siblings and dad always delighted in! My mom thought cold leftovers were gross and I'm pretty she thought we were a little crazy for how much we'd look forward to eating cold pasta, rice, soggy salad and whatever else you can think of, but she was pleased that we wouldn't let anything go to waste! What about you – do you say yay or nay to cold leftovers the next day?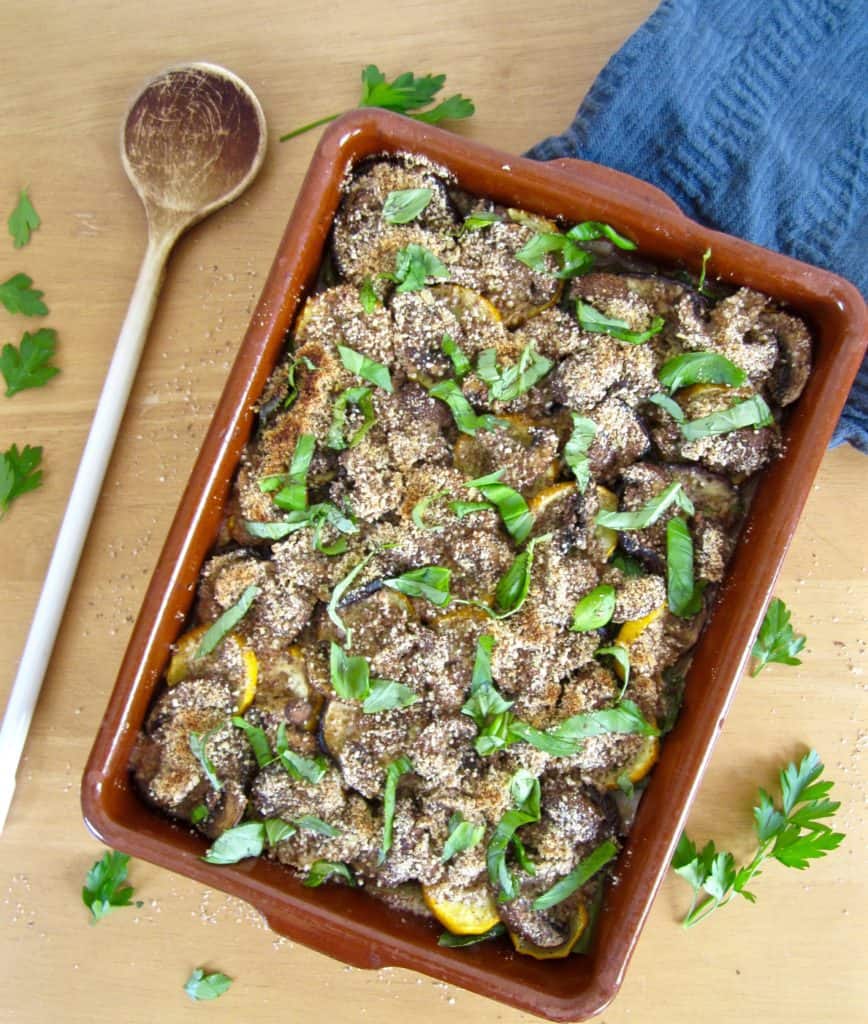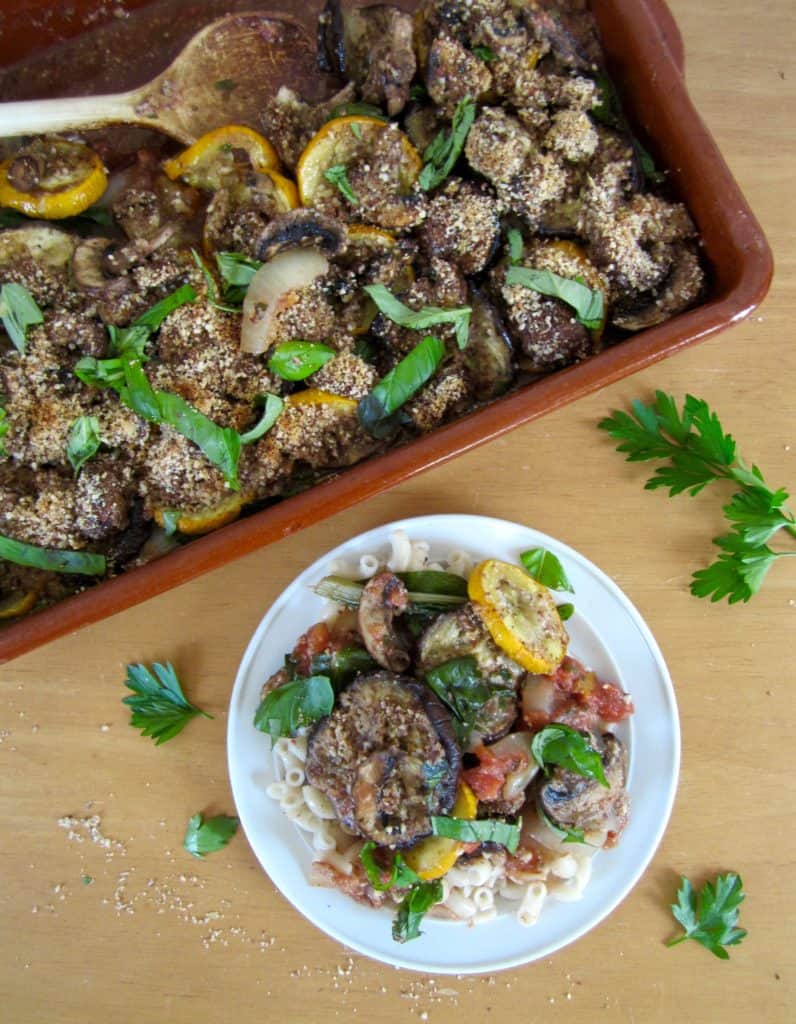 Sarah, Vegan Chickpea
5 - 6 servings
Italian Roasted Veggie Bake with Vegan Parmesan
Roasted eggplant and squash, marinated mushrooms, swiss chard and tomato sauce layered with vegan Parmesan and topped with fresh basil.
25 minPrep Time
45 minCook Time
1 hr, 10 Total Time
4 based on 1 review(s)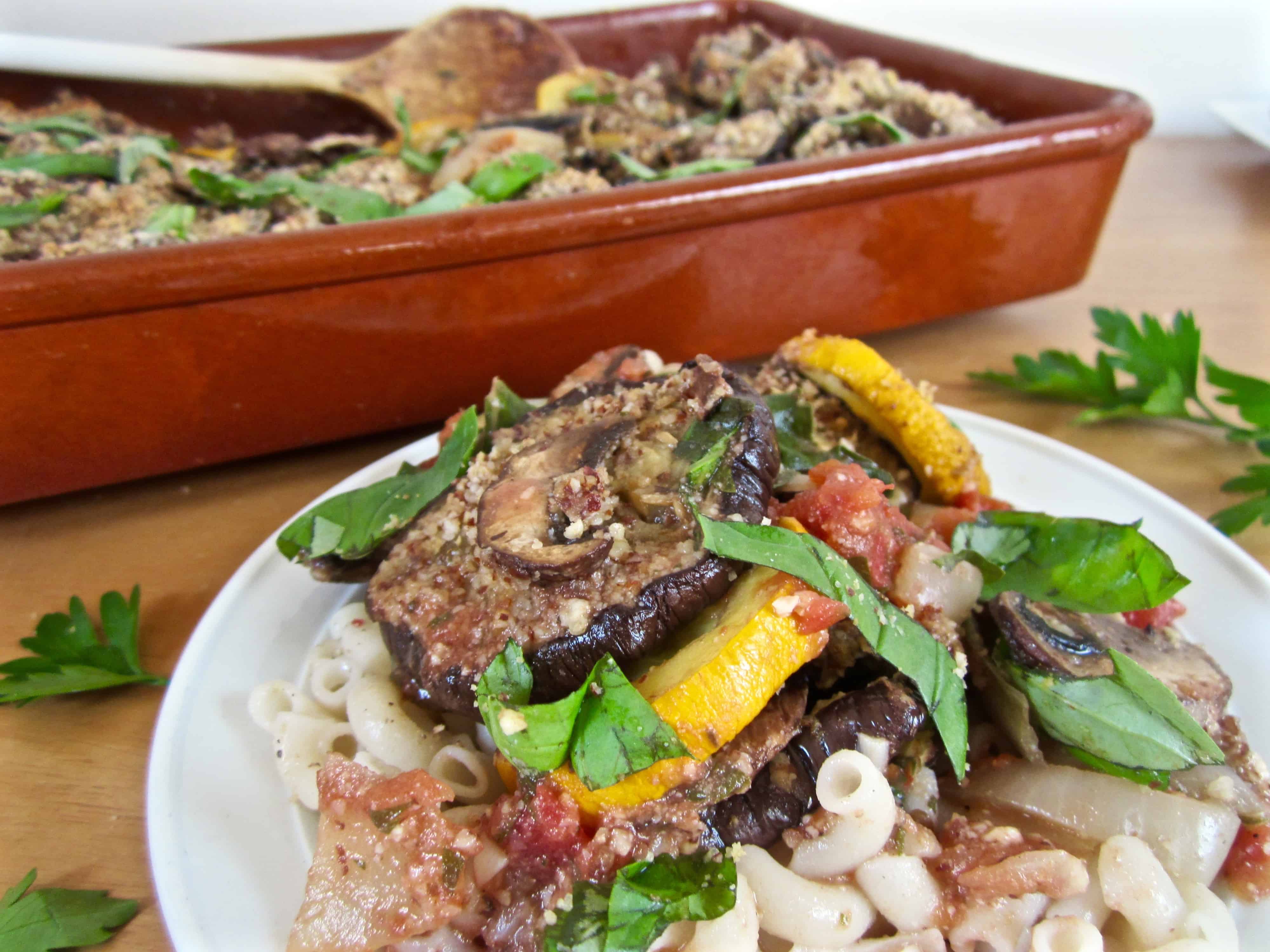 Ingredients
4 oz (125g) mushrooms
2 Tbsp balsamic vinegar or tamari
4 cloves garlic, minced
1 small to medium eggplant
1 large yellow squash
1 large onion
2 handfuls of swiss chard (or other greens)
1/2 cup vegetable broth (or 1 Tbsp olive oil)
2 cans (14 oz each) (800g) diced tomatoes
2 Tbsp tomato paste
1 Tbsp red wine vinegar (or red wine)
1/8 cup packed parsley
1 tsp dried oregano
1 tsp salt, divided into 1/2 tsp and 1/2 tsp
fresh cracked pepper to taste
sprinkle of red peppers flakes to taste
olive oil spray
1/2 - 3/4 cup vegan parmesan (i used 3/4 - love that crispy topping!)

To serve:

your choice of grain/legume - pasta, polenta, quinoa, buckwheat
1/4 cup packed basil, optional for topping
kalamata olives, optional for topping
Instructions
Slice the mushrooms and mix with tamari and 1 clove of minced garlic. Put in the fridge and let marinade at least 30 minutes.
Preheat oven to 450 degrees.*
Slice eggplant and squash lengthwise into approx 1/2 inch slices. Spray baking sheet with olive oil, place eggplant and squash on baking sheet(s) and spray tops of veggies with olive oil. Sprinkle with 1/2 tsp salt and fresh cracked pepper to taste.
Bake about 13 minutes, then flip. Bake another 13 minutes.
Meanwhile, turn on your saute pan to medium heat. Cut the onion into quarters and then into strips.
Make sure your pan is HOT and then add onions and vegetable broth (or olive oil if preferred). Cook until softened, about 8 - 10 mins. Add a dash more of veg broth if onions start to stick.
Add diced tomatoes, red wine vinegar, oregano, garlic, parsley and red pepper flakes. Reduce heat to low and simmer. Add the remaining 3 cloves of minced garlic.
Once the eggplant and squash are done cooking, reduce oven temperature to 375 degrees.
In a 9 x 12 baking dish (or similar size), layer the ingredients. Start with the onion and tomato mixture on the bottom, then the swiss chard, then the squash and eggplant, then the marinated mushrooms. Finally, sprinkle with Parmesan .
Bake for 15 minutes, then broil for 5 - 7 more minutes, until the top turns golden.
Meanwhile, prepare grain of choice for serving (pasta, polenta, quinoa, buckwheat, etc.).
Top with fresh basil and olives, if desired.
Notes
*I cooked this in a toaster oven. Your times may vary and this may cook slightly faster.
7.8.1.2
5
https://veganchickpea.com/italian-roasted-veggie-bake-vegan-parmesan/
Sarah Newman, SKN Creations