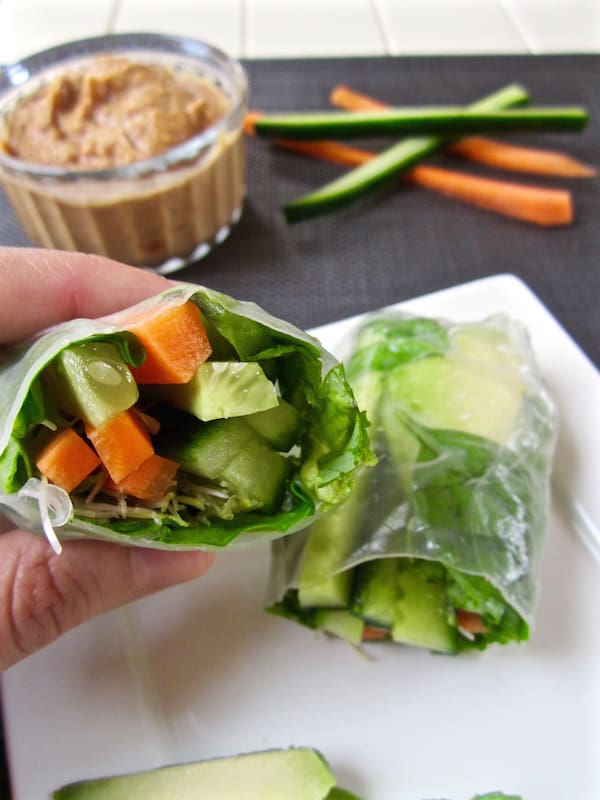 For years it never crossed my mind to consider making my own spring rolls. I'm not sure why. Then one day a couple years ago I was out at one of my favorite Thai restaurants and ordered the rice paper rolls, and they were JUST. SO. GOOD. And better yet, they seemed so simple that it dawned on me I could make these at home! Whoop! So I did just that, and now it's on regular rotation in my recipe repertoire.
I know I'm not winning any creativity points with this post, BUT I think sometimes it's nice to be reminded of the healthy, simple, fresh and delicious meals we can make at home but often forget about.
While good anytime of year, these rolls are most perfect in the summer; light yet filling, no hot ovens or stoves required. Just slice up your choice of veggie fillings, soak your rice wrapper for 30 seconds, fill it up and roll! Done, and ready in about 20 – 30 minutes (depending on how many you make).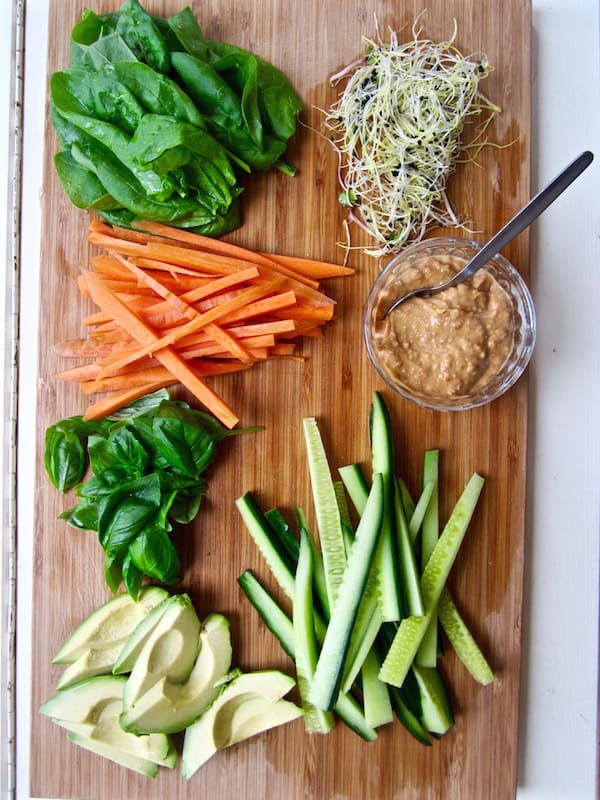 I like to eat my wraps with homemade ginger almond dipping sauce, or sometimes I also have sweet chili sauce and sriracha on the side to mix things up. I like variety and having different sauces every couple of bites.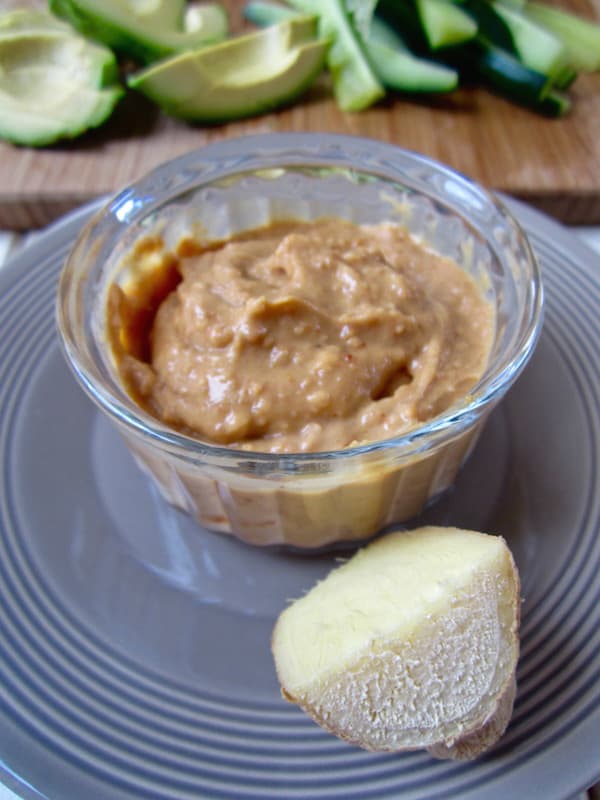 It may take you a few times to get the hang of the process of knowing how much filling to use without it being too much or too little, or getting the wraps to roll nicely – but once you do it's quite easy. Plus it's totally ok if they don't look beautiful – who cares? It will still taste delicious!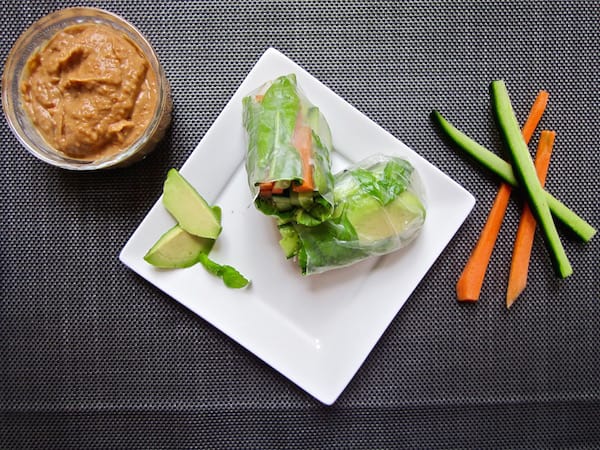 Sarah, Vegan Chickpea
Healthy Spring Rolls & Ginger Almond Sauce
Healthy. Simple. Fresh. Delicious. Classic spring rolls are great any time of day - an appetizer, snack, lunch or addition to dinner.
30 minPrep Time
30 minTotal Time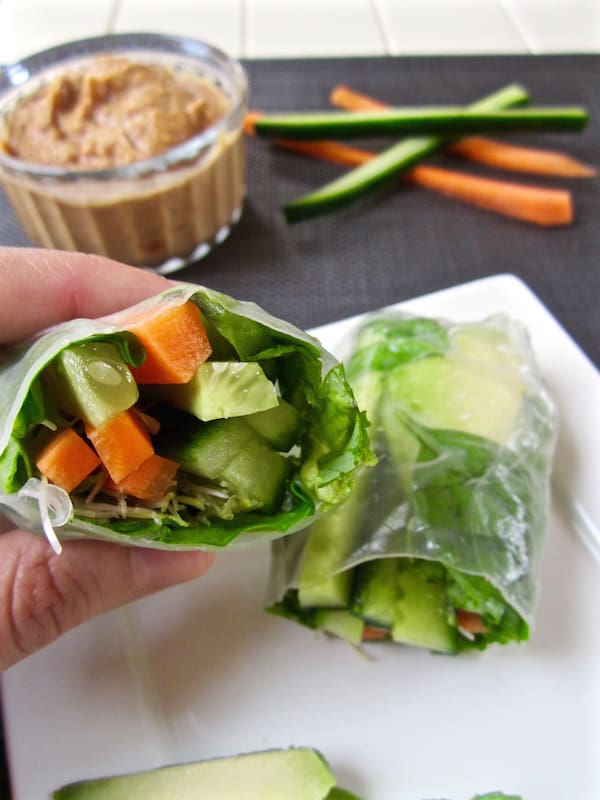 Ingredients
rice paper wraps
a large bowl of hot water

YOUR CHOICE OF ANY OF THE FOLLOWING FILLINGS:

avocado
carrots
cucumber
fresh greens - spinach, arugula
sprouts
basil and/or cilantro
red pepper
cabbage
bean sprouts
mango
tofu
vermicelli noodles

GINGER ALMOND SAUCE:

½ cup almond butter
½ cup almond milk
1 tbsp fresh grated ginger
1 tbsp tamari (or coconut aminos for soy free)
1 tbsp fresh lime juice
1 tbsp maple syrup
½ tsp chili powder
Instructions
For the sauce: combine all ingredients in a bowl and whisk thoroughly. I like to use this microplane for grating the ginger.
Slice your veggies and herbs of choice. If using tofu or vermicelli noodles, cook ahead of time.
Fill a large bowl with warm water. Take one rice wrap and submerge in the bowl of water for 20 - 30 seconds. Take the wrapper out and place on a cutting board.
Add the prepared fillings to the wrapper. Lift the side of the rice paper that's closest to you and pull it over the fillings. Fold in each end of the wrap and continue rolling to seal.
Repeat process for however many wraps you want to make.
7.8.1.2
14
https://veganchickpea.com/simple-spring-rolls-ginger-almond-sauce/
Sarah Newman, SKN Creations
This post contains affiliate links. If you make a purchase on Amazon after clicking one of my links, your costs stay the same but I receive a small commission to help support Vegan Chickpea. Thank you for your support!
Save