A healthy and simple recipe using only 9 ingredients! Savory and sweet with a bit of spice and protein makes this a perfectly balanced meal! Sugar free & oil free.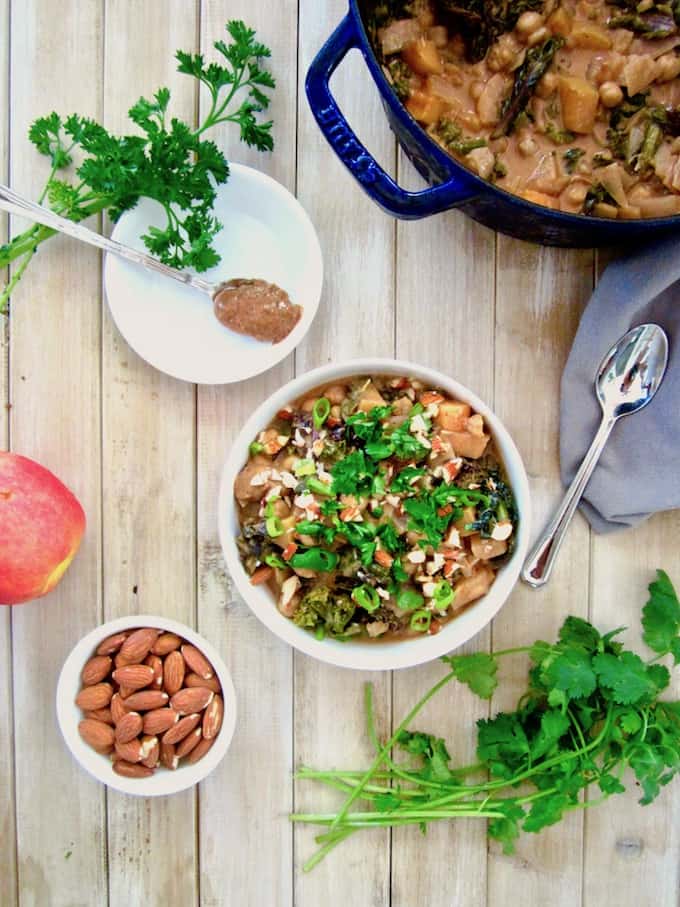 Stew in May? Yea, I know. It kinda doesn't make sense at first, but hear me out. A couple weeks ago it was a rainy, cold, spring day and all I wanted was something warm, comforting and nourishing. I remembered a peanut stew I made a few years ago with apples and kale, so made a spin off of that and really loved it, so didn't want to wait until the fall to share it with you!
Make sure you bookmark this for apple season in a few months. Although, there's really no reason to wait – this can be enjoyed at any time of the year!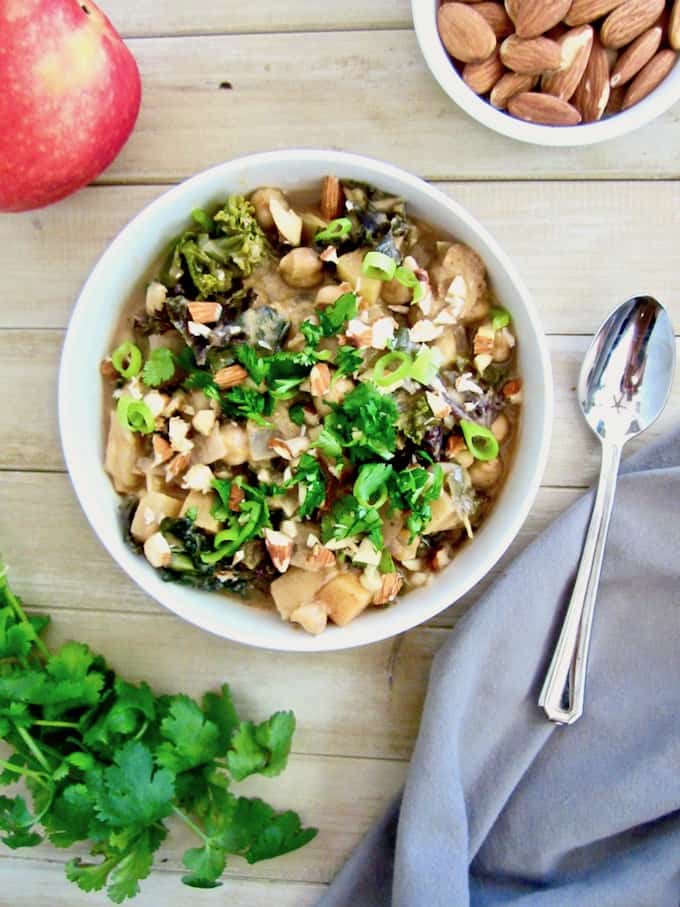 Right now I'm in Portland at Chef Mark Reinfeld's Vegan Fusion Cooking Class based on his cookbook Healing the Vegan Way: Plant-Based Eating for Optimal Health and Wellness
(which I HIGHLY recommend!). We just finished Day 1 and I absolutely loved it! Today we made Chocolate Chia Pudding, Asparagus and Corn Soup, Moroccan Crusted Tofu, Golden Rice, Mushroom Gravy, Hemp Ranch dressing and Black Bean Brownies. All amazing! I can't wait to teach my own vegan cooking classes in person, hopefully one day soon! ?‍?  Thank you to everyone who contributed to my crowd funding campaign to make this possible. ❤️
Also, Portland totally rocks (or PDX as the locals say. I'm getting down with the lingo here.) It's my first time here and I'm appreciating it's uniqueness – it's like nowhere I've ever been! It's a beautiful, eccentric city and has more vegan and vegan friendly restaurants than I can count. They even have an ALL VEGAN grocery store that I'm going to check out before I leave! It's really the Vegan Mecca… I might never leave. 😉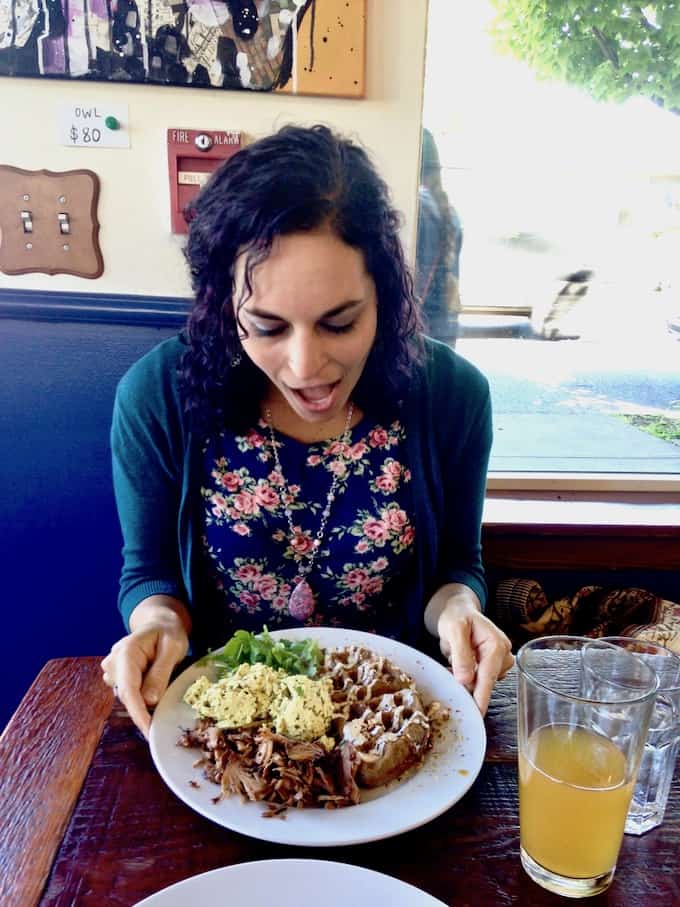 I'll share a post in the next couple weeks about my foodie experience, which has been off to an amazing start! For a sneak peek, here I am at A.N.D. Cafe – an all gluten free and almost all plant-based diner – in awe of my breakfast yesterday morning. I mean, I can't tell you the last time I had a delicious waffle out at a restaurant, it's been MANY years! I'll tell you more about it in a future post.
So for now, back to this stew.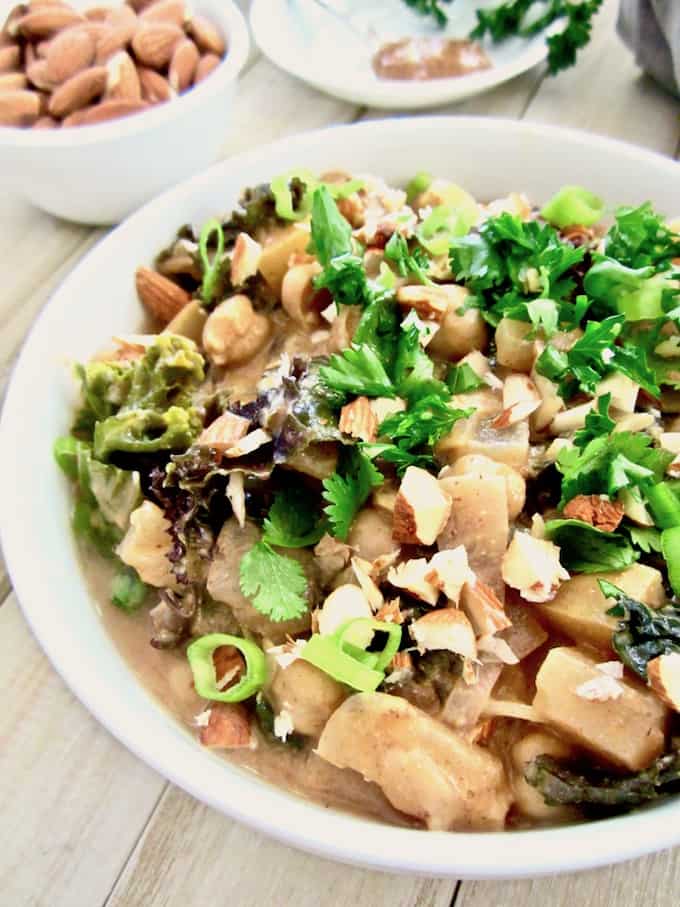 I love the simplicity of this recipe, using only 9 ingredients.
The almond butter and apple combo adds natural sweetness.
The hot sauce adds a little kick (or a lot of a kick, if that's what you want!).
The cilantro adds freshness.
The kale gives earthiness, boosts nutrition and just makes me happy. Kale rocks.
Chickpeas, another favorite ingredient of mine (I mean, just read the name of this blog!), give protein, savoriness and texture.
Combine all that together = perfection!
If you want it more soup-like (less chunky), just add more vegetable broth.
Optionally top with more cilantro, parsley, green onion and crushed almonds.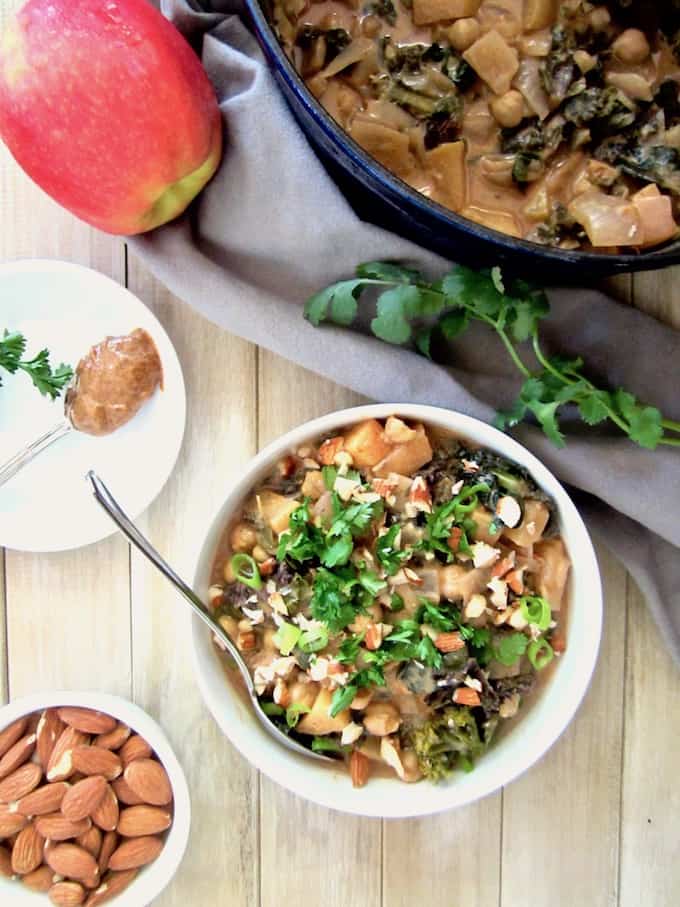 Looking for other stew or soup recipes? Try this Red Lentil Stew or Thai Red Curry Vegetable Soup!
Happy Saturday and don't miss next week's post where I'll be sharing a recipe for swoon-worthy Sunbutter Swirl Brownies! ?
Sarah Newman, Vegan Chickpea
serves 5 - 6
Spicy Apple, Almond, Kale & Chickpea Stew (Vegan & Gluten Free)
A healthy and simple recipe using only 9 ingredients! Savory and sweet with a bit of spice and protein makes this a perfectly balanced meal! Sugar free & oil free.
10 minPrep Time
20 minCook Time
30 minTotal Time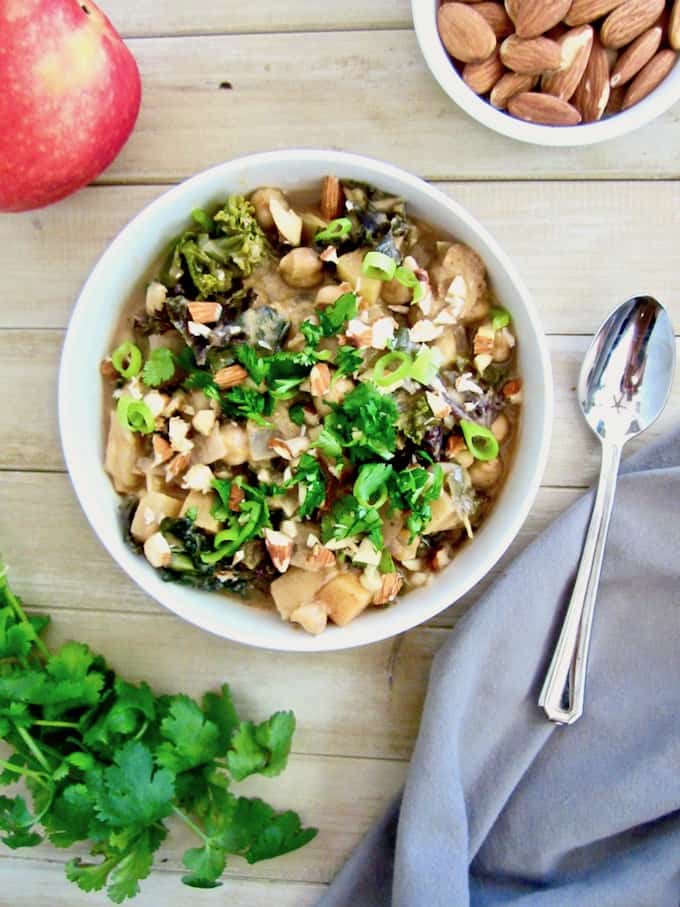 Ingredients
1 large onion, chopped
5 1/4 cup vegetable broth
3 cloves garlic, minced
4 cups chopped apple (about 2 large)
1/2 cup almond butter
2 Tbsp your favorite hot sauce (i like Franks)
1 can chickpeas
8 cups kale, chopped
1/2 tsp salt
1/4 cup cilantro, plus more for topping

Optional, for topping:

More cilantro
parsley
green onions
crushed almonds
Instructions
Heat 1/4 cup of the vegetable broth in a pot on med/high heat. Add the onion and garlic, cooking until softened, about 10 minutes.
Add remaining 5 cups of vegetable broth and the chopped apple, bringing to a simmer. Simmer for about 5 minutes.
Stir in the almond butter and hot sauce.
Add chickpeas, salt and kale, cooking for a couple minutes for the kale to gently wilt.
Stir in the cilantro. Serve and top with your choice of any of the following: more cilantro, parsley, green onions and crushed almonds.
Notes
Adapted from the African Peanut Stew recipe in Lyn Genet's book The Plan
7.8.1.2
51
https://veganchickpea.com/spicy-apple-almond-kale-chickpea-stew-vegan-gluten-free/
Sarah Newman, SKN Creations
This post contains affiliate links. If you make a purchase on Amazon after clicking one of my links, your costs stay the same but I receive a small commission to help support Vegan Chickpea. Thank you for your support!