These easy brownies have only 9 ingredients and take 15 minutes to prepare! A low sugar dessert that's vegan, paleo, refined sugar free, gluten free and oil free!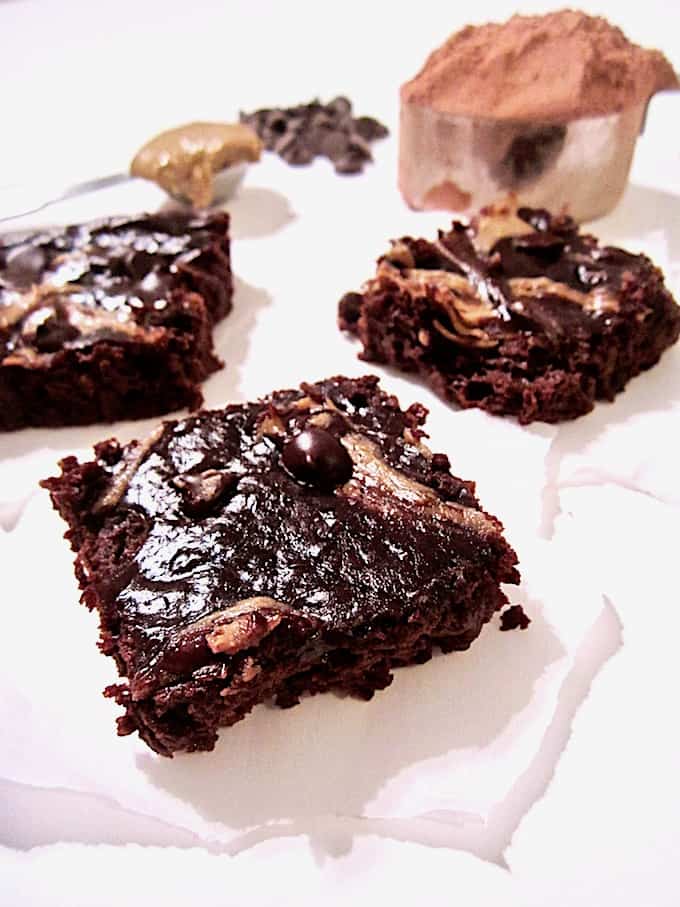 THESE BROWNIES, Y'ALL.
Yeah, that's right. I said it. Y'ALL.
As soon I get back to the Carolinas, that word just slips out of me. I picked it up about 6 years ago when I first moved to North Carolina and was waiting tables. When I was growing up in Virginia near Washington DC, I always considered the word 'y'all' to be so quintessential southern and it was never part of my so called 'sophisticated' repertoire.
Living in northern Virginia, I did NOT consider myself to be southern, even though all my cousins from New York told me and my siblings that we had southern accents. What?! They were the ones with the funny upstate accents and hard 'A's in their words! 😉 I always considered my American accent to be totally neutral and non regional.
In fact, when I studied abroad in Australia in college a few people excitedly told me, "You sound just like they do on TV!" At first I had no idea what that meant. I discovered that they meant it as the utmost compliment as Australians mostly get American TV shows, so to an 18 year old, meeting someone who sounds like a renowned actress from their favorite show was pretty cool at the time. Oh, the simple pleasures…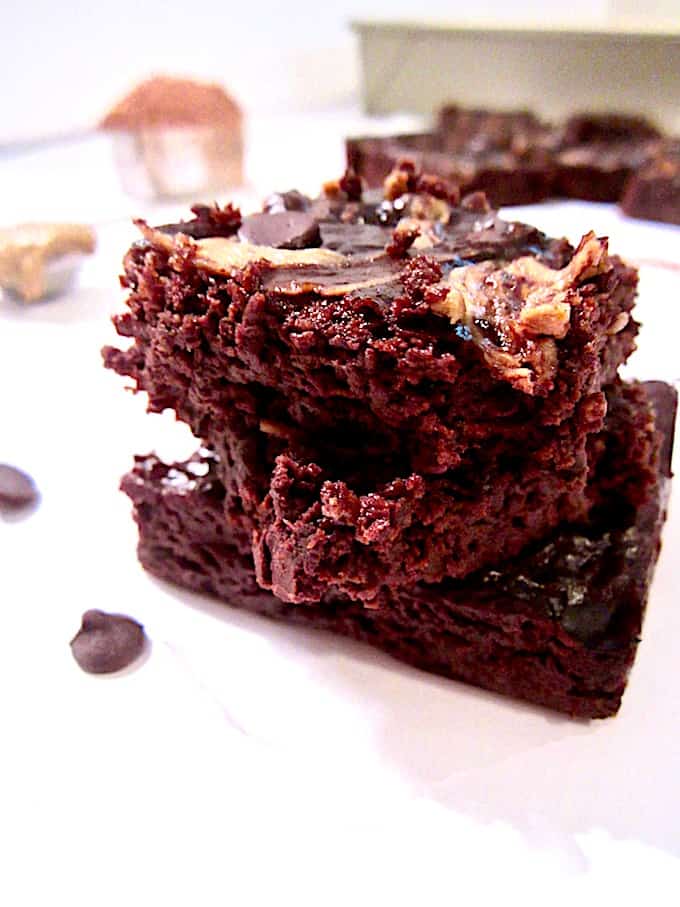 Speaking of simple pleasures, for weeks I wanted to wanted to make sunbutter swirl brownies. Not sure why. It just sounded delicious, and pretty. I mean, these are pretty, aren't they?
I was tempted to use oat flour in these but really wanted them to be flourless/grain free for my paleo friends, so embraced the challenge of creating a vegan, gluten free, paleo and oil free brownie. Whew!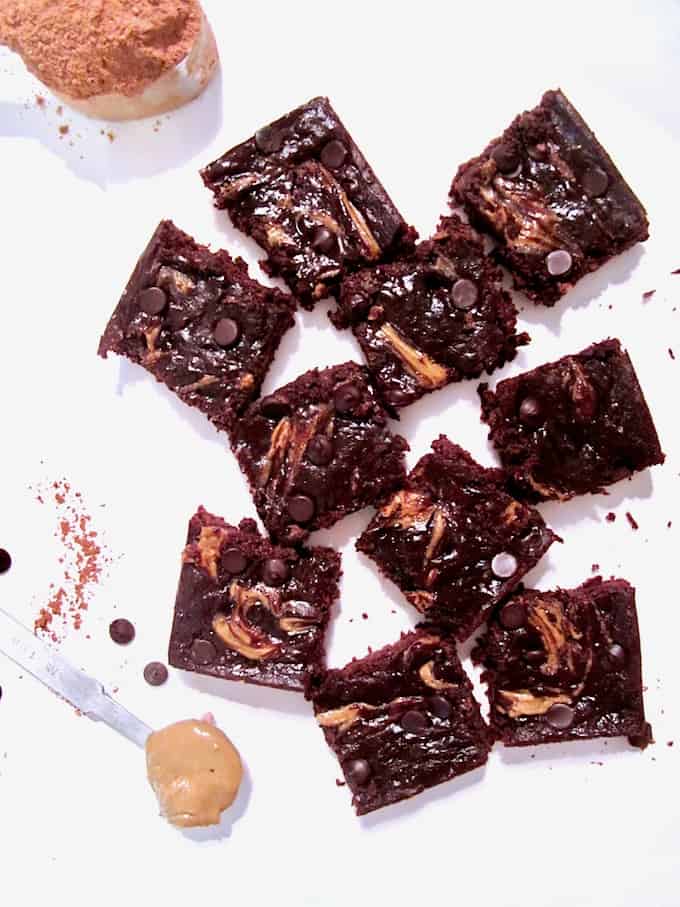 Oh yea, and I wanted to use the least amount of unrefined sugar too, as I've been more conscious these days on how much sugar I'm consuming, even if it is unrefined – I still want to use in moderation and only when necessary.
I'm pleased to say that I successfully completed my own challenge! *fist pump*
These brownies are an interesting mix of cakey, spongy and dense. They're thin and if you actually cut them into 4×4 rows, then 1/16 of the batch makes for a very healthy and modest dessert! Your secret is safe with me though if you eat 2, 3, or 4 squares… I certainly did! For taste testing and quality assurance purposes, obviously. 😉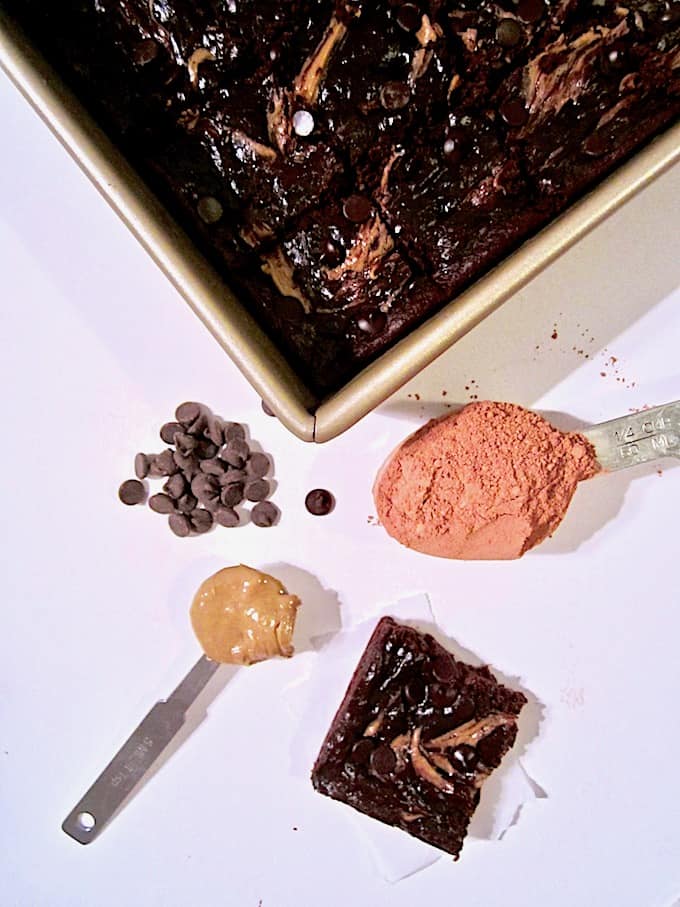 One product I recently rediscovered that I fell immediately in love with (again) upon tasting is Lily's Stevia Sweetened Dark Chocolate Chips
. This is not a sponsored post by Lily's – I just happened to see the brand at a local coop in North Carolina when I was visiting Wilmington, near where I used to live a few years ago. They also have Lily's chocolate at Whole Foods or on Amazon.
These chips are stevia and erythritol sweetened and non GMO. Yes, that means there is NO SUGAR whatsoever in them. SAY WHHAAAAT?! Are you as amazed as I am? I guarantee you will be once you taste Lily's chocolate – it doesn't leave that strange aftertaste in your mouth like some other stevia brands do. Not all their chocolate bars are vegan, but I know at least the salted almond bar and the chocolate chips are!
Happy Memorial Day, y'all, and whip up a batch of these for your weekend picnic festivities!
OTHER YUMMY & REFINED SUGAR FREE DESSERTS: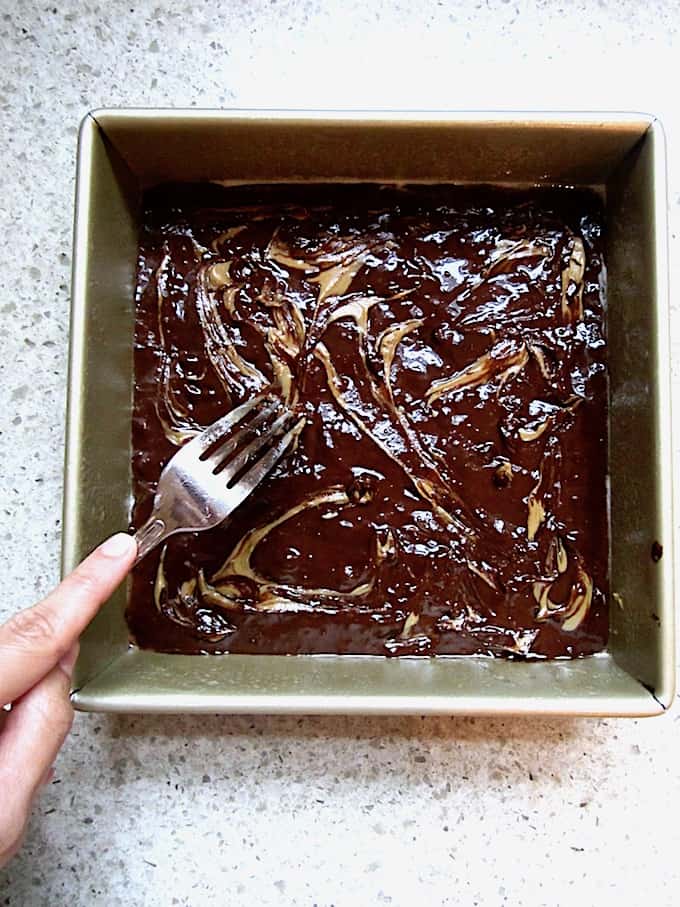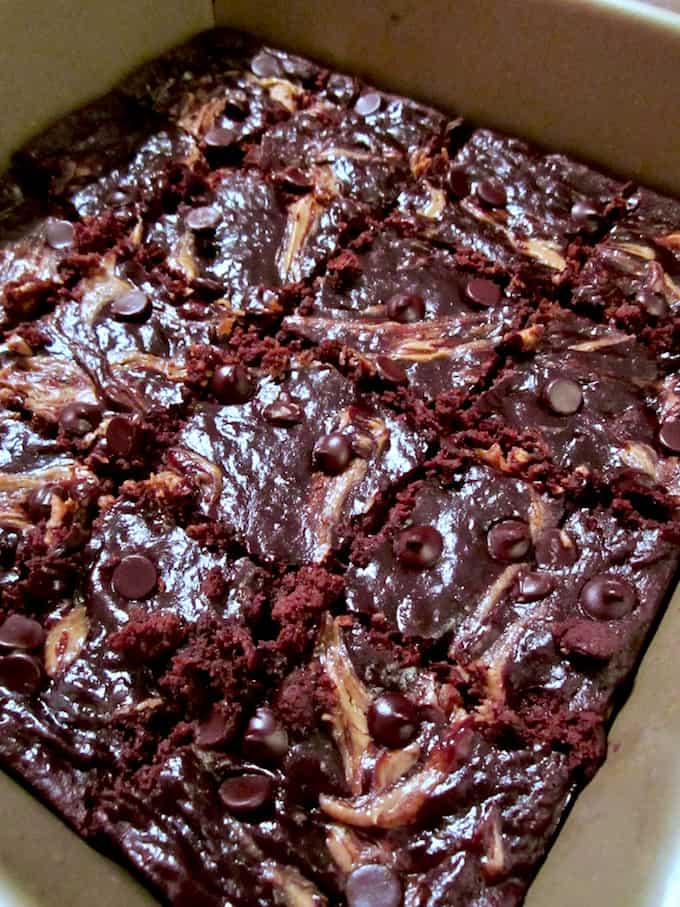 Sarah Newman, Vegan Chickpea
16 brownies
Flourless Sunflower Seed Butter Swirl Brownies (Paleo & Refined Sugar Free)
These easy brownies have only 9 ingredients and take 15 minutes to prepare! A low sugar dessert that's vegan, paleo, refined sugar free, gluten free and oil free!
15 minPrep Time
20 minCook Time
35 minTotal Time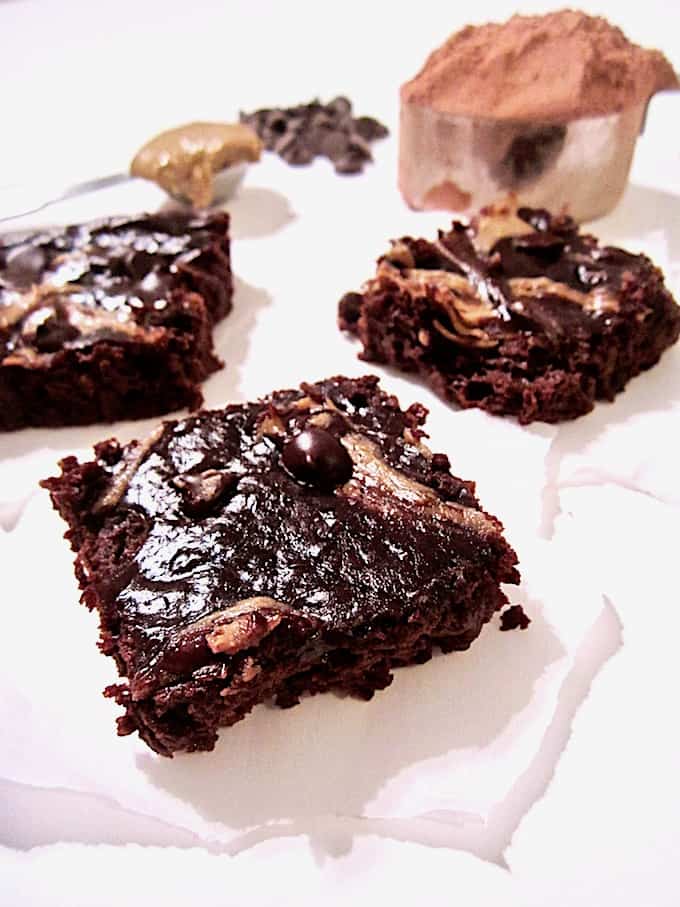 Ingredients
1 flax egg (1 Tbsp ground flaxseeds mixed with 3 Tbsp water)
1 well mashed, very ripe banana (about 1/4 cup)
1/4 cup maple syrup (for sweeter brownies, add up to another 1/4 cup)
1 tsp vanilla
1 Tbsp water
1/4 cup + 2 Tbsp cocoa or cacao powder (depends what flavor of chocolate you want - use cocoa for darker or cacao for lighter)
1/4 tsp salt
1/2 tsp baking soda
1/4 cup Lily's Stevia Sweetened Dark Chocolate Chips + optional additional 1 Tbsp extra on top (can use any mini or regular sized chocolate chips of your choice!)
1/2 cup sunflower seed butter for swirling on top
Instructions
Preheat oven to 350 degrees F / 176 C.
Make your flax egg and let sit for 10 minutes.
In a bowl, combine banana, syrup, vanilla and water. Whisk well.
Combine cocoa, salt and baking soda. Stir into the wet ingredients and add the flax egg. Mix well.
Stir in the chocolate chips.
Pour into a non stick or lightly oiled 8 x 8 dish. These brownies are thin, so don't use a larger dish unless you double the recipe, or the batter will be too thin.
Using a fork or utensil of your choice, swirl in the sunflower seed butter on top of the batter.
Top with additional chocolate chips if using.
Bake for 20 minutes. Let cool.
Notes
You can substitute any nut or seed butter for the sunflower seed butter.
7.8.1.2
52
https://veganchickpea.com/flourless-sunflower-seed-butter-swirl-brownies/
Sarah Newman, SKN Creations
This post contains affiliate links. If you make a purchase on Amazon after clicking one of my links, your costs stay the same but I receive a small commission to help support Vegan Chickpea. Thank you for your support!