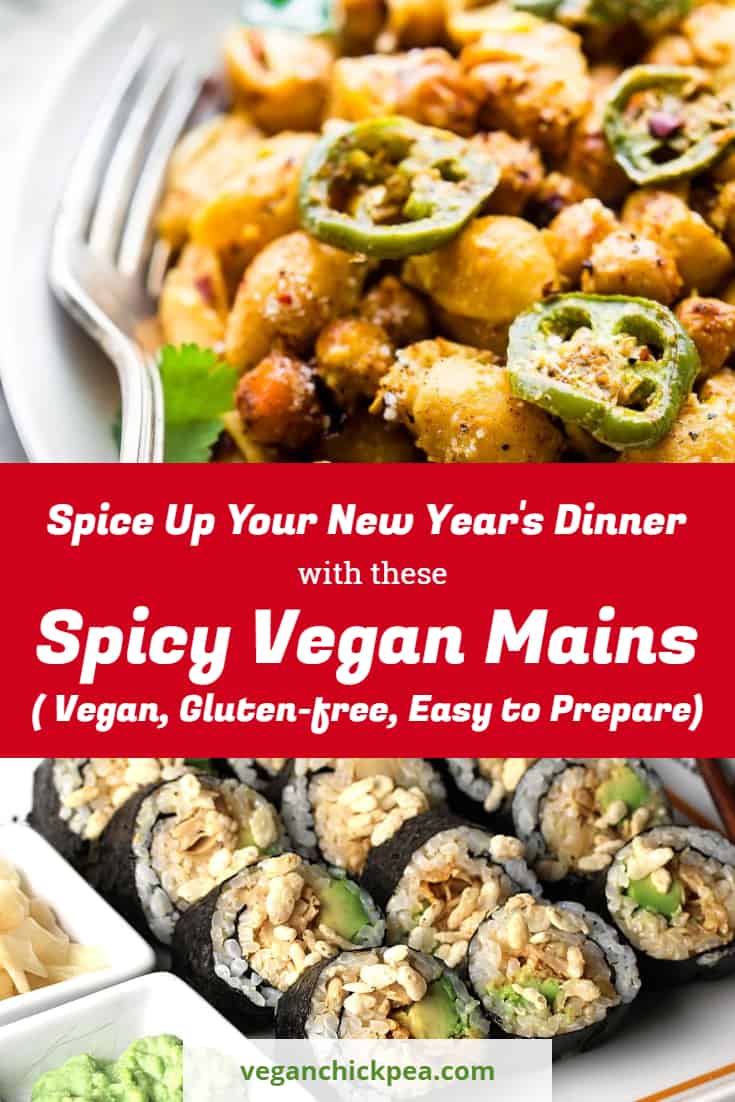 Here's a list of ten amazing spicy vegan recipes that you're sure to enjoy and love. If you are searching for the perfect recipe to spice up your New Year's Dinner then you're sure to find at least one here.
We've compiled a round-up of some of the most creative and uniquely tempting recipes from all over the online vegan community that suits perfectly with the holidays especially this New Year's Eve. These spicy vegan mains will not only introduce a whole new variety of vegan recipes into your table but will also definitely start your year with a bang.
Spice up Your New Year Dinner with these Spicy Vegan Mains
We hope you give one of these delicious recipes a try because they surely deserve a spot in your favorites list. These are spicy meals that are guaranteed to be appreciated by all your guests, may they be vegan or non-vegan.
These cauliflower hot wings are made with a vegan and gluten-free batter that is simple to prepare and definitely adds to the delicious taste of this dish. Deliciously spicy on the inside and crispy on the outside, this meal is great for any gathering. Seasoned with just the right spices, this is sure to become your family's favorite. Click here for the recipe.
You can definitely create a whole new meal with just a handful of staple ingredients. This mushroom and walnut spicy bolognese is packed with so much flavor that you'll never guess it's absolutely vegan and gluten-free. The recipe can be found here.
This spicy chickpea scramble is a reimagined family favorite now with that taste of spice that will make this dish more exciting. It may be usually served for breakfast but this will also be great for dinner gatherings. The secret for this recipe is sriracha powder. Click here for the recipe.
What can be a more beautiful way to welcome the new year than serving gluten-free pasta made of chickpea and lentil, perfectly flavored with different Mexican spices and jalapeños on New Year's Eve? This vegan jalapeño mac and cheese pasta is full of flavor that will be enjoyed by your vegan and non-vegan guests, and this delicious dish will only take you forty-five minutes to prepare. Check out the secrets about this recipe here.
This list would not be complete if we would not include a curry dish in here. This Jamaican Spicy Potato Curry is made with various vegan ingredients and cooked to that perfect creamy and thick texture. An easy way to add excitement to your dinner table this New Year's Eve. Find the recipe here.
If you are looking for a classical Asian vegan dish that has that perfect blend of sweetness, sourness, and spiciness then these vegan kung pao noodles are just for you. This dish is loaded with flavor and it takes less than 30 minutes to make. Click here to read the full recipe.
This spicy vegan black bean soup recipe is a fail-safe way to serve soup during holiday events and believe me, you'll be amazed how it fits in with your other party favorites. Believe me, I already tried this and it tastes phenomenal. That jalapeño really does the trick to make this soup more flavorful. Click here to read the recipe.
Vegan, gluten-free sushi? Yes, please! This recipe will be the star of your New Year's Eve Dinner party. The jackfruit, cooked in sriracha, brings the whole dish together. Recipe here.
Kick your cooking game up a notch this New Year's and prepare something deliciously exciting for your loved-ones. We all need a little bit of burger goodness to make our dinner table a little more inviting, right? This vegan burger will do just the trick. And because of its flavorful spicy taste, your guests won't even notice that this is vegan and gluten-free. Go check the recipe here.
Bonus Recipe!
A secret sauce that everyone will love. This spicy tahini pasta sauce is not just great for pasta but also for other dishes such as salads, wraps, as topping for baked veggies. It really has that rich flavor that makes it go well with most of what you'll prepare. Your guests will sure ask for more. Recipe here
We're thrilled to have you here so how about showing us some love by commenting down below. We release a weekly round-up of vegan and gluten-free recipes that suit every vegan kitchen. Don't miss out and check more of our recipes here.