This savory Vegan Butternut Squash Gratin (Gluten Free) is healthy comfort food at its best! Perfect for Fall or your Thanksgiving or holiday table, you'll love this creamy casserole topped with a crispy vegan 'parmesan' topping and Panko breadcrumbs.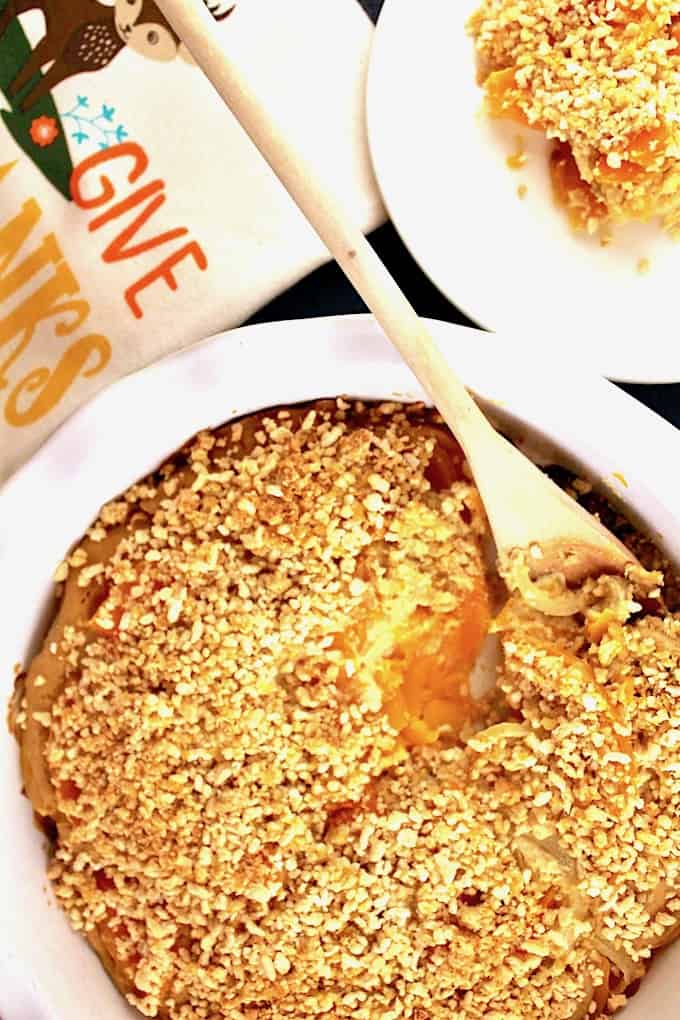 We're just one week away from Thanksgiving, holy smokes! Do you have your menu planned?
My family is doing a completely vegan and gluten free meal on Thanksgiving with just a few of us on Thursday, and then a 'regular' Thanksgiving (supplemented with some v/gf items) on Friday with the rest of my family. I'm so excited to be cooking!
MY THANKSGIVING MENU:
Dinner:
Dessert:
Snack/Breakfast:
Whew! What a feast, right?! I really can't wait.
Other than my own recipes for the mushroom gravy and mashed squash/potatoes (which are delicious and I highly recommend both!), I've never made any of these before so fingers crossed they turn out delicious! I always love trying new recipes. What are your thoughts on new vs. tried and tested recipes on Thanksgiving?
If you're looking for a new recipe, another great dish to add to your lineup would be today's Vegan Butternut Squash Gratin from our guest blogger Sarah over at Bad to the Bowl! (? Ba-ba-ba-ba-baaaad…. ? OK, couldn't resist!) I'm definitely adding this to my Christmas menu.
Thanks, Sarah, for this festive recipe! Now over to you!
---
Can you believe it is November on the calendar?
I for one cannot believe this. Where does time go?
Are you prepping for Thanksgiving?
You know that Holiday that falls right after Halloween but before Christmas.
I know it is kind of hard to think about Thanksgiving when all the shelves at the store are filled with Christmas decor!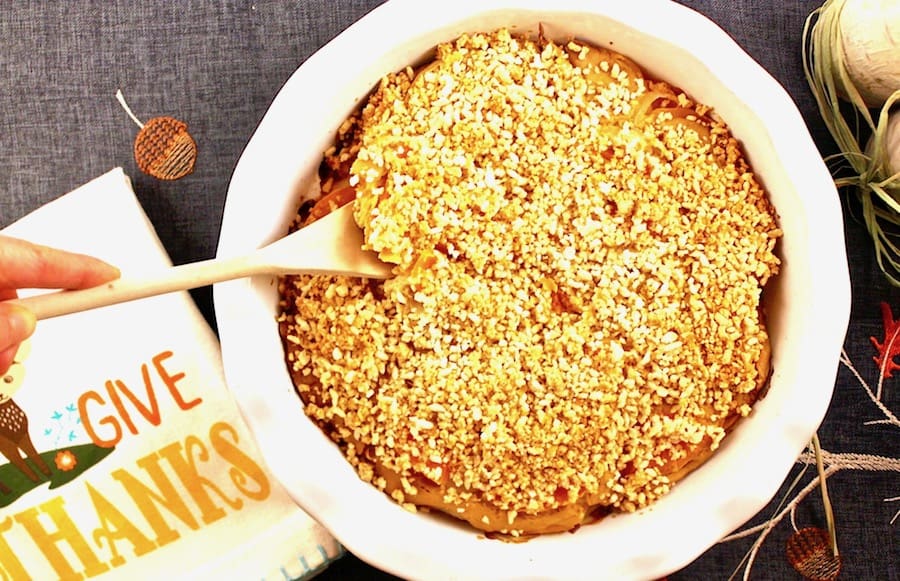 I happen to love Thanksgiving. Okay, maybe partly because I do none of the hosting! ? (Hosting is stressful!). Mainly, though, I love that it is a day filled with seeing out of state family. A time to gather around and catch up with each other. Life moves so fast, but I feel like on Thanksgiving time just kinda slows down. I am not in a rush to finish my to do list or to go run a million errands. I am not a mom taxi, shuttling the kids here and there. I can just relax.
And for that I am grateful.
Since we do travel out of state to be with family on Thanksgiving, usually I don't have the option to bring much to the table. It's hard to prep in a hotel! This year though is different – we rented an Airbnb with a full kitchen and I am so excited to contribute to the Thanksgiving spread. Because in all honestly, for someone who loves to cook – not contributing always bummed me out!
What to bring though? A cooking conundrum. So many yummy Thanksgiving options from salads to sides:
Or what about this Vegan Butternut Squash Gratin?
It's savory. It's plant based. It's gluten free. It's what I would consider a 'fall' comfort food.
And who doesn't love comfort on Thanksgiving?
This vegan butternut squash gratin will please everyone at the table – both those (ahem) turkey eaters as well as anyone else who has food allergies!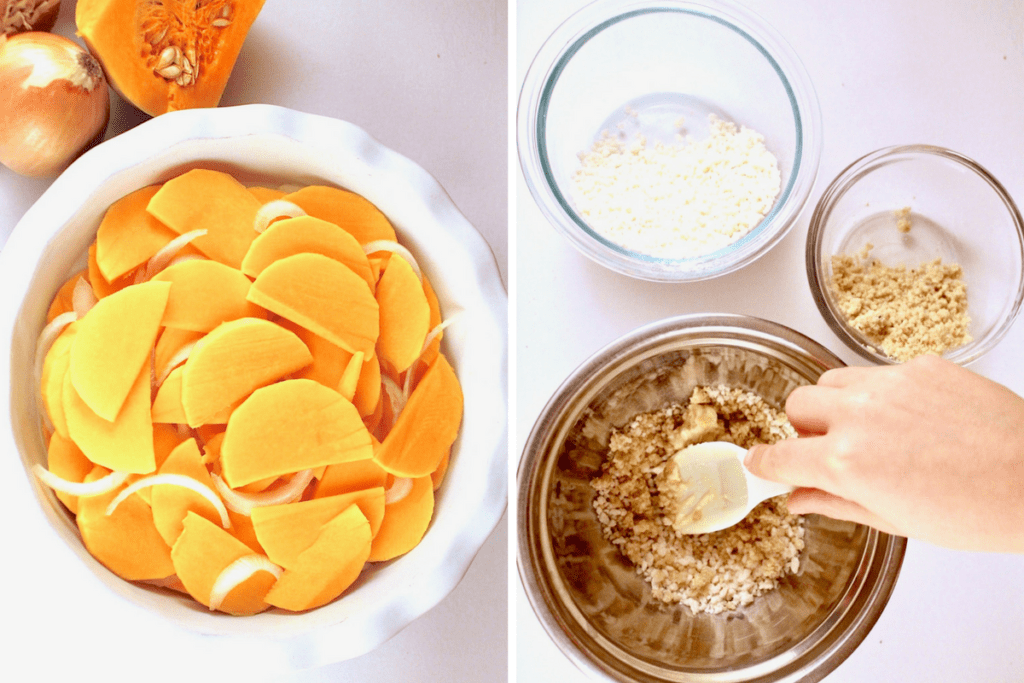 And the 'Parmesan' crumb topping – well you might just want to keep that handy even if you aren't making Vegan Butternut Squash Gratin…because I think I could sprinkle that on about every dish that comes out of the oven.
So let's get to the kitchen pronto, we have some Thanksgiving prep to do!
MEET SARAH & RACHEL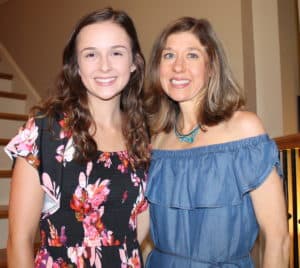 Hi! I am Sarah from Bad to the Bowl a vegan plant based cooking blog. Bad to the Bowl is a collaboration between my college aged niece and myself. Even though we are miles apart, we can connect via our love of cooking! I am a wife, mom, recipe creator, red wine fanatic, podcast listening junkie and summer weather lover (which is ironic since I live in Michigan – not known for our warm weather exactly ?) Would love to connect with you and see how this dish turned out for you!
?? Check us out at badtothebowl.com or follow us on Facebook or Instagram @badtothebowl
---
---
Sarah Hayes
serves 6 - 8 people
Vegan Butternut Squash Gratin
This savory Vegan Butternut Squash Gratin (Gluten Free) is healthy comfort food at its best! Perfect for Fall or your Thanksgiving or holiday table, you'll love this creamy casserole topped with a crispy vegan 'parmesan' topping and Panko breadcrumbs.
25 minPrep Time
45 minCook Time
10 minTotal Time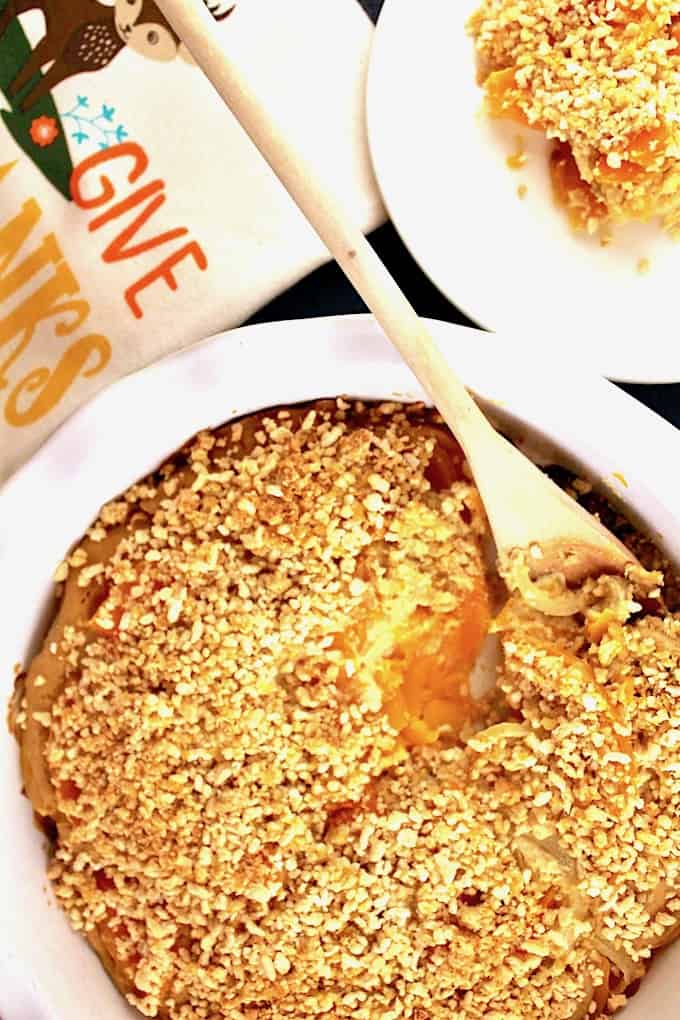 Ingredients
1 medium sized Butternut Squash (1.5 - 2 lbs.)
1/4 a of sweet onion, sliced thin
1 Tbsp vegan butter
2 cloves minced garlic
1 Tbsp gluten free flour blend
1 cup unsweetened dairy free milk (can use soy or nut)
1/4 cup nutritional yeast
1 tsp white miso*
½ tsp garlic powder
½ tsp onion powder
¼ tsp salt

TOPPING:

¼ cup vegan parmesan (I used Minimalist Baker 4 ingredient parmesan found here , or Vegan Chickpea's here )
½ cup gluten free Panko crumbs
2 tsp vegan butter
1 garlic clove minced
¼ tsp salt
Instructions
Heat oven to 400 degrees F and lightly coat a 9 inch dish with cooking spray. (you can use a pie pan or square)
Peel, halve lengthwise and seed squash; cut into 1/2-inch-thick slices. Arrange butternut slices alternately with your thinly sliced onion in bottom of baking dish.
In large saute pan, melt butter and garlic. As it starts to melt, stir in your flour, salt, garlic powder, onion powder and miso.
Gradually stir in your non - dairy milk, making sure to smooth out any flour lumps. Stir in your nutritional yeast. The mixture will be quite thick.
Gently pour over your prepared squash and onion mixture.
Prepare the topping. Melt your butter and garlic in a small microwave safe dish. Stir in remaining topping ingredients. Spread topping over squash gratin.
Cover with foil. Bake covered for 30 minutes.
Uncover and bake for 15 additional minutes. At this point, you will want to check the center of the dish with a fork, if it pierces easily, it is done! If it still seems a bit hard, continue to cook at 10 minute increments.
Notes
*White miso is optional but will add a nice rich flavor to the dish.
7.8.1.2
78
https://veganchickpea.com/vegan-butternut-squash-gratin/
Sarah Newman, SKN Creations