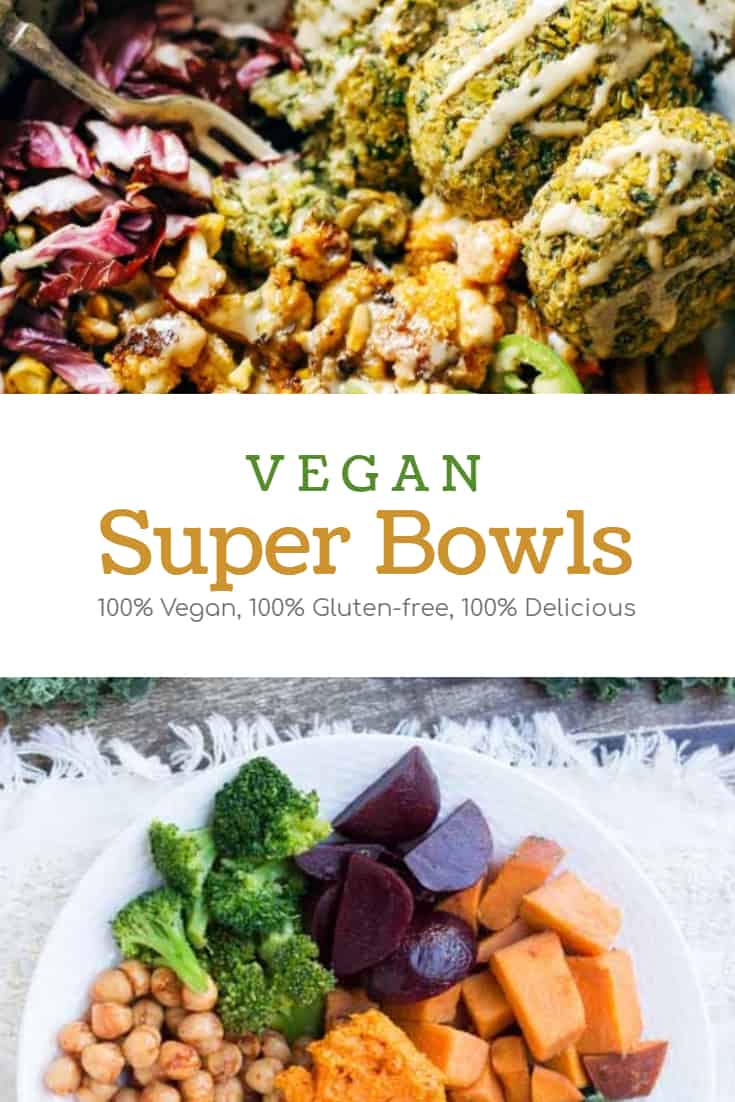 100% vegan, Gluten-free and delicious! I'm sharing these recipes to encourage you towards a very healthy inspiration and find your own unique path. Because being healthy can also be exciting and these vegan super bowls will definitely jumpstart your daily adventure! Enjoy!
Vegan Super Bowls
1)   Nourishing Quinoa Salad Bowl
This recipe is incredibly healthy and super filling. It is loaded with superfoods such as beets, broccoli, kale, sweet potatoes, avocado and quinoa tossed with tasty plant-based protein sources like paprika dusted chickpeas, hummus and a creamy cashew dressing. Full recipe here.
2) Berry, Beet, Acai Salad Bowl
A mix between a cereal bowl and a smoothie, this super bowl is quick, delicious, portable and a great way to pack your first meal of the day. Packed with all kinds of nutrients, this bowl will surprise you with sweet earthy tastes that is paired perfectly with the tartness and acidity of berries. So, dive in and enjoy the smoothie-like consistency of this nutritious super bowl! Full recipe here.
3) The Ultimate Winter Bliss Bowl
Bliss Bowls!
Keep your glow all winter! Easy homemade falafel, roasted veggies, and flavorful sauce all in one big bliss bowl! A very exciting and satisfying 100% vegan and gluten free recipe.
4) Green Goddess Balance Bowl
I love this! Balance bowls have been one famous champion for health enthusiasts and this recipe simply sums it up one super bowl! There are lots of versions floating out there but this one's my favorite. Perfectly healthy, balanced and absolutely soothes the soul! Definitely one delicious bowl of blissful vegan delight! Recreate this recipe here!
5) Kale Salad Bowl
Make your week a little brighter, greener and healthier with this kale salad bowl. This recipe is filled to the brim with all the right facts and figures! Kale is now trending because of it's nourishing and detoxifying agents which makes this recipe – one serious super bowl! Recipe link here.
Click here for more of these vegan round-ups that will surely fill your calendar with exciting recipes.