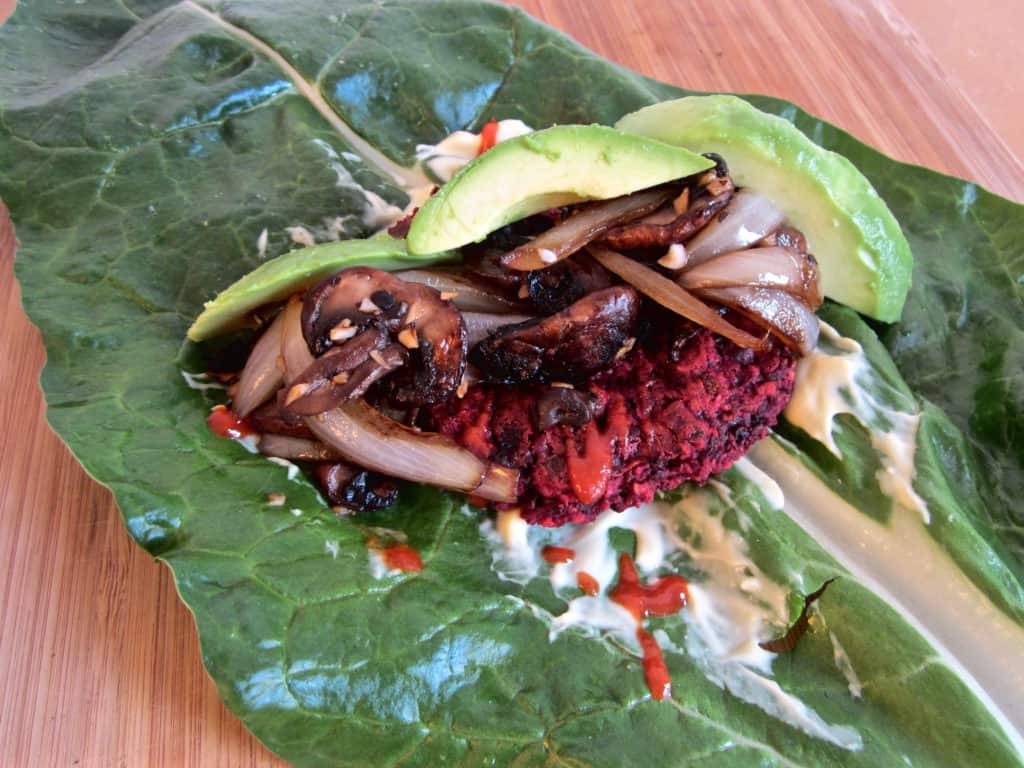 These beautiful burgers are easier to make than you may imagine, and are so yummy that I could eat them often without getting tired of them! Their bright purplish red color make for a stunning plate, especially when contrasted with the enormous green swiss chard leaves to hold it all together. They're moist, healthy, filling and, most importantly, delicious!
You can of course assemble these with whatever condiments and toppings you want. I love the contrast of the soft patty with the crispy swiss chard (which I picked straight from our backyard!) and topped with Garlic Sesame Mushrooms and Onions. Add some sliced avocado, vegan mayo and Sriracha for a kick, and you'll feel like you've won the veggie burger jackpot. With about 12 grams of protein per patty, these burgers ensure a balanced meal.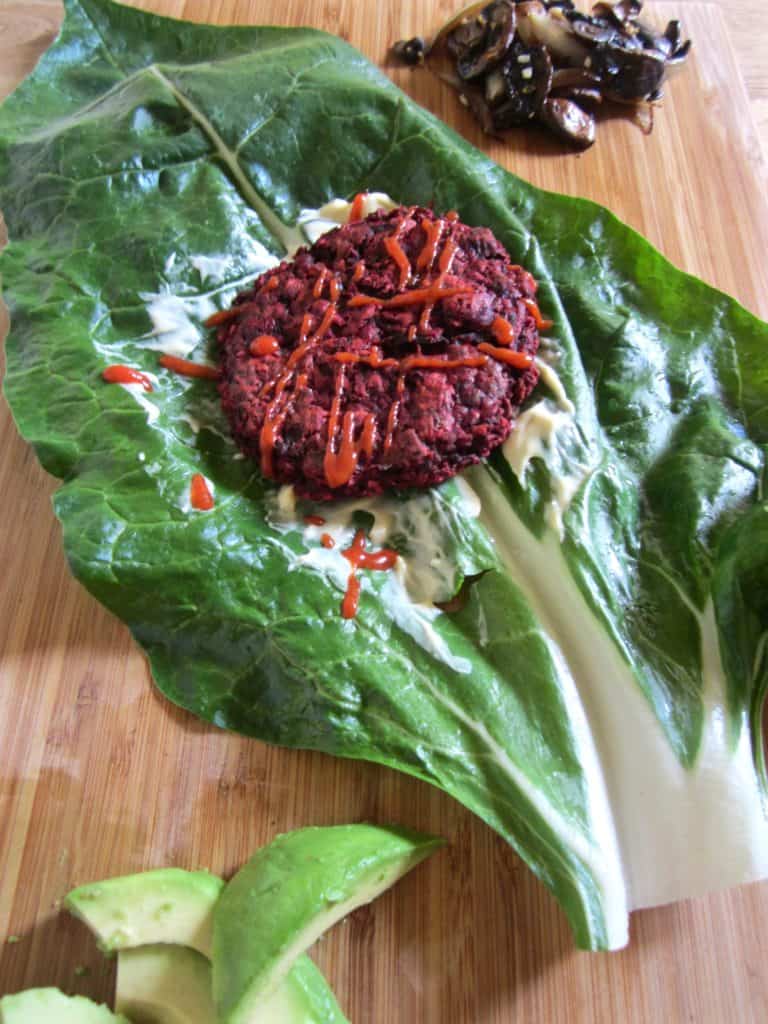 One great perk about these burgers is that you can use either raw or cooked beets, whatever you have on hand. It's easy to use the precooked beets that you can buy at just about any grocery store. I tested this recipe using both cooked beets and raw beets and found minimal differences in the final product, but I do think the cooked beets hold together slightly better and also add a touch more moisture than the raw beets (see How to Cook Beets for roasting instructions, if preferred.)
You will need a food processor for this recipe to combine everything into an even mixture. After that, just pop them in the oven, flip once and wah lah – magic! I also found that these burgers reheat well – just pop them in the oven at 350 degrees until warm.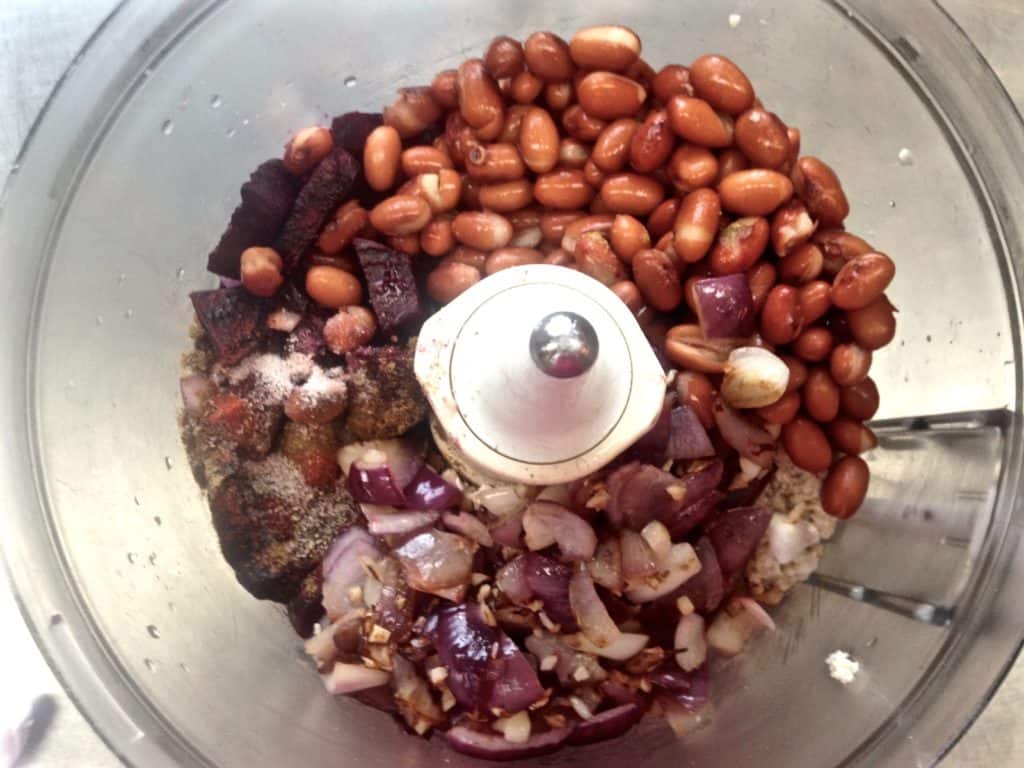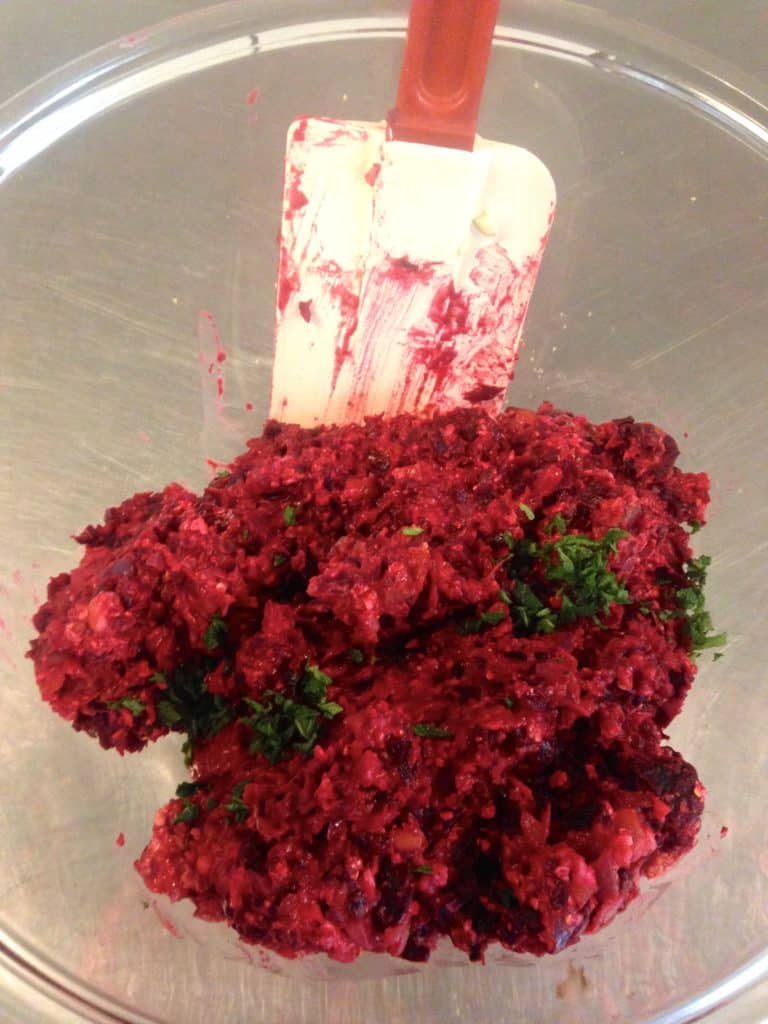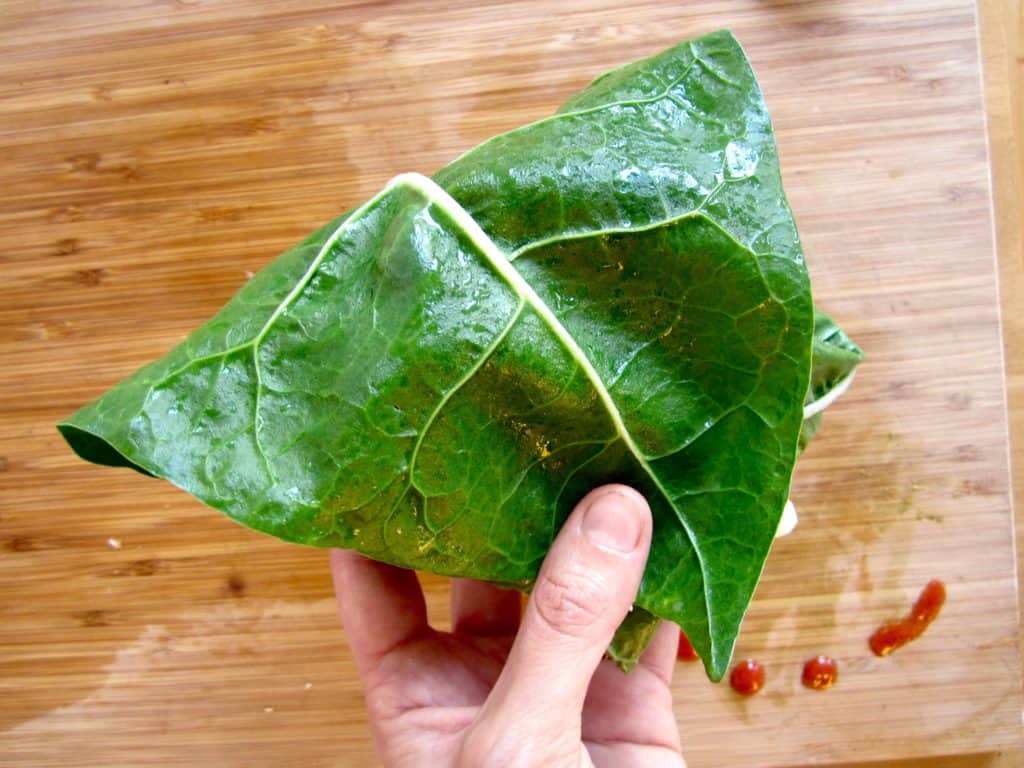 Vegan Chickpea
Makes 6 large patties
Beet Burgers
These colorful beet burgers wrapped in swiss chard and topped with avocado, sriracha and sesame onions and mushrooms are a great balance of crunchy and moist. The perfect veggie burger for lunch or dinner!
25 minPrep Time
30 minCook Time
55 minTotal Time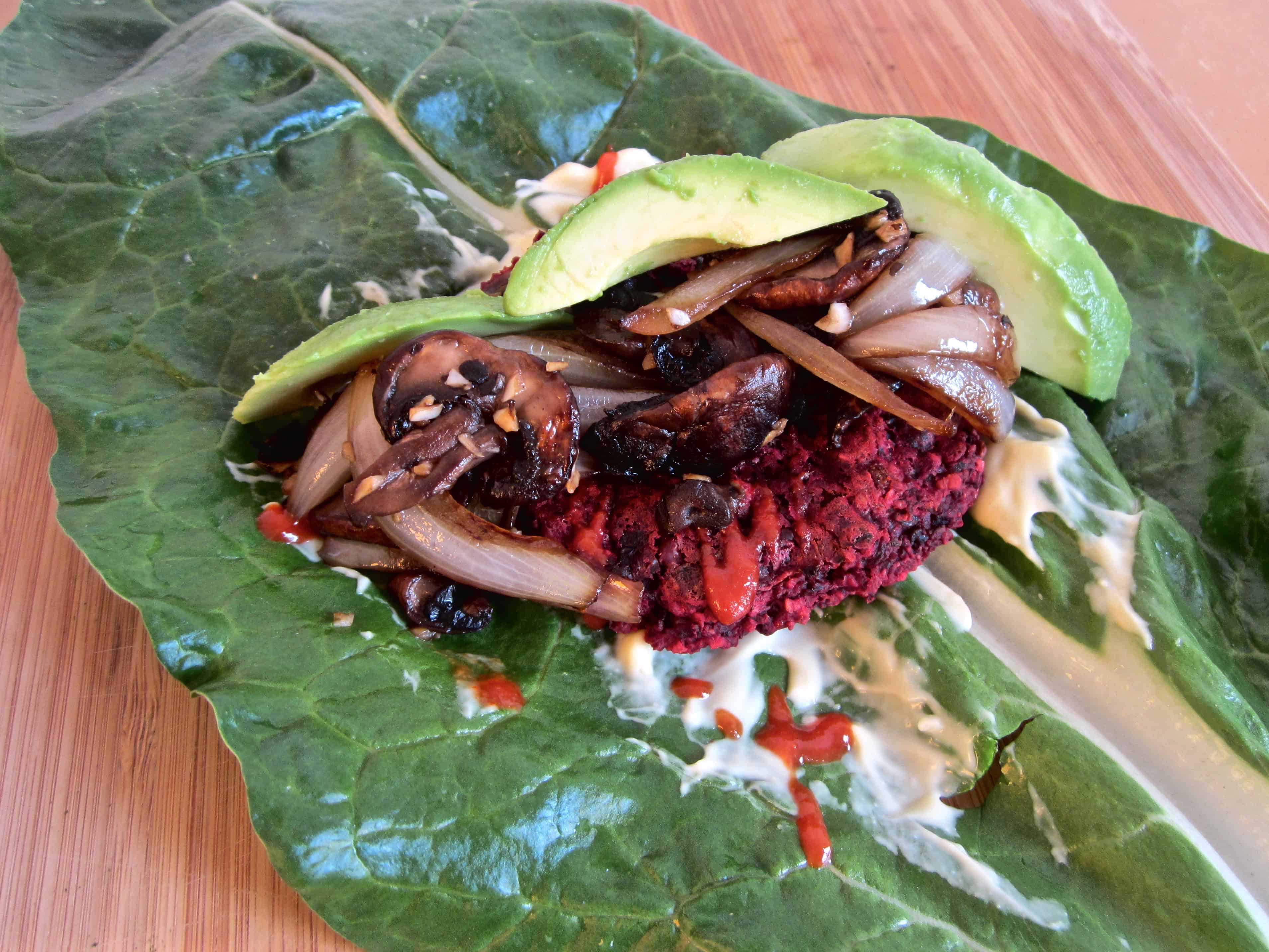 Ingredients
2 cups beets*
1/2 cup oats
1 cup red onion, chopped
1 tbsp olive oil
2 - 3 cloves garlic, roughly chopped
1 1/4 cups pinto beans, drained and rinsed (or kidney, cannellini, red)
1 1/2 tsp ground cumin
1 tsp paprika
1/2 tsp salt
1/4 tsp pepper
2 - 3 tsp fresh sage, finely sliced (or other herb of choice)

To serve (as pictured):

swiss chard leaves
sliced avocado
vegan mayo
Sriracha

Other serving options:

burger buns
sliced tomatoes
sliced red onions
sprouts
mustard, ketchup, relish, tartar sauce
Instructions
If using already cooked beets: slice them into small chunks, approximately 1 inch cubes, and place in the food processor. If using raw beets: peel them and slice into small chunks, then put into the food processor and finely chop.
Preheat the oven to 400º.
Place half of the oats in a small bowl (1/4 cup) and add 1/2 cup hot water. Put aside.
Heat skillet, then add oil. Add the onion and sauté over medium heat for about 10 minutes. Add the garlic and sauté until just golden.
In a food processor, combine the beets, onions/garlic, both the wet and dry oats, beans and seasonings until the mixture is evenly and finely chopped (you may need to turn off to stir and scrape down the sides a couple times).
Transfer the mixture to a mixing bowl and add fresh herbs. Taste and adjust seasoning to your preference.
Line a baking sheet with parchment paper.
Lightly spray a 1/2-cup size measuring cup and then pack the beet mixture into the cup. Turn the cup over on the parchment paper, and then flatten into a patty. Repeat.
Bake for about 15 minutes when the bottom is starting to brown, then flip the burgers carefully and bake until lightly browned, another 15 minutes or so.
Serve warm on leaf wraps or buns with your choice of toppings.
Notes
*I tested this using both cooked beets and raw beets with minimal differences, but the cooked beets seem to hold together slightly better and add a touch more moisture.
Adapted from Veg Kitchen
7.8.1.2
1
https://veganchickpea.com/beet-burgers/
Sarah Newman, SKN Creations