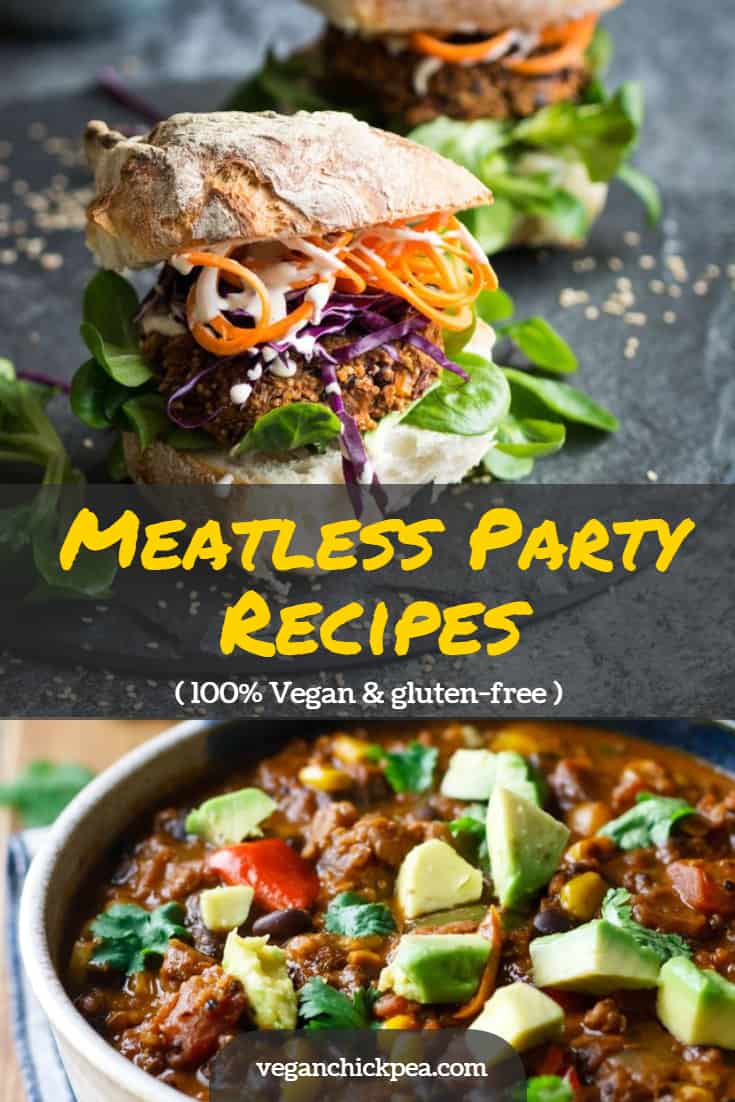 Parties and meatless recipes are two concepts that we never believe possible to co-exist. Yet, here we are introducing five meatless recipes that will be sure favorites at any party that you will be hosting. These recipes are not just game-changing in the vegan kitchen but also a wonderful way to introduce non-vegans to the world of veganism.
Whenever we hear meatless, the first probable thing that comes to mind would be the usual healthy greens with almost nothing in it. However, you'll be pleased to know that meatless recipes have evolved through time to provide healthier alternatives to your much-loved party favorites.
How great can meatless meals possibly be?
Meatless recipes existed way before veganism became an alternative lifestyle. In the early 1600's, recipes that use meat substitutes like tofu and chickpeas were created, mainly because there is no source of raw meat in the area where some people live.
But what does "meatless cooking" really mean? It is fundamentally known in the culinary world as recipes that do not use any kind of meat or recipes substituting meat with any plant-based alternative. One of the most common substitutes for meat is "tofu", which comes from soybeans. Another famous alternative is mushrooms. Both of these meat substitutes are famous because of their meaty tastes but may not be entirely healthy as they seem to be.
Let's go a tad further and discover more about meatless cooking – recipes that are soy-free, gluten-free, and 100% vegan. This feature will help you discover a whole new world of meatless classics.
Guaranteed party hits
We are featuring five of the most amazing meatless recipes that are perfect if you want to throw a big party.  We can guarantee that each recipe is visually appealing and enticing, and its delicious taste will not disappoint your guests, even the non-vegan ones. And the best thing about this recipe? The ingredients can be easily sourced through your local grocery store. So, without much ado, here are five of the best party favorites that you can serve when you are planning to host a meatless party.
Everyone loves a good chili, and this one's one of the best. Introducing the hearty and perfectly-spiced killer vegan chili. This recipe is packed with slow-cooked flavor, and to top it off, this recipe is a great source of fiber and vegan protein. This recipe is also perfect for overnight camps and outdoor parties. Start your weekend party with this amazing recipe and you can be sure that everyone will have an amazing time. You can check out the recipe here.
Everyone loves pizza and this vegan pizza, made mainly with chickpeas and sweet potato, won't be an exception. The Chickpea Sweet Potato Pizza is also made with sun-dried tomatoes, red onion, and arugula. This vegan pizza recipe will definitely make everyone excited to grab a slice. Plus, this recipe is really easy to prepare and the ingredients are not hard to find, so go check out this recipe now.
This vegan burger will definitely blow your mind. Packed with a punch of flavor, this baked burger is super easy to prepare. Just add a teaspoon of chili powder and ground cumin for that needed spice, and some soy sauce to add a subtle saltiness to this kidney bean patty to better suit everyone's palate. This burger is also made out of quinoa, which is a good source of protein and contributes to that crunchy texture to the outside of the burgers. Check this recipe out to impress your guests. Of course, choose only gluten-free bread for your burger buns. Here is a list of gluten-free bread that you can try.
Are you interested in serving a gluten-free and vegan alternative to the popular Jamaican beef patty, but is also definitely packed with flavors? Then these flavorful and savory Jamaican Lentil Patties are definitely the way to go. Instead of meat, this recipe uses savory lentils with aromatic herbs and spices, all wrapped in pastry.  This recipe will be a guaranteed hit and will certainly make frequent appearances in your party menus.
It's a Mexican favorite gone vegan. This ultimate vegan quesadilla is flavorful without the meat in them. You won't believe how delicious this recipe is – with its creamy filling, fresh crunchy vegetables, and perfectly browned crispy edges. In just four easy steps, you will be able to serve these delightful Mexican inspired hit to your party guests. Go check out the recipe here.
We hope you find this round-up of cherry-picked recipes helpful, particularly to those who love hosting parties for both vegan and non-vegan guests. With ingredients that are readily available in every local grocery, going meatless is made so much easy. We've got more of these fun and exciting vegan round-ups for you next week, so stay tuned.
Share with us in the comment section, which among these recipes will make a sure appearance at your next party.