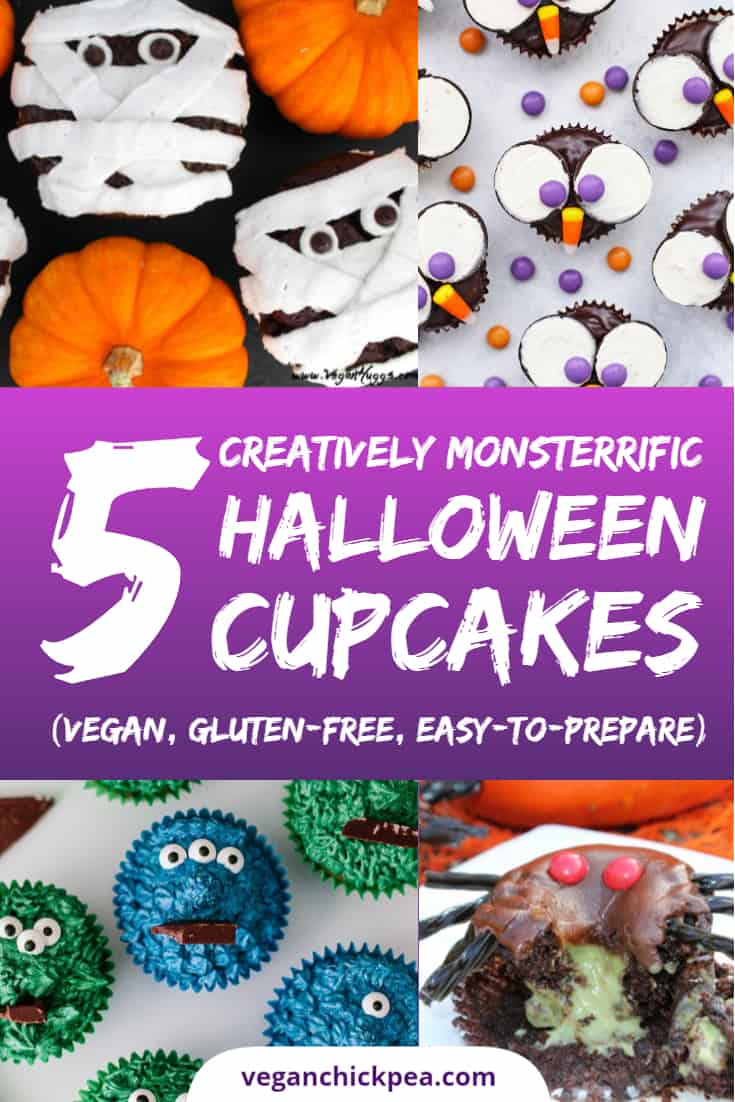 Are you looking for exciting treats to prepare this Halloween? How about something adorably spooktacular and healthy at the same time? We present to you these five creatively monsterrific Halloween cupcakes that are going to be guaranteed hits on your tables this season. These amazing cupcake recipes do not just make any ordinary cupcakes. These were cherry-picked because of their visually-appealing qualities.
What's not to love?
It's that spooktacular time of the year again to enjoy such ghoulish treats. Also, don't forget that we're all about what is good for you and your kids, so having all vegan and gluten-free ingredients without sacrificing the delicious taste is a big plus. So, what's not to love about these fun and exciting cupcakes? Well, honestly, there's really none.
Creatively monsterrific!
Googly eyes, skeletons, ghosts, and mummies are some of the most famous spooky elements this Halloween. So let's take it up a notch and bring those elements into Halloween treats that your kids will enjoy! These creatively monsterrific Halloween cupcakes are perfect additions to your trick or treat spread. Don't be spooked by their appearance though, because each of these cupcake recipes is not just designed to be excitingly spooky but also packs so much delightful taste that your kids will certainly ask for more.
No Baking Skills? No Problem!
If you are new to baking like me, and you find these creative recipes a little bit intimidating, worry no more because these cupcake recipes do not require any professional baking skills. The recipe is easy to follow and will make a great bonding time for you and your kids while keeping them enthused with their vegan and a gluten-free diet.
So, ready your pins and cupboards because trick or treating this Halloween will never be the same with these monsterrific cupcake recipes.
Let's start this list with something adorably fun to make that we're pretty sure your kids will absolutely love. These vegan Mummy Cupcakes are becoming a popular demand for Halloween parties. Aside from being kid-friendly because of how adorable they look, these cupcakes are also gluten-free, chemical-free, and so very tasty! These moist, fluffy and chocolatey cupcakes will make your Halloween party very spooktacular. Check out the complete recipe here.
Go crazy with these monster vegan cupcakes that are sure to make your kids' Halloween a memorable one. These furry yummy treats are made with dairy, soya, and egg-free ingredients, you won't believe these cupcakes are even vegan. Pin this recipe out and enjoy a spooktacular party!
We're sure you cannot resist pinning this one. This owl cupcake recipe is an adorable tribute to one of the most famous creatures of the night. Try this one out and you are sure to enjoy an adorable Halloween party with your family and friends. Check out the complete recipe here.
If you love raspberry sauce as I much as I do, then these Bloody Cups are the perfect cupcakes for you. These cupcakes may seem spooky but they are absolutely delicious and very easy to make. A ghoulish addition to your Halloween trick-or-treat basket that everyone will enjoy. Check out the recipe video here.
Who doesn't love showcasing spiders or spider webs when it's Halloween? These Gut-sy Spider Cupcakes seem like an innocent cupcake at first but let us assure you that your kids and your guests are in for a gooey surprise when they take a bite. Pin this recipe here and enjoy a "gutsy" Halloween.
We're posting more of these amazing easy-to-prepare, vegan, and gluten-free recipes next week so stay tuned here in veganchickpea. If you are interested in a round-up idea, let us know in the comment section down below!