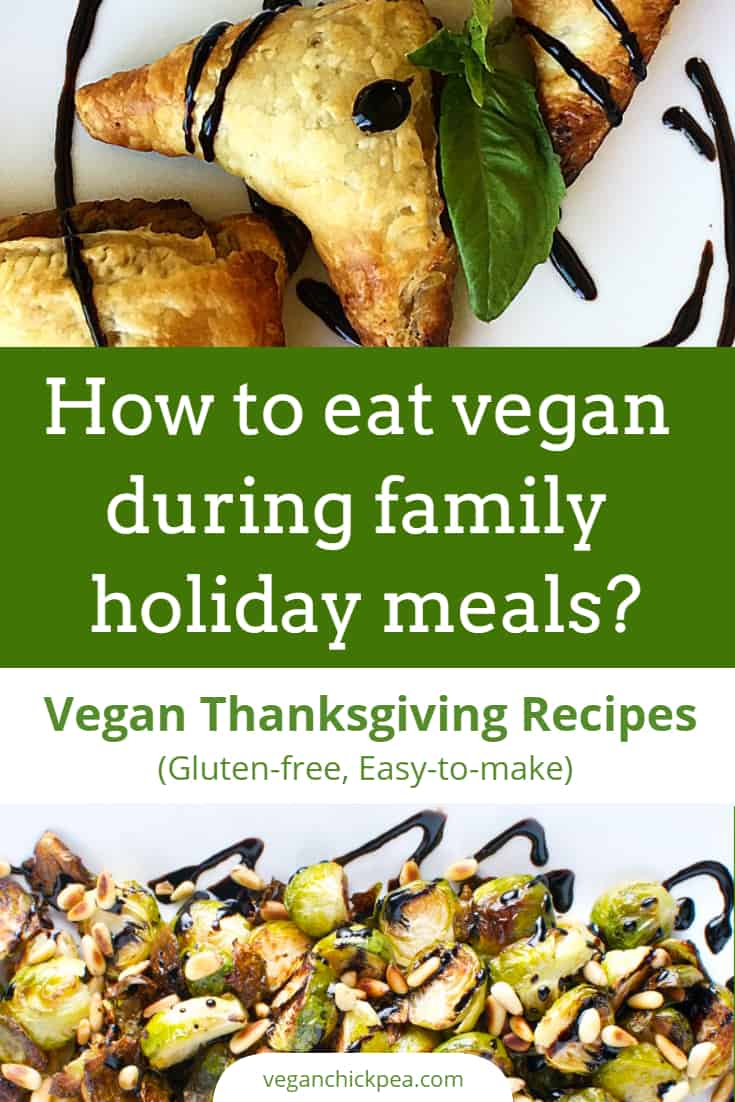 Thanksgiving is just a few weeks away and I'm seeing a lot of questions from fellow vegans, who are mostly new to this lifestyle, on what recipes to prepare. As we all know, holidays are all about bonding with our family and friends over traditional non-vegan meals that most people are used to. However, this may be an opportunity for vegans to introduce an all-vegan Thanksgiving menu that their family and guests will surely enjoy.  So, I made a round-up of the best vegan recipes, whether for this upcoming Thanksgiving or for any holidays,  that would help our vegan friends host a vegan holiday meal for both their vegan and non-vegan guests.
Eating vegan during family holiday meals
Hosting an enjoyable vegan meal for non-vegan guests during the holidays may prove to be challenging but definitely feasible. I've been hosting our Thanksgiving party for more than five years now and have been preparing a vegan menu that everyone loves, including those who are non-vegan. So, here are some of the best ever recipes for Thanksgiving that are vegan, gluten-free and easy to make. I rounded up the recipes into five different categories to make it easier for you to decide on which combination of meals to serve.
Vegan Thanksgiving Menu
Starters
As people would always say, "first impressions last", and these recipes for starters would definitely give your menu that sensational start it deserves. And with the fresh and healthy ingredients that vegan starters have, it will definitely not overpower and linger in the mouth. Here are some of the vegan starters that you can consider serving to your guests.
In true Thanksgiving fashion, start your guests off with this light and creamy vegan soup, that is both delicious and comforting. It is surprisingly easy to make, plus you can prepare this recipe three to four weeks in advance to lessen your kitchen-related stress on the actual day of the feast. Just let it cool down and put it in freezer bags to store, and then on the day of when you'll serve it, just place the bag in simmering water, and you're all set for your Thanksgiving starter.
You and your guests will definitely love this great bowl of soup. Rich, creamy and packed with flavor, this one-pot red lentil soup tastes delicious even if it's the next day already. You can even add your favorite topper or mix it with different spices to better suit your taste.
Nothing beats the classic taste of mushroom soup. This recipe brings back that familiar comfort that you get from eating mushroom soup and the best part is that this is dairy-free, gluten-free and nut free too. You will never go wrong when you serve your guests a bowl of this vegan cream of mushroom soup.
Mains
The centerpiece of the whole course – the main dish. There are a lot of vegan main dishes that are quite good. Here are some meatless recipes that won't make your guests miss that proverbial Thanksgiving turkey.
A filling and delicious Thanksgiving recipe that will make you skip that turkey. This recipe will surely find its way to your list of favorite meals to prepare. Just use Liquid Aminos to keep it gluten-free.
A bit of creativity truly brings wonders. This mushroom recipe is a fun and healthy spin on the classic beef wellington. A tasty and filling recipe that deserves the center stage of your Thanksgiving table.
A meatless, gluten-free, soy-free, and savory Thanksgiving recipe that is heavy in both flavor and aroma. The balance between the brown and slightly crispy texture on the outside and tenderness brought by the mashed potatoes inside will definitely make your guests go for another slice.
Sides
Underrated but always wanted – side dishes offer that complementary taste that goes well with your main dish. Most side dishes are simple and are not meant to steal the show but here are some side dish recipes that will definitely please you and your guests.
This will be a sure crowd-favorite. This tasty vegan side dish is both delicious and incredibly healthy – a perfect match for your meatless favorites.
An interesting addition to your already masterful Thanksgiving menu. This super easy recipe offers a delicious mix of sweet, tangy, and syrupy taste that you and your guests will surely enjoy.
Simply delicious, flavorful, and an allergy friendly vegan dish- a healthy twist to that green bean casserole that everyone seems to enjoy. Another awesome side dish that will melt your heart.
Salads
If you like those no-frills recipes then this variety of salads would be a good addition to your menu. Here are some salad recipes that I'm sure you and your guests will enjoy.
Light, crunchy and refreshing – this vegan salad will definitely be a hit among your guests. The most important thing about this dish is that unlike other salad dishes, this Thanksgiving slaw takes a while to wilt and can sit out for a while, making it a perfect addition to your holiday feast.
A flavorful mix of Autumn's best harvest – roasted sweet potatoes, brussel sprouts, and crisp apples, this vegan salad is definitely a delightful addition to your Thanksgiving spread.
Desserts
Who would skip dessert? Definitely not me! Fill your dessert table with these vegan dessert recipes that would finish your Thanksgiving feast with a bang. Everything is delicious, vegan, and certainly fun to make.
These delicious Carmelita bars are one of the most fabulous vegan desserts to date. Sweet and rich with flavor, this is the perfect finish that both kids and adults, vegans and non-vegans will definitely enjoy.
Easy to make and super delicious – this gluten-free vegan carrot cake is lightly spiced with dairy-free yet sweet creamy frosting. This perfect Thanksgiving dessert is definitely one for the books.
We hope that your Thanksgiving this year will be pleasantly memorable with these amazing vegan recipes. Mine sure will. So pin your favorite ones and make your holidays a happy one for everyone!
More of these round-up ideas here. Tell us in the comments sections, which one is your favorite.