There aren't many things I like more when it comes to food than delicious, nutritious snacks like these easy protein bites.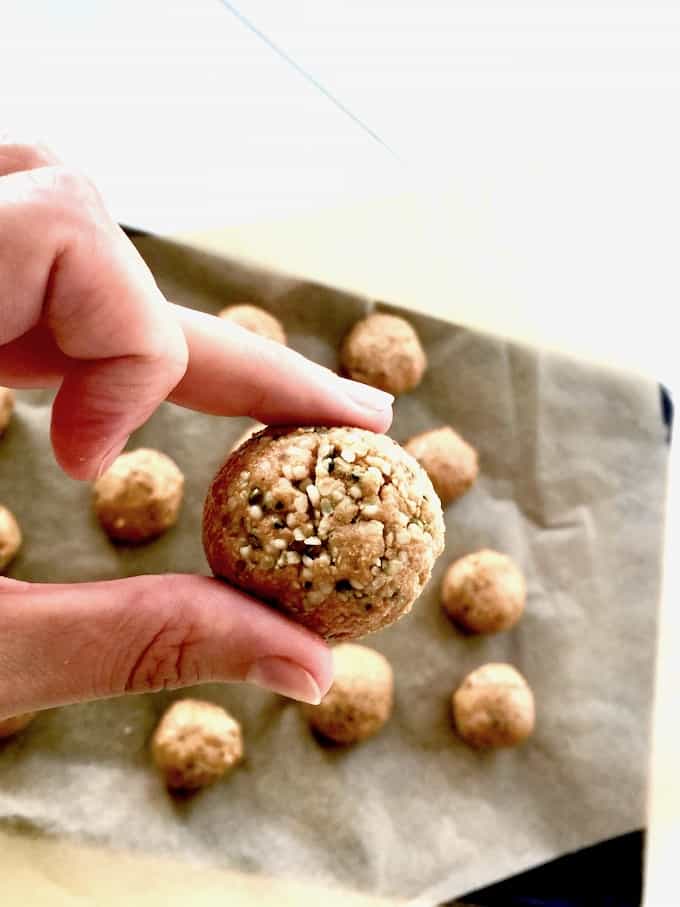 Something that takes 10 minutes to do — from gathering the ingredients, actual prep time, and clean up —that also results in snacks for days is a total win in my book, and I'm sure in many of yours. What I love about this recipe is that it's sweet from the vanilla, peanut butter, and caramel MCT oil, but there's absolutely no sugar in it!
Caramel MCT oil, you may be wondering?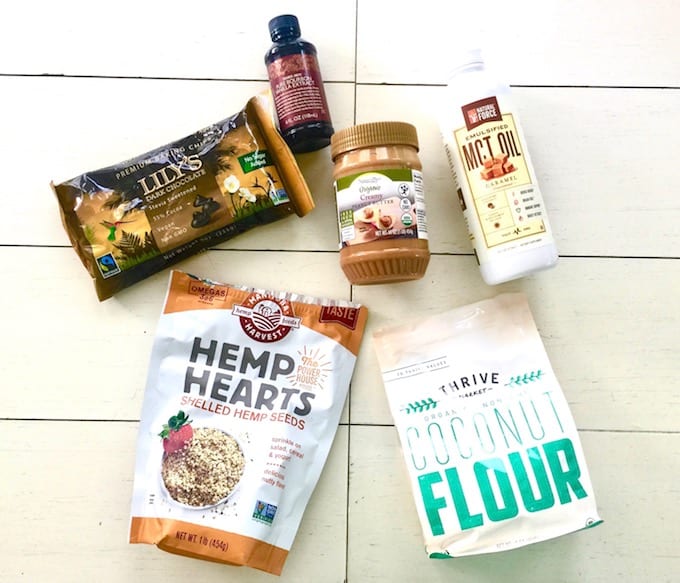 Yep, I got a bottle of Nature's Force Caramel Emulsified MCT Oil as a free gift in my Thrive Market order a few weeks ago, which is vegan, gluten-free, keto, non-GMO and made from 100% pure coconut. (It does have 'natural caramel flavor' and 'organic caramel color' which makes me a little skeptical, but I'm sure it's fine especially when used sparingly.)
---
---
If you don't know, MCT simply stands for medium chain triglycerides, as opposed to long chain triglycerides (LCT), which are found in most foods. Medium-chain fats are digested easily and sent directly to your liver, where they have the ability to positively alter your metabolism and can be burned by the body for energy/fuel instead of being stored as fat. This means that MCTs can support weight loss, increase fat burning and improve cognitive function. (source)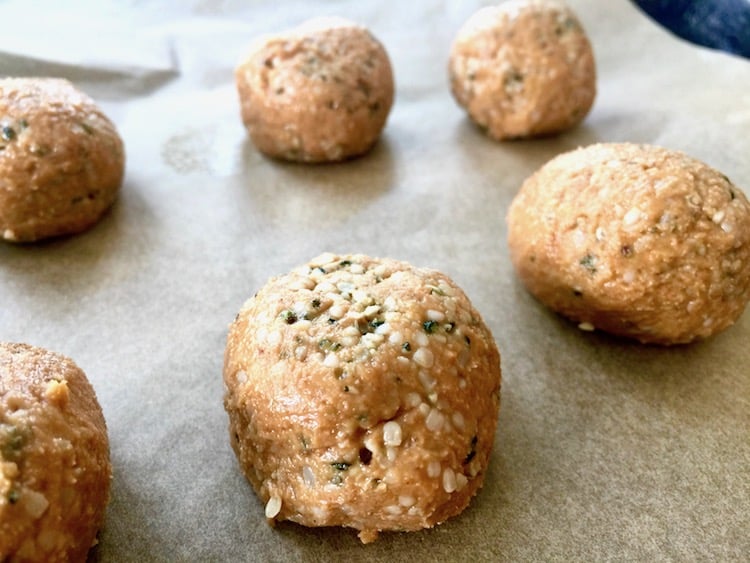 5-Minute No-Bake Protein Bites
These protein bites are loaded with healthy fats from the MCT oil, hemp seeds, peanut butter and vegan butter (depending what you use; I like Miyoko's Organic European-Style Cultured Vegan Butter made from coconut oil).
If you're following a high healthy fat diet, these protein bites would be considered "fat bombs" and make a perfect addition to a Keto/Ketogenic diet. Each serving (2 balls) has 4 grams of carbs, 12 grams of protein, and 23 grams of fat (according to the carb manager app, when using the exact ingredients specified in the recipe).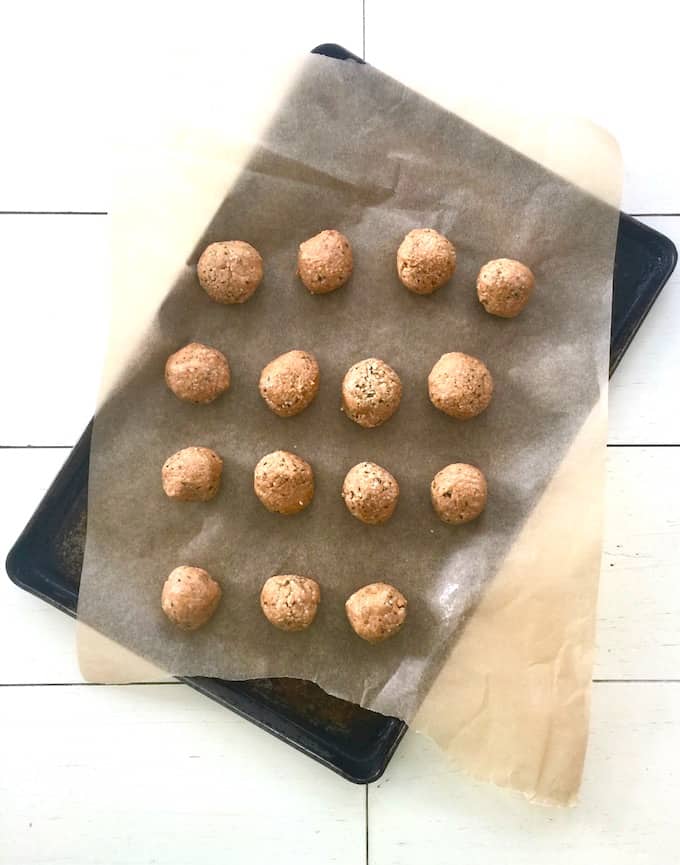 Recipe notes:
Feel free to swap out the peanut butter for any other nut or seed butter.
If you don't have a flavored MCT oil like caramel or vanilla, you can use any of the following:

Regular coconut oil (it will be less sweet this way)
Sugar-free sweetener like Lakanto syrup or Yacon Syrup
If you don't mind a little bit of unrefined sugar, maple syrup works great in this recipe

I haven't tried substituting the hemp seeds for chia seeds, but I bet it would work just fine!
For a fun twist, you could also coat these in chocolate. I recommend melting 1 tablespoon coconut oil with 1/2 cup of Lily's Stevia Sweetened Chocolate Chips (or any vegan chocolate chips or your choice, or about 6 ounces of a dark chocolate bar) and dipping the balls in chocolate, then popping in the freezer to set.
---
---
Sarah Newman
16 balls
5 Minute No Bake Peanut Butter Hemp Protein Bites (Keto + Sugar Free)
This easy protein bites recipe is sweet and satisfying with absolutely no sugar! These Fat bombs are friendly for a vegan, gluten free or keto diet.
5 minPrep Time
5 minTotal Time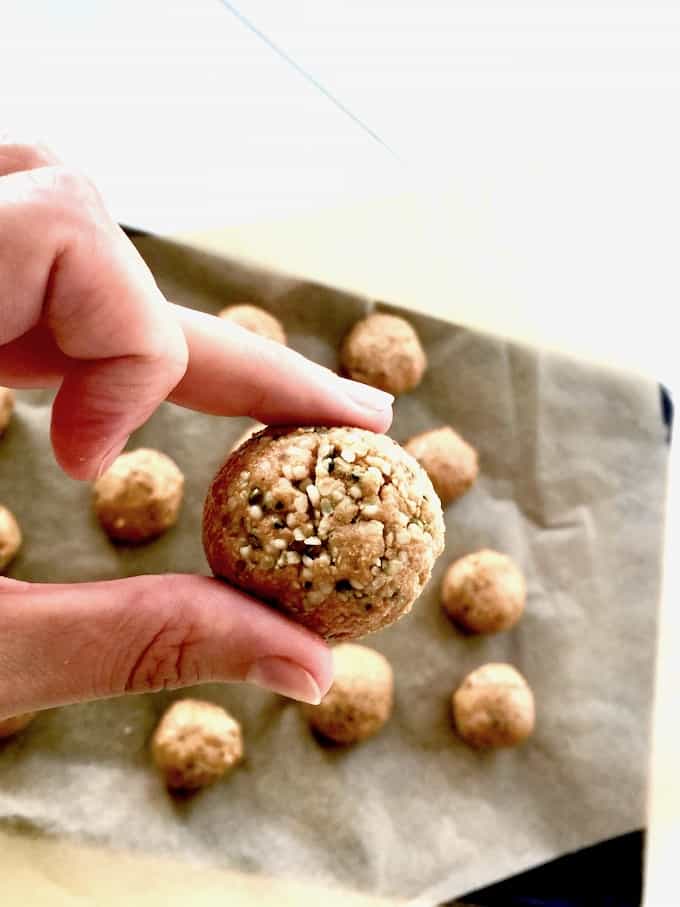 Ingredients
1 cup creamy peanut butter
1 Tbsp vegan butter (or coconut oil)
2 Tbsp flavored MCT oil (caramel or vanilla) *see notes for subs
1/4 cup coconut flour
1/2 cup hemp seeds
1 tsp vanilla
1/2 tsp sea salt (will vary depending on taste + if peanut butter is already salted)

OPTIONAL - Chocolate Coating: (not pictured)

1/2 cup vegan chocolate chips (I recommend Lily's Stevia Sweetened Chocolate Chips for sugar free. You can also use 6 ounces of your favorite vegan dark chocolate bar)
1 Tbsp coconut oil
Instructions
Melt the peanut butter and vegan butter together in a saucepan over low heat.
Add the remaining ingredients and stir.
Roll into balls and place onto parchment paper. Place in the fridge or freezer to set.
For a fun extra twist, you could also coat these in chocolate. Melt the coconut oil with chocolate chips and dip the balls in the chocolate mixture, then place in the freezer to set.
Notes
*instead of MCT oil, you can use either a nuatral, sugar free liquid sweetener like Lakanto or Yacon Syrup, or simply use maple syrup for a nice unrefined sugar option.
7.8.1.2
105
https://veganchickpea.com/peanut-butter-hemp-protein-bites/
Sarah Newman, SKN Creations