Have you heard about the online healthy grocery store Thrive Market and wondered if it's worth the membership? Today I'm sharing with you all the reasons why I absolutely love Thrive Market to support my healthy lifestyle, and some of my favorite vegan products (all gluten free!) to order that will save you money compared to in-store prices.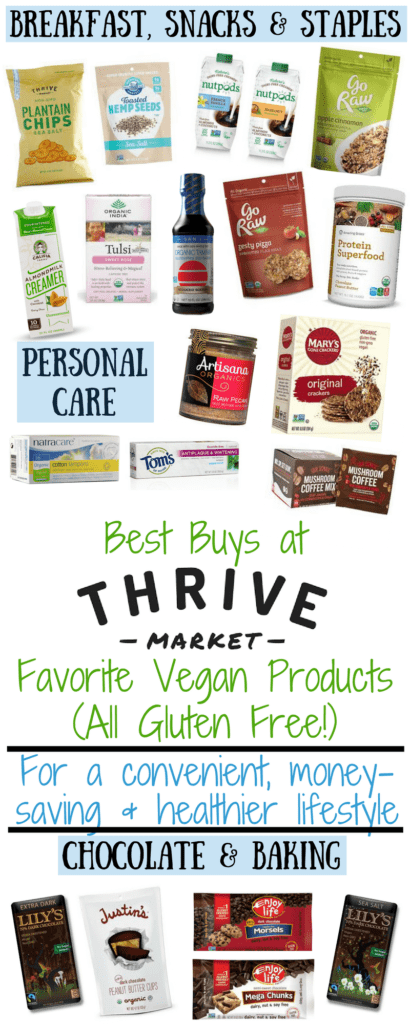 First, what is Thrive Market?
Thrive Market is an online grocery store that makes it easy to find healthy, high-quality products at truly affordable prices. They ship right to your door in 100% post-consumer packing materials and their prices are 25-50% off retail. 
All Thrive Market's products have no artificial ingredients, artificial preservatives, hydrogenated fats, synthetic fragrances or toxic chemicals, and they have many organic options.
Some of the hundreds of brands they feature to their 400,000+ members are favorites like: Lily's Chocolate, Amazing Grass, Enjoy Life, Go Raw, Califia Farms, Garden of Life, Bob's Red Mill, Larabar, Simple Mills, Bragg's, Dr. Bronners, Lundberg, Nutiva, Seventh Generation, Burt's Bees & Tom's of Maine.
Why do I love Thrive Market? 
1)  Convenience – I love shopping online. I can save time, compare prices, add to my cart quickly, reorder easily and get the box delivered straight to my door – yes please! (They also have an app for when you're on the go.)
2) Finding new, healthy products – At Thrive Market you can use filters such as vegan, gluten free, raw and paleo to find products that match your lifestyle without having to read every label to ensure it's vegan, gluten free, etc. Then, you can see reviews to help make your decision easier when you're debating about whether or not to try something new.
3) Save money & get free products – While Thrive Market's prices are good across the board, some products are drastically cheaper than in-store. Plus, every single day they have a different sale or giveaway free products with your purchase (20+ giveaways/month with an average $16 gift value), so if you look out for when your favorite brands go on sale or are featured as the daily free gift, you can really save. I've seen deals like 25% off Amazing Grass, or a free bottle of coconut oil or maple syrup with purchase, as examples.
The verdict? Yes, there is a $59.99 annual membership fee, but over the year you'll definitely make it up, especially if you shop often and take advantage of the daily deals. (Think of it like a Costco membership – the more you use it, the more you'll save.) Also, all orders over $49 always ship free.
Plus, when I first started my 30 day free trial, I got an additional 20% off my first 3 orders, which saved me a ton of money as I used the extra discount to stock up on some staples.
Then when I became a member, they also gave me a free gift worth over $60 (pictured below) of products I actually really enjoyed like protein bars, protein powder, Go Raw snacks, coconut wraps, peanut butter, travel toiletries, a tote bag and more, so that alone made up for the membership fee!
FREE WELCOME GIFT: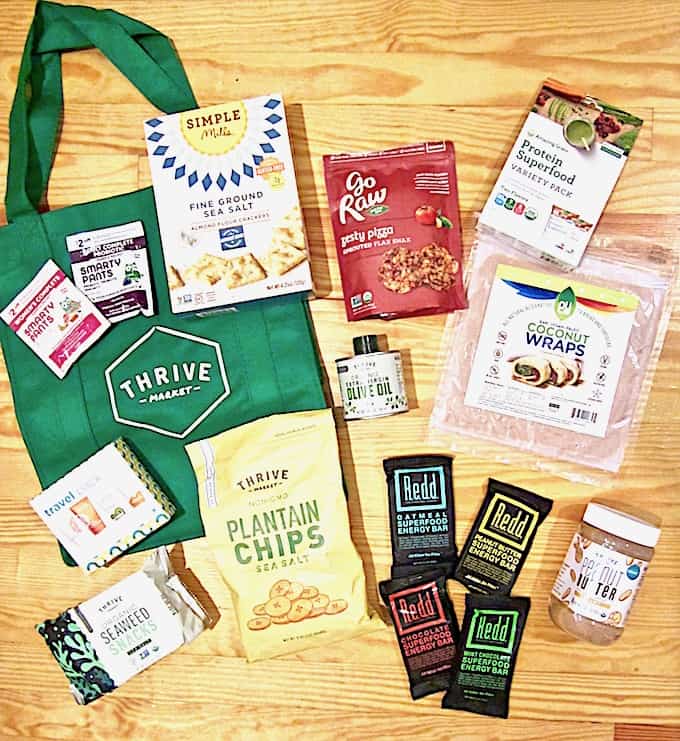 4) Philanthropy – When you become an annual member, Thrive Market donates a membership to a low income family, teacher, veteran or student. They also provide educational content and grocery stipends to these members. If you choose, you can also donate a portion of your savings at checkout.
Now, onto my list of some of my favorite vegan products that I know you'll love and will save you money by ordering from Thrive Market!
---
Disclaimer: I am an affiliate for Thrive Market. If you sign-up for an account after clicking one of my links, your costs stay the same but I receive a commission to support Vegan Chickpea. I only recommend products and services I love. Thank you for your support!
---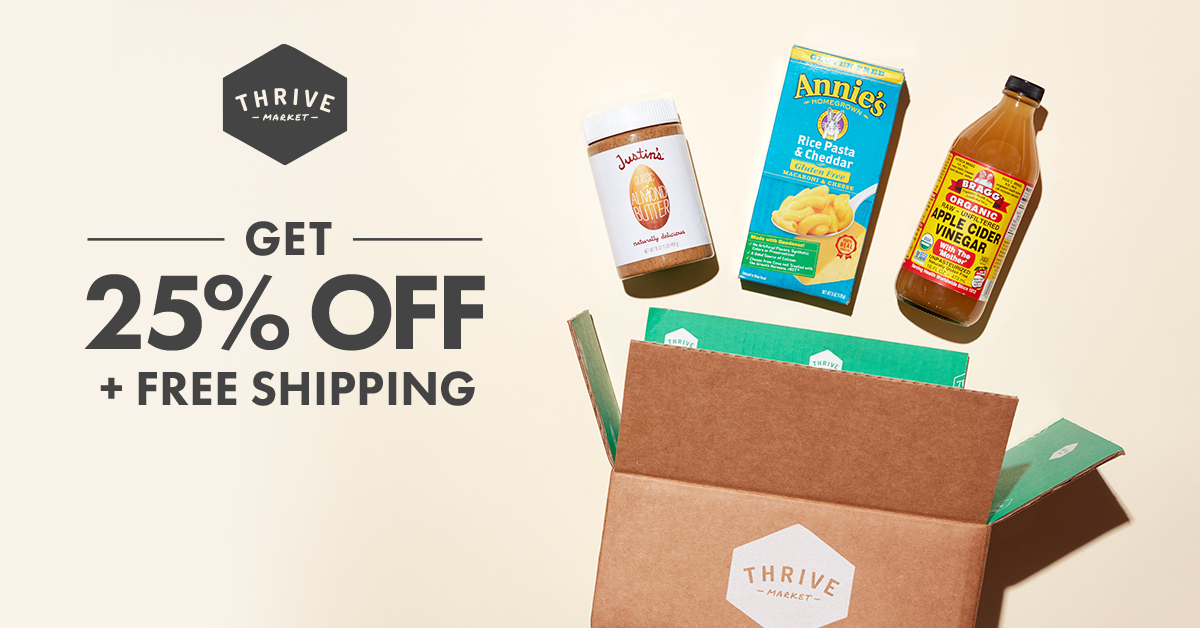 VEGAN PRODUCTS: BREAKFAST & STAPLES
Why is it nearly impossible to find a granola that has no added sugar?! I've seriously checked every box at Whole Foods and all of them at least have coconut sugar added. Finally, with Go Raw I found a healthy granola I love that's sweetened with dried apples, dates and cinnamon, balanced out with buckwheat and seeds for heartiness.
Here are the simple, clean, organic ingredients: Sprouted Buckwheat Groats, Sprouted Sesame Seeds, Sprouted Sunflower Seeds, Coconut, Apples (Unsulphered), Hemp Seeds, Dates, Cinnamon, Vanilla Extract, Orange Oil & Celtic Sea Salt
One of the reasons I love Go Raw is because they sprout their seeds, which unlocks and preserves more of the seed's powerful nutrients. This process also multiplies available proteins, enzymes, and minerals, making good food easier to digest and allowing the nutrients to be more easily absorbed by the body.
This bag is worth the price to me as it's such high quality, lasts me awhile and is still cheaper than what you'd find on shelves.
Of course, you can always make your own sugar-free granola like my popular Healthy High Protein Grain-Free Granola!

This delicious peanut buttery, chocolatey all-in-one protein nutrition shake is an organic superfood blend of plant-based protein, healthy greens and nutrient-dense fruits and veggies. With 20 grams of vegan protein, 7 alkalizing greens and 2 full servings of fruit and vegetables, this is a convenient way to give your body the whole food nutrition it needs.
While not the cheapest powder out there, it's worth it for it's all-in-one nutrition and as an occasional superfood boost when you're in a hurry, and it's still much cheaper compared to the same product for $56.99 on AmazingGrass.com.
Use it in your own custom Superfood Smoothie Bowl or in this Simple Everyday Protein Smoothie.

It's no secret that I'm a total nut butter addict. It's a rare day that goes by where I don't eat nut butter in some form, and while almond butter is my typical go-to, I love to mix it up with all types of different nut butters. This organic blend of just creamy raw cashews with sweet raw pecans is delicious, especially to complement fall flavors. I smeared some on banana pancakes yesterday morning and wow, was it YUMMY!
This nut butter would be great spread on my Healthy High Protein Banana Nut Bread (One Bowl!) or dolloped on this Autumn Apple & Pomegranate Chia Pudding Slice.

I adore tamari and use it at least 2 – 3 times per week. Perfect in anything from sauces and stir-frys, to soups and casseroles, to dressings or simply as a dipping sauce, this flavorful umami condiment is a total staple in my house. Because it's soy I always try to buy organic, and also gravitate towards the reduced sodium variety since soy sauce tends to have a lot of sodium.
This version has 25% less sodium and is my favorite brand for its rich, delectable flavor that enhances any type of cuisine. In stores I usually pay at least $5.99 for organic reduced sodium tamari in the standard 10 oz bottle, and this bottle is double the size!
Enjoy tamari in recipes like my Easy Vegan Tofu Lettuce Wraps, the Best 3-Ingredient Everything Sauce and Vegan Rice Paper Bacon Strips.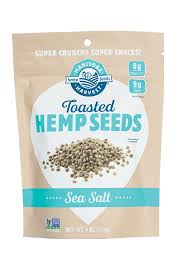 As a vegan I eat a ton of seeds, so these Toasted Hemp Seeds are a nice change of pace. They're whole hemp seeds (not hulled) so be aware that they're super earthy and uber crunchy! Each serving has 8 grams of protein, 8 grams of omega-3s & omega-6s, and 9 grams of fiber. They also come in a Sriracha flavor that I've yet to try but sound like a fun change of pace! Of course Manitoba Harvest is also a great brand for regular hemp seeds (raw, shelled hemp hearts).
Hemp seed lover? Try my Easy Weeknight Side Recipe for High Protein Broccoli with Hemp.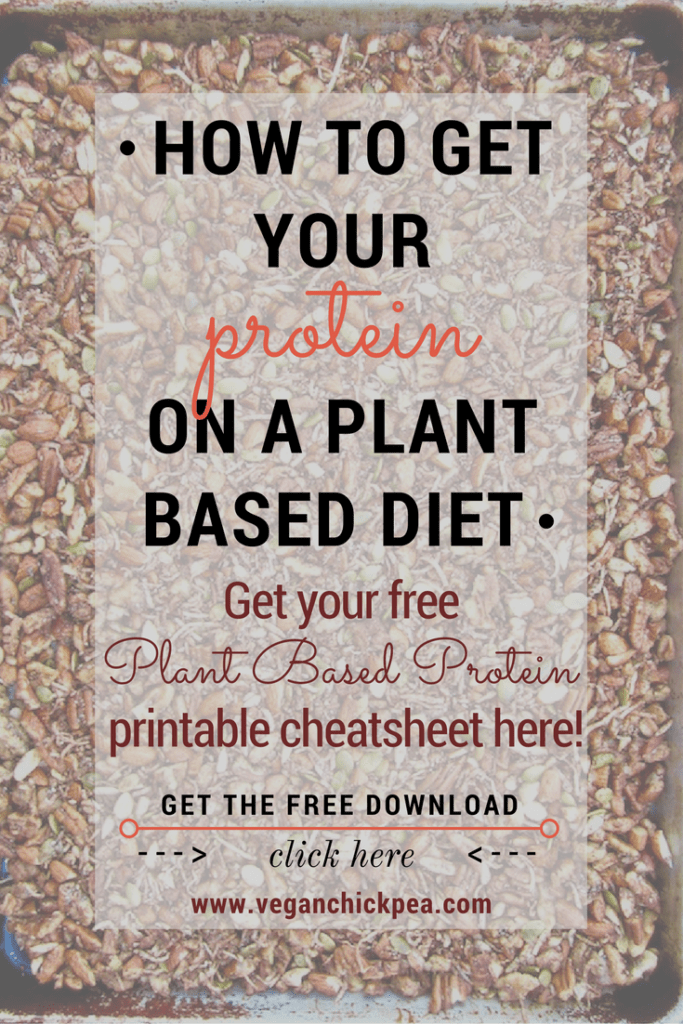 VEGAN PRODUCTS: SNACKS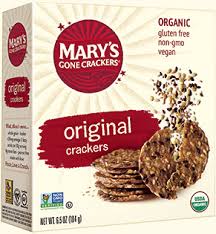 I looooove Mary's Gone Crackers! It's my go-to, favorite brand of crackers because of the super clean ingredients and satisfying crunch. Vegan, gluten free, whole grain, non-GMO and organic, you really can't beat it! At most grocery stores these crackers are $4.99, so I love getting them at Thrive Market for a big savings. In addition to Original, there are a ton of flavors now including Everything and Basil & Garlic Super Seed.
If you love crackers and have ever wondered how to make your own, check out my favorite recipe for Grain-Free Multiseed Crackers.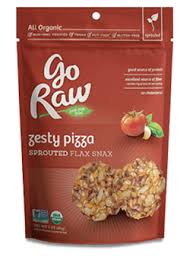 I just tried these for the first time and have fallen in love. This is going to sound quite ironic coming from a vegan, but the flavor tastes just like pepperoni! It's a great way to get the same flavor as pizza but with top quality healthy ingredients like organic sprouted flaxseeds, sunflower seeds, and sesame seeds, with zesty tomato paste, celtic sea salt and garlic powder added for flavor. These snacks also come in spirulina or in 'bites' form like banana bread and raisin crunch.
If you like pizza, try these Portobello Mushroom Pizzas with Cashew Basil Cheese.
If you're craving something savory, crunchy and different than your average chip, I recommend these non-GMO Plantain Chips. They're crispy and golden with just a hint of sea salt and are a perfect dipper for guacamole.
VEGAN PRODUCTS: CHOCOLATE & BAKING
These are my favorite, guilt-free chocolate bars because they're entirely stevia sweetened! Certified gluten free, Fair Trade and non-GMO, these chocolates give no sugar spikes and have 20-25% fewer calories than conventional chocolates — but taste delicious! Cheaper than at Whole Foods where I usually buy them, you can save money by stocking up on these chocolates at Thrive Market.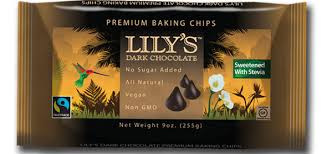 With all the same chocolatey and sugar-free goodness as mentioned above, Lily's Chocolate Baking Chips are my go-to chocolate chips for baking since I try to use as little sugar as possible in my cooking (FYI, they're mini chips). I seriously couldn't believe just how yummy these were when I first tried them!
Sometimes for dessert or a sweet snack I'll pour a little serving into a ramekin with some Go Raw Apple Cinnamon Granola and munch on that delightful, crunchy and sweet yet sugar free combo! They're much cheaper here than at Whole Foods or local health food stores.
Try them in these Flourless Sunflower Butter Swirl Brownies or Dessert Hummus: Healthier Caramel Chocolate Chip Dip.
Enjoy Life is a trusted brand in the vegan and non-dairy community. Their chocolate chips (which come in regular, mini, and mega chunk) make a perfect swap in any traditional recipe that calls for chocolate chips. With just two to three simple ingredients, these morsels are completely free of dairy, nuts, gluten and soy. They're also Paleo, non-GMO, vegan, and kosher. Use them to bake for any occasion and no one will know the difference from 'regular' dairy chocolate chips!
Try them in these Pumpkin Chocolate Chip Muffin Top Cookies + Coconut Frosting or these Soft & Healthy Almond Flour Chocolate Chip Cookies.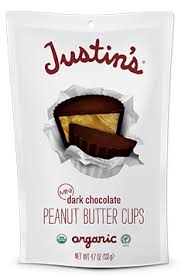 While I can't have these around very often because they're just too darn delicious, a few times a year I'll buy Justin's Mini or Regular Dark Chocolate Peanut Butter Cups for a treat. Reese's Peanut Butter Cups were my favorite candy pre-vegan (and pre- more health conscious days!), so this vegan, organic, Rainforest Alliance Certified, additive- and preservative-free candy is a perfect (and dare I say even better!) substitute.
Try making your own peanut butter cups with this healthy Salted Chocolate Peanut Butter Pie Protein Cups recipe!
VEGAN PRODUCTS: Tea, Coffee & Coffee Creamer
Have you heard about this mushroom coffee trend starting to become more popular over the last couple of years? The idea is that certain varieties of mushrooms are medicinal superfoods, and when mixed with coffee, the combo reduces jitters and body strain while still getting the stimulating effects of coffee. Plus, chaga and cordyceps are said to boost your focus, productivity and metabolism.
I like this mycotoxin-free instant coffee blend because my body can't handle regular coffee everyday, but I find that using this mix a couple times a week gives me that satisfying coffee flavor and caffeine boost while being gentler on my body. Plus, it's easy because you just mix it with hot water, so while it does have a little bit of that 'instant coffee' flavor, I actually like it.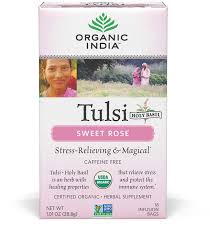 I never drank rose tea until a good friend of mine introduced me to it, and then I was hooked on its soothing, unique, not overly floral flavor. It's unlike any other tea I've had – fragrant, tantalizing, and deeply feminine. Thrive Market says that this Tulsi Sweet Rose tea became a best seller overnight!
I love coffee and herbal coffees in the morning and have tried almost every coffee alternative out there. Whether I'm drinking Teechino, Dandy Blend, mushroom coffee or the regular stuff, I always love my unsweetened creamers frothed with this handy little electric mixer with my morning cup.
Nutpods are vegan creamers made from almonds and coconuts and the unsweetened ones are sugar free. They're also free from carrageenan, hydrogenated oils, GMOs, soy, artificial flavors/colors and other harmful ingredients.
My favorite creamer is Califia Farms Unsweetened Almond Milk Creamer, but since its perishable I sometimes run out of it, and I always like having backups in my pantry. Plus, I like to mix flavors up so sometimes a splash of hazelnut keeps things interesting.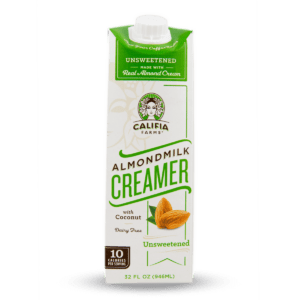 Close to its sister product mentioned above, this is a shelf-stable version that again, I sometimes like to keep a backup of for when I run out of the perishable almond creamer. This creamer is carrageenan-, sugar-, dairy- and soy-free.
VEGAN PRODUCTS: TOILETRIES & FEMININE CARE
I've been using Tom's of Maine toothpaste for many years and just love it! I trust this brand for chemical-free personal care products that are made of all-natural ingredients. Personally I don't like fluoride in my toothpaste as fluoride freaks me out a little, so I opt for this fluoride-free peppermint flavor – but they have a big variety of flavors to choose from. In stores this toothpaste is usually at least $4.99.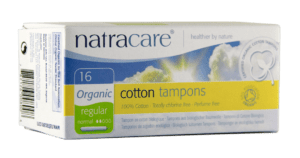 The materials in an average tampon on the market are scary. Without going into too much detail in this post, we use tampons in a very absorbent and sensitive part of our bodies, but traditional cotton tampons are chlorine bleached, have synthetic materials such as rayon, or chemical additives such as binders or surfactants. I always try to buy organic tampons and finally, with Thrive Market, they're affordable!
Natracare tampons are all made from only certified organic 100% cotton and were the world's first fully certified organic cotton tampons. Certified organic cotton removes the risk of direct exposure to residues from chemical pesticides and fertilizers used on traditional cotton. The applicator is made from a totally chlorine-free, biodegradable card. You can finally feel safe to use tampons (and their other products like panty liners and pads) – hallelujah!
YET TO TRY BUT ON MY WISHLIST:
Are you a member of Thrive Market? What do you love, or not love, about it? I'd love to hear from you in the comments below!
---
Disclaimer: This post contains affiliate links. If you make a purchase after clicking one of my links, your costs stay the same but I receive a small commission to help support Vegan Chickpea. Thank you for your support!