Roasted spaghetti squash is the perfect healthy, low carb, satisfying meal for Fall. Pair it with a creamy vegan cashew cheese sauce, superfood stars mushrooms and kale or spinach, and you've got a vegan, gluten free and paleo meal that you'll want to enjoy again and again!

Woohoo! We're back with our second guest blogger on Vegan Chickpea after kicking off a series of guest posters a couple weeks ago with Claire Ruiz from SumoChef who brought us these mouthwatering Easy Molten Chocolate Lava Cakes. Seriously, did you see these beautiful heart-shaped cakes? Amazing!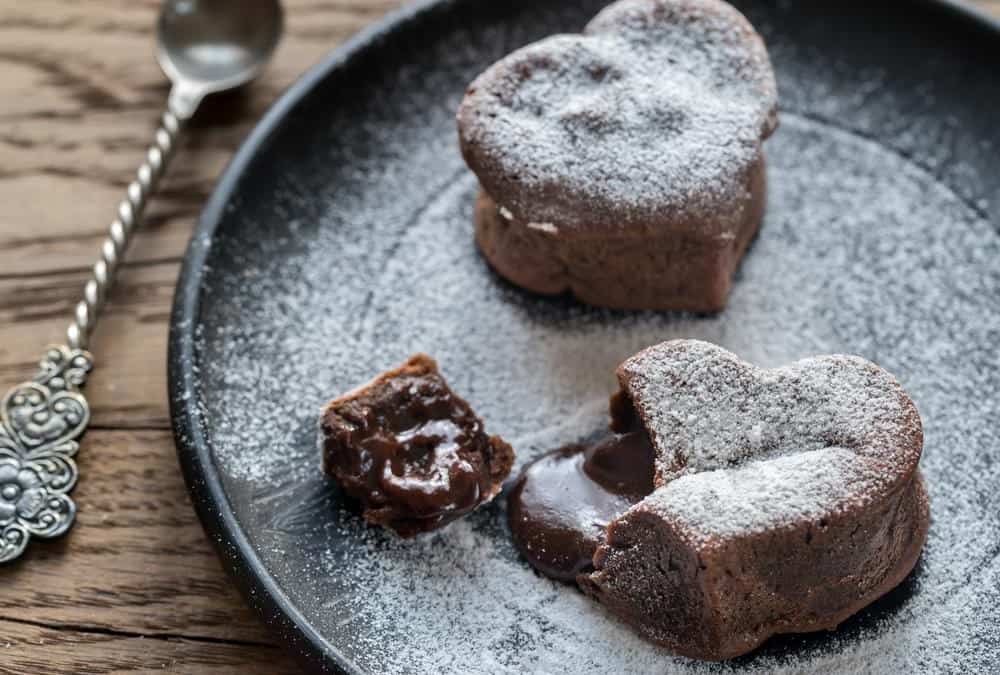 Today, I'm delighted to introduce Diane Smith from Plant Based Cooking with a seasonal recipe for roasted spaghetti squash, perfect for dinner any day of the week or even for your Thanksgiving table! Who doesn't LOVE spaghetti squash, a vegetable that naturally turns into thin noodles when cooked? So cool! Personally I love eating roasted spaghetti squash in place of pasta with pesto, tomato sauce or creamy cheeses, like this vegan cashew cream sauce.
We've been all about vegan cheese sauces here on VC recently! If you missed it, last week on the blog I shared a Healthy 'Mac & Cheese' recipe with a 5-Ingredient Cheese Sauce over zucchini noodles. (Can you tell I love subbing vegetable noodles for pasta?). That recipe uses sweet potatoes as the primary ingredient for the cheese, but today's recipe from Diane is quite different, featuring cashews or even – if wanted/needed for a nut allergy – using white beans instead! There are so many ways to make delicious non-dairy 'cheese' sauces that seriously, you've gotta get on this recipe train if you haven't started playing with vegan cheese sauces yet.

Without further ado – here is Diane from PlantBasedCooking.com!
---
If you've ever wanted to eat less gluten, you've probably heard of spaghetti squash as a grain-free substitute for noodles. It works great in this Roasted Spaghetti Squash with Mushrooms, Greens and Vegan Cashew Cheese Sauce recipe, as well! A winter vegetable that is harvested in early fall, it keeps in your pantry for months.
There are a couple of ways to cook the squash. One of the tastiest is to cut it in half, scoop out the seeds, and place upside down on a non-stick baking sheet in a 375°F oven and bake for 45 minutes. This will caramelize the cut halves of the squash and add lots of flavor. Then it's as easy as using your fork to loosen the strands of squash for your dish. A medium-sized squash will yield a lot. You can roast the seeds, as well.

This spaghetti squash dish is attractive for company as it looks pretty presented in layers of squash, kale or spinach, vegan cheese sauce and sauteed mushrooms. You could also mix it all together and bake in a casserole dish to heat through.
---
---
Vegan Cashew Cheese Sauce
The vegan cashew cheese sauce is versatile and can be used in any recipe that calls for a cheese sauce. Here's one way of using it in this Chili Cheese Dip recipe. For this recipe, we'll leave out the beans and chili powder. The cheese sauce ingredients are put into a blender and blended until smooth. Easy. If you'd like to use a fat-free or nut-free version, use any variety of canned white beans, drained and rinsed.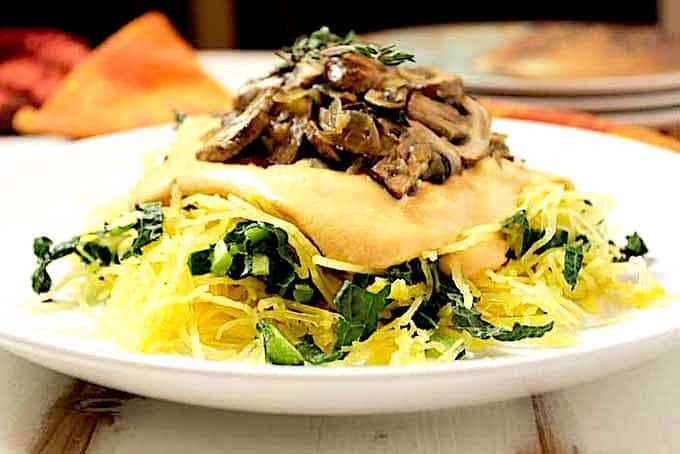 Healthy G-BOMBS
Mushrooms and kale or spinach round out this dish and add the most nutrition. In fact, they are part of Dr. Fuhrman's G-BOMBS, his list of anti-cancer foods that you should be eating every day: greens, beans, onions, mushrooms, berries, and seeds. Even white button mushrooms are highly nutritious, "Surprisingly, plain white mushrooms—the cheapest and most widely available variety—may work best and are among the most antioxidant-rich," according to nutritionfacts.org.
Kale's popularity has grown exponentially over the past few years and boasts a powerhouse of nutrition because of lutein and it's cholesterol-lowering abilities, as well as it's abundance of fiber.
But, nutrition aside, this dish is satisfying and tasty and a holiday winner, as well. Enjoy! Thank you so much, Sarah, for including my roasted spaghetti squash with kale, mushrooms and vegan cashew cheese sauce.
---
---

MEET DIANE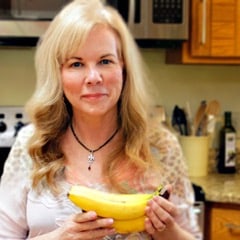 Diane shares recipes, tools, and inspiration for eating a plant-based diet on her website, Plant-Based Cooking. Her easy, vegan recipes and science-backed articles empower people to make the dietary change that could save their lives. Discover more and subscribe to her email list at plantbasedcooking.com.
Be sure to follow her on social!   Facebook  |  Twitter  |  Pinterest  |  Instagram  |  Google+  |  Yummly
Diane Smith, Plant Based Cooking
serves 6 people
Roasted Spaghetti Squash w/ Mushrooms, Greens & Vegan Cashew Cheese Sauce
Roasted spaghetti squash is the perfect healthy, low carb, satisfying meal for Fall. Pair it with a creamy vegan cashew cheese sauce, superfood stars mushrooms and kale or spinach, and you've got a vegan, gluten free and paleo meal that you'll want to enjoy again and again!
20 minPrep Time
45 minCook Time
1 hr, 5 Total Time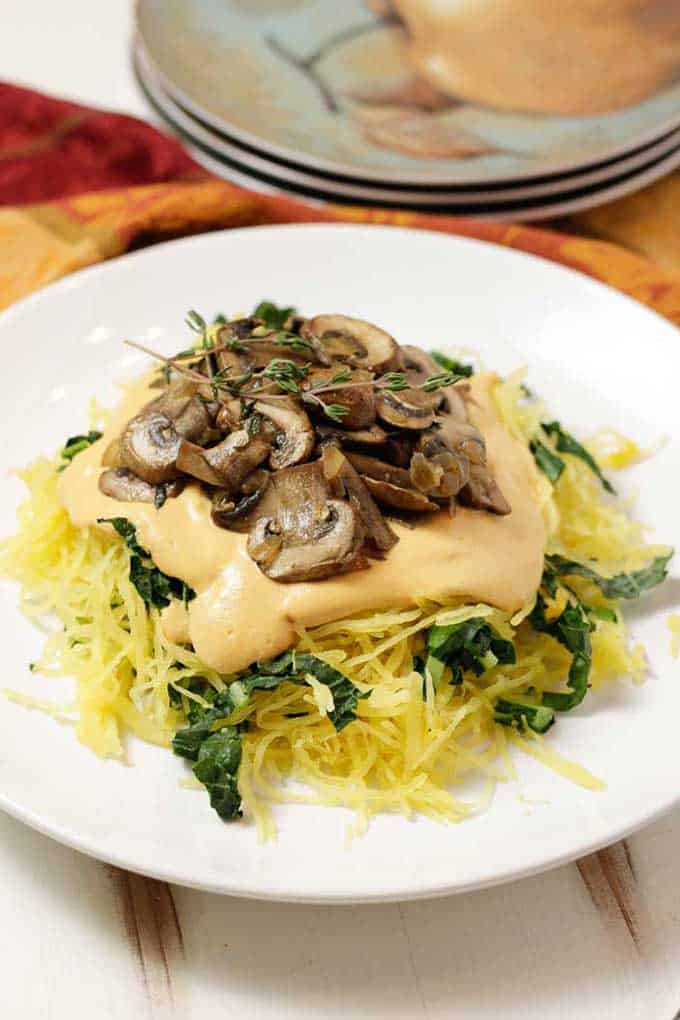 Ingredients
1 medium sized spaghetti squash, cut in half and seeds removed
2 8-oz boxes of mushrooms, sliced (any variety will do)
2 large bunches of kale or spinach, washed and cut into 1/2" strips
2 cloves garlic, minced
1 Tbsp fresh thyme, chopped

CHEESE SAUCE:

1 cup unsweetened non-dairy milk
1 cup raw cashews, soaked in warm water for at least 30 minutes -OR- 1 cup white beans, drained and rinsed
1 medium roasted red bell pepper (if using jarred, about 1/2 cup)
1 large lemon, juiced
2 tsp prepared mustard
1/2 tsp salt
Instructions
Preheat oven to 375°F. Carefully cut the spaghetti squash in half lengthwise and scoop out the seeds. (Save the seeds for roasting if desired.) Place squash halves face down on a non-stick baking sheet. Use parchment paper or a little spray of oil to prevent sticking if necessary. Bake for about 45 minutes until fork tender. Set aside to cool.
While the squash is cooking, make the cheese sauce by putting the ingredients into a blender and blending until smooth. Scrape into a bowl.
Saute the sliced mushrooms in a large saute pan with a little vegetable stock or water. Add half the minced garlic, salt & pepper and thyme. Continue to saute until cooked through. Remove to a plate and keep warm.
Add the kale or spinach and remaining minced garlic to the mushroom pan and saute with more vegetable stock or water over medium heat until wilted. Salt & pepper to taste and set aside.
ASSEMBLY: Using a fork, separate the spaghetti squash "noodles" and place on a plate. Top with the cheese sauce, mushrooms, cooked kale or spinach and top with a sprig of thyme. Repeat with the rest of the plates.
ALTERNATIVELY: Add all of the ingredients to a large bowl and stir to combine. Place in a large baking dish and bake at 350°F for 20 minutes to heat through.
Top with cashew parmesan if desired (1/2 cup raw cashews, 1/4 cup nutritional yeast, and about 1/4 tsp salt whirred in a food processor or blender) and a sprinkling of chopped thyme and/or parsley.
7.8.1.2
74
https://veganchickpea.com/roasted-spaghetti-squash-vegan-cashew-cheese-sauce/
Sarah Newman, SKN Creations