Finally there's a gluten-free, organic AND vegan meal delivery service with Veestro! Whether you're too busy to cook, want to eat more of a plant-based diet but don't know how, or just want to try something that you can count on to make your life easier for any meal of the day, then Veestro is for you. Read on for my review!
Plus, get 15% off your a la carte order with the code CHICKPEA15 until November 30, 2017!
Oh, and did I mention that Veestro is giving one lucky winner a $150 gift card?!
Heck yeah! (Enter at bottom of the post.)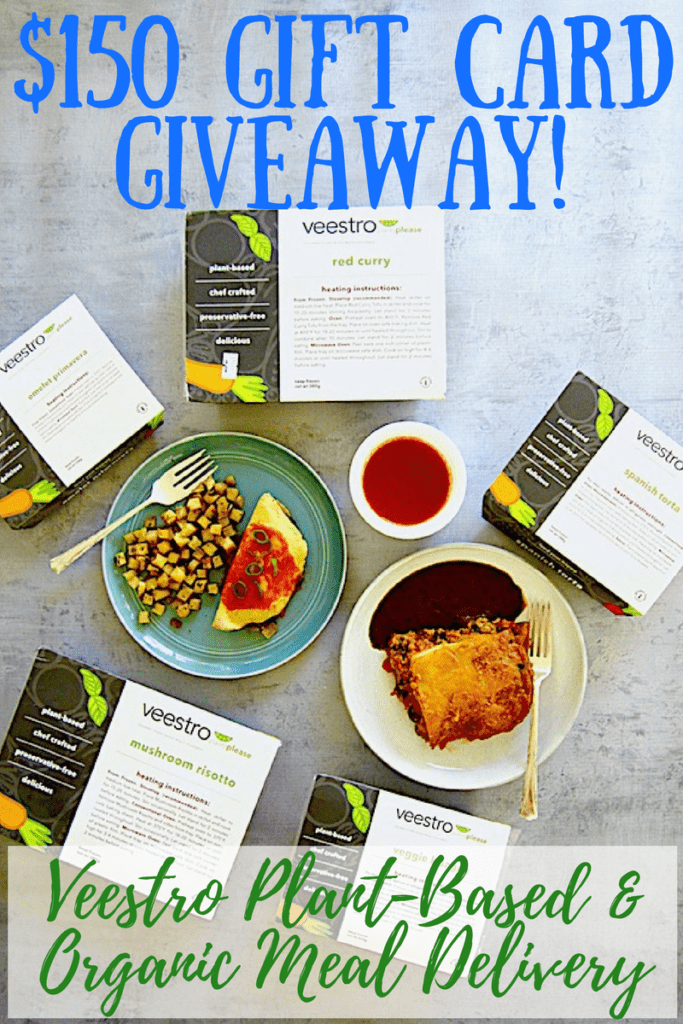 Oh my goodness – when did NOVEMBER happen?!
Time is just flying over here and I feel like some days are so busy, I can hardly keep up… and now we're entering the holiday season which I absolutely LOVE, but let's face it – it's an extra busy time of year with travel, festivities, extra shopping and planning… and the list goes on!
Recently there have been nights when I'm just too darn busy to cook; even the thought of it can be exhausting, ya know what I mean?
If you can relate to…
Feeling too busy to grocery shop and/or cook
Wanting to eat more plant-based foods and break out of your old habits, but don't know what to prepare or how to prepare it
Wanting a back-up plan at the ready just waiting in your freezer, making it super simple to get more plants in your every day – whether it's one dinner a week, a healthy juice for breakfast every morning, or just to have a meal ready for those I'm too busy right now and can't be bothered to cook moments
…then Veestro vegan meal delivery service is for you!
I first heard about Veestro earlier this year, which is a 100% plant-based, organic, preservative-free meal delivery service WITH GLUTEN FREE options. Seriously! Meal delivery services have become really popular these days and are popping up everywhere, and it's fairly easy to find gluten free options or occasionally vegan options at some of the different sires – but NOT the combo of BOTH! Plus, very few of those companies are organic.
So when I heard about Veestro I couldn't wait to order and dig my fork in, because they have it all! Vegan and organic breakfasts, entrees, soups, desserts and juice, all with gluten free options (or not, if you don't want/need GF!).
---
Disclaimer: I'm an affiliate for Veestro. If you make a purchase after clicking one of my links, your costs stay the same but I receive a commission to help support Vegan Chickpea. Thank you for your support!
---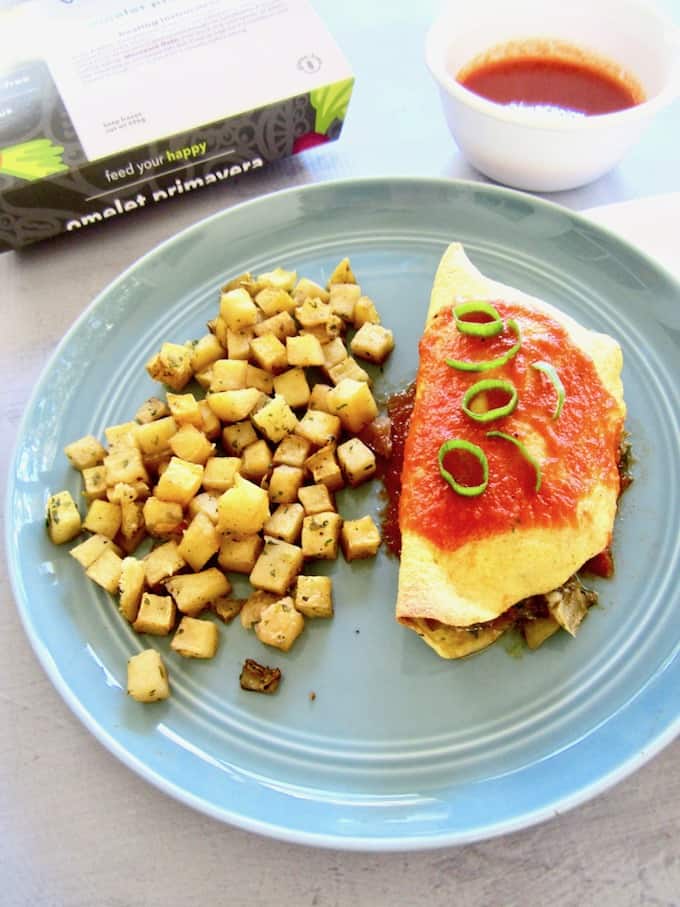 HOW DOES IT WORK?
Choose from a la carte meals (you pick whatever you want), meal packs (a pre-picked assortment) or a 3-5-7 day weight loss plan.
The chef created meals are delivered straight to your doorstep, frozen with dry ice to ensure they stay cold – all in eco-friendly packaging.
Most meals are heated from frozen, but some are recommended to thaw overnight in the fridge first for best preparation. All meals have cooking instructions right on the package.
That's it! Easy peasy.
---
---
MY EXPERIENCE
I'm gonna be honest here – I'm a home cook. I don't go out much and rarely eat frozen meals, and truthfully – I almost always prefer a good home cooked meal above anything pre-prepared and frozen.
But like I said, when times get busy and suddenly it's 8pm and I don't have anything planned for dinner – boy am I ever grateful to have another option just waiting for me in the freezer, and one that meets my dietary needs and preferences while also being relatively healthy at the same time!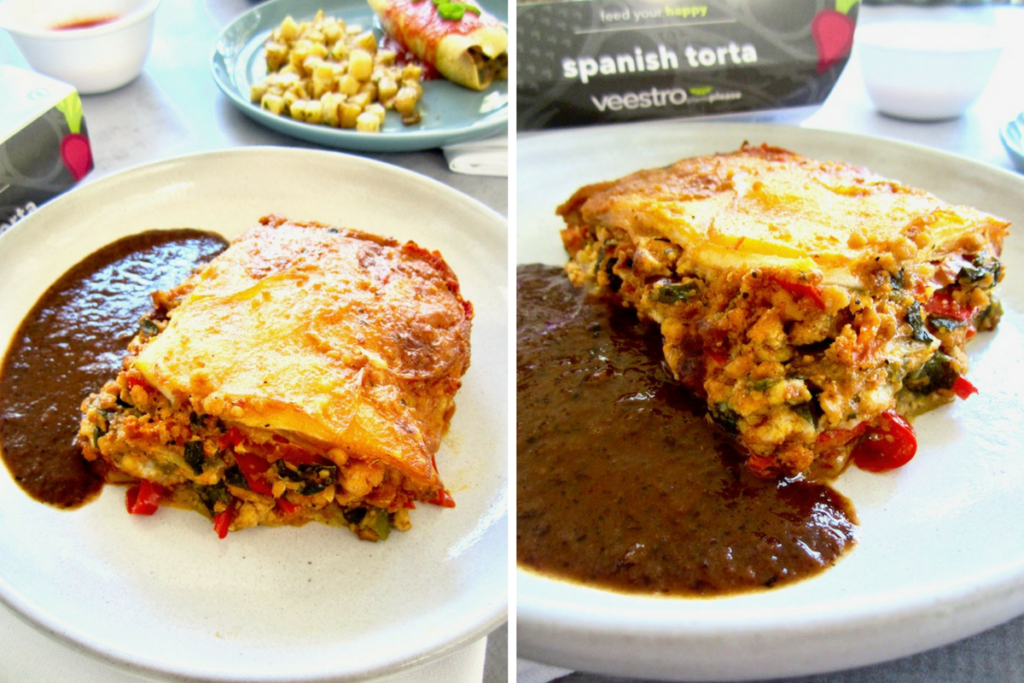 So far I've tried these meals:
Overall I was happy and satisfied with the meals. My favorite was probably the Spanish Torta, which has layers of potatoes, some roasted veggies and tofu with a black bean sauce (pictured above). The Veggie Lasagna and Red Curry tie for 2nd place.
I liked the Mushroom Risotto too, I just found it got a little mushy when cooked, though I think maybe I could try cooking it in a different pan and stirring less next time to make it less mushy. The Omelet Primavera was my least favorite; the texture weirded me out a bit and I thought the potatoes were bland (but nothing some extra pepper and hot sauce couldn't fix!).
TIPS FOR USING VEESTRO:
Add your own condiments + toppings. Some of the meals come with sauces, which I enjoyed, but I'm a condiment queen. Hot sauce, red pepper flakes, dressing, avocado, pumpkin seeds, etc. – all add extra flavor and dimension.
If desired, add some fresh veggies. Look, I know this tip may sound like it defeats the purpose of not needing to prepare a meal or have fresh food on hand, but I'm such a fresh veggie person that I found the meals to be more balanced with a side salad or some leftover extra cooked veggies mixed in with the Veestro meal.
Think ahead. Some of the meals are best when thawed overnight, and they last for 7 days in the fridge, so pull out a meal if you think you'll be eating it anytime in the next week. Also, the meals take about 30 minutes or more to cook depending on what it is (plus the preheat time if it's an oven dish), and while microwaving is an option, I imagine the meals taste way better in the oven or on the stovetop. (I did not try microwaving any myself.)
I'm really curious to try the Enchilada Casserole, Quinoa Bake, Moroccan Melange and Black Bean Pasta Alfredo for the entrees, and their GF desserts – the Chocolate Chip Cookie Cake, Chocolate Cheezecake and Raspberry Cheezecake (which has a 5-star rating!).
---
---

THE VERDICT
Here's what I love about the Veestro vegan meal delivery service:
Everything is vegan!
The have a lot of gluten free options
It's 96% organic and all preservative-free
It's convenient
For frozen food, the ingredients are comparably clean and healthy
One-time delivery or subscription options – pick what suits you! No membership/
subscription necessary
Eco-friendly packaging – the meals are packed in 100% compostable carton trays or 100% recyclable BPA-free plastic pouches
While the meals may not be *quite* as delicious as what I make for myself when I cook (I am a food blogger after all!) ;), they satisfy my need for an occasional convenient meal option that I can count on to be vegan, gluten free, organic and relatively healthy – so it hits the spot for me.
So, if you find yourself short on time but still want a vegan/gluten free/organic meal, or if you want to give plant-based eating a try without buying new ingredients and planning what to make, then Veestro is a great solution and doorway to plant-based eating and cooking!
---
---
But wait… there's more!
Veestro is also giving one lucky winner a $150 gift card!
Can I get a woot woot?!
Thank you Veestro!
ENTER BELOW –  GOOD LUCK! ?
NO PURCHASE NECESSARY TO ENTER OR WIN. A PURCHASE DOES NOT IMPROVE YOUR CHANCES OF WINNING. VOID WHERE PROHIBITED BY LAW. Giveaway ends Wednesday, November 8th, 2017 at 11pm EST. Winners will be contacted within 48 hours via email, and must reply within 48 hours of being contacted with their shipping address or else automatically forfeit the prize. Must be 18 years old to enter and live in the continental USA.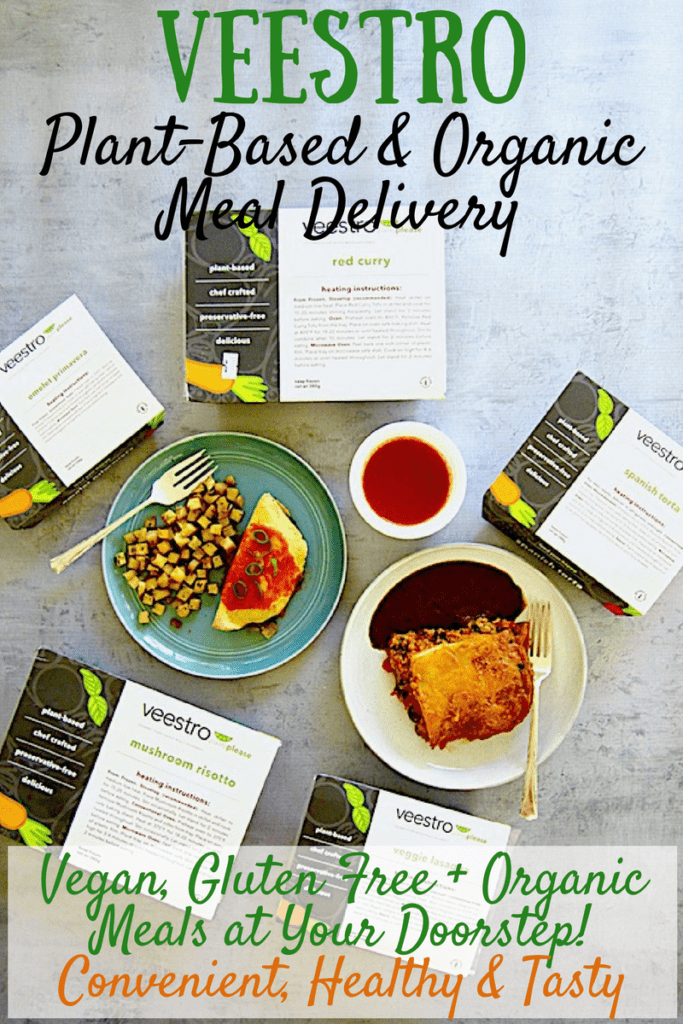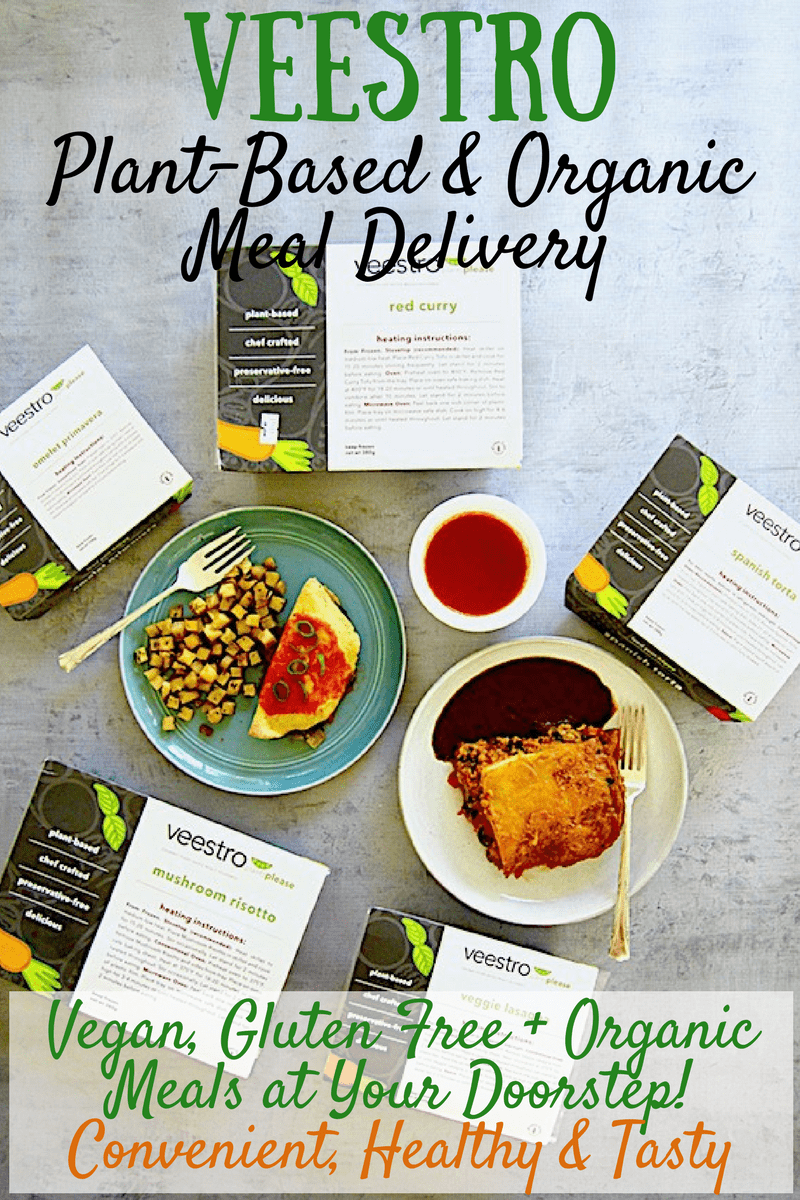 ---
Disclaimer: This post contains affiliate links. If you make a purchase after clicking one of my links, your costs stay the same but I receive a small commission to help support Vegan Chickpea. Thank you for your support!