Autumn clothes – check. Mid-year family gatherings – check. Get-together seasonal vegan menu – hmm… don't worry fellow foodies, we've got you covered. If you're looking for specific recipes that are perfect to serve this fall, then you will want to check out today's list of mouth-watering vegan fall recipes.
Shifting greenery, cooler atmosphere, and pumpkin-filled storefronts only mean one thing – fall is here. And while everyone else is getting ready for winter, taking advantage of the abundant seasonal harvest takes top priority for vegan foodies, like you and me. So, get ready to pin these delicious vegan fall recipes away.
8 Vegan Fall Recipes
Yes, donuts – vegan, nut-free, gluten-free donuts – these melt-in-your-mouth vegan delights are baked, not fried which makes them extra guilt-free. They're easy to make – soft and tender on the inside, and deliciously crunchy on the outside. Filled with pumpkin, spice, and everything nice, this recipe will surely be a hit for your whole family. Recipe here for your convenience.
Another seasonal favorite would be vegan bars. Not only do they taste amazingly delicious, but they are good for you as well. These bars can easily be a party favorite as it's easy to just pick one up to enjoy. You can also make these extra special by adding coconut cream and some walnuts on top. This entire recipe is made from only nine plant-based, gluten-free ingredients. The bars are also oil-free and refined sugar-free. Recipe here.
Looking for a recipe that you can whip up in 15-minutes but bursting still with flavor, and can easily be made with seasonal ingredients?  Then, go ahead and check out this spiced butternut squash recipe. You can enjoy them as great sides or enjoy them as a snack by itself. Vegan-friendly and the Chinese 5-spice powder certainly brought that needed kick to make this recipe addicting. Complete recipe is here.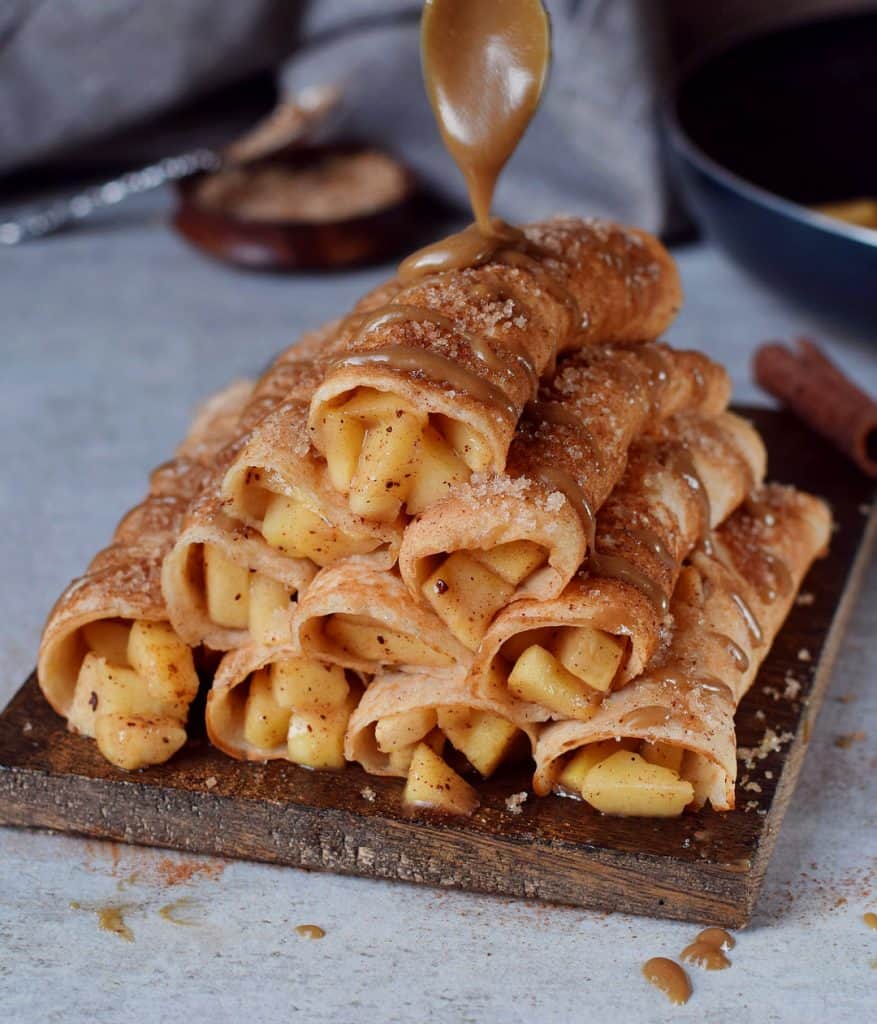 Packed with rich flavor, plenty of spices, and amazing smell, these apple cinnamon crepes are perfect for a cool fall day. These delicious apple cinnamon crepes topped with caramel sauce are vegan, gluten-free, and easy to make. They can be made for breakfast, even a quick snack, or dessert. I honestly don't mind having them for dinner also because they are just seriously delicious. Full recipe here.
So rich, moist and delicious – this chocolate vegan banana bread is a sure winner for both kids and adults. This will be a great choice for a quick afternoon picnic or just a lazy late snack. You will never know it is gluten-free and vegan because it tastes like chocolate cake but purely guilt-free. Recipe here.
With simple seasonal ingredients, these fluffy morning glory muffins are loaded with shredded carrots, coconuts, raisins, and apples, which add to its delicious taste. Perfect to have for breakfast or a snack, paired with tea, coffee, or hot chocolate. Check out the recipe here and let me know if you're a fan.
Apples? Yes, please! This apple streusel pie is incredibly tasty and smells divine. Your kids will be running down the hall when they smell the delicious aroma of this pie. Vegan, gluten-free, refined sugar-free and could easily be made nut-free and even grain-free, this vegan apple pie recipe will surely sweeten up your day. Recipe here.
To wrap up this amazing list, how about a protein smoothie? It's creamy, cool, healthy, and delicious. This satisfying smoothie is just like a pumpkin pie with whipped cream but packed with protein and healthy fats, which makes it for days when you need to have breakfast on-the-go. Recipe here.
These homemade recipes will not only take advantage of the autumn harvest but brings your food game into a whole new level this time of year. With certain distinct flavors from seasonal ingredients, having a taste of Fall is as literal as it gets. Let us know in the comment section below, which recipe round-up would you want us to cover next week. Enjoy!