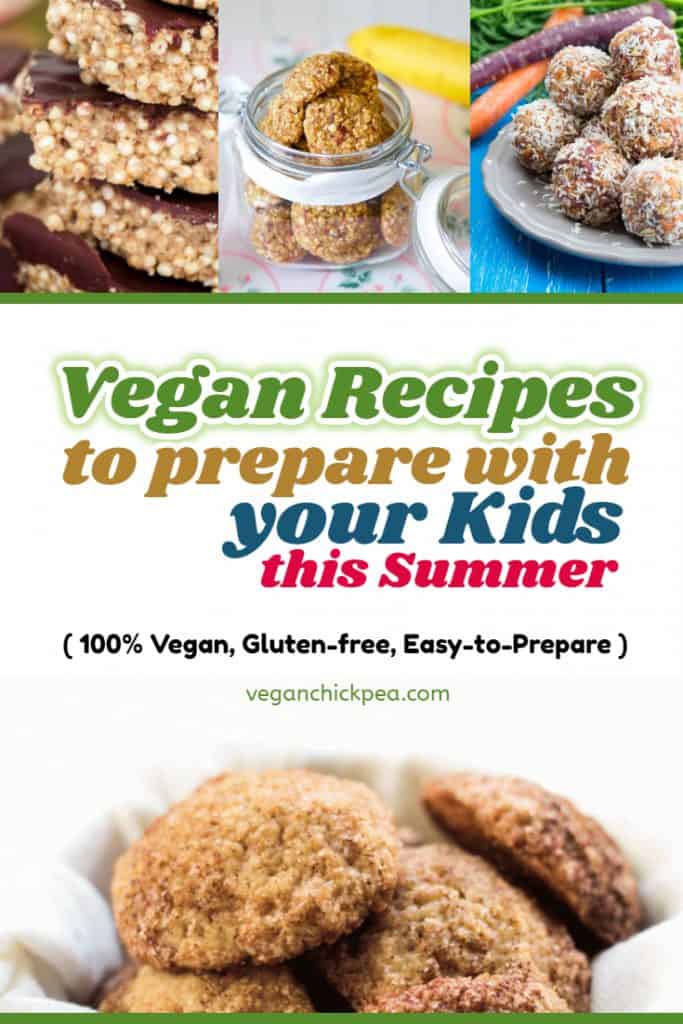 Classes are officially over and you are probably out of ideas on how you can entertain your kids this summer. Why don't you enlist them to help with some exciting tasks in the kitchen? This way, you can not just spend a much-needed bonding moment with your kid but you can also treat your kids to exciting recipes, which you can prepare together.
These amazing vegan recipes, that we rounded-up, are healthy, delicious, and gluten-free. All recipes take little effort yet your kids will surely have a blast in preparing these with you.
Honestly, I was once apprehensive of allowing kids in the kitchen, much more when asking for their help in preparing meals but when I tried making these recipes with them, we had so much fun that they were begging for more recipes they can do with Mom. And you know what else is cool? They are not just fun to make and really fun to eat as well. So, make sure to check out these vegan recipes to prepare with your kids below and bond with your kids like never before.
Vegan Recipes to Prepare with your Kids this Summer
Let's start this round-up with a simple and quick side dish recipe that's perfect for every occasion. It is so good with everything, especially with fruits and greens. Your kids will enjoy helping you slice and season the potatoes as well as keeping watch on how these golden wonders are made. Check out the recipe here.
If you're looking for something fun and exciting for your kids to try baking, then these bananadoodles are just the right recipe for you. This healthy treat is packed with delicious ingredients that your kids will enjoy. Preparing them is as much fun as eating them. You may use cookie molds to form different figures that will be interesting for you and your kids. So huddle up with the kids because these amazing cookies will certainly be the perfect afternoon treat. Complete recipe here.
Dips can either make or break a dish. Personally, we believe that the right dip can enhance the taste and bring more personality to any dish if perfectly paired to. And how fun would it be to prepare a dip with your kid that is both easy and fun to make? This 3 Ingredient recipe works well with burrito bowls, wraps or sandwiches or enjoyed with freshly cut veggies as a meal. But what makes this recipe extra fun, is the process of making it. Let your kids enjoy the kitchen by allowing them to help you prepare. So simple yet so fun! Follow the step-by-step recipe here.
A healthier alternative to a childhood favorite, this fun, and easy-to-make recipe brings the familiar flavors and textures of rice Krispie treats that we used to love as kids, but with natural and loads healthier ingredients. Yes, these squares taste amazing, with the richness of coconut butter and the sweetness of brown rice packed in bite-size treats that are perfect afternoon snacks. The next best thing? Your kids will love making these with you. So check out the recipe here.
Keep your kitchen interesting to your kids with this Salty Peanut Butter Quinoa and Chia Bars with Chocolate. The perfect after-school snack that you can prepare with your kids. Not only will they have fun making it, but they will know that it is possible to create a delicious snack using healthy ingredients. Check out the recipe here and prepare yourself for a fun-filled afternoon.
If you're more into oat cookies then this one's for you. A homemade recipe that you can easily bake with your kids. All you need is one banana, some dates, almond meal, and gluten-free rolled oats. So if you're planning to spoil your kids this summer with a sweet treat then why not choose the healthier option, right? Recipe here.
Our kids are extra energetic when it's summer so why not turn their energy into something a bit more productive and let them enjoy preparing the snacks that they would surely love. These vegan treats are healthy, delicious, and fun to make. And yes, they do not require baking so your kids can enjoy them right away. Made with carrots, almonds, dates, coconut flakes and rolled gluten-free oats. Check them out here.
If you are looking for other fun and exciting vegan recipes, check out our Must-Try Vegan Rolls and Vegan BBQ Recipes here. Have a great summer, enjoy!