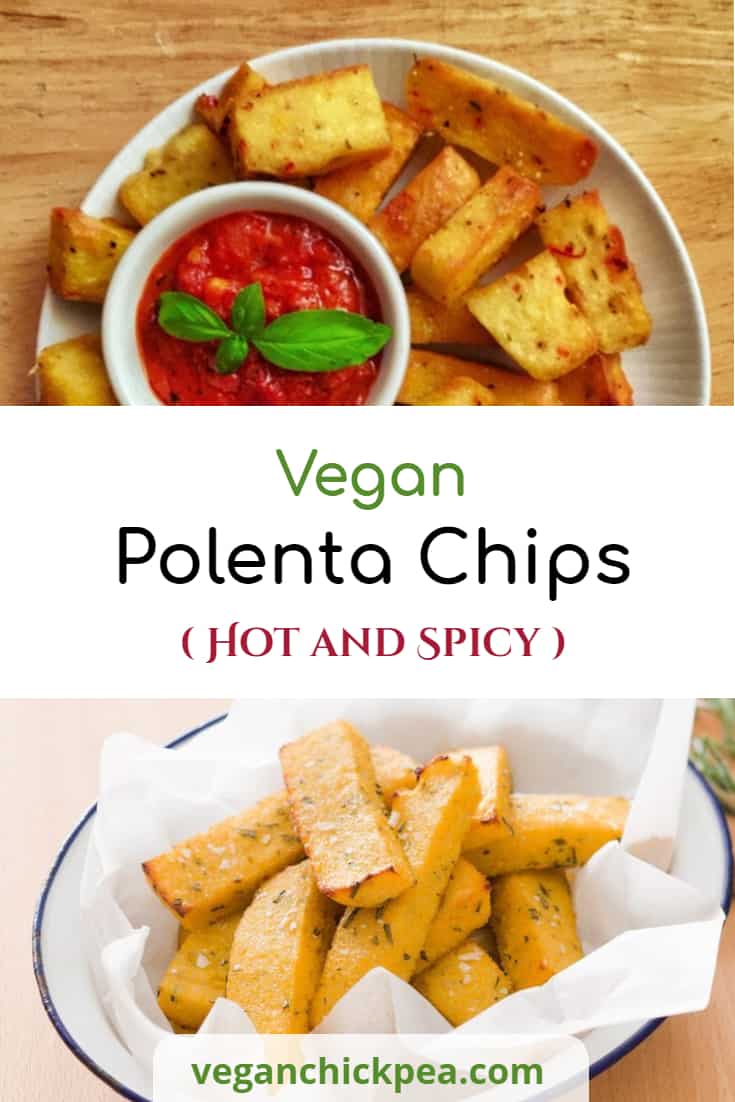 Here's something for new vegans who are looking for new snack ideas. Vegan Polenta Chips works as a light snack or appetizer, but can also be served with a salad for a more substantial meal that your entire family will enjoy!
The chili and herbs give it a nice color, but you could experiment with other spices according to your preferences. It also goes well with a nice cold beer or vegan iced tea. So without further ado, let's start the cookery and recreate this flavorful and filling Chili and Garlic Polenta Chips.  
Vegan Polenta Chips
Serves 4
Chili and Garlic Vegan Polenta Chips
Ingredients
Olive oil
2 garlic cloves, chopped
1 red chilli, chopped
1 tbsp finely chopped fresh rosemary, or equivalent dried
1 pack instant polenta (I think they're usually 150g)
Nutritional Yeast
3 garlic cloves, sliced
2 400g tins of chopped tomatoes
1tsp sugar
Instructions
Heat a tablespoon of olive oil and gently cook the chili and chopped garlic until fragrant. Stir in the rosemary and remove from the heat, and pour into a bowl and set aside for later.
Bring around 500ml of water to a boil and add the polenta pack slowly, stirring as you go. It thickens quite quickly, but be aware it can start to bubble like a volcano just before it is thick enough, and it if it splashes it hurts (trust me!), so be careful or consider taking it off the heat at that stage.
Turn the heat down and stir in the garlic, chili and rosemary mixture, as well as the yeast. Season to taste.
Lightly oil a dish and pour the polenta in. Wait until it cools then transfer to a fridge until set. Usually, this only takes around an hour.
Heat a couple of tablespoons of olive oil, cook the sliced garlic on a medium heat until fragrant but not colored. Add the tinned tomatoes, sugar, some salt, and pepper and leave to cook for about an hour on a very low heat. Stir occasionally. By the end, it should be a thick, sweet and rich tomato sauce.
Slice the set polenta into chip-shapes, and arrange on baking parchment or a greased tray. Spray with cooking oil and bake at 180 degrees until golden, about 45 mins.
Serve with the tomato sauce!
7.8.1.2
97
https://veganchickpea.com/vegan-polenta-chips/
Sarah Newman, SKN Creations
Looking for quick and easy recipes? Click here for more vegan meal ideas.