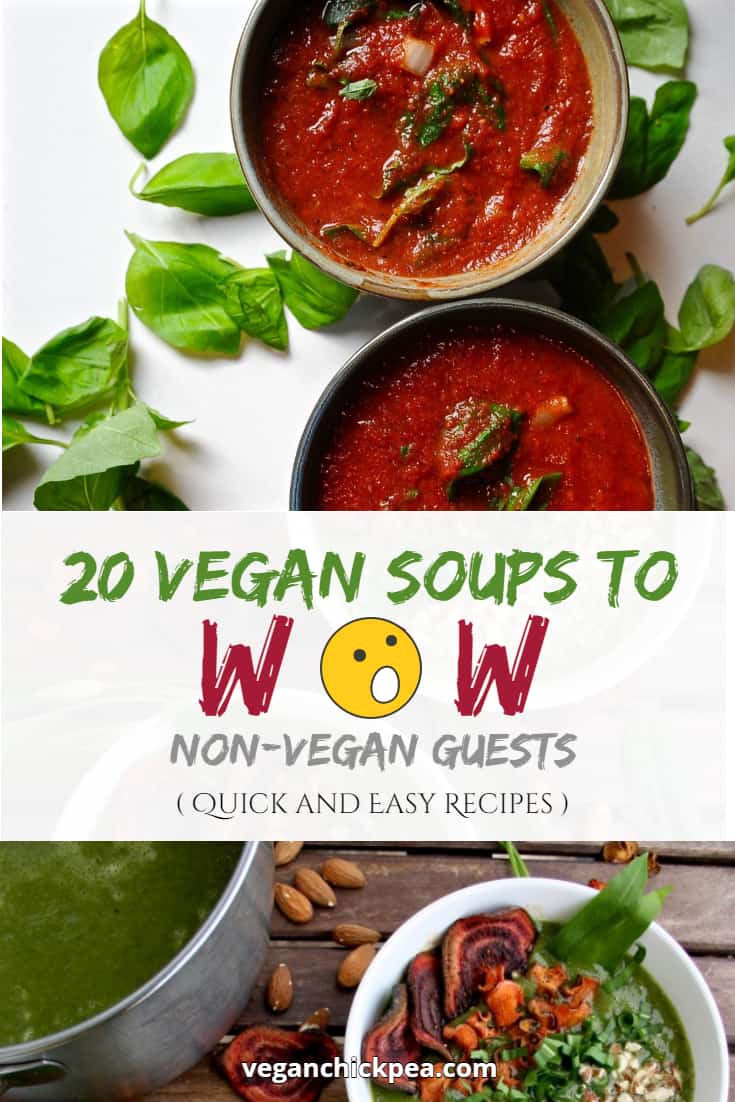 Hosting dinner parties does not have to be stressful even when non-vegan friends are coming over. Whether you're having a summer party or a winter get-together, these vegan soup recipes are perfect for all year round. Whatever dish you choose, these quick and easy plant-based soup favorites will be sure to impress your guests for being an amazing appetizer and an excellent conversation starter.
It's important to keep your guests entertained during these important get-togethers, and what better way to start the conversation rolling than a fresh and savory bowl of vegan soup. So check everything included in this list because we definitely cherry-picked these favorites to ensure that both your vegan and non-vegan guests will say, "Wow!".
Comforting, bursting with flavors, and healthy, what more can a vegan ask for? Well, the best part about this recipe is that it is definitely easy even for the novice cook to tackle. Curiosity tells me that you will be looking for the recipe, so here it is.
White beans, kale, and some vegan sausage make this hearty and healthy soup that is guaranteed to provide warmth to you and your guests on days when the temperature is low. This recipe will surely go to your list of favorites.
The beauty of preparing minestrone soup is that you can customize it to your preference or as to whatever ingredients you have on hand, just like this delicious vegan minestrone soup. Using fresh Roma tomatoes instead of canned ones, this hearty soup will only take you less than an hour to prepare. Check out the recipe here.
This incredibly tasty soup is bursting with flavors from the broccoli, leeks, and kale, and is temptingly creamy because of the potato and the nutritional yeast. However, the undeniable stars of this soup are the garlic chickpea croutons, which are a nice crunchy addition to this tasty dish. Get the recipe link here.
Garlic is usually used as a garnish or as an important base ingredient in cooking most of the dishes that we enjoy. However, this delicious recipe features this ingredient front and center. This healthy, delicious soup is loaded with spring greens, and topped with crispy baked vegetable chips, made from carrots and red beet. More of this recipe here.
That delicious flavor of carrots with the creaminess of white potatoes is what brought this tasty soup to life. Just add fresh dill and freshly toasted croutons to give this dish that extra kick. Know more about this recipe here.
With just five simple ingredients, this creative coconut mint pea soup tastes as wonderful as it looks. We can guarantee that this will be your go-to recipe when you need to make soup and you only have a few minutes to spare. Check this recipe out.
One of the best things about this lightly spiced Mauritian soup is the many options this dish has for you and your guests to try and enjoy. You can either make it plain or add any vegetable to give it more personality, in this case – eggplant. It can also be served thick like curry and will be great with roti or flatbread, or thin and light which you can enjoy on its own or eaten over rice. Check out this recipe here!
This traditional Passover dish gets a vegan makeover in this recipe. Enjoy a nourishing bowl of savory matzo balls, made with chickpea flour and some soy or almond milk, with vegetables in this tasty broth.
Looking for something that can keep you and your guests warm on those chilly nights? Then you should check out the recipe for this vegan cream of asparagus soup. This creamy soup has that garlicky and peppery taste that combines really well with the wonderful flavors of asparagus.
A nutritious borscht soup that has been a staple meal in many parts of Eastern Europe. With all the healing benefits that beets provide, this soup tastes delicious, and can be enjoyed as is or with dairy-free sour cream made from cashew. Check out more of this recipe here.
Cauliflower, kale, and avocado are the key ingredients that will give this soup that creamy texture. Also, to make this soup richer in flavor, roasting the cauliflower with garlic and onion first will definitely help you achieve that. More about this recipe here.
With traditional Middle Eastern flavours, this vegan version of the split pea soup is creamy yet light and bright with hints of lemon. To give it a really special Lebanese flavor, you can top it off with za'atar – a mixture of dried herbs, sesame, and sumac. This will surely impress your guests so go check this recipe here.
This soup features just enough amount of spirulina to boost its nutritional content while not affecting the taste at all. With all the dark greens that are added to this recipe, some apples and coconut milk will give that needed balance to the strong flavor of vegetables. Pin this recipe here.
This soup looks like sunshine in a bowl and will definitely entice both your kid guests and adult guests. The well-paired flavors of cauliflower and fennel blend well with the curried coconut milk, which makes a wonderful broth. This recipe is one for the books.
A rich and delicate in flavor tomato soup with hints of fragrant herbs that are reminiscent of Thai flavors. You can serve this to your guests with either bread, crackers, or even oven-toasted roti. Finish this beauty by topping it with oven-roasted cherry tomatoes. More about this recipe here.
This tasty soup derives its flavor profile from fresh spring vegetables and herbs all blended into a smooth light puree. You can top it off with dairy-free pesto to surely impress your guests. Check this recipe out here.
This vegan version of miso soup has incredible flavors from both the miso paste and fresh ginger. Soaking some seaweed and adding some greens will give it that delicious taste that will certainly have your guests wanting more. More of this recipe here.
This beautiful creamy green soup features refreshing spinach with some warm notes from nutmeg.The topping of the seeds on top makes this soup looks as good as it tastes. This recipe will be one amazing appetizer.
Light, detoxing, nutritious, and vegan, this soup is perfect whether you are on a diet or you just want a comforting, healthy soup to eat or to serve to your guests. Far from being boring, this recipe features a spicy miso broth.
Looking for more of these quick and easy vegan recipes? Click on these popular round-ups and I'm sure you'll find something interesting. Let us know on the comments section, which soup will you serve on your next party.