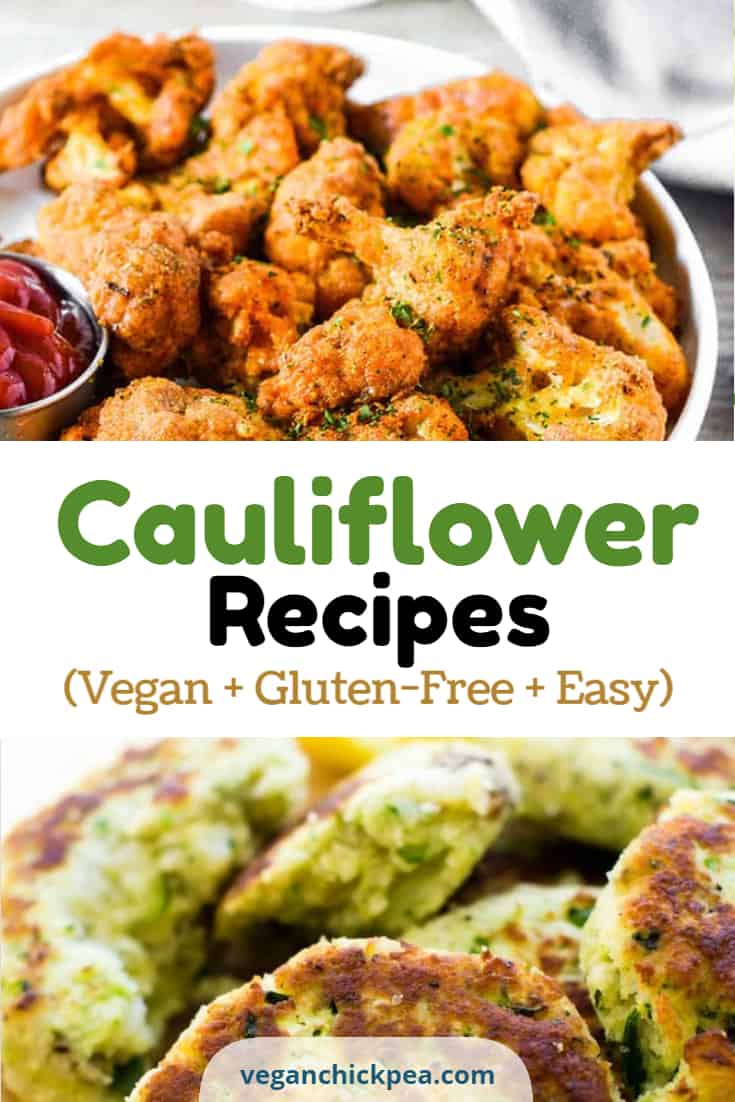 Now that winter is here and everyone is busy preparing for the holidays, vegan foodies are also scrambling to look for that "impressive" vegan holiday spread to showcase to their friends and relatives. However, with so much delicious ingredients to choose from, it's easy to be overwhelmed with which vegan ingredient to feature in one's dishes.
Hence, we thought of making this series of round-ups, featuring different vegan ingredients being used as the main ingredient in different types of dishes.
Today, we are going to feature this healthy, tasty, and very supple vegetable – the cauliflower. Despite having a lot of health benefits, cauliflower recipes are hardly suggested when it comes to traditional vegan recipes. That is why we've rounded up the most exciting recipes that will showcase the versatility of this ingredient, which you can consider serving for the holidays. So get your pinboard ready for these 14 Cauliflower Recipes, which are all vegan, gluten-free, and definitely easy to prepare.
Versatile Ingredient
There are a lot of ways to prepare cauliflowers. These vegetables are known for its ability to masquerade as various dishes such as ground beef, mashed potato, chicken wings or even white rice. Here are some of the recipes that will surely be in your favorites list.
Party Favorites
A vegan,  dairy and grain-free alternative for the traditional turkey. This perfectly roasted cauliflower packed with the flavors of turkey is absolutely savory. You may enjoy it spicy (as what the recipe suggests) or with milder spicy taste by cutting down on the chili peppers and Sriracha.  Curious? Check out how to recreate this recipe here.
Super crispy and packed with rich, tangy, and spicy flavor. This is the perfect vegan burger for every party. This vegan cauliflower burger is best served with tomatoes, red onion, and lettuce. Just swap the all-purpose flour with garbanzos bean flour and use gluten-free buns to make this recipe gluten-free. Check out the complete recipe here.
Roast a cauliflower perfectly, add that cheesy flavor from nutritional yeast and this will be something that you or your guests can't get enough of. Make sure to add that garlic powder and vegetable oil to make it extra tasty. Check out the recipe here.
A bite-size party treat that is perfect as an appetizer or a side dish. These oven-baked Cauliflower Nuggets are coated with gluten-free breading and are packed with flavor especially if yeast flakes are added to it. This will surely become everyone's favorite. Check here for the recipe.
Yes, you read that right – you will only need four ingredients (plus salt and pepper) to prepare these tasty zucchini cauliflower fritters. A perfect treat to eat with sauce or without. Be sure to follow the egg-free version to make sure it's gluten-free and vegan. Check out the complete recipe here.
A fried or oven-baked crispy cauliflower soaked and drizzled in orange sauce, this delicious creation is something that your family and your friends will absolutely enjoy. Check out this gluten-free and absolutely vegan recipe here.
Sauces and Dips
With sautéed cauliflower and raw cashews, this vegan queso dip simply shows that the possibilities for vegan recipes are absolutely limitless. With the health benefits that you will be getting not just from the cauliflower and cashew but also from the nutritional yeast, which makes this dish extra tasty, you will never go wrong once you serve this with chips to both kids and adults. Check out the complete recipe here and recreate this one on your next event.
This rich and creamy Cauliflower Sauce is more than just a dip for your chips. It is also a  perfect stand-in for the usual carbonara or alfredo sauce that you use in your pasta, and it can also be used as a glaze or dip for your other vegan fritters or nuggets. It can be enjoyed either warm or cold. It is so tasty that your guests won't even believe that it is made from cauliflower. Check out the recipe here.
Rice Recipes
Keep your guests excited with this amazing dish. This delicious black bean and cauliflower rice could easily replace the traditional rice and beans recipe. A savory dish packed with flavors that you can serve as a main dish, side dish, or even as a filling for a burrito or wrap. Check out the recipe here.
This delicious, vegan pineapple cashew cauliflower rice is quite a transformation from the traditional rice recipes. With less than 30-minutes of preparation time, this flavorful recipe made with simple, everyday ingredients will make a great addition to your lunch or dinner spread. Check out the full recipe here.
Vegan, dairy-free, gluten-free, a 15-minute preparation time – yes, this dish will continue to amaze you. This creamy and delicious risotto will make your family and guests go for seconds. Check out the recipe here.
Soup
This 20-minute recipe packs so much flavor, it's hard to believe that it only has a few simple ingredients. A nutritious way to serve cauliflower and kale as your vegan appetizer that is perfect for those chilly days. Check out the complete recipe here.

Warm, flavorful, nutritious, and definitely filling. This creamy Cauliflower Sweet Potato Turmeric Soup will make a great starter during family gatherings. Recipe here.
Pies and Desserts
Cauliflower in a vegan shepherd's pie? Yes, you got that right. This hearty and comforting pie is perfect for your holiday parties. And wouldn't your guests be surprised once you tell them that the creamy sauce on top is made from mashed cauliflower? It has that melt-in-your-mouth goodness that your guests will surely enjoy. Full recipe and details here.
More things to love about Cauliflowers!
Aside from being rich in vitamins and minerals, cauliflowers also contain choline, which boosts brain development that aids in cognitive function, memory, and learning. To top it off, cauliflower has sulforaphane, a compound that kills cancer cells. An absolute win right?
Get more of the latest and the greatest vegan recipes here!