Ladies and Gentlemen, introducing the latest craze in the food blogging world – sweet potato toast! My jaw literally dropped when I first saw a picture of this on Earth Balance's Instagram profile last week. "That's GENIUS!" I thought, and immediately went to go try it out – only to discover I was out of sweet potatoes. Doh!
The next day, my friend Mindala asked if I've heard about sweet potato toast by posting a photo on my Facebook timeline to this Sweet Potato Toast with Herby Beans + Zucchini Ribbons by Quite Good Food, and it felt like fate that she was bringing this into my awareness again. I knew I wanted to do a post ASAP about this, so I bought some sweet potatoes yesterday and here are the results!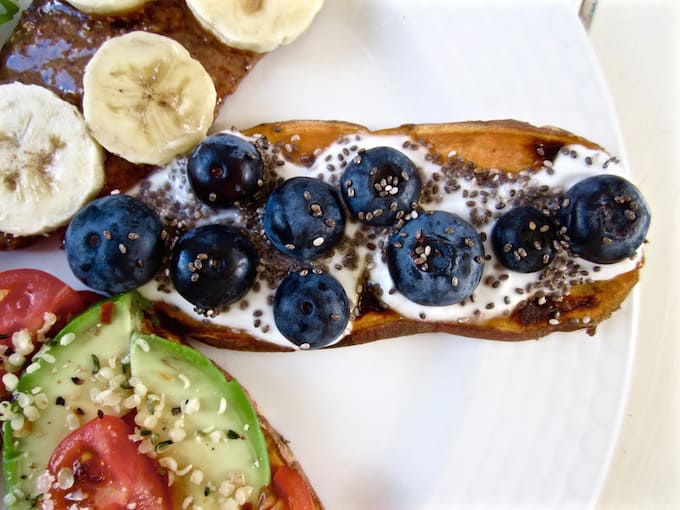 For you Paleo followers out there, or anyone who's looking to cut the more empty carbs, this idea is the perfect thing for you to integrate into your diet as an occassional replacement for bread, rice cakes or other less healthy starchy foods. (Note – from my understanding, sweet potatoes are avoided by the very strict low carb Paleoers out there, but most Paleo diet followers consider sweet potatoes a 'safe starch' and enjoy them in moderation.)
Sweet potatoes are awesome because they:
Contain a ton of fiber – which promotes a smooth colon and regularity in your system
Are packed with loads of vitamins and minerals, including Vitamin A, C, B6, D, potassium, magnesium and iron – in fact, the Vitamin A per serving even rivals leafy green vegetables with 769% of the daily value per serving!
Have 2 key antioxidant enzymes & are anti-inflammatory
Help regulate your blood sugar despite their high natural sugar content – they are a slower releasing carbohydrate, therefore don't cause spikes in blood sugar
It's really simple to make these – and they're even husband approved 😉. All you do is slice a sweet potato into long pieces about 1/4 –  max 1/2 inch thick (about 1 centimeter), pop the slices in the toaster a couple times until warm and toasty, and then top with an almost endless array of toppings. Sweet potatoes are so versatile that there are not many flavors that DON'T go with their delicious taste profile!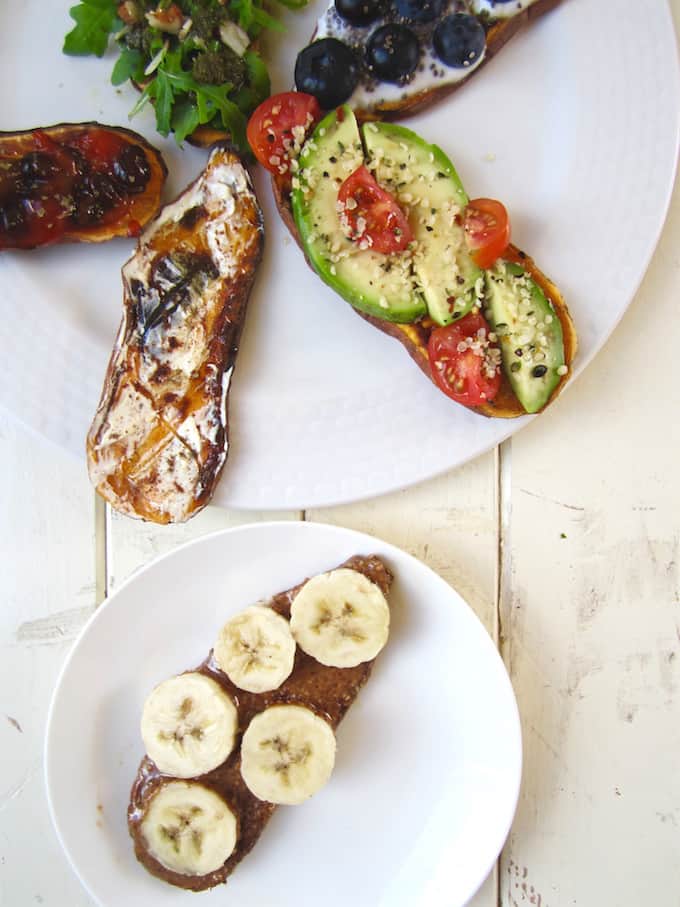 I've only got about 326517 ideas of different ways you could mix these up.
The pictured potatoes have:
Vegan butter with a touch of maple syrup & sprinkle of cinnamon and cardamom
Arugula with basil pesto & chopped raw almonds
Coconut yogurt with blueberries & chia seeds
Sliced avocado & cherry tomatoes with salt, pepper & lemon juice, sprinkled with hemp seeds & red pepper flakes
Almond butter & banana
Black beans with salsa, sriracha & a sprinkle of dried oregano (next time I'll use fresh cilantro – I didn't have any on hand today)
Other ideas to get your creative juices flowin':
So – how do you do #sweetpotatotoast? Leave a comment below, or tag me @vegan.chickpea for any creations your share on Instagram!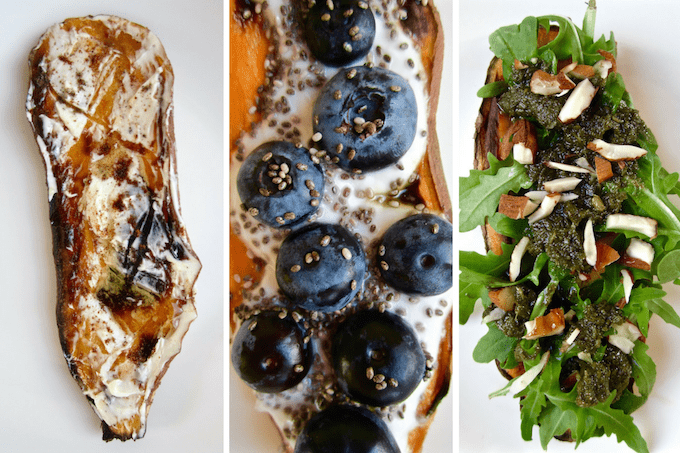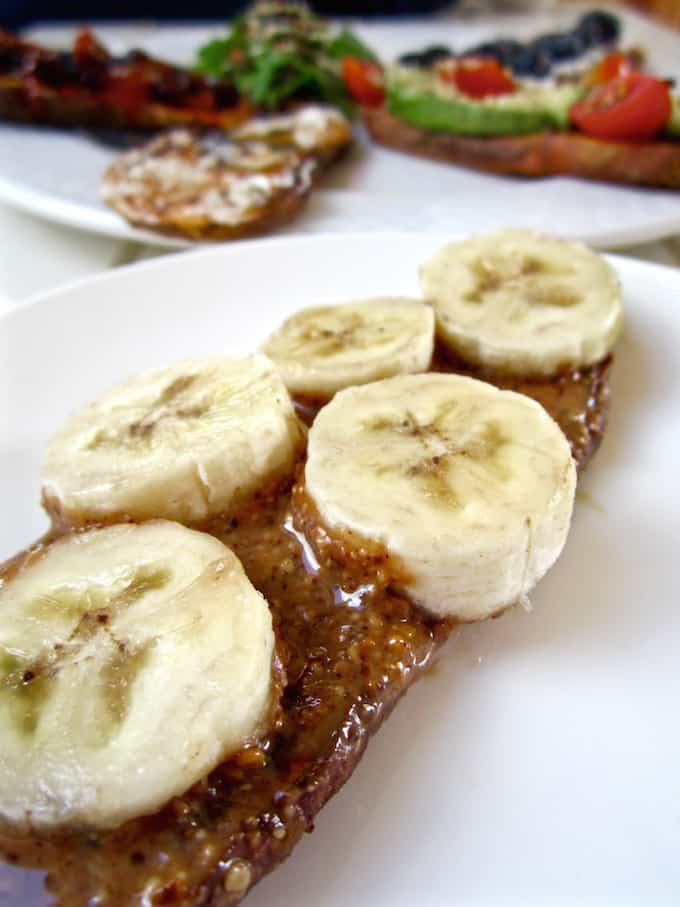 Sarah, Vegan Chickpea
Makes about 6 - 7 slices, depending on size of potato
0
Vegan Sweet Potato Toast (GF + paleo)
Gluten Free Sweet Potato Toasts are the latest craze and here to stay - try them your way with infinite combinations of delicious toppings!
5 minPrep Time
15 minCook Time
20 minTotal Time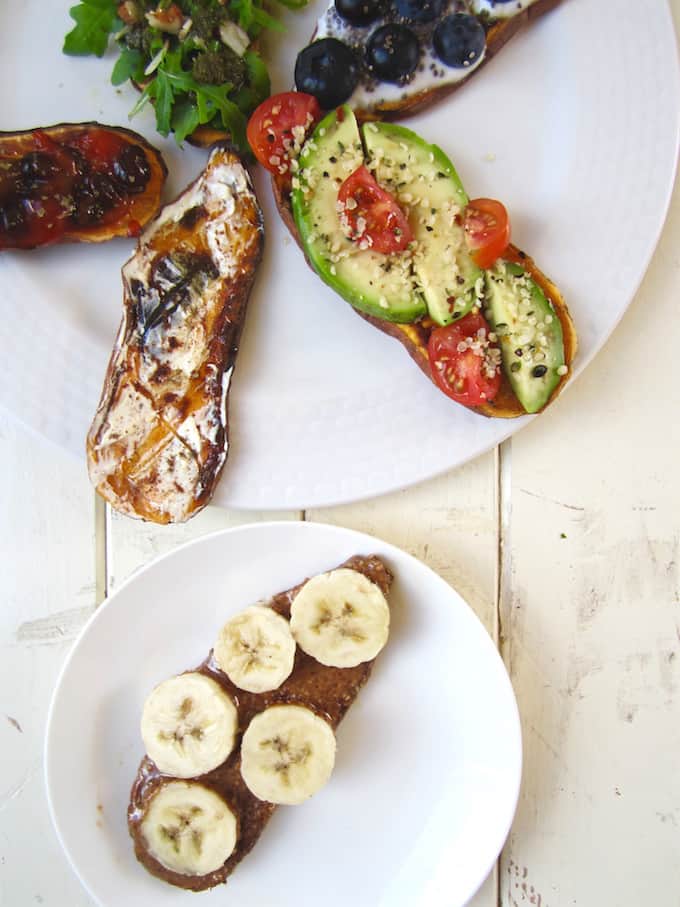 Ingredients
1 sweet potato

Toppings of choice:

nut butter
fruit - banana, berries
vegan butter
maple syrup
spices - cinnamon, cardamom
vegan cheese
beans
leafy greens - arugula, spinach
chopped nuts
roasted or raw vegetables
nondairy yogurt
Instructions
Wash the potato and slice lengthwise into about 1/4 inch - maximum 1/2 inch pieces (1 cm).
Toast each slice until warm and starting to brown.
Top as desired!
Notes
7.8.1.2
21
https://veganchickpea.com/vegan-sweet-potato-toast-gluten-free-paleo/
Sarah Newman, SKN Creations
This post contains an affiliate link. If you make a purchase on Amazon after clicking one of my links, your costs stay the same but I receive a small commission to help support Vegan Chickpea. Thank you for your support!
Save
Save