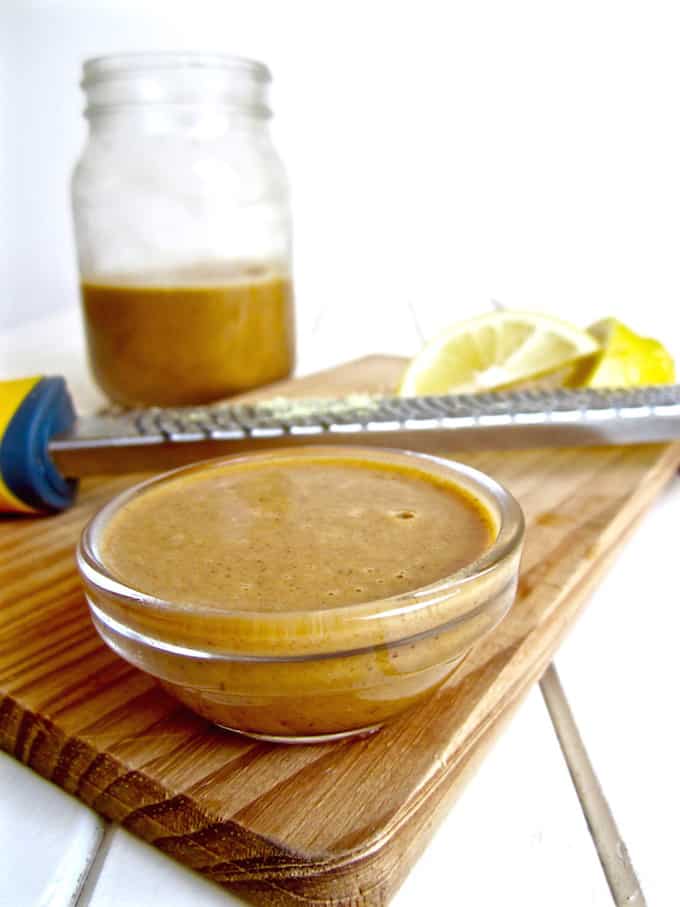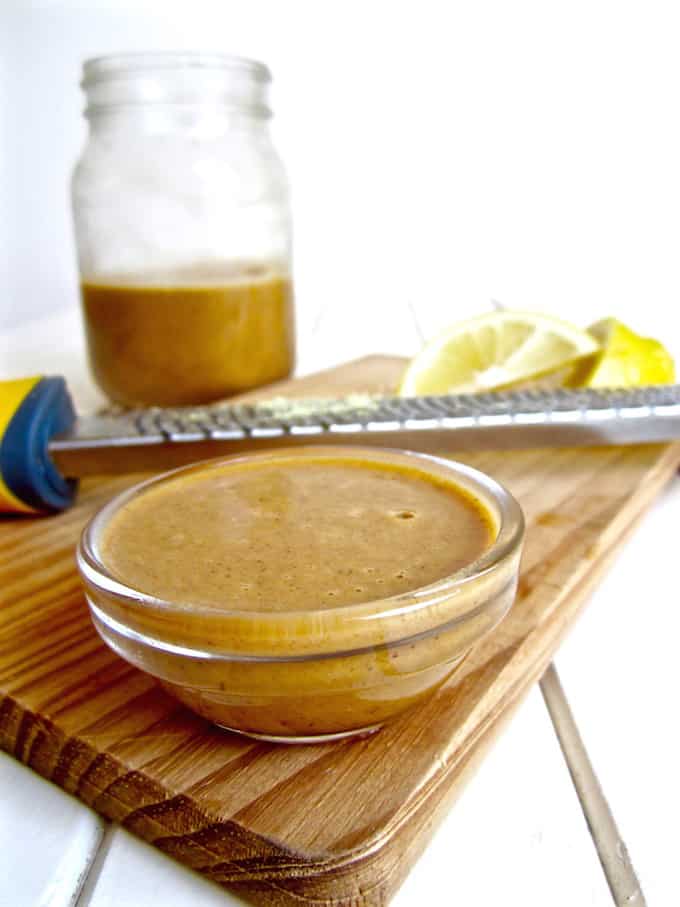 This tahini sauce is so good I swear I could drink it. (Did I just admit that out loud?)
It's a staple in our house and my favorite goes-with-everything sauce. If I go more than a month without making it, something is out of alignment in the universe.
Here's some ways you can use it:
On raw or cooked veggies
On sweet potatoes –  Check out this recipe for Sweet Potatoes, Crispy Chickpeas & Kale topped with this sauce, Mmmm mmmm!
Mix it in with a brown rice or rice noodle bowl
As a salad dressing – this recipe makes a consistency that's a tad on the thick side (especially as it sits), so you may want to mix it with a little more olive oil or water before serving it as a dressing (I usually just dollop a couple spoonfuls on my salad, drizzle a little olive oil on top and then mix it all together on my plate)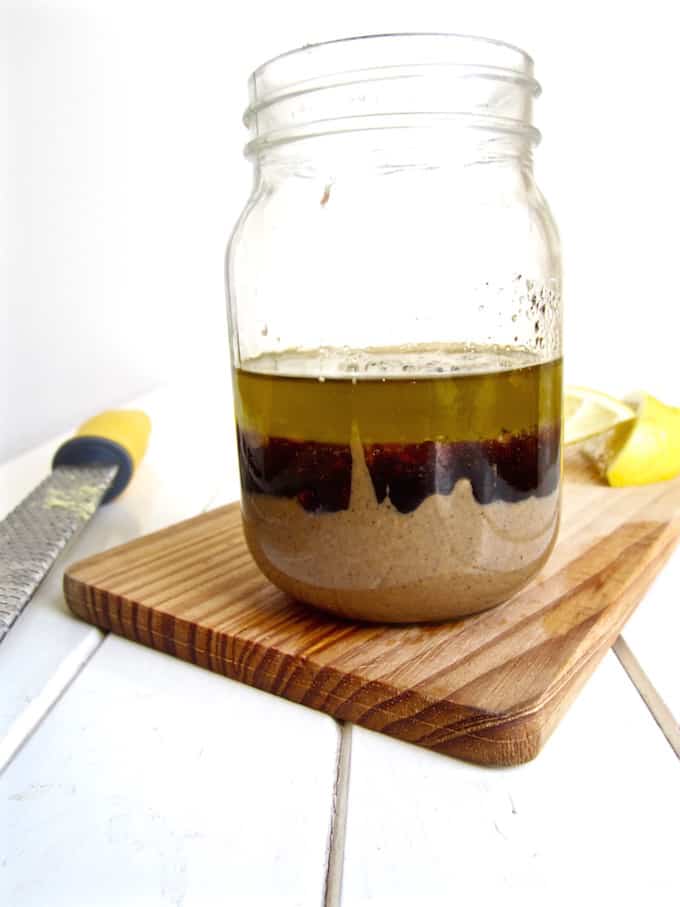 KITCHEN TOOL RECOMMENDATION
Do you have a tool to grate or zest? I have this grater-zester (also known as a microplane)

and I LOVE it! It's the best tool for grating ginger, zesting lemons or shredding blocks of vegan cheese. It makes things super fast and easy, and is dishwasher safe.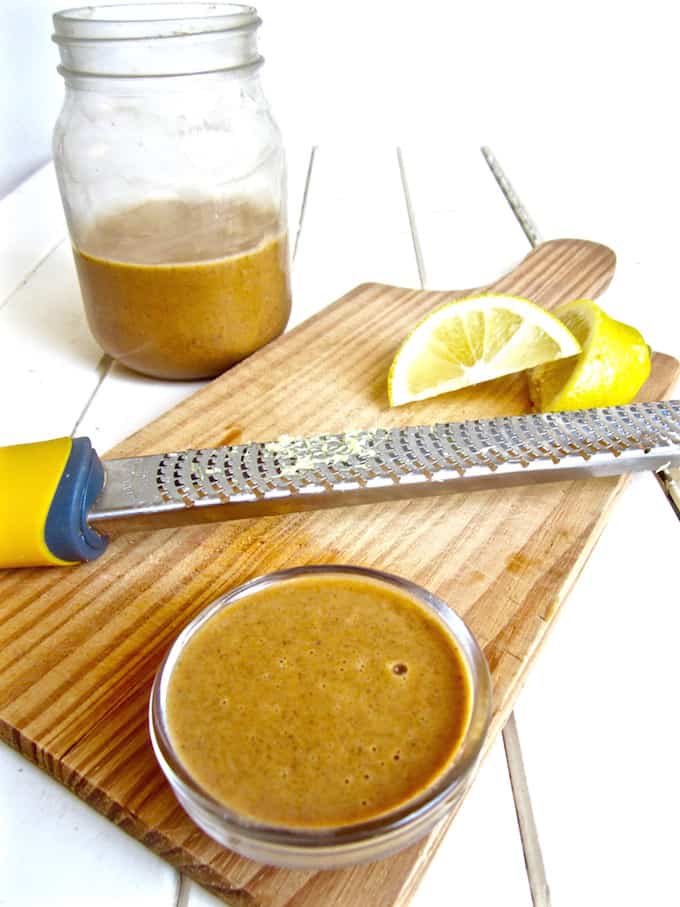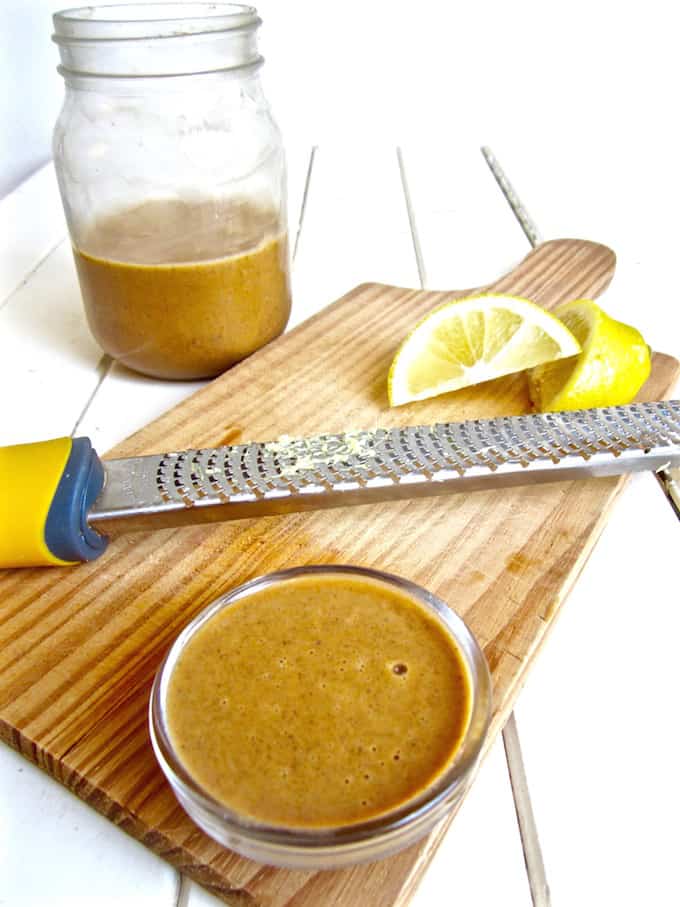 Sarah, Vegan Chickpea
Makes about 1 cup
Best Ever Tahini Garlic Sauce
Delicious tahini garlic sauce or dressing - takes 10 minutes to make and is tasty on just about anything!
10 minPrep Time
10 minTotal Time
5 based on 1 review(s)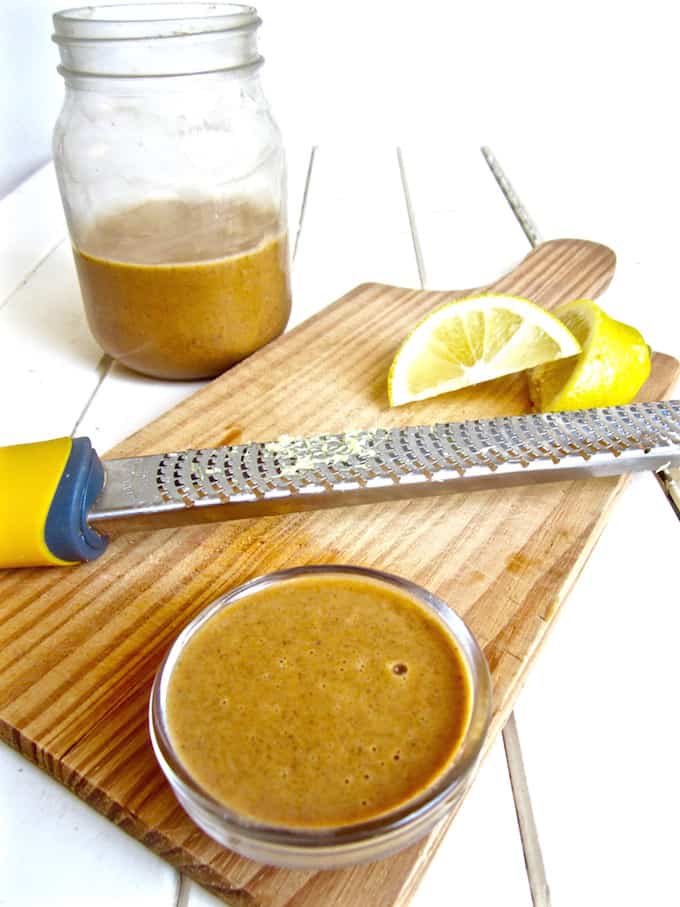 Ingredients
1/4 cup tahini
1/4 cup olive oil*
1/4 cup water
1/8 cup tamari or coconut aminos**
1 Tbsp apple cider vinegar
1 Tbsp lemon juice
about 1" inch grated ginger
2 cloves minced or grated garlic
pinch of salt
black pepper to taste

variation:

add in fresh or dried herbs - My favorite is dried Herbs de Provence
Instructions
Combine all ingredients in a jar and shake well to combine. (If you don't have a jar, vigorously whisk together and store in a container.)
Make ahead at least 20 minutes before using and store in the fridge to allow the flavors to combine and the sauce to thicken.
Notes
Sauce will thicken as it sits. For thinner sauce or dressing, add some water a little at a time until you reach your desired consistency.
For the lemon juice and apple cider vinegar, you can use all lemon juice or all apple cider vinegar (therefore 2 Tbsp total of whichever you choose).
*For oil free - simply omit the oil and add more water if needed to reach your desired consistency.
**For soy free - use coconut aminos

or Bragg's Liquid Aminos

instead of tamari.
7.8.1.2
23
https://veganchickpea.com/best-ever-tahini-garlic-sauce-sugar-free/
Sarah Newman, SKN Creations
This post contains affiliate links.
If you make a purchase on
Amazon after clicking one of my links, your costs stay the same but I receive a small commission to help support Vegan Chickpea. Thank you for your support!
Save
Save
Save
Save
Save
Save
Save
Save
Save