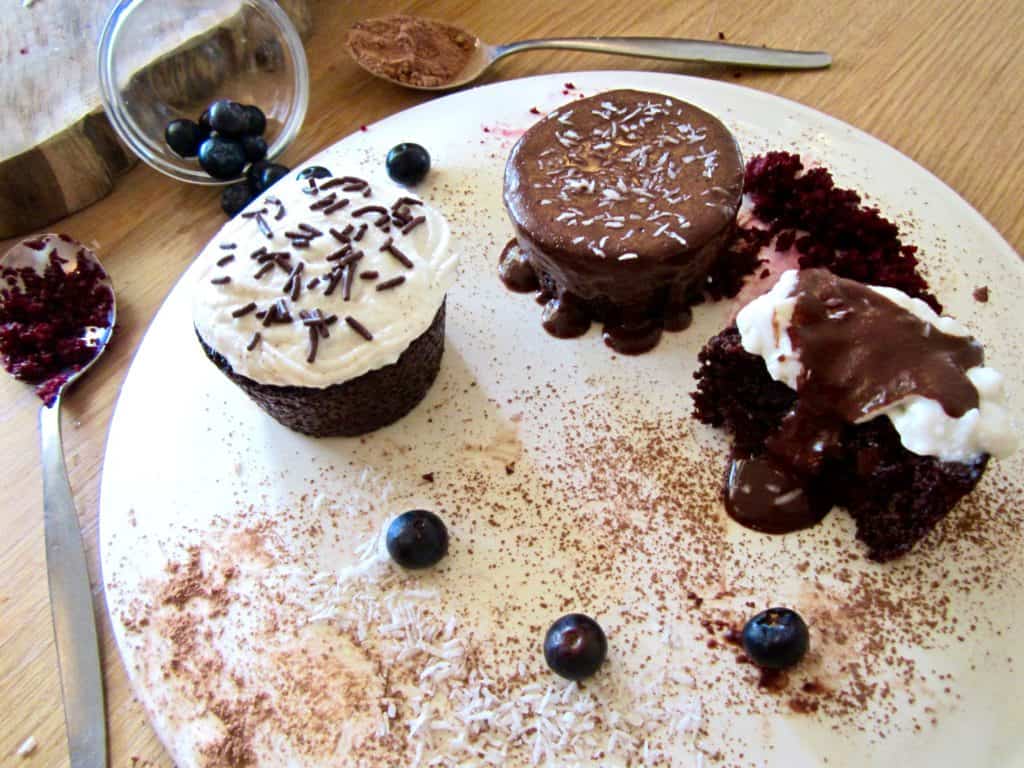 Oh my goodness friends – you aren't going to believe how incredibly delicious these mini cakes are! You may be thinking, "I see the word 'beet' in the title – is that a mistake?" And the answer is – NO, absolutely not! Beets make a great addition to baked goods because they add moisture and sweetness, and in this case the cacao masks their earthy flavor, resulting in a simply darn delicious chocolate delight that you'd never guess has any extra healthy ingredients in it!
This is a great way to add in extra nutrients to your dessert. Beets are rich in antioxidants and phytonutrients, are anti-inflammatory, high in fiber, potassium, manganese, folate, Vitamin C – and I could go on. (Source) Plus, it takes only 9 ingredients (not including the optional toppings) and just one hour to prepare!

I've called this recipe 'brownie cakes' because they taste like a hybrid of chocolate brownies and cake, with an ever so slightly brownie-like crispy topping and a fudgey cakey middle, while in the shape and size of round mini cakes. They're perfect without the cream or chocolate toppings, but if you want to go all the way or make these for a special occasion, then the coconut cream, chocolate sauce and shredded coconut garnish creates another level of 'wow' and deliciousness!
I like to bake in these silicon muffin molds

. They don't need to be greased, and the cakes pop right out!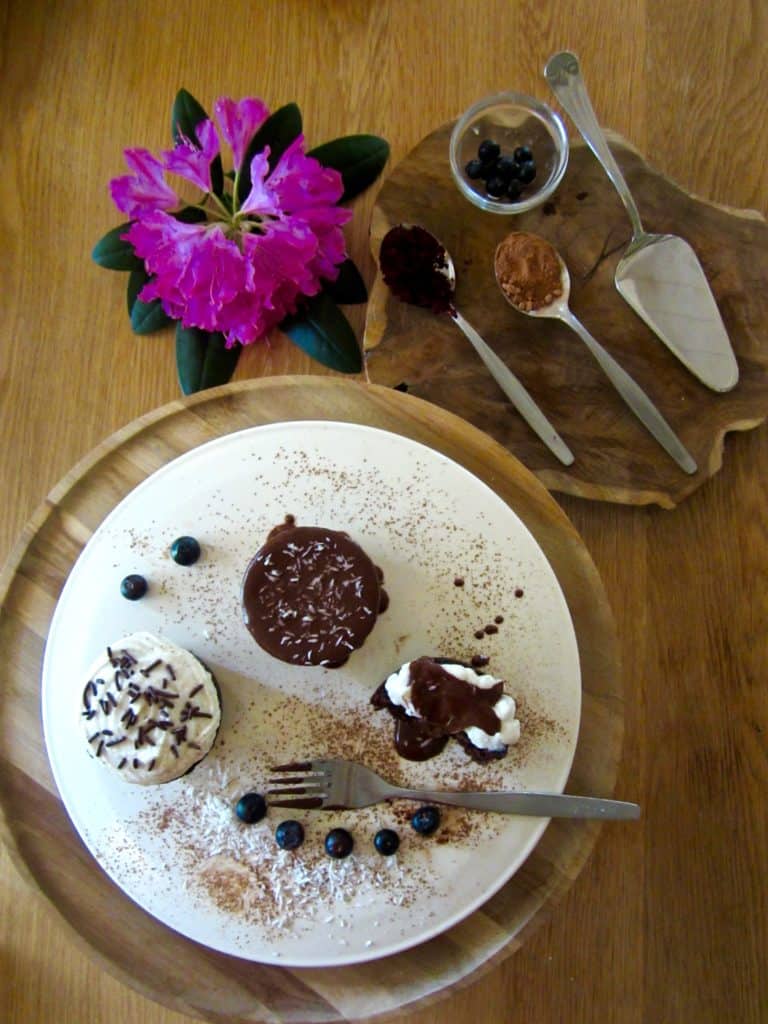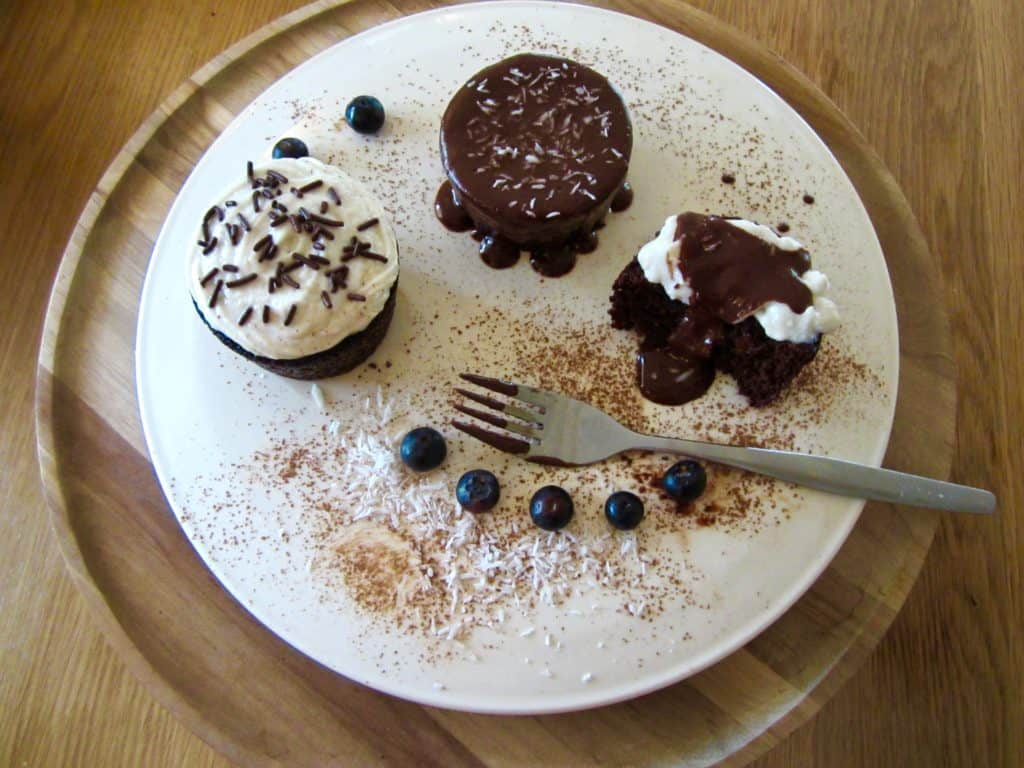 Added bonus: due to the flax and almond meal, each mini cake has about 8 grams of protein!
I had never made a dessert with beets before, and was seriously blown away at how utterly delicious these brownies cakes are, as were my friends who I shared them with. This was the first time baking with beets, but it won't be the last! Try it for yourself and let me know what you think in the comments below.
Sarah, Vegan Chickpea
Makes 8 mini cakes (16 servings)
64
Chocolate Beet Brownie Cakes with Coconut Cream
Vegan & gluten free brownies cakes with a secret ingredient - beets! Moist, fudgey, divine (and healthy!).
30 minPrep Time
30 minCook Time
1 hrTotal Time

Ingredients
3 Tbsp ground flax seed
1/2 cup water
3/4 cup raw beets
3/4 cup coconut oil
1/2 cup maple syrup
3/4 cup raw cacao powder
2 cups almond meal
3 Tbsp coconut sugar
3 tsp Gluten free baking powder
unsweetened shredded coconut to garnish (optional)

For Coconut Cream 'icing': (optional)

1 can full fat coconut milk or coconut cream, refrigerated overnight (or sometimes I use a really thick coconut yogurt instead)
1 tsp vanilla extract

For Chocolate Sauce: (optional)

3/4 cup dark chocolate (broken into pieces)
1/2 tsp vanilla extract
Instructions
Mix ground flax seeds with water, and place in the fridge to thicken for 15 minutes. (Ideally, grind whole flaxseeds in a coffee grinder to create fresh ground flax seeds, but pre-ground will work too.)
Preheat oven to 350 degrees Fahrenheit and spray muffin tins with nonstick spray, or use silicon molds* (my preference, see notes).
Peel a medium beet and pulse in a food processor until its finely chopped, or grated by hand with a cheese grater. Measure out 3/4 cup.
Add the chopped beats, coconut oil, maple syrup and cacao into a pan on low heat, stirring for a couple of minutes until smooth like chocolate sauce.
In a separate bowl, mix together the almond meal, coconut sugar and baking powder in a large bowl. Add the flax and chocolate/beetroot mix to the bowl and stir until completely combined.
Pour the mix evenly into the muffin trays (for me this totaled 8 cakes). Cook for about 30 - 34 minutes. Leave to cool before removing from the molds or tins. As desired, decorate with coconut cream, chocolate sauce and shredded coconut on top!

For the coconut cream (optional):**

Remove coconut milk from the fridge, being careful not to tip or shake the can. Remove the lid and scrape out the top part of the thickened creamed, placing the remaining liquid aside (which you can later use in smoothies or juice).
Beat with a mixer until creamy, or vigorously hand mix if you don't have a mixer. Add vanilla and mix again. I placed the mixture in a piping bag to more easily decorate the tops of the cakes, but using a spoon will work fine too.

For the chocolate sauce (optional):

Melt chocolate in a saucepan on very low heat. Once it's melted, remove from the heat and stir in vanilla. Leave to cool for a few minutes and then place in the freezer for about 10 minutes to help solidify (though it will still be thin). Use as desired for extra chocolatey-ness.
Notes
*I use these silicon muffin molds

for baking because they're non stick, cook more evenly than traditional pans and are easy to clean.
**These brownie cakes are so yummy on their own that topping them with cream or sauce is an added bonus, but not necessary.
Adapted from Organic Sisters
7.8.1.2
6
https://veganchickpea.com/chocolate-beet-brownie-cakes-coconut-cream/
Sarah Newman, SKN Creations
This post contains affiliate links. If you make a purchase on Amazon after clicking one of my links, your costs stay the same but I receive a small commission to help support Vegan Chickpea. Thank you for your support!