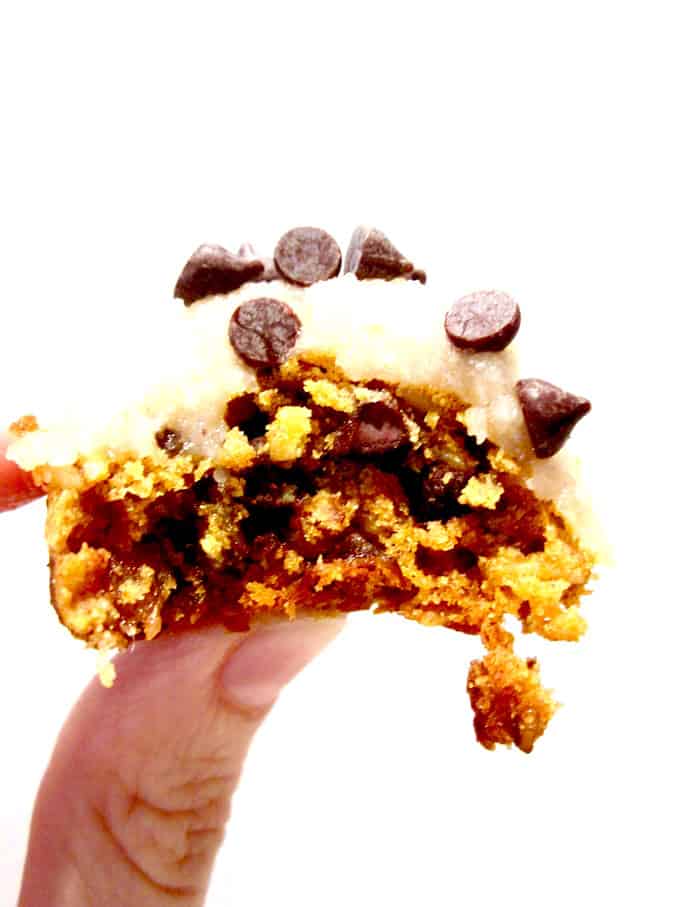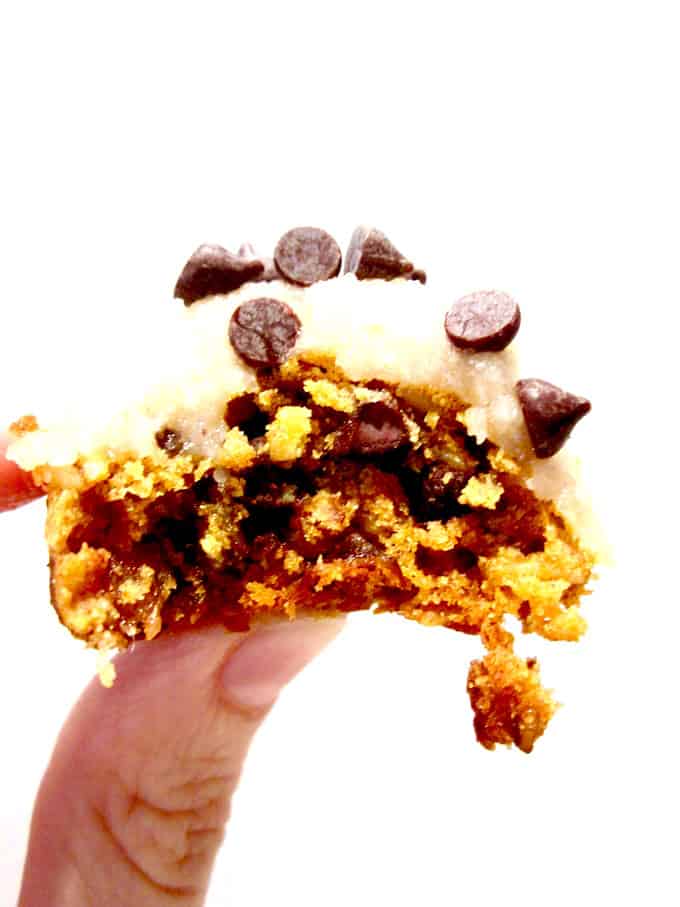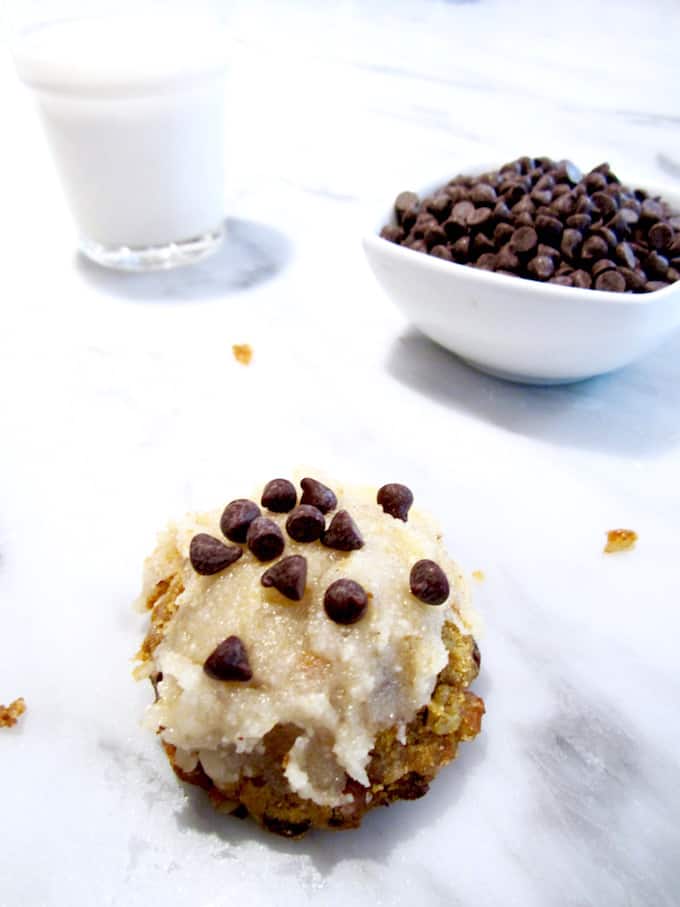 Muffins. Or Cookies? Muffins. No, Cookies. Wait, Muffins! Cookies! Muffinscookiesmuffinscookies. —> This is what happens when you're faced with that common dilemma of what you want to bake, when everything looks and sounds delicious, you're feeling (overly) ambitious, and your sweet tooth has kicked in. But never fear… Pumpkin Muffin Cookies are here!
Yes, these are cookies, but they have the texture of a soft muffin top. Therefore these cookies are the super soft kind, not the crispy kind. If you're not a soft cookie person, then these probably aren't for you… unless you like muffins and think of these like muffin tops, then you will probably enjoy them. It's all about your expectations, right?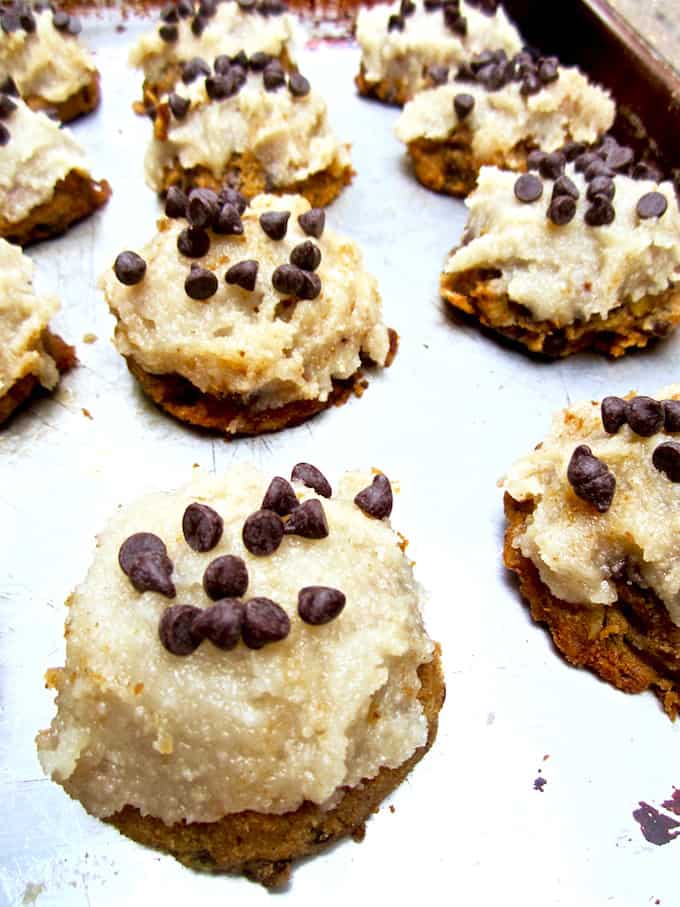 Pumpkin is one of my favorite things about fall; I'm pretty much a sucker for 
pumpkin-flavored-anything.
Latte? Yes! Bread? Yes! Crackers? Yes! Muffin Cookies? Heck yes!
Story time. When I was growing up, my mom was famous for her pumpkin cookies. When fall would roll around, I'd call my best friend Erin down the street and say, "They're ready!" and proceed to proudly bring her a small plate of cookies that she was eagerly awaiting. My brother's best friends, high schoolers at the time, would come home and devour what seemed like dozens at once.
Friends, I'm so excited to share that I have adapted that recipe to be BOTH vegan AND gluten free! Ta da! This was a favorite treat of mine as a kid, so I'm really stoked to be able to share it with you today. I just asked my mom where this recipe originated and she said she got it from the back of a Libby's brand canned pumpkin

, many years ago. Go figure – all this time I was assuming it was some special family recipe! (FYI, I checked and there is a different recipe on the back of their cans today.) Thank you Libby's!
LET'S TALK ABOUT SUGAR
Now, this isn't the healthiest recipe on my blog; in fact, I haven't used any refined sugar in my recipes until this post, but every now and then I'm OK with creating a recipe with refined sugar, knowing that it's only a few times a year. Plus, the only refined sugar in this recipe is the powdered sugar in the frosting, so you can omit it or try subbing stevia or another sweetener if you like.
Get this: the original recipe called for 1 cup of regular sugar and 1 cup of brown sugar in the cookies, and a BOX AND A HALF of powdered sugar for the frosting. I repeat – a box and half! OMG. My jaw dropped when I read that. No wonder these cookies were so freakin' addictive for all the neighborhood kids! ?
So, I think I've made great strides to reduce the powdered sugar to 3/4 cup in the frosting, and substitute 3/4 cup of coconut sugar + 1/4 cup of maple syrup + 1/2 cup of dates in the cookies (all lower on the Glycemic Index, resulting in less blood sugar spikes) in replace of the original 2 cups of refined white and brown sugar.
If you desire a more traditional frosting and want to go all out, you can try this Vegan Vanilla Buttercream Frosting recipe from Elizabeth Rider (I have not tested it myself).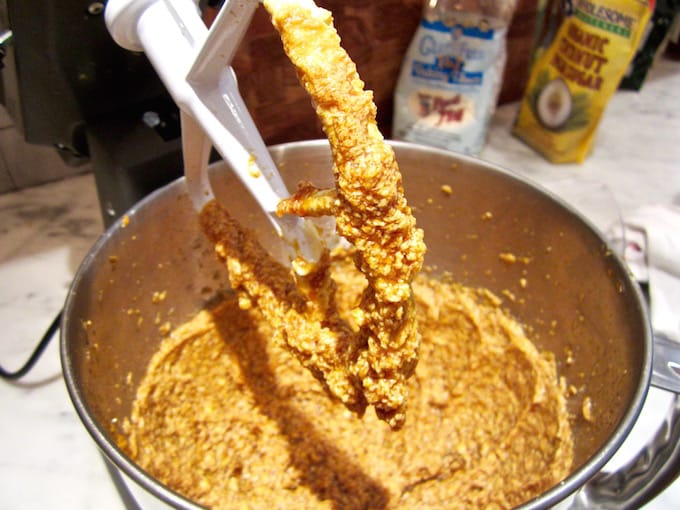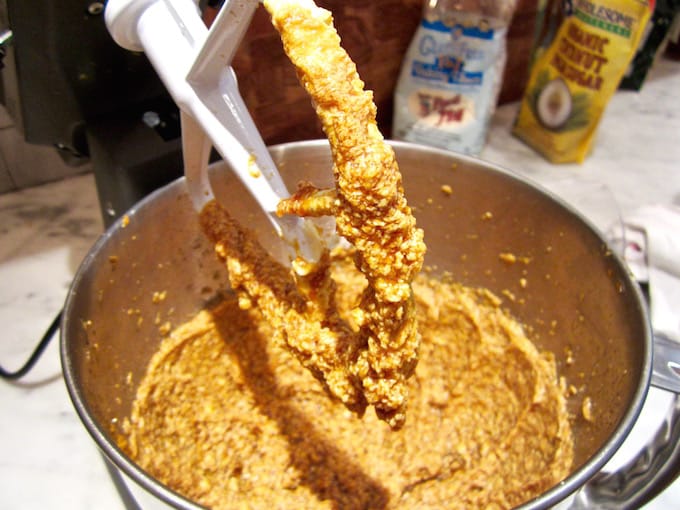 SPECIALTY INGREDIENTS
1)
Gluten free flour.
You can find this just about anywhere now. In this recipe I used Bob's Red Mill 1 to 1 Baking Flour, which I purchased at Whole Foods.
Here it is on Amazon

.
2)
Mini (vegan and gluten free) Chocolate Chips.
I like Enjoy Life brand, which I also purchased at Whole Foods.
You can also order these on Amazon

.
3)
Vegan powdered sugar.
It's a surprise to many that most sugar out there isn't vegan. Why? Because bone char from cattle is often used in the production process to give sugar its desirable white color. Appetizing, eh? Check the labels at your local grocery store or order online from brands like
Woodstock

or
Wholesome Sweeteners

.
Are you a pumpkin fan? What are some of your favorite ways to use it? Let me know in the comments below!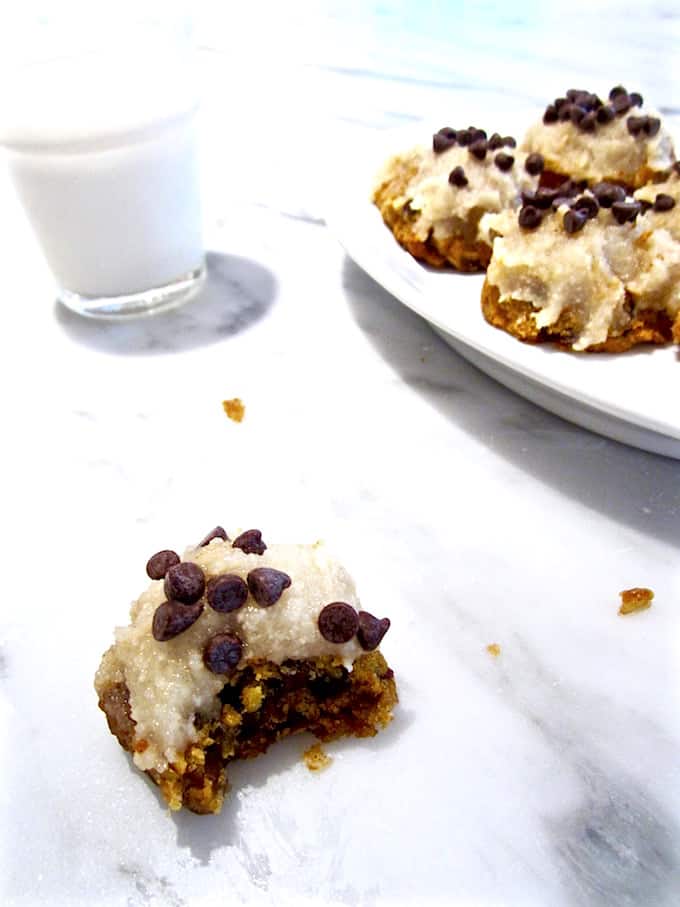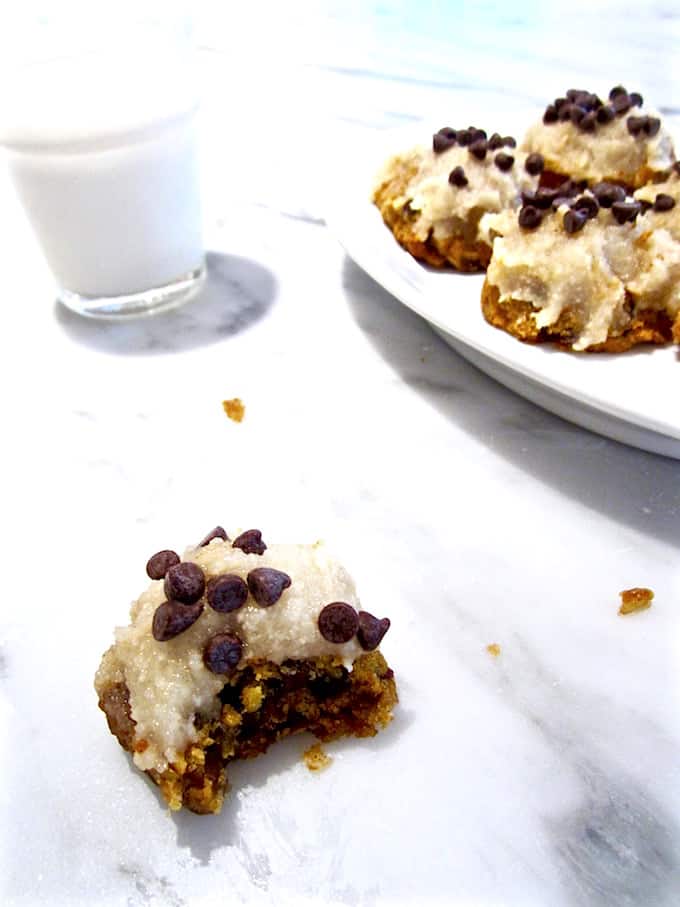 Sarah Newman
Makes about 40 cookies
Pumpkin Chocolate Chip Muffin Top Cookies + Coconut Frosting (Vegan & GF)
Soft baked cookies with a muffin top texture make a sweet, delightful treat for fall! Impression your non vegan and gluten free friends with this recipe!
45 minPrep Time
15 minCook Time
1 hrTotal Time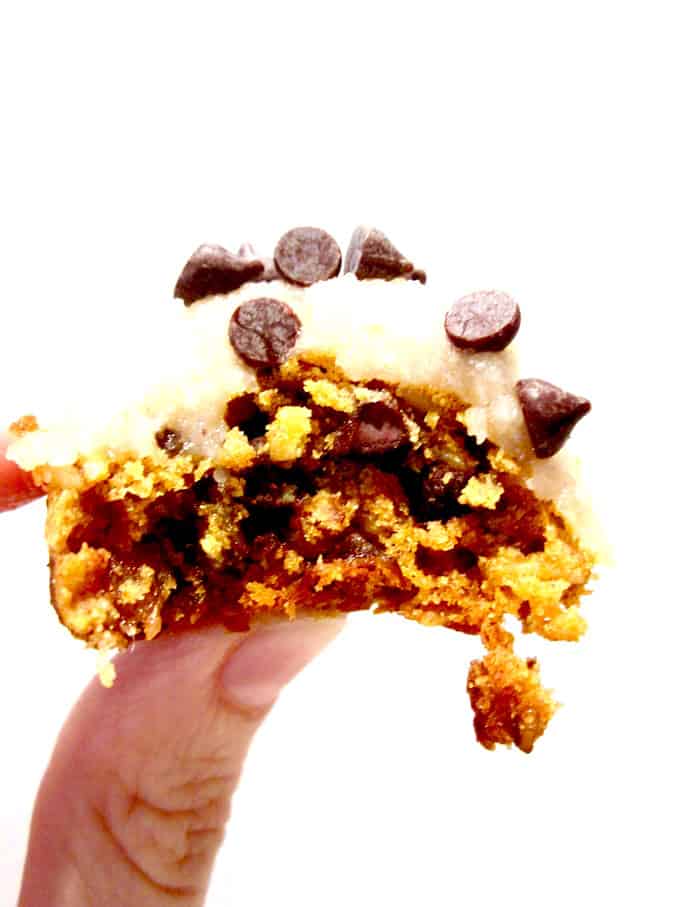 Ingredients
1 Tbsp ground flaxseed
3 Tbsp water
1 cup vegan butter, softened (I used Earth Balance vegan buttery sticks)
3/4 cup coconut sugar
1/4 cup maple syrup
1 cup canned pumpkin puree
1 tsp vanilla extract
2 cups Gluten Flour All Purpose Flour (I used Bob's Red Mill 1:1 Baking Gluten Free Flour)
1 cup gluten free oats
1 tsp baking soda
1 tsp cinnamon
1/2 tsp salt
1/2 cup finely chopped medjool dates
3/4 cup mini vegan chocolate chips + extra for topping (I used Enjoy Life)

FROSTING:

2 cups shredded or flaked, unsweetened coconut*
1 cup raw cashews, soaked in hot water for at least 10 minutes and then drained
1 Tbsp vanilla extract
3 Tbsp coconut or almond milk
3/4 cup vegan powdered sugar
Instructions
Preheat to 350 degrees F / 176 degrees C.
Combine ground flax seed and water - refrigerate for 15 minutes.
With an stand or electric mixer, cream the butter. Add coconut sugar, maple syrup, pumpkin puree and vanilla and beat until well combined. (If necessary you can do this by hand with a whisk - just make sure to beat the butter and ingredients really well.)
Add flour, oats, baking soda, cinnamon, salt and flax mixture from the fridge, then mix again until well combined.
Mix in chopped dates and make sure any date clumps are broken up.
Lightly mix in 3/4 cup of mini chocolate chips.
Using a small ice cream scoop (i used size 40), put scoops of batter on a greased or parchment lined baking sheet. I put 12 cookies per sheet. (If you want bigger cookies, use a bigger scoop and lightly flatten the tops of the cookies before baking for more even baking.)
Bake for 13 - 15 minutes, until golden brown. (If you don't bake long enough, your cookies will be extra super soft and won't retain their freshness for long, so make sure they're golden without burning.) Cool on baking sheet.

FROSTING:

Add all ingredients to a food processor. Whirl together, scraping down the sides as needed, until VERY well combined. This will likely take about 10 minutes, depending on your processor.
When cookies are completely cooled, frost and add additional mini chocolate chips on top.
Notes
*If you don't like coconut, try subbing all cashews, or macadamia nuts.
!Variations (I have not tried these myself):
For an even sweeter cookie, you can add more coconut sugar or maple syrup to taste.
For a spicier cookie, sub pumpkin pie spice in place of the cinnamon. You could also add 1 extra tsp of pumpkin pie spice for the flavor to stand out (2 tsp in total).
The original recipe, posted on the back of a Libby's brand can of pumpkin, has been largely adapted.
7.8.1.2
27
https://veganchickpea.com/pumpkin-chocolate-chip-muffin-top-cookies-coconut-frosting-vegan-gluten-free/
Sarah Newman, SKN Creations
This post contains affiliate links.
If you make a purchase on
Amazon after clicking one of my links, your costs stay the same but I receive a small commission to help support Vegan Chickpea. Thank you for your support!
Save
Save
Save
Save
Save
Save