It's been a busy couple of weeks for me here in Holland. I've been working a string of events at the Heart IQ Retreat Centre and I haven't had much time for blogging, BUT I wanted to make sure that I still posted something on the blog this week.
ENTER: my Simple, Everyday Protein Smoothie!
There are probably a gazillion smoothie recipes out there, and it's so tempting to try out the myriad of different flavors. You could have a different smoothie every day of the year if you wanted to.
When I make a smoothie in the morning or for a snack, it's usually either because A) I'm busy and need to quickly throw something together on the go, or B) I don't feel like putting in the effort to cook or even think about what I feel like eating, so having a healthy go-to smoothie recipe makes those moments super easy. I've found that I tend to use the same ingredients almost every single time purely out of convenience… and because it tastes yummy, of course!
It's simply…
a banana
frozen berries
fresh spinach
protein powder
flax seeds
coconut oil
cinnamon
nondairy milk (almond, coconut, flax, hemp, rice, oat)
If I'm feeling really wild, I'll add a couple tablespoons of nut or seed butter.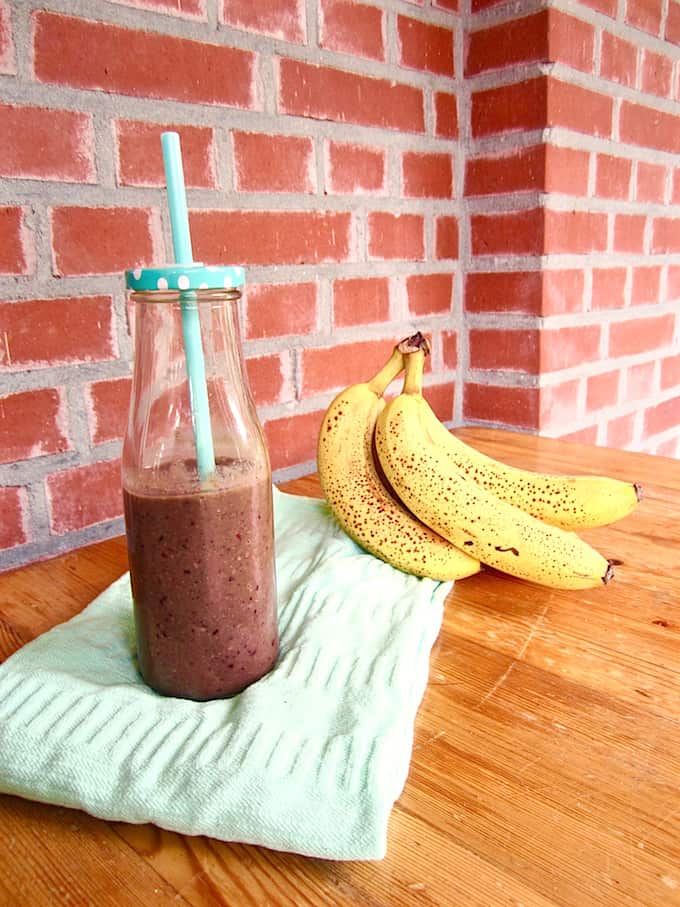 All these ingredients are super healthy and there is no added sugar or sweeteners, just banana and berries to give it the perfect amount of sweetness. Spinach gives you extra vitamins, flax seeds give you a boost of omega-3s and fiber, and coconut oil for healthy fat.
Protein Powders
I'm a big fan of protein powders, because they help me make sure I'm getting the protein I need, without adding in too many extra carbs everyday like more beans and grains (too many carbs don't feel great in my body). If you buy a high quality powder, it sometimes has probiotics and enzymes in the formula which help digestion and give extra nutritional value.
Here in the Netherlands I usually use Pulsin Pea Protein

, which I can get from the local pharmacy, or order Garden of Life's Raw Organic Unflavored Protein

from Amazon.
In the USA I also used to buy Orgain Organic Protein, Chocolate Fudge Flavor

, at Costco, and sometimes Vega One, French Vanilla or Natural flavor

, when it went on mega sale at Whole Foods.
Another great thing about this Simple, Everyday Protein Smoothie is that I almost always have all of these ingredients already stocked in my pantry and fridge, so there's no need to buy special ingredients to blend up for breakfast or a snack.
So, what about you?
Are you a smoothie drinker? What's your go-to smoothie recipe? Let me know in the comments below!
Sarah Newman
serves 1
Simple Everyday Protein Smoothie
A balanced and healthy shake for busy mornings!
5 minPrep Time
5 minTotal Time

Ingredients
1 banana
1/2 cup frozen berries
1 serving protein powder of choice
1 Tbsp flax seed
1 tsp coconut oil
1/4 tsp cinnamon
1/2 cup very tightly packed spinach
1/2 cup coconut or nondairy milk or water
Instructions
Combine and blend.
7.8.1.2
25
https://veganchickpea.com/simple-everyday-protein-smoothie-sugar-free/
Sarah Newman, SKN Creations
This post contains affiliate links. If you make a purchase on Amazon after clicking one of my links, your costs stay the same but I receive a small commission to help support Vegan Chickpea. Thank you for your support!
Save
Save
Save
Save
Save
Save