What on earth is tempeh?
About 7 years ago before I was vegan, a cool bohemian friend of mine told me she was making us tempeh for dinner. I nodded my head and smiled as if I knew what she was talking about. (I had no idea.) Staring at the square of tempeh for clues as to what it could be didn't help. I remember enjoying that meal, but then tempeh fell off my radar for a few more years until I went vegetarian for the first time.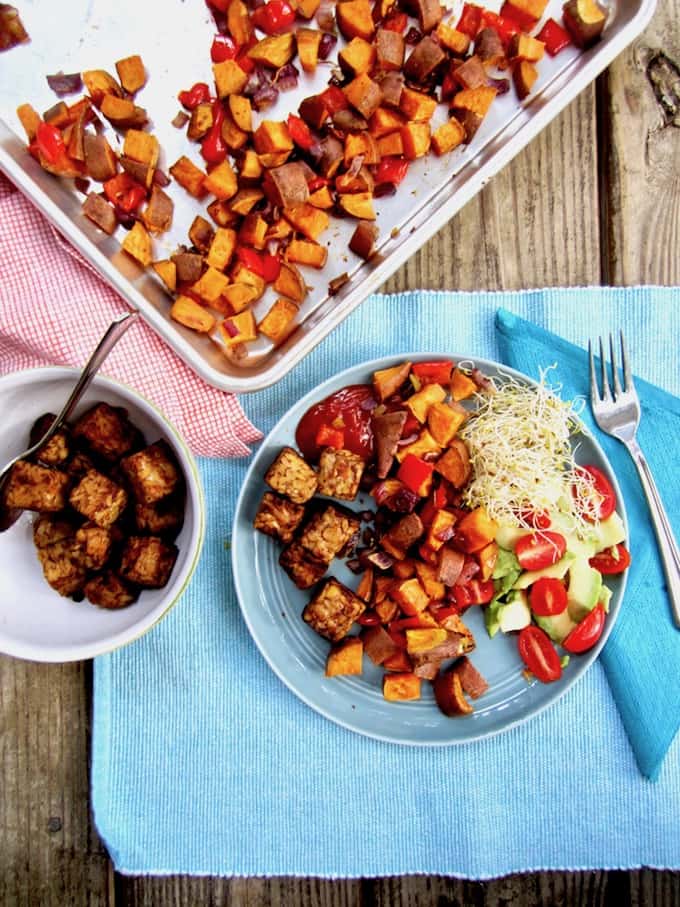 A SHORT LESSON ON TEMPEH
Tempeh may sound foreign and unconventional, but it's simply whole soy beans that have been soaked, cooked, slightly fermented and firmed into a block. It has an earthy, nutty flavor and hearty, firm texture. While tempeh is traditionally made with soybeans, it can actually be made with any type of bean and sometimes includes grains like brown rice, barley, millet or seeds.
You can find it at any healthy food store and at many grocery stores too (I like Lightlife brand). Be sure to check the labels to ensure it's gluten free, as some varieties add barley or other gluten grains.
Ideally you marinade the tempeh so it soaks up the flavor. From there, it can be seared, grilled, baked, steamed or crumbled into stir-frys or soups. Different tempehs may vary but an average tempeh has about 16 grams of protein per 3 ounce serving.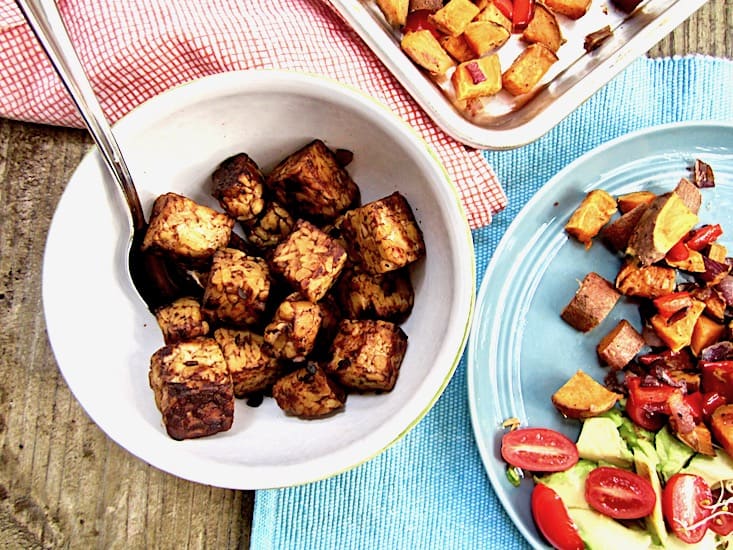 In today's recipe, I simply marinaded the tempeh and then seared it on medium heat in a touch of coconut oil. The smoky, nutty and slightly sweet flavor goes perfectly with roasted sweet potatoes, red onions and peppers, simply seasoned with garlic, red pepper flakes, oregano, salt and pepper. Add some freshly sliced avocado, tomato and sprouts on the side and we have ourselves an amazing brunch, lunch or dinner!
If you really want to go all out, you can even make these Vegan Rice Paper Bacon Strips to go on the side (as pictured in the first photo on this page) or chop them up to top the hash.
I especially like this served with curry ketchup, which is popular in Europe. I found an organic version at a local healthy food store in the Netherlands, but you can also make your own with this recipe from The Kitchen Maus (just sub vegan Worcestershire Sauce and agave or syrup for the honey to make it vegan).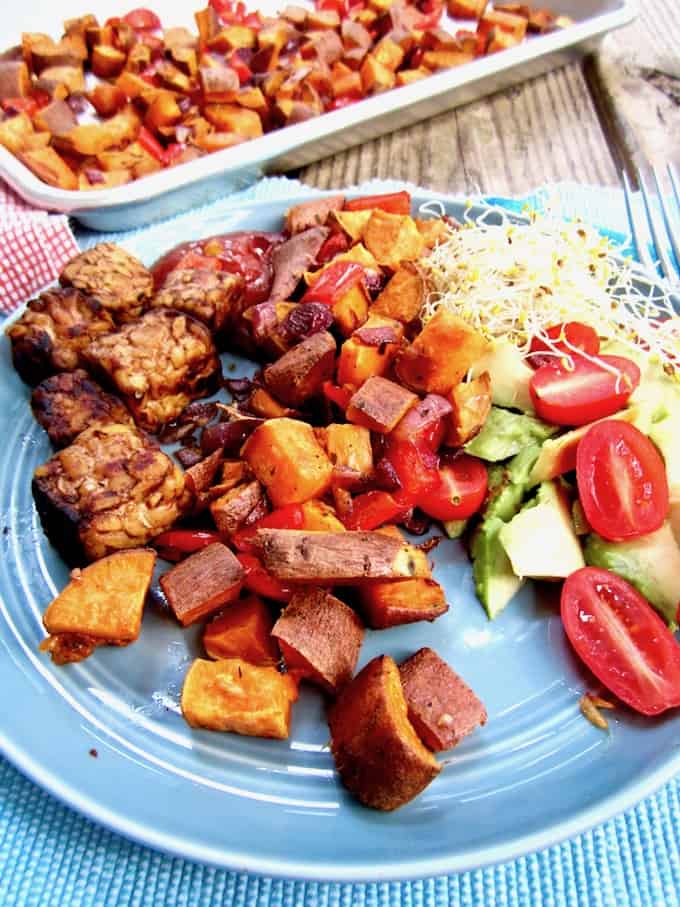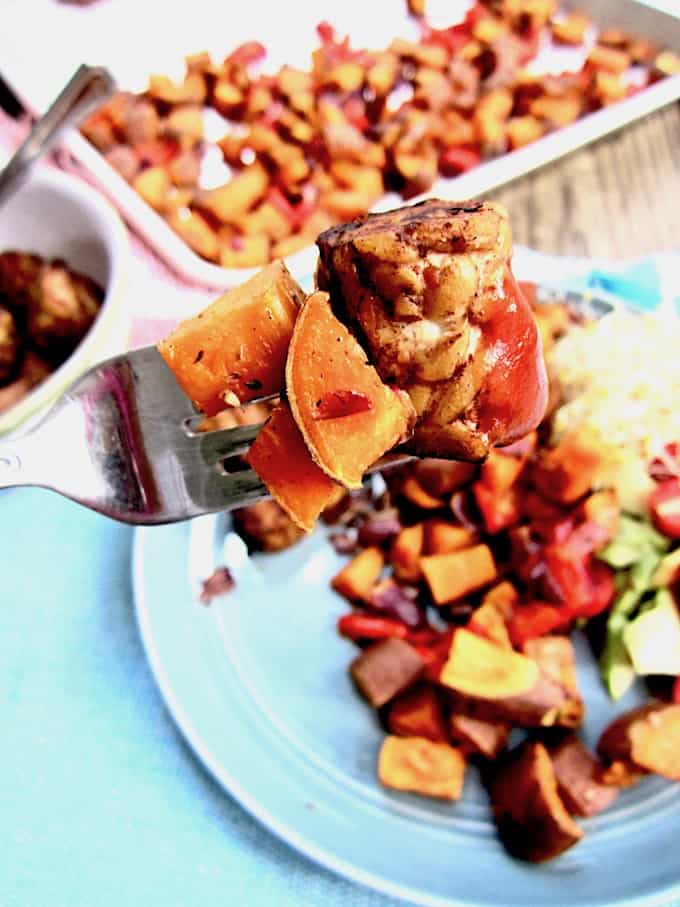 Sarah Newman, Vegan Chickpea
serves about 3
Smoky Tempeh & Roasted Sweet Potato Hash (Vegan + GF)
A perfect vegan & gluten free combination for brunch, lunch or dinner! Simple. Satisfying. High Protein.
30 minPrep Time
40 minCook Time
1 hr, 10 Total Time

Ingredients
8 oz organic tempeh - I used Lightlife brand's Garden Veggie flavor - cut into cubes or strips

FOR THE MARINADE:

1/2 tsp liquid smoke
1 Tbsp oil (ideally avocado or coconut)
1 Tbsp balsamic vinegar
1 Tbsp maple syrup

FOR THE HASH:

4 cups chopped sweet potatoes
1 cup chopped red pepper
1 cup diced red onion
3 garlic cloves, minced
2 Tbsp avocado or melted coconut oil
1/4 tsp salt (or more to taste)
1/4 pepper
1/4 tsp oregano
sprinkle of red pepper flakes

OPTIONAL GARNISHES:

sliced avocado
cherry tomatoes
sprouts
ketchup or curry ketchup
hot sauce
Instructions
Mix all ingredients together under marinade and pour over tempeh.
Let tempeh marinade at least 20 minutes, or even overnight.
Preheat oven to 400 degrees F.
On a greased or parchment lined baking sheet, combine all ingredients under hash.
Bake for 30 - 40 minutes, stirring halfway through. Baking time will depend on the size of the sweet potato chunks and desired crispiness. I like mine on the crispier side.
Heat a pan on medium heat and, if needed, add an additional small amount of oil to grease the pan. Sear the tempeh for 5 - 7 minutes, flipping or stirring to get an even sear and being careful not to burn it.
Combine hash and tempeh with the garnishes.
7.8.1.2
41
https://veganchickpea.com/smoky-tempeh-roasted-sweet-potato-hash-vegan-gluten-free/
Sarah Newman, SKN Creations