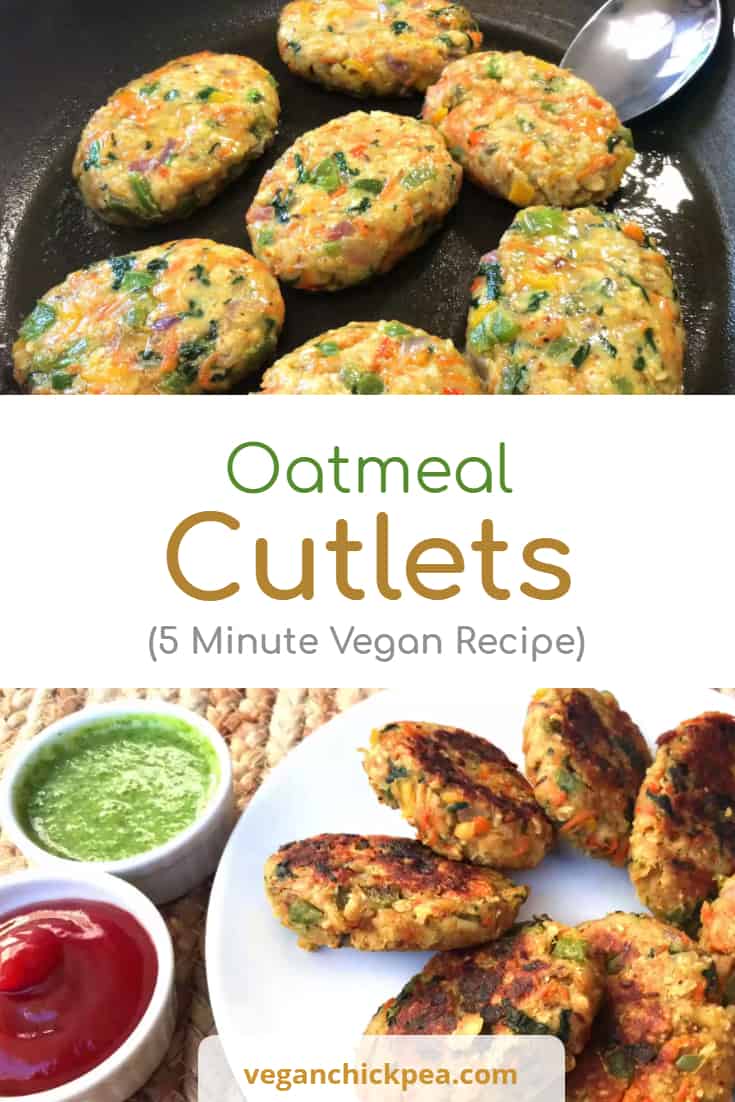 Oatmeal is another vegan staple, and not just for breakfast. If you think that oatmeal is just limited to porridge, you're in for a pleasant surprise. There are a million different ways to prepare oatmeal and I'm sure you'll love every single one of them. But what really makes oatmeal remarkable? It's 100% whole grain, gluten-free, and high in fiber and antioxidants.
Oatmeal Cutlets
Here's a savory and filling way to prepare oats without the hassle. Who says oatmeal has to be sweet? These spicy oatmeal cutlets are the perfect main dish for lunch or dinner. Healthy oats are combined with the freshness of choice vegetables and fragrant spices. You can eat them on their own or serve with a salad on the side. Recreate this quick and easy oatmeal recipe here.
Add this five-minute recipe to your dinner rotation of quick, healthy, and easy meals.
Oatmeal Cutlets
Oatmeal Cutlets (Quick and Easy Recipe)
Ingredients
Oats
Water
olive Oil
Cumin and Fennel Seeds
Split Chickpeas
Split Black Gram
Grated Onion
Green Chili
Ginger
Capsicums
Carrot
Cauliflower
Salt
Garam Masala
Amchur Powder
Spinach
Gram Flour
Grated Potatoes
Instructions
Mix oats with water and soak.
Heat pan with olive oil and Sauté Cumin and Fennel Seeds, Split Chickpeas, Split Black Gram, Grated Onion, Green Chili, Ginger, Capsicums, Carrot and Cauliflower. Add Salt, Garam Masala, Amchur Powder and Spinach. Stir fry until well done.
Prepare dough. Mix vegetables, soaked oats and gram flour.
Shape dough into cutlets.
Heat pan with olive oil and Shallow fry the cutlets. Flip and brush oil until well done. Enjoy!
7.8.1.2
98
https://veganchickpea.com/oatmeal-cutlets/
Sarah Newman, SKN Creations
Looking for more of these vegan recipes? Scroll through these popular round-ups and Ii'm sure you'll find something interesting!