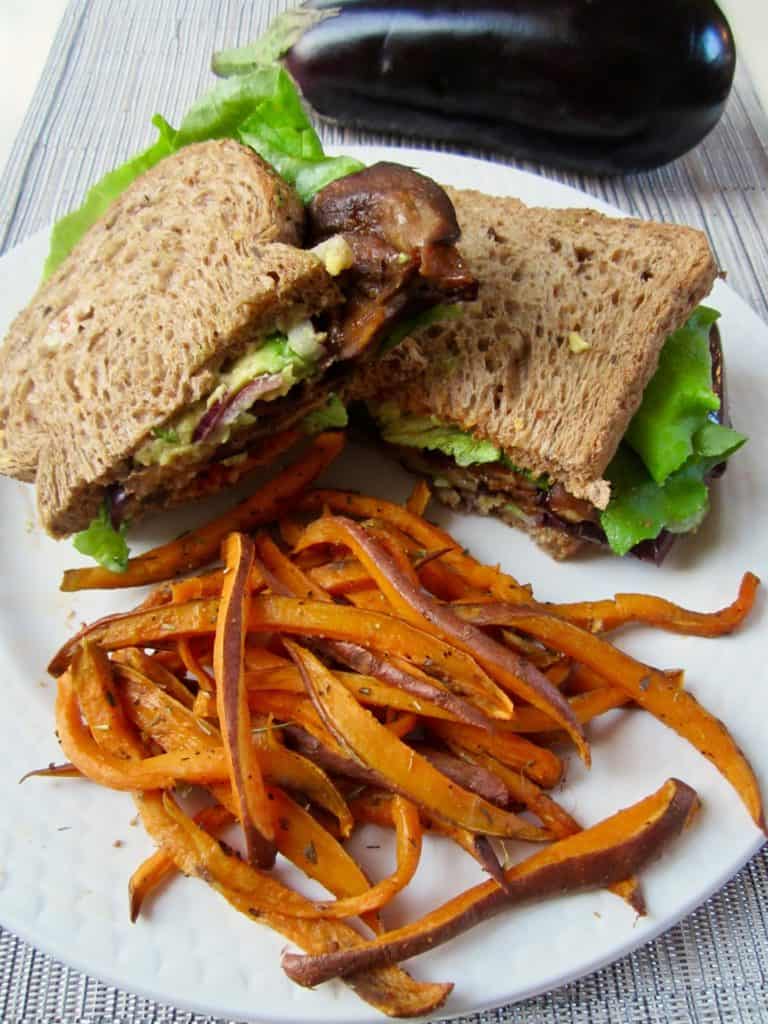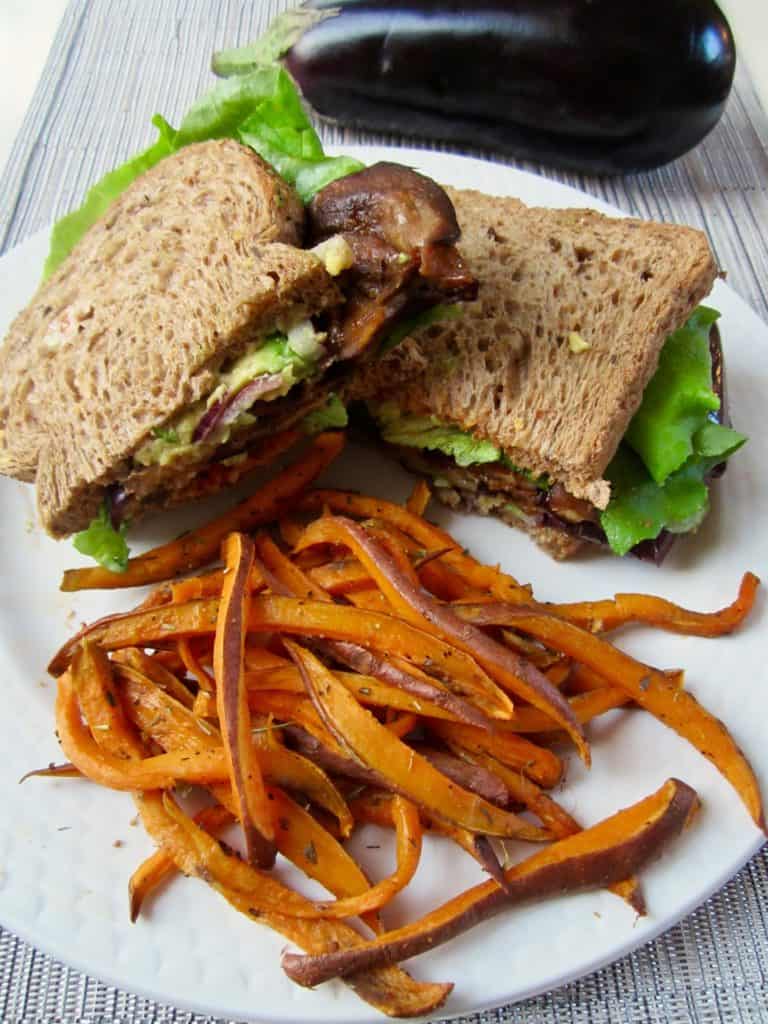 Introducing…
the EBLT Sandwich! Eggplant Bacon, Lettuce and Tomato, a veganized version of the classic BLT sandwich. You guys, this sandwich TOTALLY rocks! Every time my husband and I eat it we just smile at each other in complete bliss as we devour our plates.
It's SO satisfying with its rich umami flavors, complemented by spicy Sriracha and dijon mustard and contrasted by the crisp lettuce and red onion.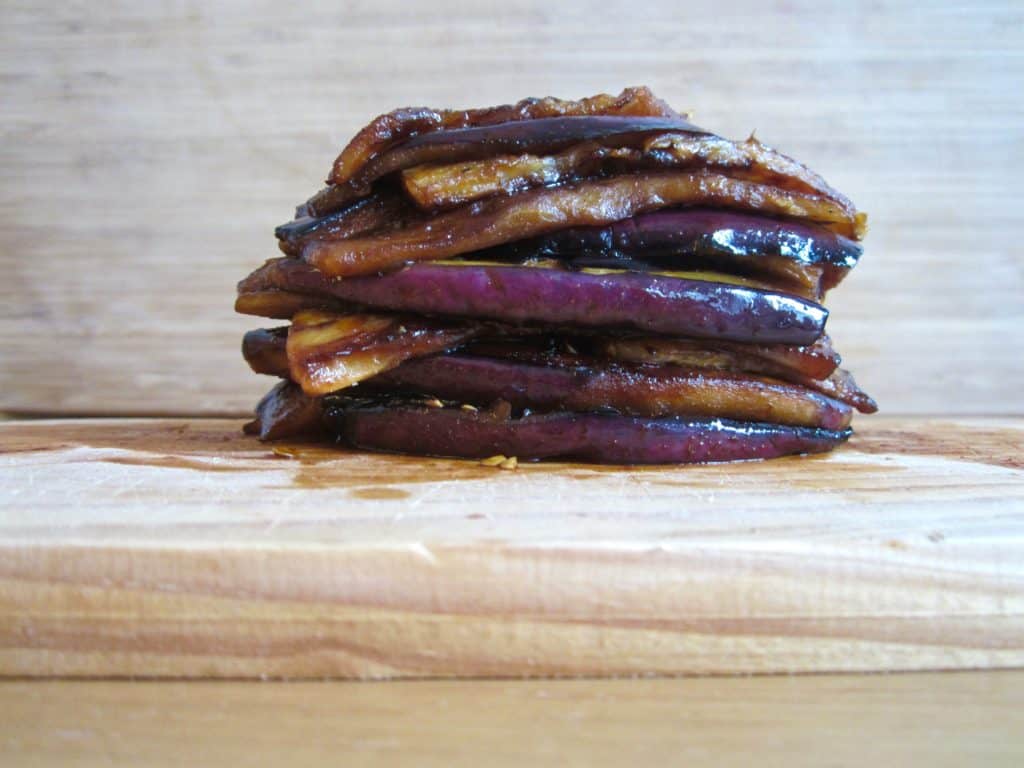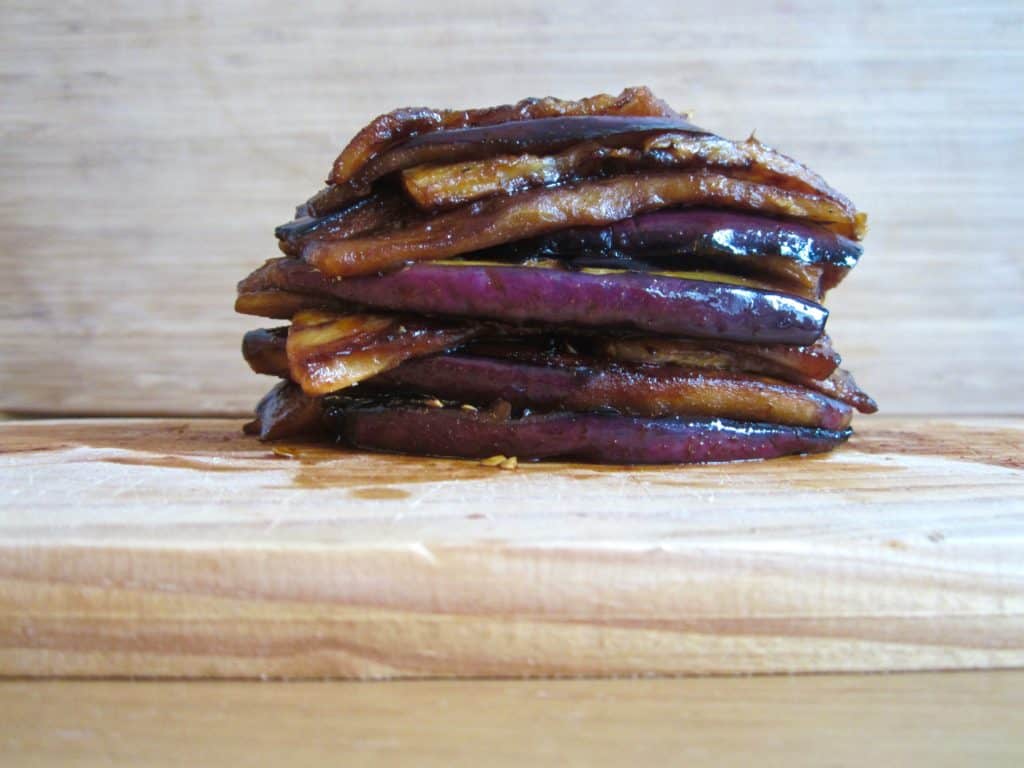 Of course, using the eggplant on a sandwich is just one idea. You can cut it into smaller pieces and add to a stir fry, put on top of a salad, layer into a lasagna… so many yummy applications!
Did you see my Coconut Bacon post? Check it out to see another vegan bacon alternative! Don't forget to pick up some liquid smoke

so you can try them both. 🙂


Looking for vegan AND gluten free bread? Try looking in the freezer department of your local health food store. (And don't be shy about asking the store to start stocking it!) Here are two brands I know of:
Manna Organics – Vegan, Gluten free, Kosher, Organic; comes in a variety of flavors! *You can also order online at their website here! (minimum order is 4 items)*
Food for Life – Vegan, Gluten free, Sprouted, Organic; comes in a variety of flavors!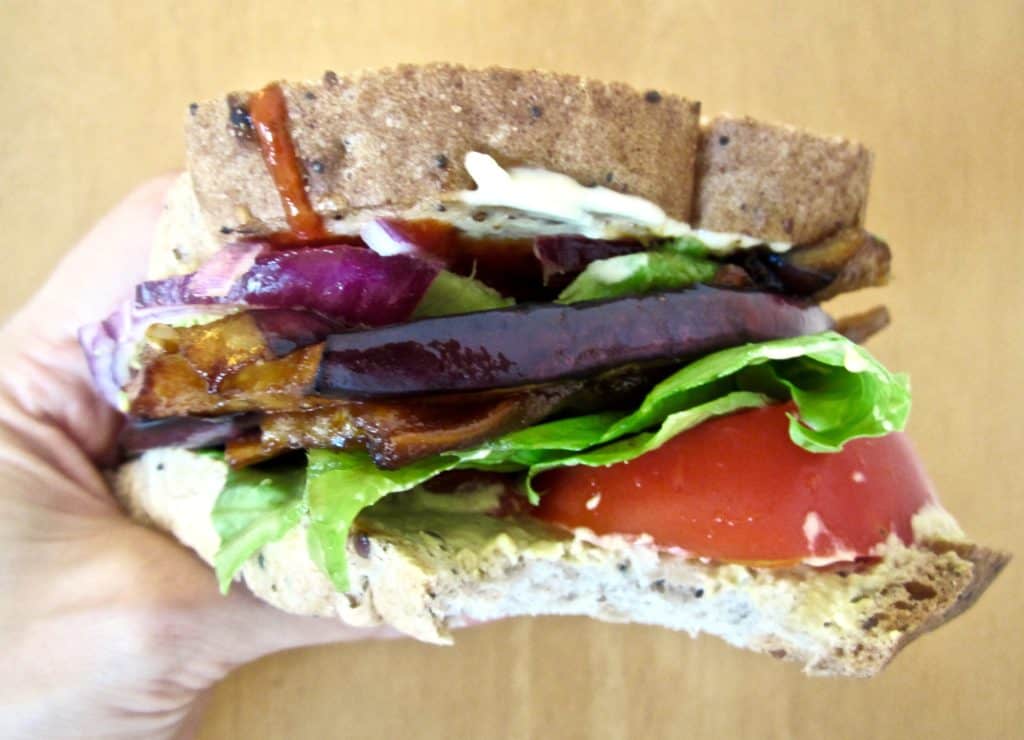 Sarah, Vegan Chickpea
about 2 - 3 STUFFED sandwiches (largely depends on size of eggplant)
The (E)BLT: Eggplant Bacon Sandwich
Hearty, Savory and HEALTHY vegan & gluten free BLT made with eggplant bacon! Destined to become a favorite.
35 minPrep Time
15 minCook Time
50 minTotal Time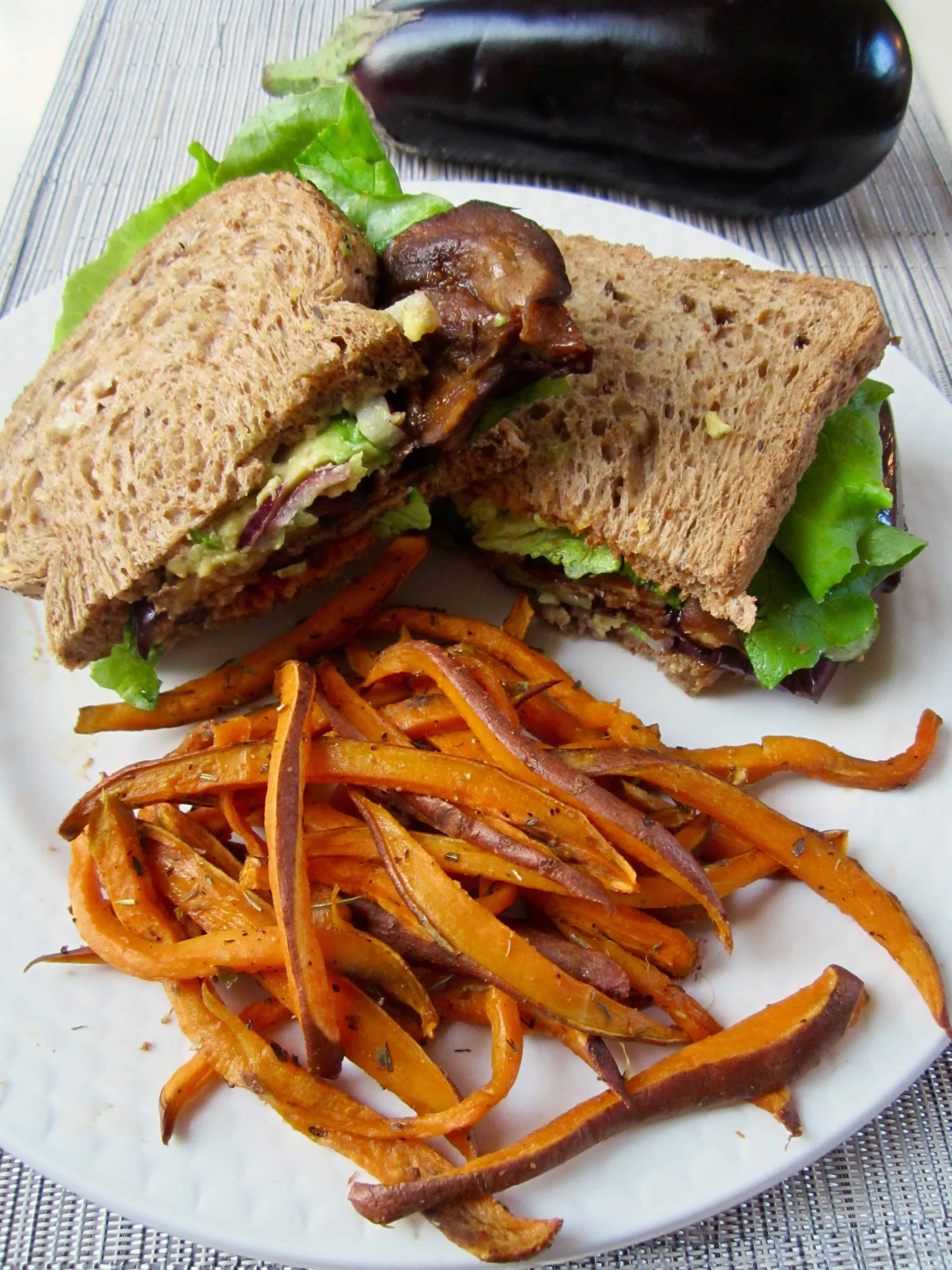 Ingredients
For the eggplant bacon:

1 medium eggplant
3 Tbsp tamari or coconut aminos (for soy free, use coconut aminos)
1 tsp liquid smoke
1 Tbsp apple cider vinegar
1 Tbsp maple syrup
1 Tbsp olive oil
1/2 tsp sea salt
1/2 tsp paprika
¼ tsp pepper
olive oil spray

For the sandwich, your choice of:

sliced bread
avocado
tomato
red onion
lettuce
cucumber
dijon mustard, vegan mayo and/or sriracha (I like all 3 together!)
Instructions
Cut the top and bottom off the eggplant. Slice eggplant lengthwise into strips of your desired thickness (I like mine about 1/4 inch).
Stir together all remaining ingredients (except olive oil spray) and pour over the eggplant slices. Stir gently to mix and coat.
Marinate for at least 20 minutes, stirring every 10 minutes or so to keep eggplant well coated.
Turn a large skillet over medium heat. When hot, spray with olive oil spray and add eggplant slices in a single layer, working in two batches. Reserve leftover marinade.
Cook eggplant until it's browned on the bottom, about 3-5 minutes. Pour a few spoonfuls of marinade into the skillet and cook another minute, until marinade cooks off.
Flip the slices and cook until they're browned on other side, about 3-5 minutes. Add a few more spoonfuls of marinade and cook another minute, until the marinade cooks off again.
Remove from heat and assemble your sandwich with desired toppings!
Notes
7.8.1.2
7
https://veganchickpea.com/the-vegan-blt-eggplant-bacon-sandwich/
Sarah Newman, SKN Creations
This post contains affiliate links. If you make a purchase on Amazon after clicking one of my links, your costs stay the same but I receive a small commission to help support Vegan Chickpea. Thank you for your support!