This vegan and gluten free thick cookie cake is a hybrid between oatmeal bars and cookies, with chocolate chunks, marshmallows, oats, coconut flour and flavorful hints of cinnamon, nutmeg and ginger. A new spin on an old American classic, perfect for summer or anytime of year!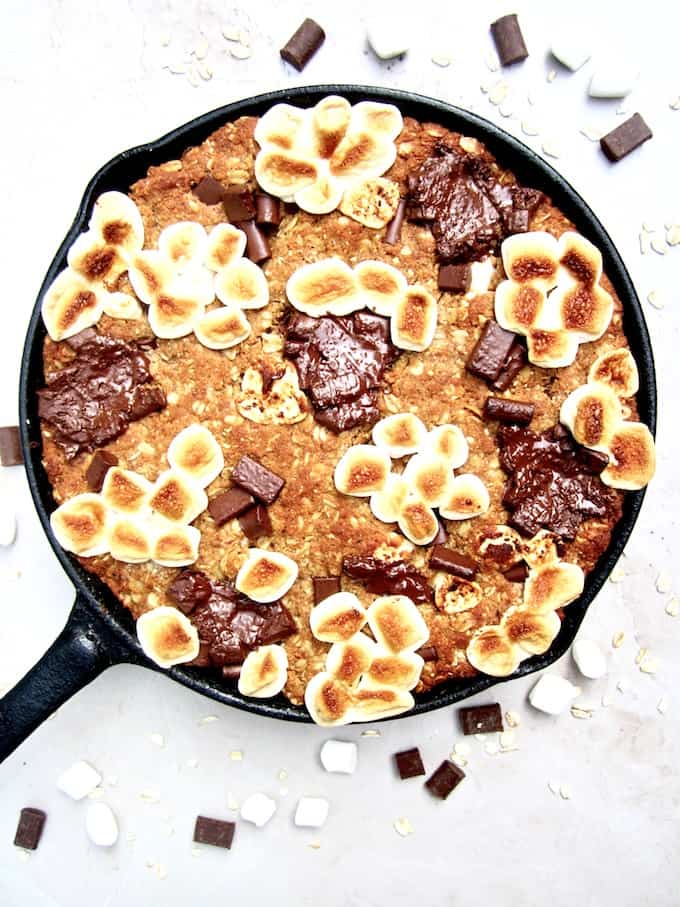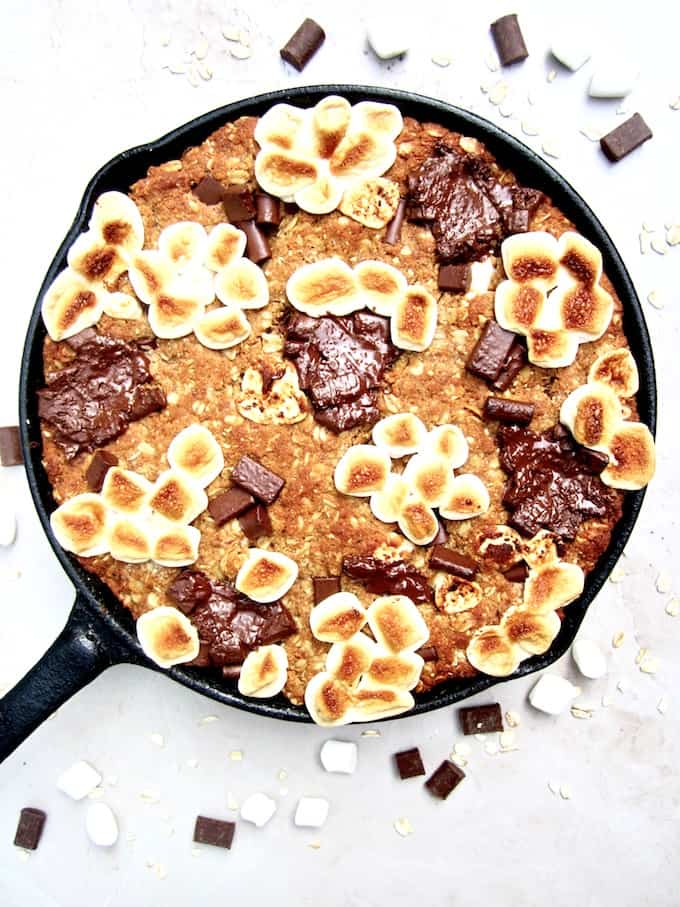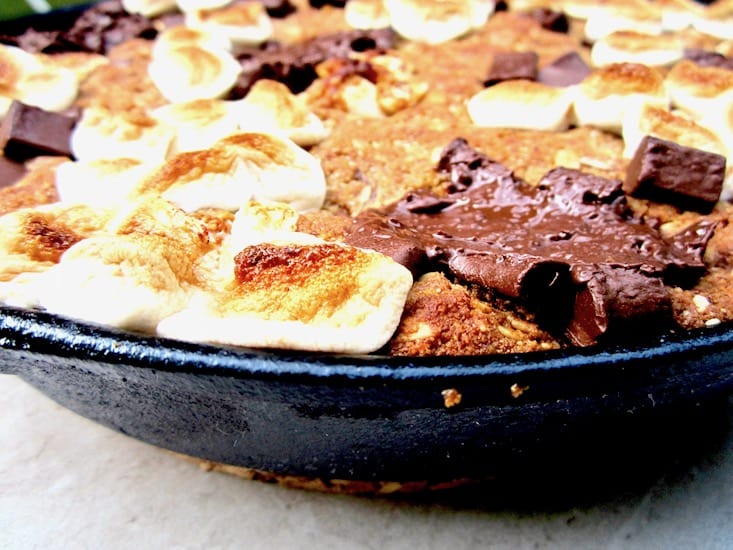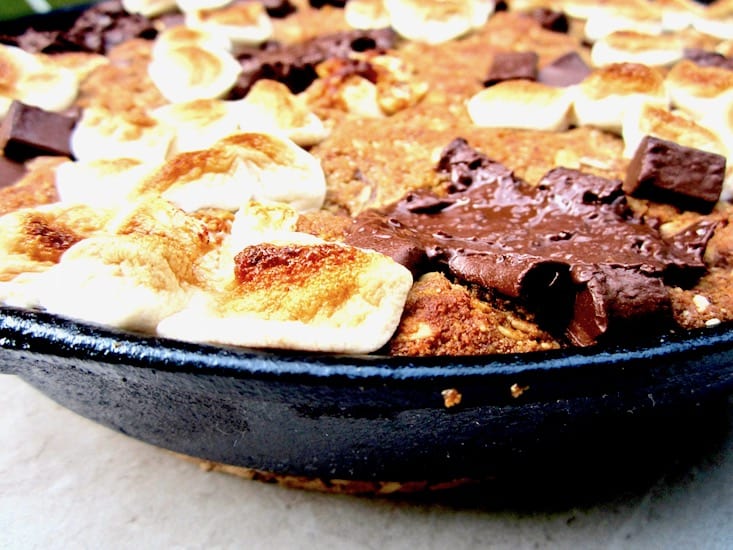 You know how almost all of my recipes are healthy? Well… this one isn't at the top of that list, though it's not totally over the top unhealthy either. It's definitely better than the average dessert out there, just like these Pumpkin Chocolate Chip Muffin Top Cookies + Coconut Frosting I made last fall (which you should totally check out if you're a pumpkin lover like me!).
But hey, America is having a birthday and that's reason to celebrate, right? ? ? ?
When I think of classic American desserts, S'mores make it on my top 3 list (along with Apple Pie and Classic Chocolate Chip Cookies… oh yea, and Key Lime Pie, and Cheesecake, and Carrot Cake… oh, and some Pecan Pie… ok, apparently we Americans love our desserts, but S'mores are definitely up there as a classic!).
A Brief Moment of Nostalgia…
I remember camping with my cousins at Lake George, New York in the summer when I was a teenager and S'mores were an absolute must by the campfire. My brother used to make an epic S'mores sandwich consisting of:
2 homemade chocolate chip cookies, on top and bottom
Peanut butter smeared on the cookies
Toasted marshmallows on top of one cookie
Hershey's chocolates on top of the other cookie
graham crackers in the middle
Put it together, and there you have it – the Epic S'mores Cookie Sandwich. I have a photo of him indulging in this masterpiece, but David, I'll spare you the embarrassment, haha!
Truthfully, I was always jealous of his teenage boy metabolism… I did not receive that same blessing! ?
Now Back to this S'mores Oatmeal Cookie Skillet Cake…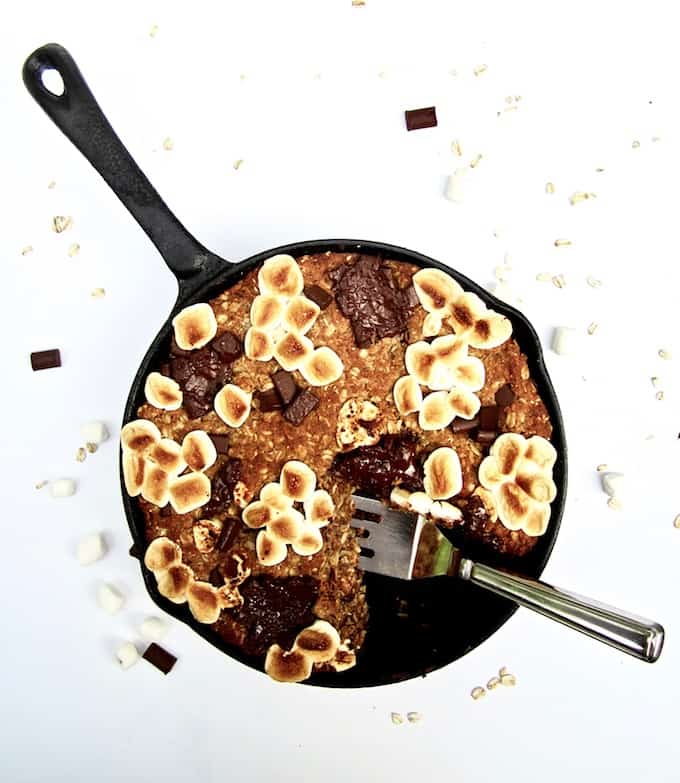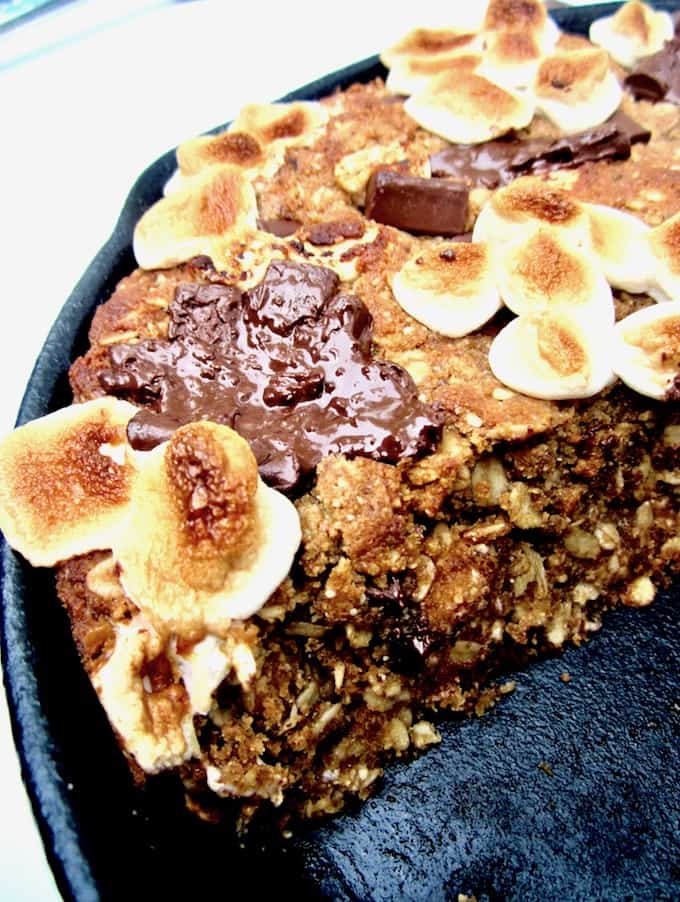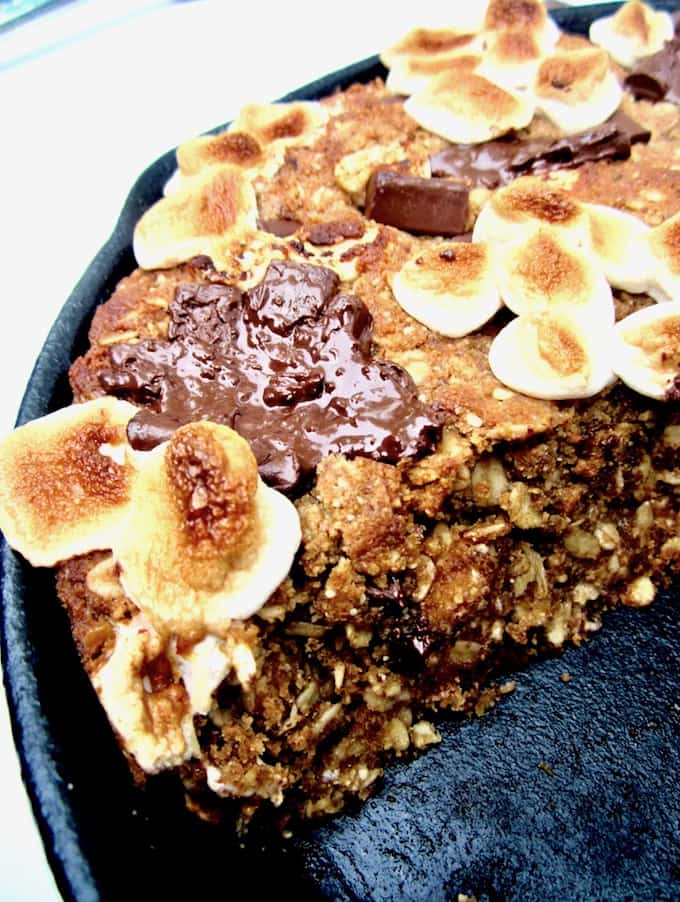 I don't actually like marshmallows that much. They're ok, but I never think about them or crave them… except when it comes to this newly created, quickly-became-enamored-with S'mores Oatmeal Cookie Skillet Cake.
I was recently inspired to make this dessert from a S'mores oatmeal bar that my brother-in-law got at our favorite coffee shop when we were visiting Hawaii called Kayas, an almost all vegan and gluten free cafe with a truly irresistible desserts and baked goods display. Definitely some of the best vegan + GF treats I've had!
I kept thinking about how I wanted to make a version of those bars for my blog for the right occassion, so wah-lah – a couple months later, here we are! This version is made in a 9″ cast iron skillet, though I'm sure you could substitute an equivalent sized baking dish – I used the cast iron mostly for presentation.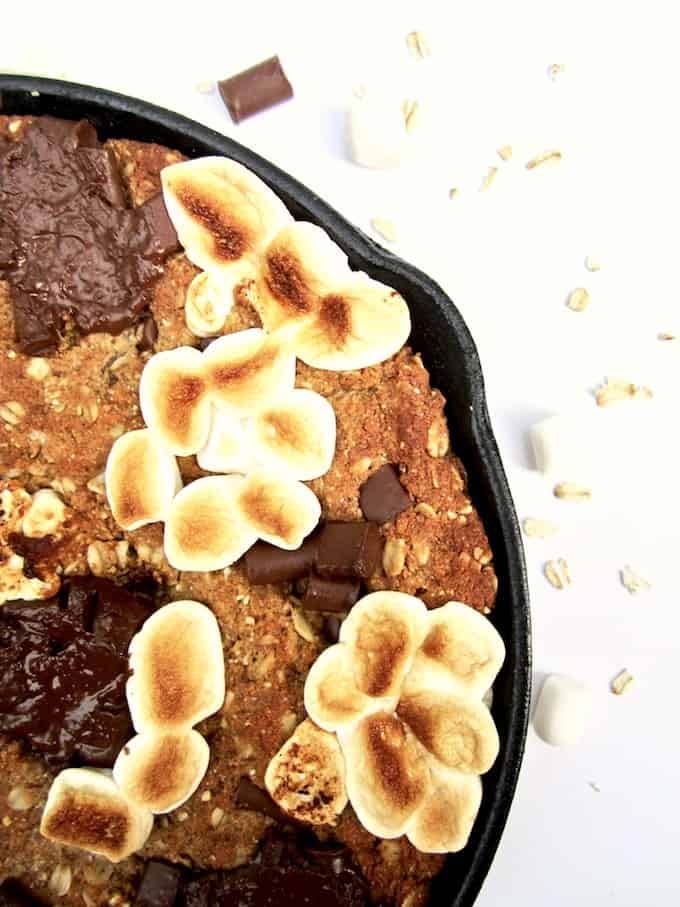 By the way, did you know that most marshmallows are NOT vegan/vegetarian? They contain gelatin, which is derived from the collagen inside animals' skin and bones. It is commonly used as a gelling agent in food, pharmaceuticals, photography, and cosmetic manufacturing. For this recipe, I used Dandie's Vegan Vanilla Marshmallows

(all natural too – no corn syrup, yay!) which I found at Earth Fare. Trader Joe's brand of marshmallows are also vegan.
This thick cookie cake has warming flavors of cinnamon, ginger and nutmeg, and is best served warm (in my family's collective taste tester opinions). It's good room temperature, but it's EXTRA fabulous when warmed up (it reheats well in the oven), especially with some coconut whipped cream or vegan ice cream on top!
Thank you America for having a birthday so I can celebrate with delectable desserts! *Cue music for the Star Spangled Banner* ??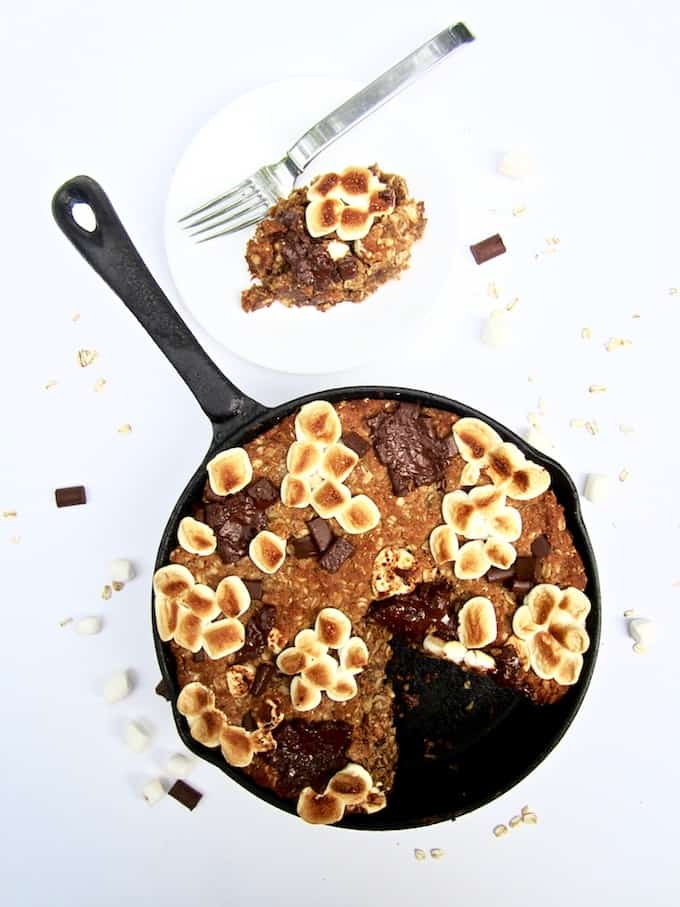 By the way, have you ever wondered where the term "s'mores" comes from? According to Wonderopolis:
This sweet, warm, gooey, delicious treat always leaves kids wanting more. In fact, that's probably how they got their name. S'more is thought to be a contraction of the phrase, "some more," as in "I want some more of those s'mores!"

No one knows for sure who invented the s'more. However, the first published recipe for "some mores" was in a 1927 publication called Tramping and Trailing with the Girl Scouts. Loretta Scott Crew, who made them for Girl Scouts by the campfire, is given credit for the recipe.

So even though we don't know for sure whether the Girl Scouts were the first to make "some mores," no one else has claimed to have invented them. We also don't know when the name got shortened to "s'more" as recipes for "some mores" appeared in Girl Scout publications until at least 1971.
So there you have it – some trivia for your holiday weekend. 🙂
Happy 4th everyone! I hope your festivities are fun and delicious!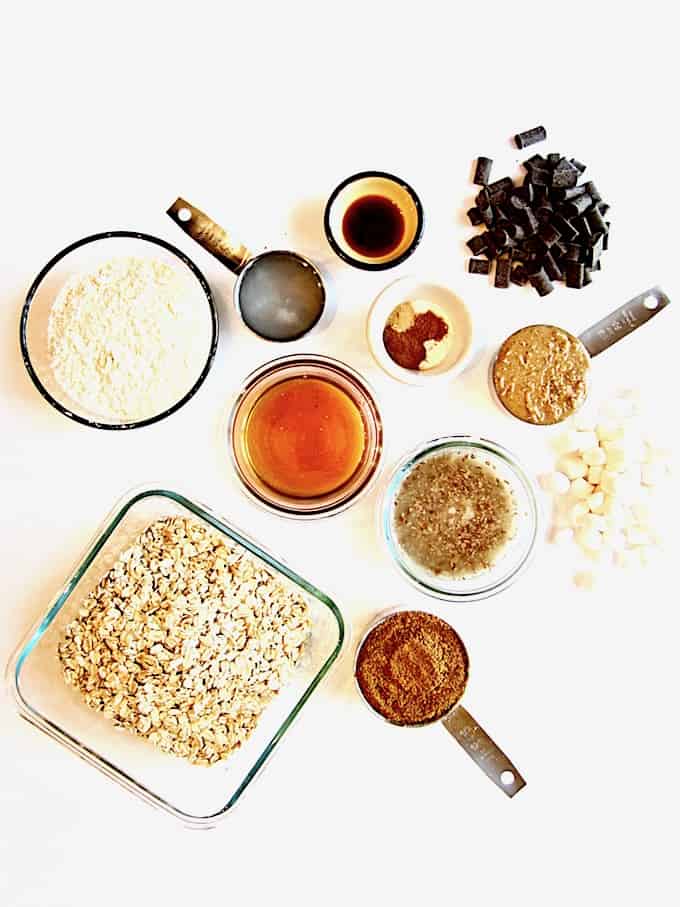 INGREDIENTS I USED IN THIS RECIPE:

This post contains affiliate links. If you make a purchase on Amazon after clicking one of my links, your costs stay the same but I receive a small commission to help support Vegan Chickpea. Thank you for your support!
Sarah Newman, Vegan Chickpea
Vegan S'mores Oatmeal Cookie Skillet Cake (Gluten Free!)
This vegan and gluten free thick cookie cake is a hybrid between oatmeal bars and cookies, with chocolate chunks, marshmallows, oats, coconut flour and flavorful hints of cinnamon, nutmeg and ginger. A new spin on an old American classic, perfect for summer or anytime of year!
15 minPrep Time
22 minCook Time
37 minTotal Time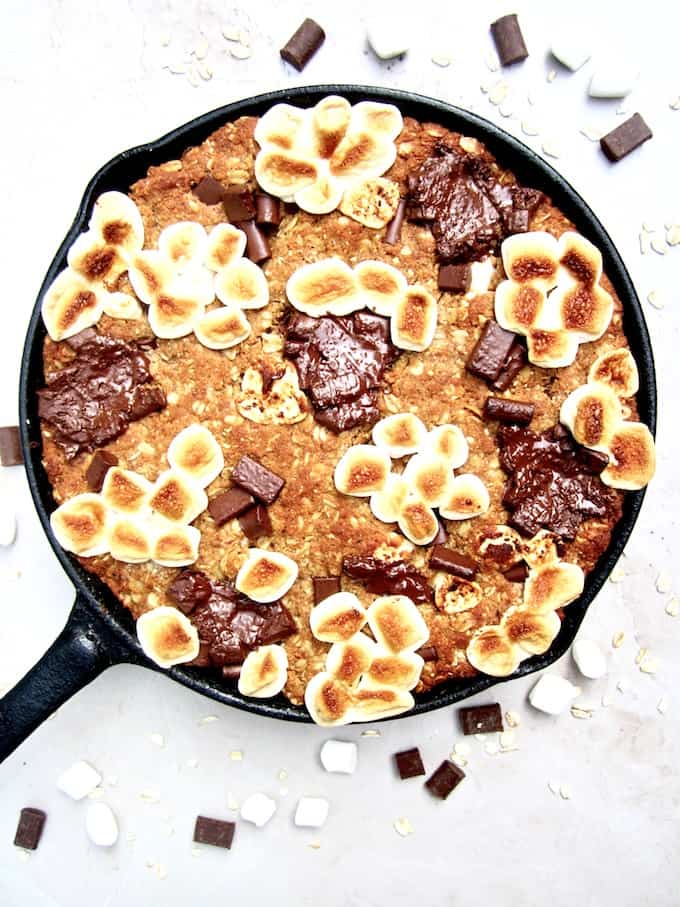 Ingredients
2 flax 'eggs' (2 Tbsp ground flax meal + 6 Tbsp water - let sit 10 minutes to gel)
1.5 cups gluten free steel cut oats
3/4 cup coconut flour
1/2 tsp salt
1 tsp baking soda
1 tsp ground cinnamon
1/8 tsp ground ginger
1/8 tsp ground nutmeg
1/2 cup melted coconut oil
1/2 cup coconut sugar
1/2 cup maple syrup
1/2 cup natural peanut butter
1 tsp vanilla
3/4 cup vegan chocolate chunks - I used Enjoy Life - divided into 1/2 cup and 1/4 cup
1 cup mini vegan marshmallows - I used Dandies - divided in 1/2 cup and 1/2 cup
Instructions
Preheat the oven to 350 degrees F / 176 C.
In a bowl, combine the oats, coconut flour, salt, baking soda, cinnamon, ginger and nutmeg.
In a separate large bowl, whisk the coconut oil, coconut sugar, maple syrup and peanut butter. Stir in the flax egg and vanilla.
Add wet ingredients to the dry ingredients, stirring to combine. Fold in 1/2 cup of the chocolate chips and 1/2 cup of marshmallows.
Lightly oil your cast iron skillet (or baking dish) with coconut oil.
Gently press the dough evenly into skillet. Top with remaining 1/4 cup chocolate chunks and 1/2 cup marshmallows. I like to group the marshmallows and chocolate chunks into clusters so when they melt, the clusters get all gooey and chewy.
Bake for 20 minutes.
Before removing from the oven, broil for 1 - 2 minutes to toast the marshmallows - be super careful not to burn them!
Let cool before slicing as it will be crumbly while warm. Or if you can't wait, enjoy it crumbly. 🙂
Optionally top with coconut whipped cream or vegan ice cream!
Notes
7.8.1.2
56
https://veganchickpea.com/vegan-smores-oatmeal-cookie-skillet-cake-gluten-free/
Sarah Newman, SKN Creations