These super healthy, high protein, crunchy multiseed crackers are simply made out of seeds and seasonings. Pair with fresh, zesty, sweet and chunky salsa for a great summer snack! (paleo, gluten + sugar free)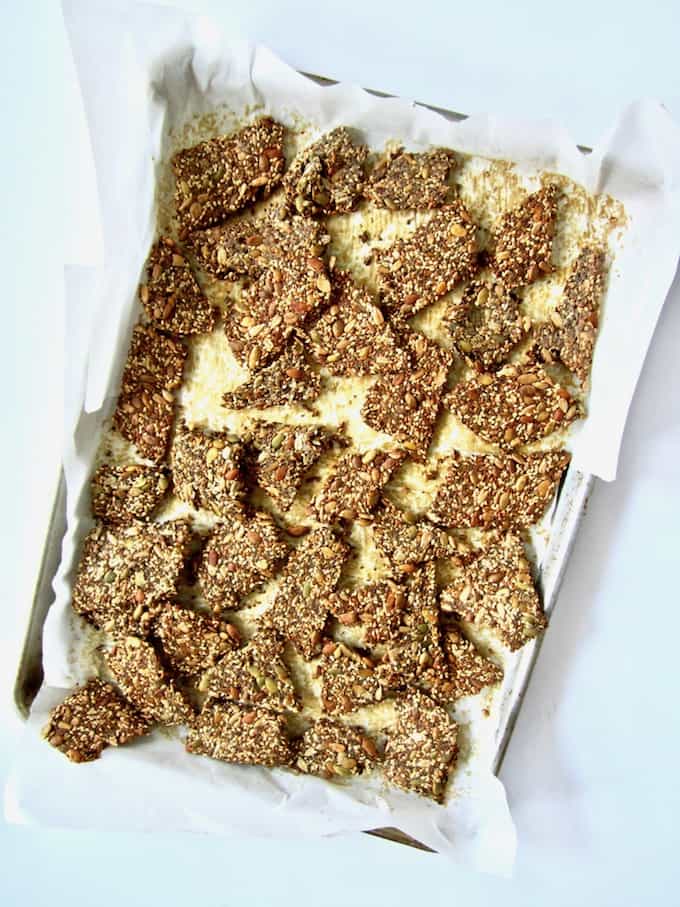 I became pretty obsessed with these crackers a couple months ago. I started making them while I was spending a couple months in Hawaii with my brother, sister and brother-in-law, and we would demolish a batch in a couple of days. I also brought these to a event where I was catering the snacks, along with a basil hummus, and people loved them!
The aroma while they're in the oven is just like the smell of fresh bread in a bakery. Divine.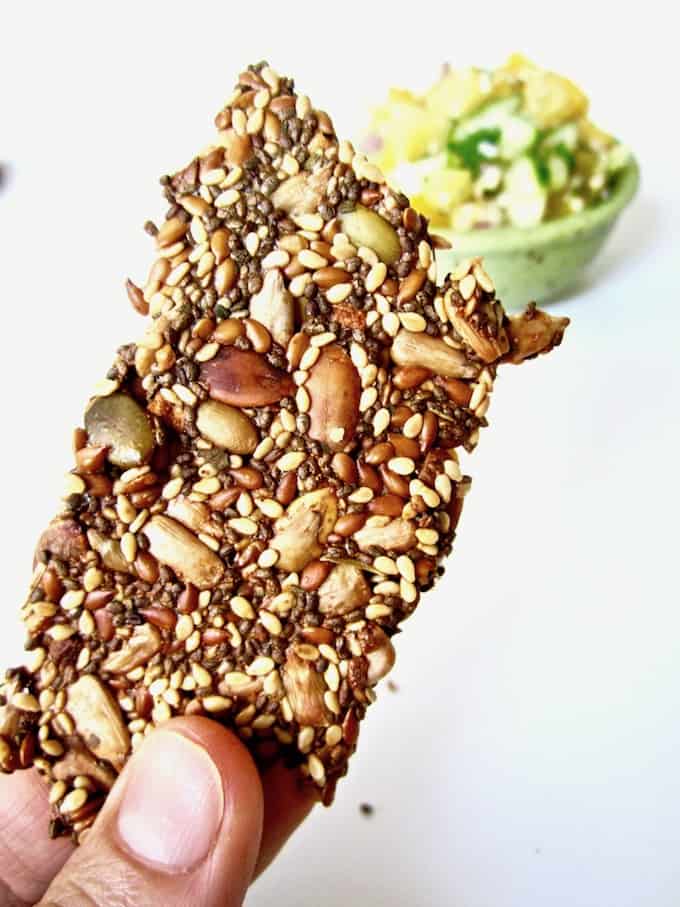 So why do these crackers rock?
They are…
crunchy!
super healthy
a great template – you can make a variety of flavors by mixing up the seasonings
versatile – pair with dips, spreads, vegan cheese, raw veggies veggies, avocados, etc.
Would you believe it if I told you that these crackers are literally ONLY seeds and seasonings?! No grains; no fillers. Pure goodness.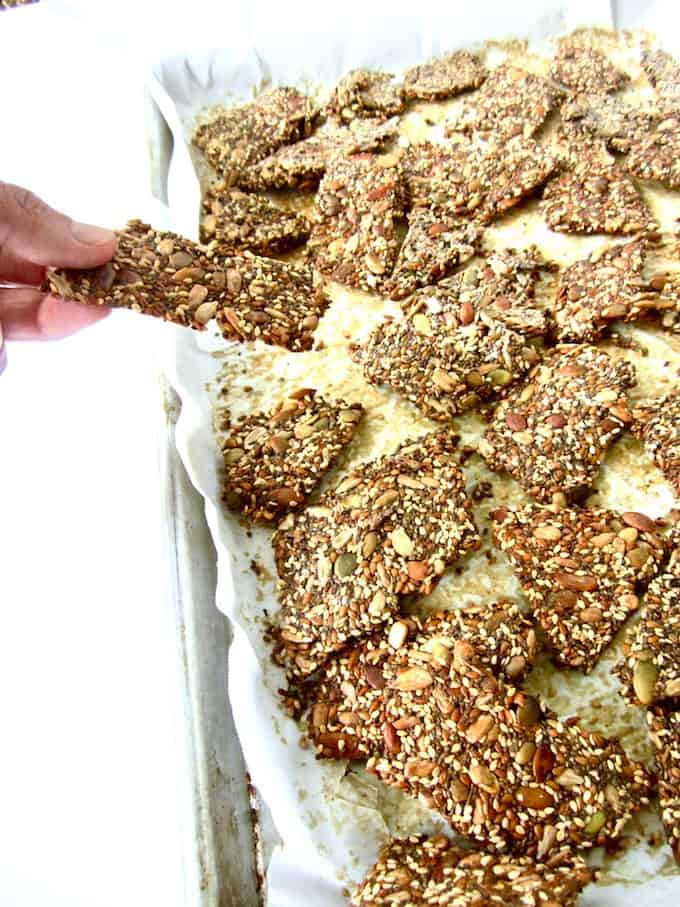 You simply combine a mix of different seeds with water and then let chemistry do its job. The water will expand the flax and chia seeds, making a gelatinous, sticky texture that you spread evenly onto a baking dish.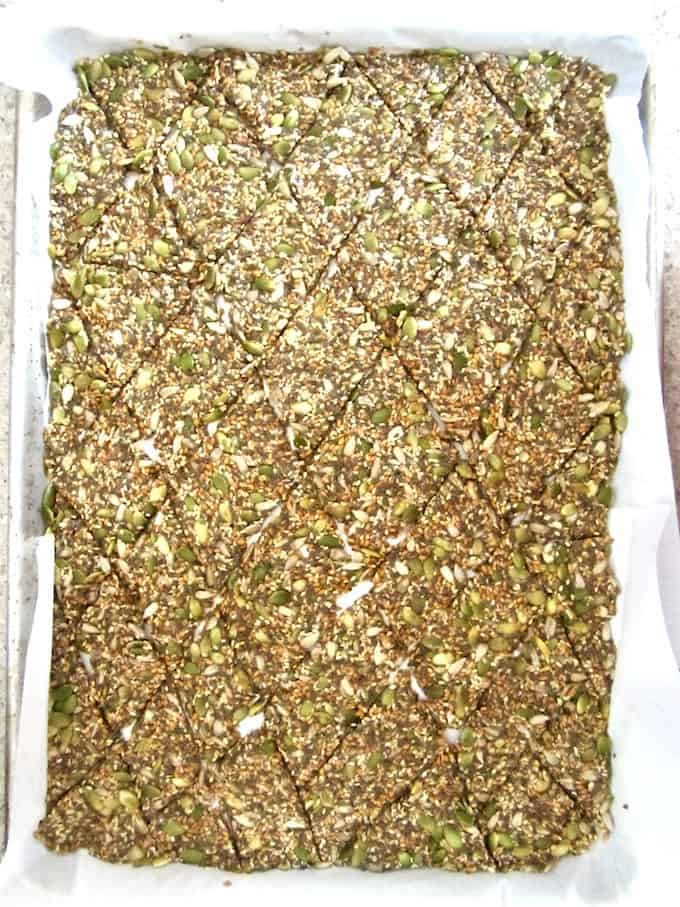 Then you lightly score the mixture with a knife or pizza cutter, making the crackers easier to flip half way through baking. Patiently wait an hour, and then your crackers are ready!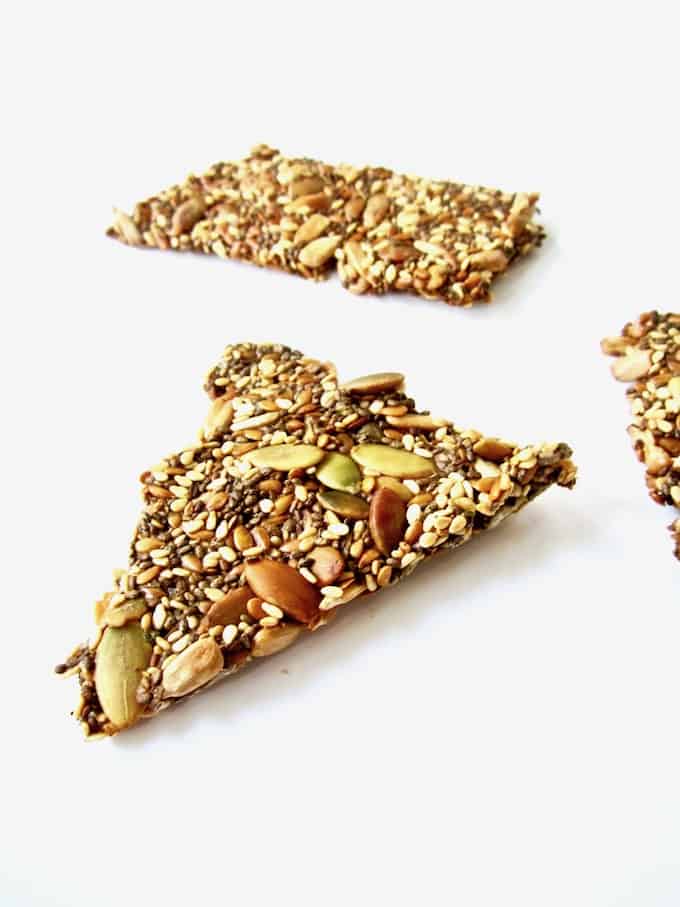 HEALTH BENEFITS OF SEEDS
Here are just a FEW of the amazing health benefits of seeds!
full of omega-3s
high in protein
abundance of antioxidants
lots of fiber
calcium rich
a great source of iron
an array of other minerals, vitamins and amino acids
What does this all mean? Just to name some of benefits that research has shown, eating seeds can contribute to energy boosts, heart health, reduced inflammation, enhanced immune system functioning, lower cholesterol and an increase in mood and brain functioning. YAY for plant based eating!
NOW, ON TO THIS SALSA…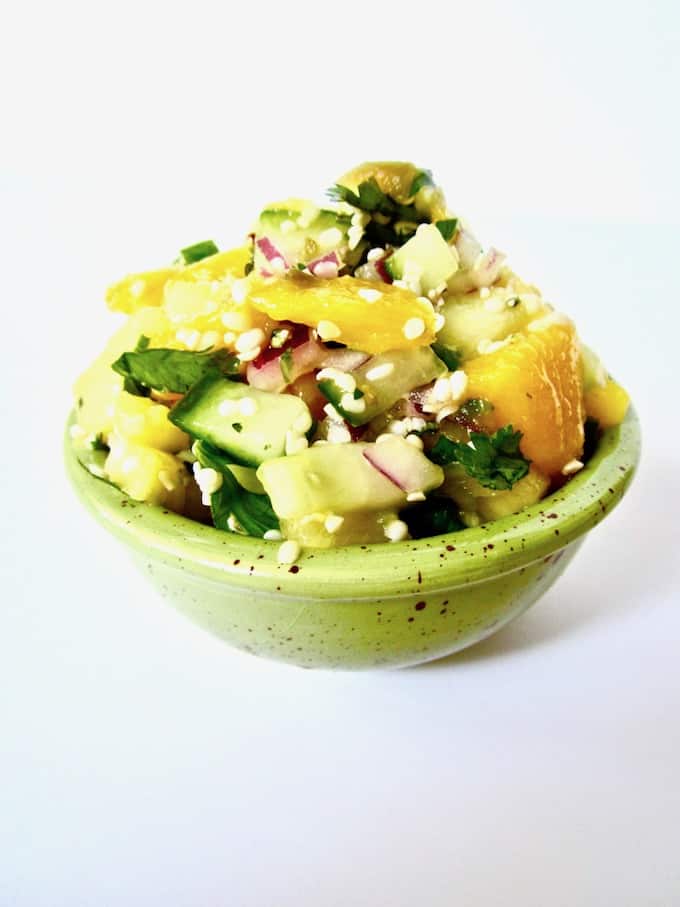 With summer nearly here, I was craving something fresh, fruity and crunchy to go with these crackers. Combining typical, zesty salsa flavors like lime, red onion and jalapeño… with the sweetness of pineapple and mango… with the cool crunch of cucumber… makes for a delicious chunky salsa, worthy of summertime! I also added a bit of hemp seeds, for a new flavor dimension and another punch of protein.
If you like your salsas less chunky, you can cut the fruit and veg into smaller pieces, or even consider throwing it all into a food processor for a couple quick pulses.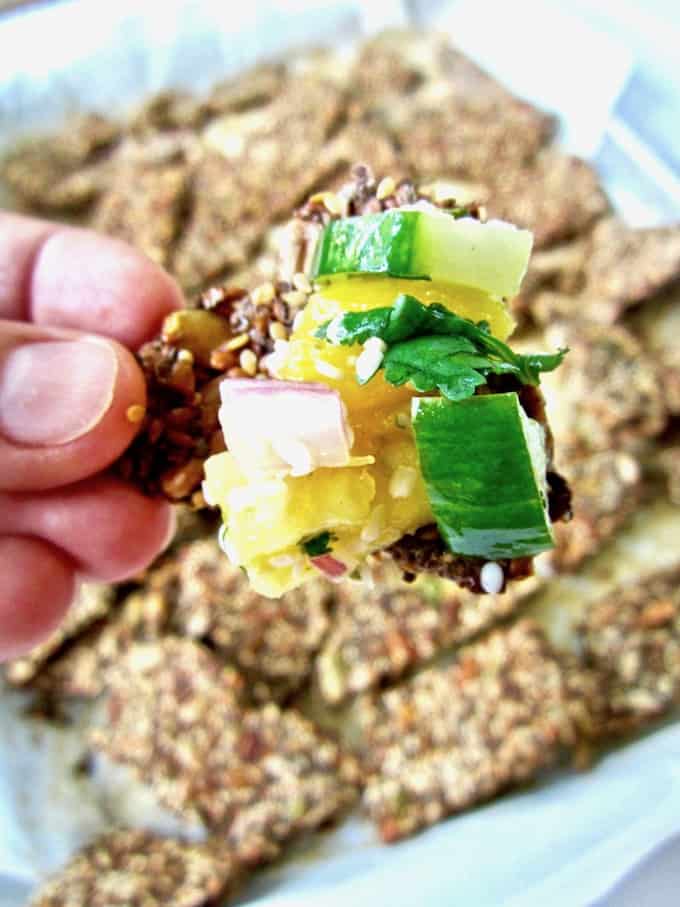 Sarah, what else can I do with this salsa besides dip crackers or chips into it? I'm so glad you asked! Ideas:
Mix into salads
Put on top of tofu or tempeh, like a chutney
Spoon on top of your morning chia pudding or warm cereal (oatmeal, flax, etc.)
Mix into a tofu or chickpea flour scramble
Stir into rice as a side dish for your dinner meal
I hope you enjoy these delicious snacks! For other sugar free snack ideas check out my Tahini Energy Balls, Raw Tomato Walnut Pate on cucumbers, or 5 Ingredient Cinnamon Protein Bars!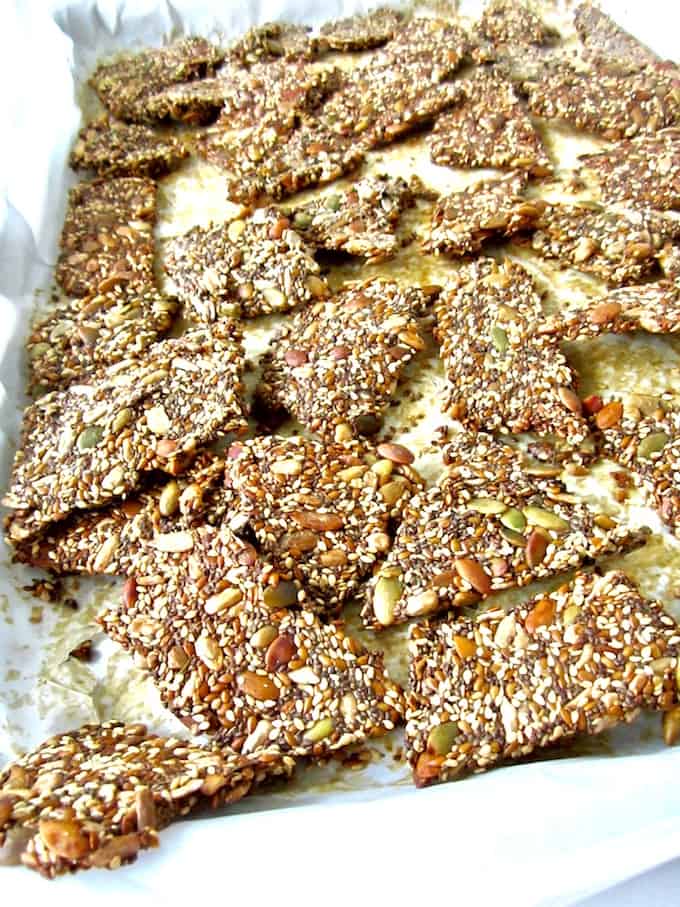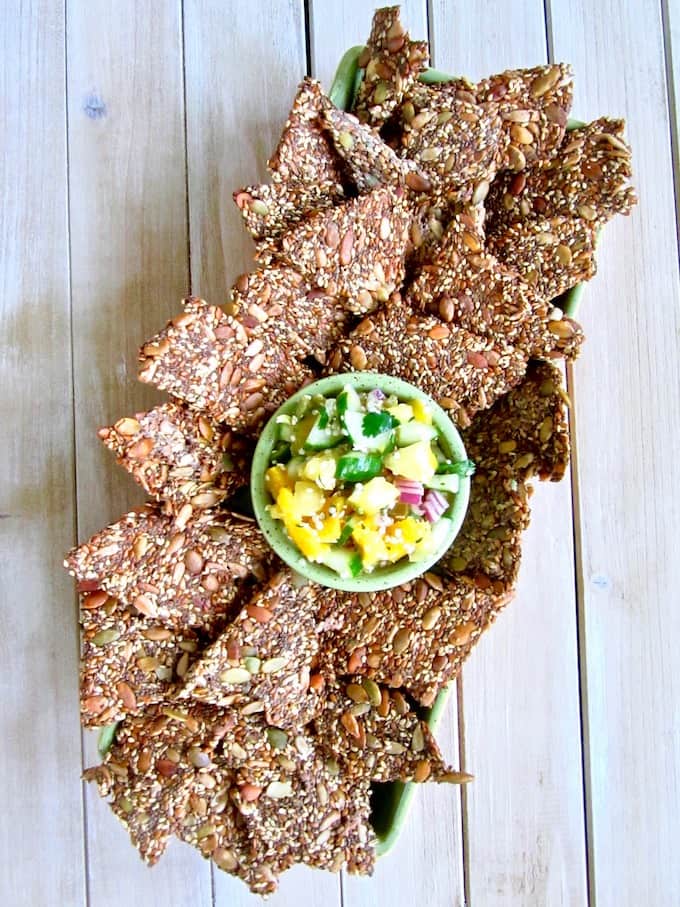 Sarah Newman, Vegan Chickpea
Grain-Free Multiseed Crackers + Mango Pineapple Cucumber Salsa
These super healthy, high protein crunchy crackers are made simply out of seeds and seasonings. Pair with fresh, zesty, sweet and chunky salsa for a great summer snack!
10 minPrep Time
50 minCook Time
1 hrTotal Time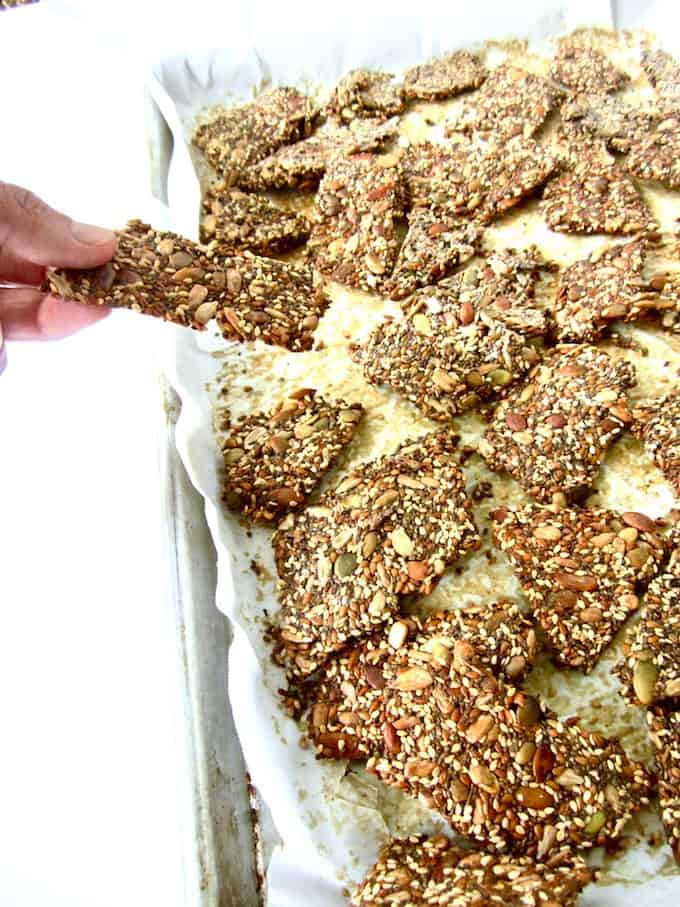 Ingredients
FOR THE CRACKERS:

1 cup water
1/2 cup whole flax seeds
1/2 cup chia seeds
1/2 cup raw sunflower seeds
1/2 cup raw pumpkin seeds
1/2 cup sesame seeds
1 Tbsp organic reduced sodium Tamari (regular Tamari is ok too, but you'll want to add less salt to counter balance)
2 tsp garlic powder
1 Tbsp Italian seasoning - or choice of any/all the following: rosemary, basil, thyme, oregano (i especially love rosemary)
1 tsp minced onion (can omit if you don't have it)
1 tsp salt, plus extra for sprinkling on top if desired
1/4 tsp pepper

FOR THE SALSA:

1 mango, diced
1 1/2 cups pineapple, diced
1 1/4 cups cucumber, diced
2 Tbsp red onion, finely chopped
1/4 cup tightly packed cilantro, chopped
1 Tbsp pickled jalapeño, finely chopped (or less for less spicy)
1/4 tsp salt
1 lime squeezed
3 Tbsp hemp seeds (can omit if desired)
Instructions
FOR THE CRACKERS:

Preheat the oven to 350 degrees F / 176 C.
Combine all ingredients into a bowl and stir until well combined. Let sit for 5 minutes until liquid is absorbed.
Line a large baking sheet with parchment paper and spray it with cooking spray. Spread the mixture evenly onto the sheet, all the way to the corners and make it as even as possible. You want the mixture to be thin, about 1/4 inch. (thicker is ok too, the crackers just won't be as crunchy). As you're spreading, if you spread TOO thin where the mixture comes up off the paper and leaves a hole, just redistributed some of the mix from a thicker patch to where it's thinner. It's not an exact science - the point is, just make it as even as you can!
Using a pizza cutter or knife, lightly score the mixture into whatever shapes and sizes you want - squares, diamonds, etc. Again, since the mixture is sticky, be careful not to press so hard where the mixture moves and mounds up.
Sprinkle the top of the mixture with more salt if desired.
Bake for 30 minutes. Take the crackers out of oven and flip them over. You'll need your knife or pizza cutter again now that the crackers are firmer. As you go, you can slice where needed to break them apart and flip.
Bake another 20 minutes (or 25 - 30 minutes depending on thickness). Let cool and store in an airtight container. For maximum freshness, consume within 5 days.

FOR THE SALSA:

Combine all ingredients in a bowl. Makes about 3.5 cups.
7.8.1.2
53
https://veganchickpea.com/grainfree-multiseed-crackers-mango-pineapple-cucumber-salsa/
Sarah Newman, SKN Creations