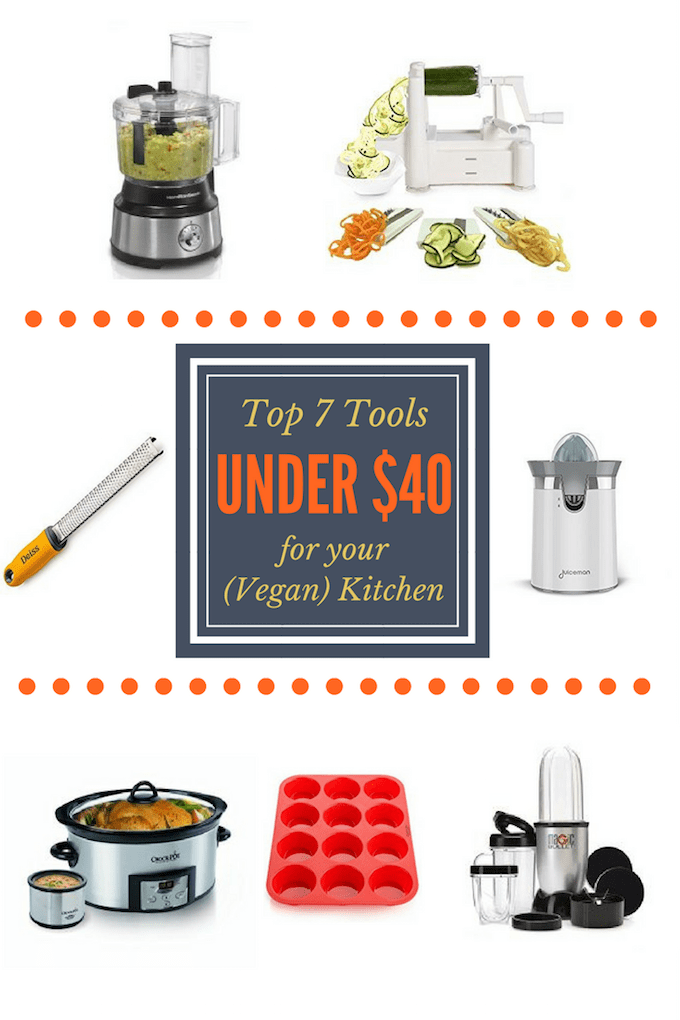 Today I wanted to put together a quick list of my top seven favorite, and AFFORDABLE, kitchen tools! It's likely that you already have some of these in your kitchen, but if not, the items on this list were picked because they are essential and/or score big on convenience. With the holidays not TOO far away, maybe some of these will make it onto your wish list. 😉
By the way, these tools are great for any kitchen, no matter your dietary choices!
So, let's get rolling.
(Note – prices listed are verified at time of publishing but are subject to change.)
1) A Food Processor
I bought this food processor last year and my absolute favorite feature is that it has a built-in scraper that you can swivel while in process, meaning that you don't have to stop and start the machine continuously to scrape down the sides with a spatula. It makes things a heck of a lot easier and faster!
I also like the 10 cup size as it holds quite a lot. Like many other models, it also comes with the chopping blade/slicing & shredding disc, a large feed chute, the standard S-blade for chopping, mixing and pureeing, and is dishwasher safe. Yay!
Recipes using a food processor:
2) A Blender
While high speed blenders like the Vitamix and Blend Tec are super nice and, some would say, essential for a vegan kitchen, they're also super expensive and not within easy means for all to afford (self included). Even if you do have a high speed blender, I love this little Magic Bullet for a quick smoothie, chopping nuts, grinding flax seeds, whipping up coconut cream, or anything quick where you don't want or need to get out the heavy duty high speed blender!
I also like how the two smaller cups come with drinking rims and lids so that you can drink straight from them (everyone likes less dishes!) or take your smoothie on the go.
Recipes using a blender:
3) A Microplane
A microplane is another name for a grater or a zester. I use mine usually a couple times per week on average – it's just so perfect for grating ginger, zesting lemons or shredding blocks of vegan cheese. It makes things super fast, comfortable and easy, and is dishwasher safe.
Recipes using a microplane:
4) A Spiralizer
OK, this one is not necessarily essential… but it sure is a lot of fun! After all, who doesn't adore zucchini noodles? While you can use a vegetable peeler instead for some spiralized recipes, the spiralizer gives you perfectly curly shaped, even noodles with 3 different noodle options – thin, medium or wide, and works much easier on sturdier vegetables like carrots and potatoes than a vegetable peeler would.
It has suction cups that stick to your counter to keep the base in place while you spin the handle. It's also BPA free and dishwasher safe.
Yes, it is a little bulky so takes up some storage space, but to me it's well worth it and much better than a vegetable peeler because of 1) the different blade inserts and 2) the versatility – you can spiralize not just zucchini and yellow squash, but carrots, beets, potatoes, parsnips, cucumbers, radishes and more! I prefer this to the hand held ones on the market because it's sturdier, well designed and just plain easier to use.
Recipes using a spiralizer:
5) Small Electric Juicer
I use fresh lemon juice a lot. In dressings, 'cheeses', stir frys and every morning in my water. Yes, you can squeeze the juice by hand, but the electric juicer is FAST, and gets every last bit of juice – so is especially great when you need more than just a squeeze. You can also use this juicer to make fresh orange or grapefruit juice.
Recipes using fresh citrus juice:
6) Silicon Muffin Pan
Why silicon? They're non stick, so your muffins pop right out (therefore washing them is also easier), and I've found them to cook more evenly than traditional pans. You can also use these to make frozen desserts (like mini cheesecakes or nut butter cups) and savory mini pies that won't stick to the pan, even when frozen.
They're 100% silicon so are BPA and filler free. Also dishwasher, freezer and microwave safe.
Recipes using silicon muffin molds:
7) Slow Cooker
I don't have a slow cooker in my Netherlands kitchen, and boy do I miss it! I used to use mine quite often for all kinds of recipes. My absolute favorite way to use it is to make lasagna!
I didn't have this exact model but I did have the Crock Pot brand (and know many others who do) and really like it. I recommend a 6 or 7 quart cooker so that you can make enough for you whole family (or just for you if you want to freeze some leftovers!); the 3 or 4 quart ones are a little small in my opinion.
This model's insert is removeable stoneware so you can serve directly in that dish instead of transferring your creation to something else, and it's also dishwasher safe. BONUS – it comes with a cute little 16 ounce warmer to keep your dips and sauces also warm while serving.
There you have it! My top picks. What tools in the kitchen can't you live without? I'd love to know in the comments below!
This post contains affiliate links. If you make a purchase on Amazon after clicking one of my links, your costs stay the same but I receive a small commission to help support Vegan Chickpea. Thank you for your support!
Save
Save
Save
Save
Save