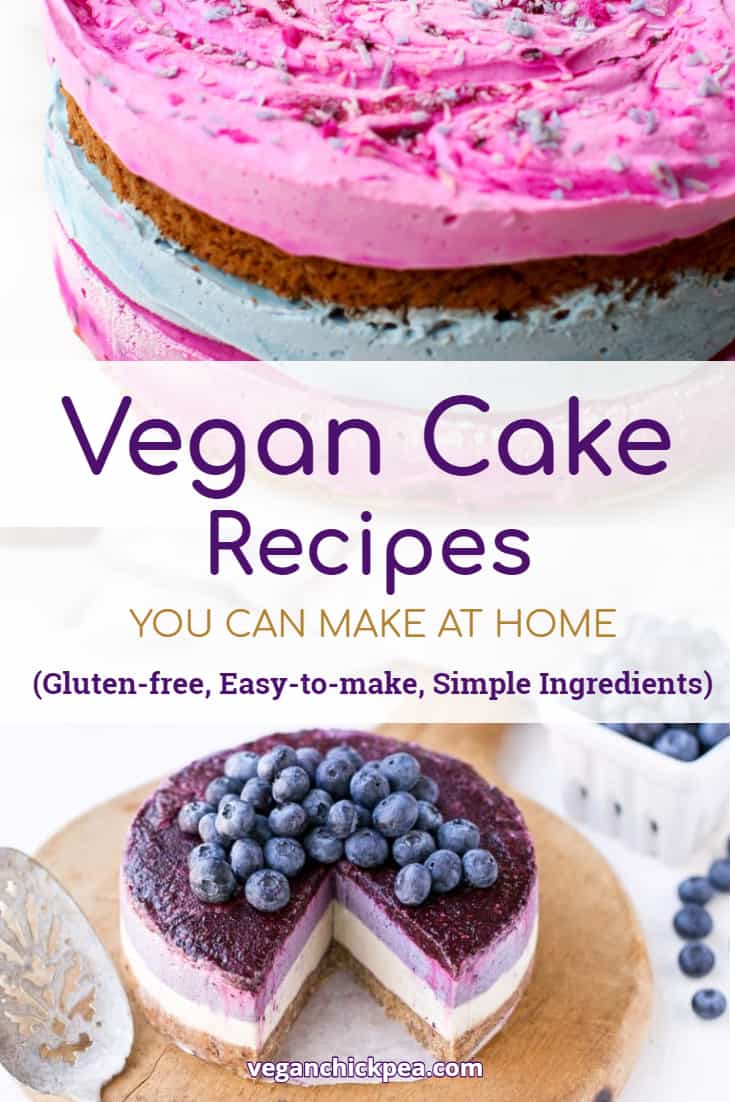 It's holiday season and it's that time of year to spread that holiday cheer by having a festive and delicious dessert spread. Everyone has their own party favorite but nothing says "celebrate" better than cake, right? So, how can vegans like us celebrate the season with a mouth-watering cake? Fret no more, my friends! Just because you've been good this year, we are sharing with you these 10 Vegan Cake Recipes. Every recipe is 100% vegan, gluten-free, easy to prepare and only requires simple ingredients so you won't worry about anything. You can easily make this from the comforts of your own home.
As one of the oldest form of desserts, there's a long history behind baking cakes using flour, eggs, milk, nuts, and honey. Tons of varieties emerged from years and years of reinventing this staple dessert and for every vegan's satisfaction, vegan cakes were invented. A major win, right? This means we don't need to skip the dessert table during parties anymore. I know that a lot of you are excited about these recipes but first, let us share with you what vegan cake is.
What is Vegan Cake?
Baking the traditional cake involves dairy products such as eggs, milk, and butter- so, in order to make it dairy-free and vegan, all we need to do is replace such ingredients with vegan substitutes. Replacing such ingredients with its vegan counterpart is challenging but that doesn't mean that it cannot be done and that you need to compromise the sweet taste of the cake. There are tons of vegan substitutes readily available in local groceries and all you have to do is do a bit of research to make sure it is exactly what you need. While vegan counterparts for milk and butter, such as almond milk and vegan butter, are readily available in every local market, choosing the best egg replacement is a bit tricky. Egg replacers have different cooking properties such as its leavening and structuring properties, which makes it a tad complicated to choose which one to best use in your recipes. However, with proper research, exploring which egg to use best for your cakes won't be a problem.
There are tons of delicious vegan cake recipes to choose from and a lot of them are new and enticing. The beauty of this round-up though is that we chose cake recipes that can be baked easily from your own home. Who said we can't have cake and eat it too? So get ready with your pins because today, we have 10 Vegan Cake recipes that you can bake at home to make your holiday season sweeter and every one of your guests loads merrier.
10 Vegan Cake Recipes you can make at Home
Peanut Butter plus chocolate plus cheesecake? Makes you wonder how something with this delicious combination can also be vegan, right? But yes, this delicious no-bake vegan cheesecake truly exist.  So if you're looking for an exciting centerpiece for your dessert table during the holidays, that is gluten-free, dairy-free, vegan, and paleo-friendly, then don't forget to check out the full recipe here.
Nothing beats a delicious slice of carrot cake to make one's day a little bit merrier. What if we tell you that there's a vegan, gluten-free, dairy-free carrot cake recipe that we can enjoy this Holiday season? Well, then let us tell you about this lightly spiced cake, which already tastes wonderful on its own, but top it with a sweet dairy-free cream cheese frosting, and you'll sure have everyone asking for seconds. Try this amazing cake recipe here.
Everyone knows that beetroot recipes are having a good following in the vegan community so why not make a cake out of it, right? We've got it here. This Ultimate Vegan Chocolate Beetroot Cake is not just vegan but it's also oil-free and gluten-free. Check out the recipe here and show the recipe maker some love.
This is one of the most creative vegan cheesecake recipes we've seen for a while. Our favorite part? It's vegan and gluten-free. Make sure to consider serving these in the upcoming holidays. Grab the recipe here.
Going for something raw? These Raw Vegan Chocolate Coffee Cheesecake Bites are perfect for the holidays. The crunchy crust pairs well with the creamy coffee and chocolate layers. Not only does it take less than 30 minutes to whip up, but you'll only need six ingredients to make this delicious cheesecake bites. Non-vegans will never know the difference. Grab the recipe here and be the cool hero with the new tasty treats this Christmas.
For times when the traditional cake doesn't cut it, there are more fun and colorful desserts like this Vegan Cotton Candy Ice Cream Cake. But don't worry, it's still vegan, gluten-free, and yes, you guess it right, absolutely delicious. This layered cotton candy cake is definitely a conversation starter when you tell them that it's vegan and gluten-free. Both your adult and kid guests will definitely have fun munching on this. Grab the details here.
If you're looking for something exciting to make for your parties or to bring to parties, then these bite-sized party favorites are the way to go. With its aesthetically pleasing appearance, its captivating taste, and its soft texture, this recipe will not disappoint. This delicious recipe is a beautiful marriage of the rich decadent flavors of dark chocolate and the refreshing taste of mint. Vegan, gluten-free, dairy free, egg and soy free and sugar-free. What more could you ask for? Check this link for the recipe and you can thank me later.
Just because we all need more than one cheesecake recipe in our lives and in our recipe books. This simple and elegant no-bake vegan chocolate cheesecake recipe is packed with flavor and creamy texture that you won't get enough of. Be sure to check out the complete recipe here and serve these tasty creations to your friends and loved ones this holiday season.
If you love coffee, and you love cupcakes, and you're an absolute vegan, then I'm certain that you're going to absolutely love these deliciously creamy coffee cupcakes. We think that tasting coffee in every little bite makes this recipe a whole lot more intriguing and exciting. Want the recipe? Snag it here.
This no-bake layered blueberry cheesecake is an amazing, easy-to-make, flavor-filled, and vegan cake recipe that takes under an hour to make. You can even get creative with this recipe and top it with different fruits and this will definitely be a party favorite. Get the recipe here.
Which one are you going to make?
Show off these amazing vegan cake recipes during your upcoming parties and make sure to let us know about their feedback in the comment section down below.
More of these amazing recipes here and let us know what round-ups you want next.