Gluten Free & Vegan Food, Tips + Travel Reviews in Kona on the Big Island, Hawaii. Get ready for some mega mouthwatering cafes, markets and magical adventures that define this beautiful island. Aloha!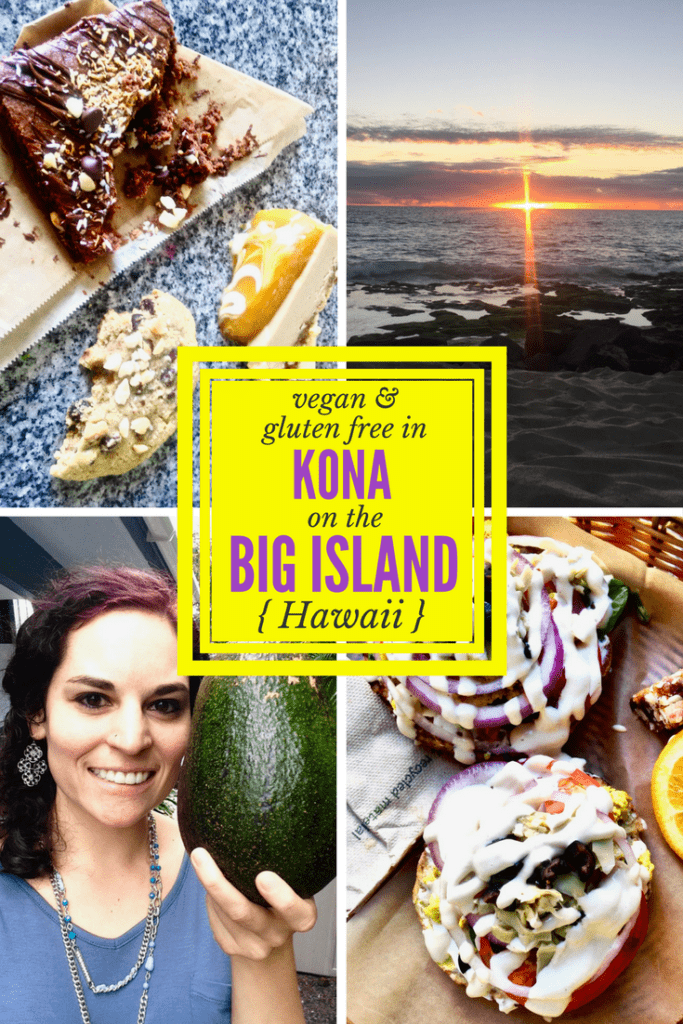 This year I had the pleasure of getting to live in Kona on the Big Island of Hawaii for two whole months!
Why? you may ask. Well, one of the reasons I love working virtually is that it gives me the freedom to work from wherever, as long as I have my laptop and an internet connection. Freedom is important to me and I'm so grateful to live in this digital age!
(If you want to learn how to start a virtual business or blog, check out this post on What I've Learned My First Year of Food Blogging + 7 Tips For How to Start a Blog.)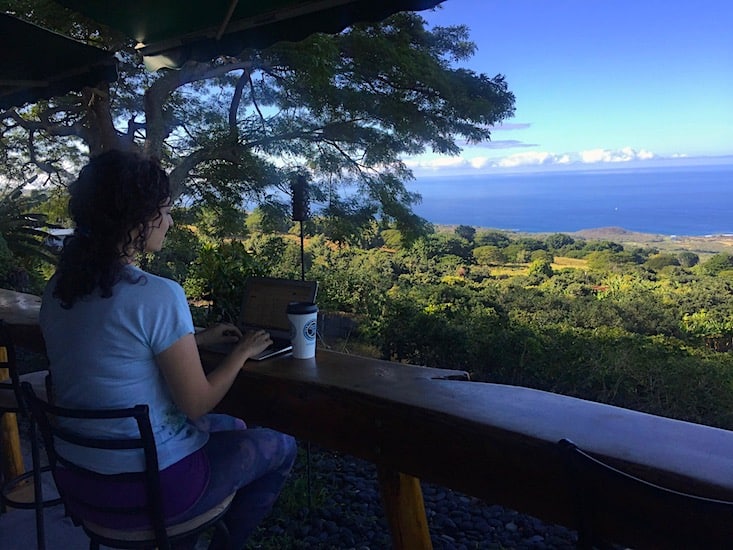 Around Christmas last year, my brother, sister and I realized that we all actually have this in common: income streams that allow us to work remotely. My brother David felt called to go spend some time in Hawaii, and my sister Elizabeth and I thought, "Wait a minute… why don't we ALL go together?!"
It was just crazy enough to be an awesome idea. My brother and I were both going through some big transitions in our lives, and my sister was craving an adventure; it was the perfect formula to say, "Why the hell not!?"
As adult siblings, we hadn't all three spent extended time together beyond holidays and family trips; but, we're all very close and realized this was a perfect opportunity to spend a couple months just getting to enjoy living in our day-to-day lives together, with some magical Hawaii-ness thrown in. At best, it'd be one of the most special times of our lives; at worst, we'd learn from it and know our needs better for any future living arrangements and spontaneous travel ideas.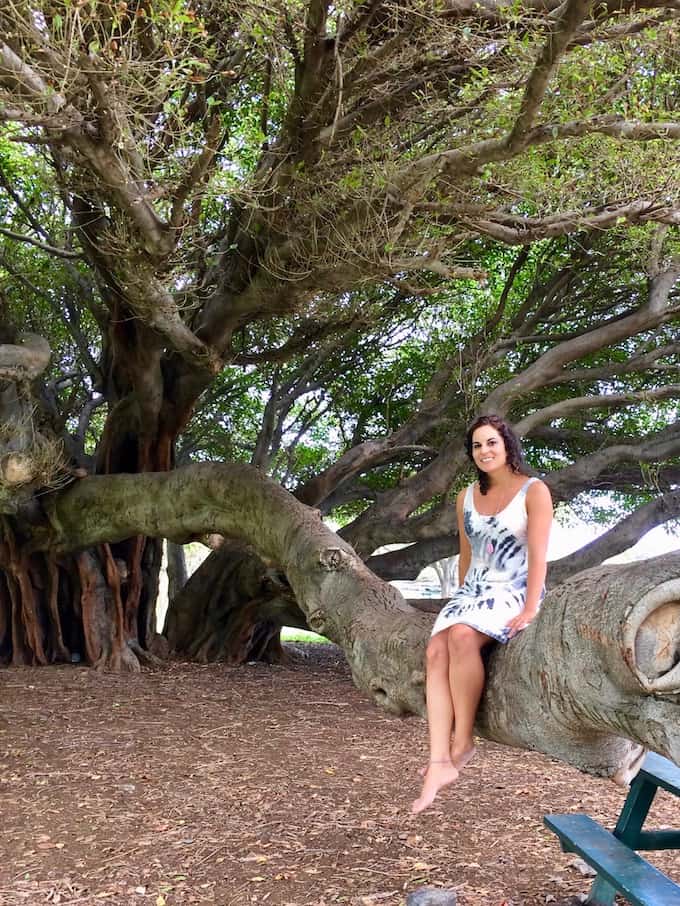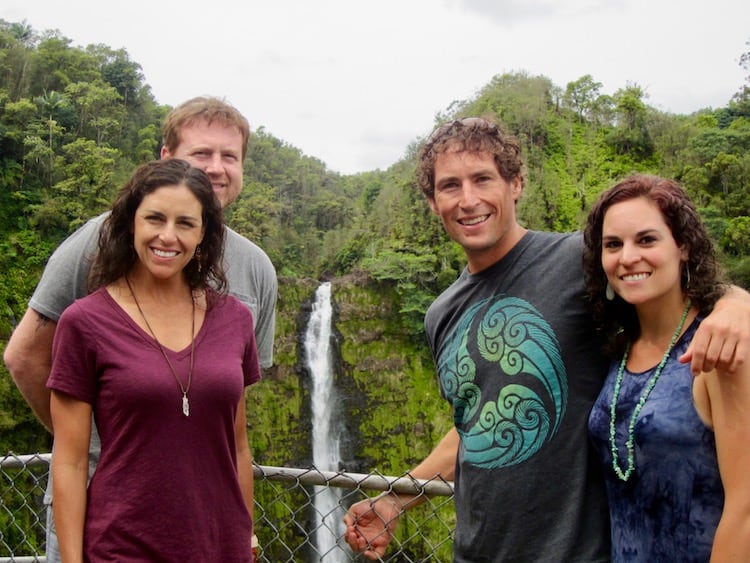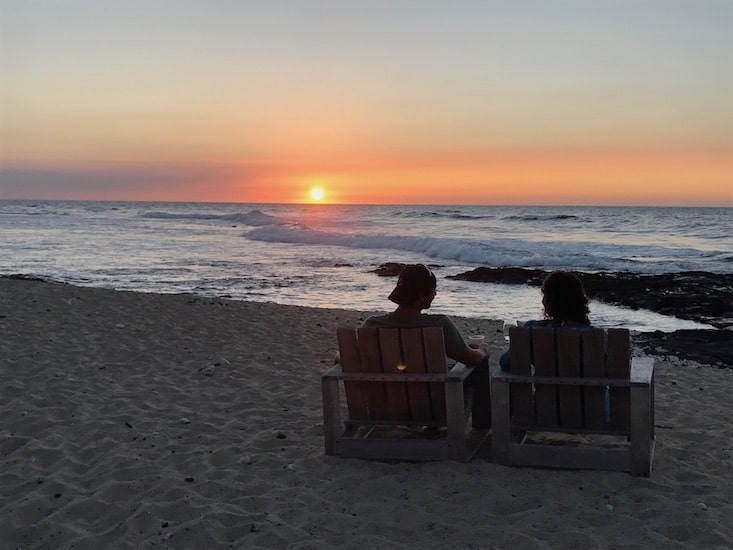 So, just a couple weeks later, the universe aligned and all fell into place – a modest 3 bedroom house with a 2 month lease, a friend's car we could borrow and share while we were there, and 3 adventurous siblings, all with one way tickets (plus my brother-in-law Kevin who joined us a few weeks in!).
It was such a rich experience to get to share our days and explore the abundant beauty that is Hawaii – an island that contains 8 of the 13 different climate zones in the world, each one with a unique ecosystem ranging from windswept coastal dunes and beaches, to snowy alpine deserts (yes, the mountain Mauna Kea is snow capped!), to an active volcano (where we got to see live lava flowing – truly miraculous!) and much more. This small patch of dynamic land in the middle of the Pacific Ocean, thousands of miles from other land masses, has so many obvious and hidden gems to be admired and evoke a sense of awe and wonder.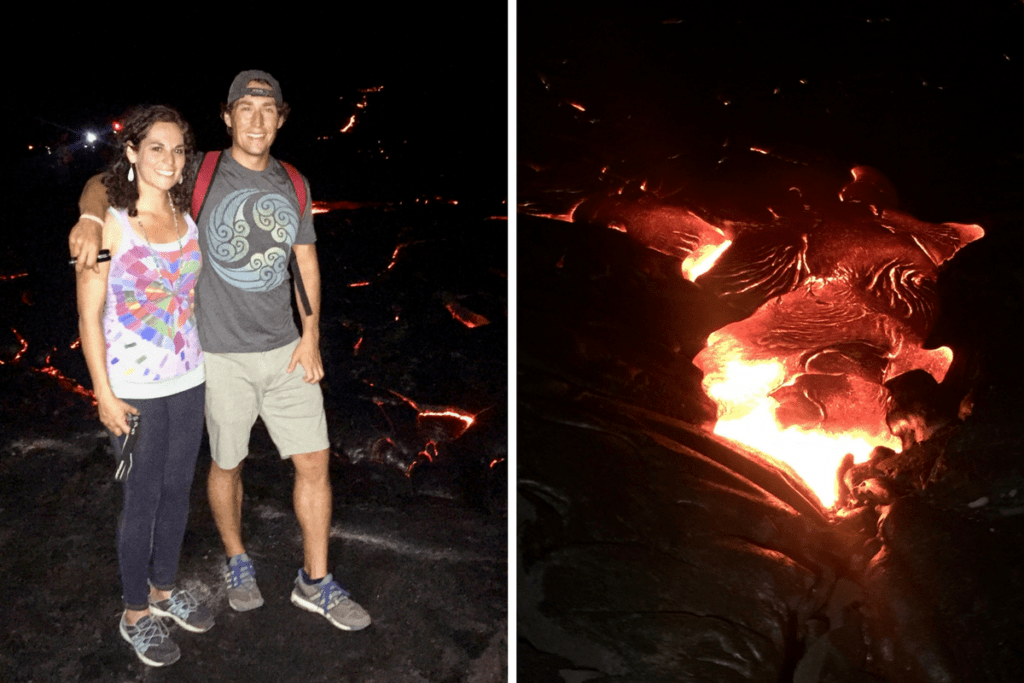 One thing I absolutely love about Hawaii is the wildlife! Being out in the ocean and seeing colorful fish or a gigantic sea turtle swim by, or driving up in the mountains and seeing a wild pig walking on the side of the road. The abundance of colorful birds woke us up like clockwork early each morning, with a symphony of eclectic noises that made me feel like I was in the middle of the jungle.
One of my favorite experiences was getting to swim with hundreds of wild dolphins! David woke me up spontaneously early one morning and told me to get up because we were leaving in 10 minutes to go get on a boat and have a magical day… and so we did! Right in the Kona Bay we got to snorkel while the dolphins swam all around us, jumping out of the water and playfully showing off. It was such a special experience – I'm so grateful for it!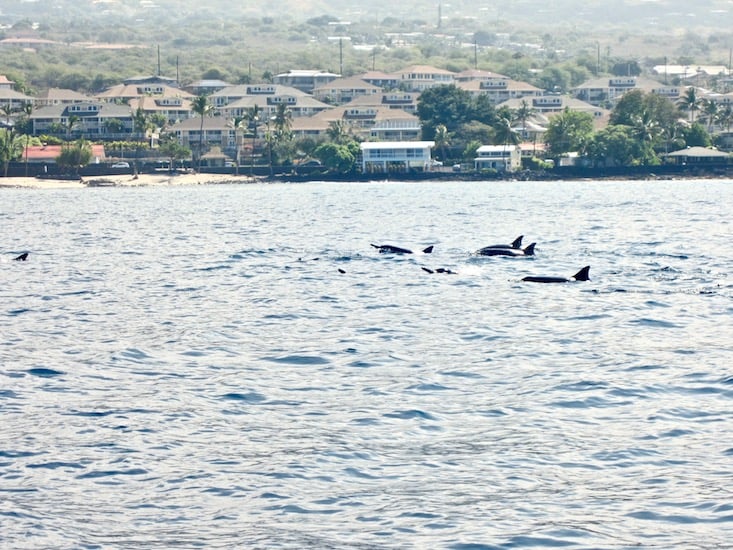 Another cool experience was getting to see whales off the shore one day we went to the beach. It looked like a mom and her baby, migrating from the Big Island headed towards Maui and, eventually, up towards Alaska. I'd never seen a whale in the wild before! We also got to snorkel with the enormous Manna Rays one night (yes, it was dark!) which was another mind-blowing experience.
Another thing I loved was getting to cook for a family who all loves healthy food (instead of just solo cooking for me). I also got to be the 'chef' for an awesome local yoga studio called Yoga Hale during their 21 Day Spring Clean Eating Challenge! I made some Facebook live videos about meal planning, which you can find in this post or on Facebook here.
Some of my most recent favorite recipes were also birthed during this time with my squad of enthusiastic taste testers to give me feedback, including:
I could go on and on about Hawaii and it's magical 'mana' energy, but this post is really meant to be focused on vegan and gluten free food, restaurant reviews and tips for my fellow foodie travelers. So without further ado, here are some of my favorite places I discovered along the way!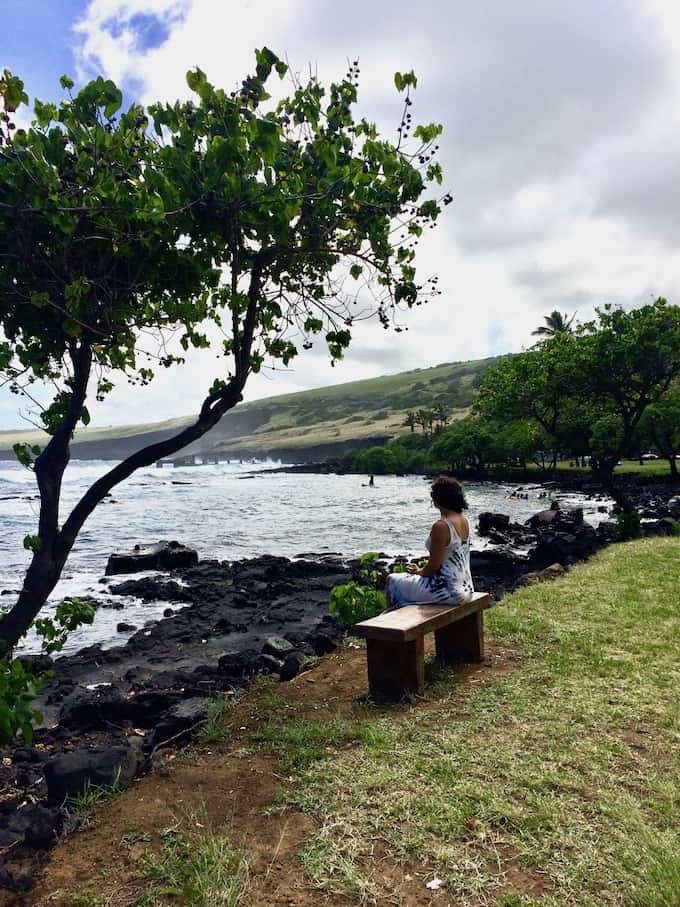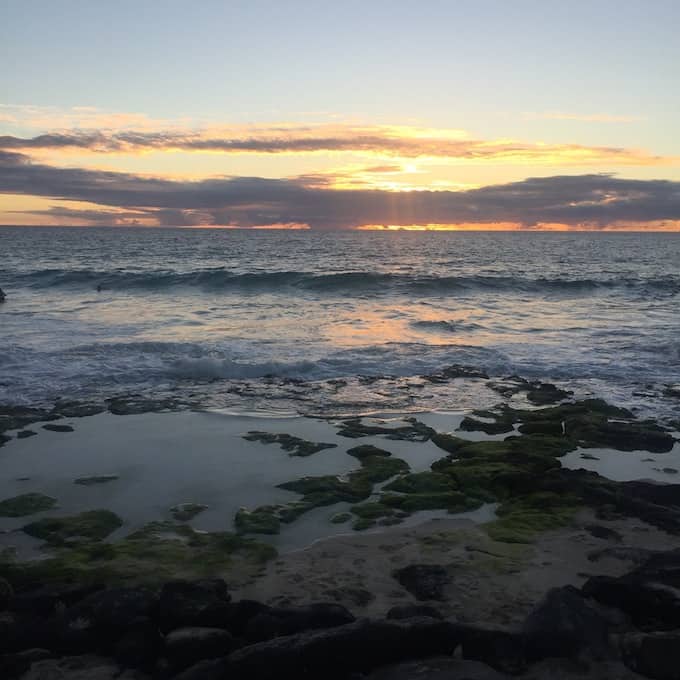 KAYA'S ORGANIC STORE: Many Vegan & Gluten Free Baked Goods, Sandwiches + Coffee
My love for Kaya's is vast. It's a small, unassuming organic cafe on the side of the road that has a range of sandwiches, coffee drinks and an incredible display of baked goods that changes daily, as well as local art and goods for sale. I seriously couldn't go in there without ordering at least one (or sometimes admittedly two!) sweet treats – everything from cookies to muffins, scones to brownies, granola bars to pies. Not everything is vegan and gluten free but the vast majority is!
Some of the vegan and gluten free deliciousness I tried (over, ahem, multiple visits!) was the chocolate chip cookie, cream cheese brownie (one of my favorites, pictured below!), lemon poppy seed scone and the strawberry almond oatmeal cake. One day Kevin got a S'mores Granola Bar (also pictured below) which was so tasty that it inspired my recent creation for this S'mores Oatmeal Cookie Skillet Cake recipe.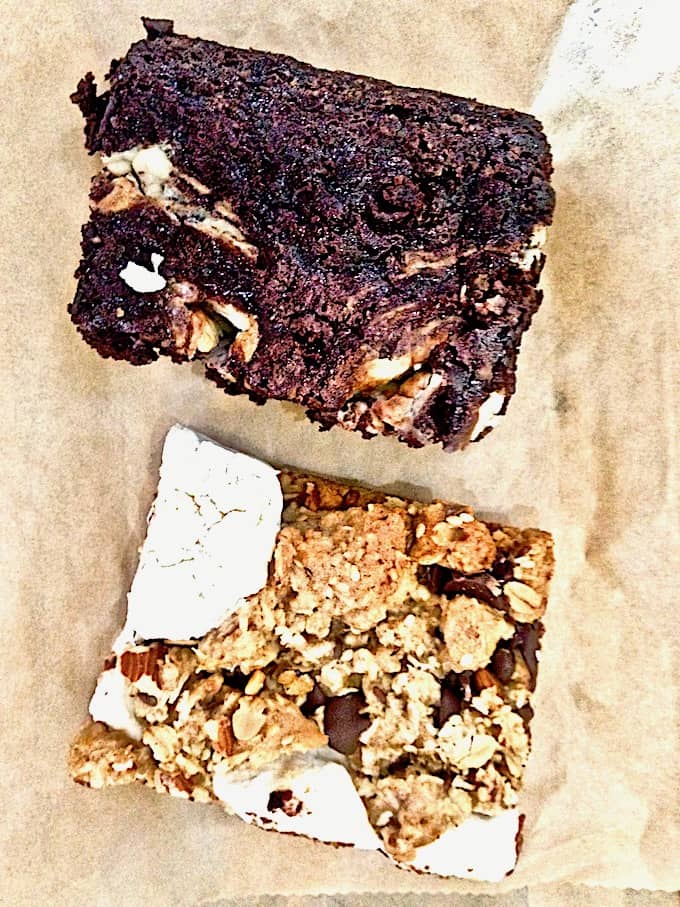 They also have a variety of milks to choose from including hemp, coconut, almond and soy, with some creative drinks like a cardamom lavender latte – which I tried and enjoyed (though wouldn't drink regularly, but it was a nice way to change things up!).
Just like a lot of places in Hawaii, they also have local kombucha on tap, which I became slightly addicted to while I was there. It's filled with gut healthy probiotics and has that effervescent fizz, perfectly refreshing for hot afternoons!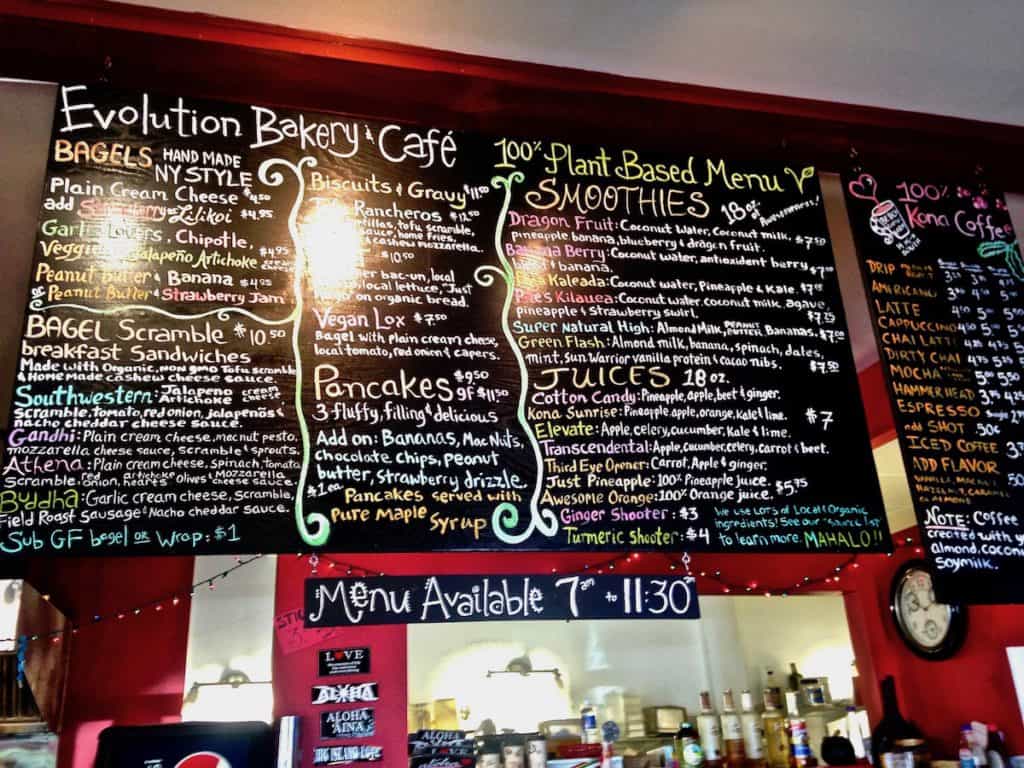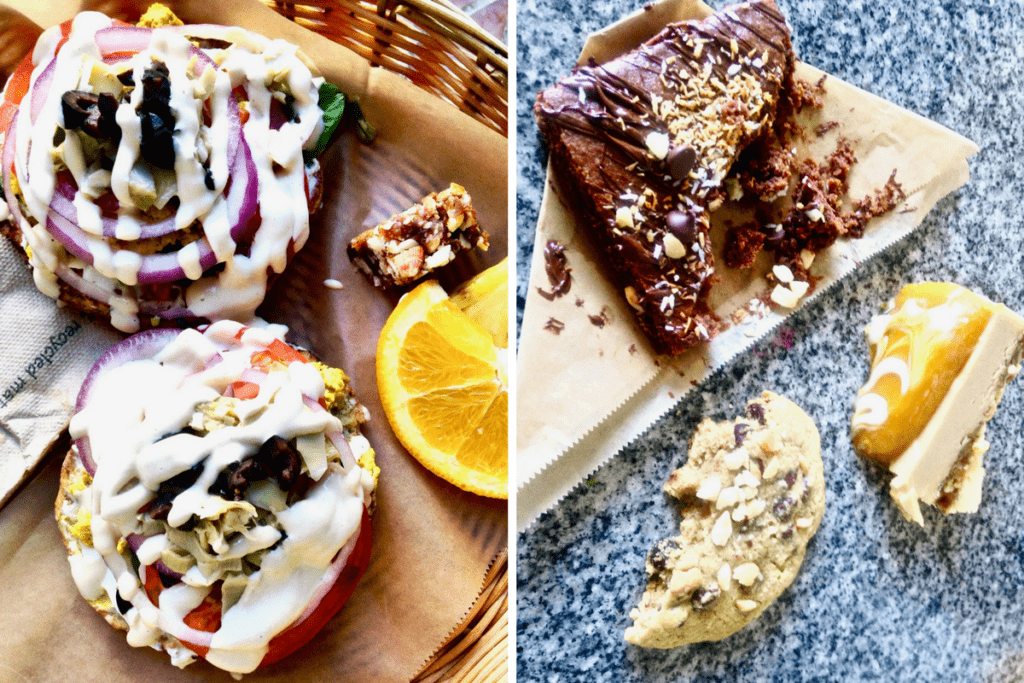 Evolution Bakery & Cafe is a casual, order at the counter 100% plant-based cafe and coffeeshop. Their coffee is delicious and their tofu scramble bagel breakfast sandwiches really hit the spot (pictured above, left)! My non vegan family enjoyed the sandwiches too, so it's a safe bet to eat here with whoever you're traveling with.
They have gluten free vegan bagels too (score!) and a range of different toppings – the one pictured above is the Athena, with tomatoes, onions, vegan cream cheese, tofu scramble, artichokes, black olives, spinach and a generous mozzarella cream sauce. Another time I went for lunch and had the Gandhi with cream cheese, macadamia nut pesto, tofu scramble, sprouts and the mozzarella cream sauce. Both were excellent!
Unfortunately I never got to try their pancakes, smoothies or juices, but they all looked yummy and vibrant too. Their sweets, honestly, weren't that great. We sampled quite few over the weeks – chocolate chip cookies, brownies, cheesecakes and more – but they never quite tasted right. I'd definitely opt for Kaya's instead for your sweet tooth fulfillment! 😉
'AI PONO: 100% Vegan Food – Dinner Cafe
'Ai Pono is another order at the counter dinner cafe, attached to Evolution Bakery & Cafe. I went there twice and both times they were out of a lot of items, but the food I had was really good!
My favorite thing was the Jackfruit Tacos with cashew cheddar and cashew sour cream, which seriously tasted like 'real' shredded pork tacos. My brother and sister agreed! (Apologies, by the way, about the crappy picture below – you can't even see the jackfruit! I must have been really hungry.) 😉
The Pineapple Fresh Catch was a tofu filet topped with pineapple salsa and served with toasted coconut brown rice. I thought it was also well done!
As I was just googling 'Ai Pono, it appears as if the cafe has now closed. Oh no! Bummer… maybe it will open again?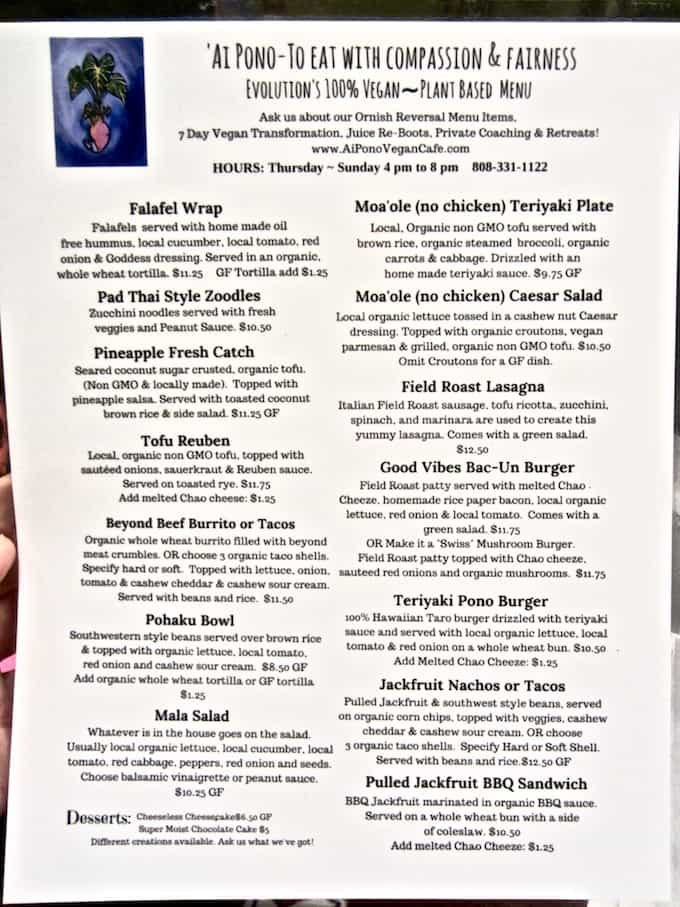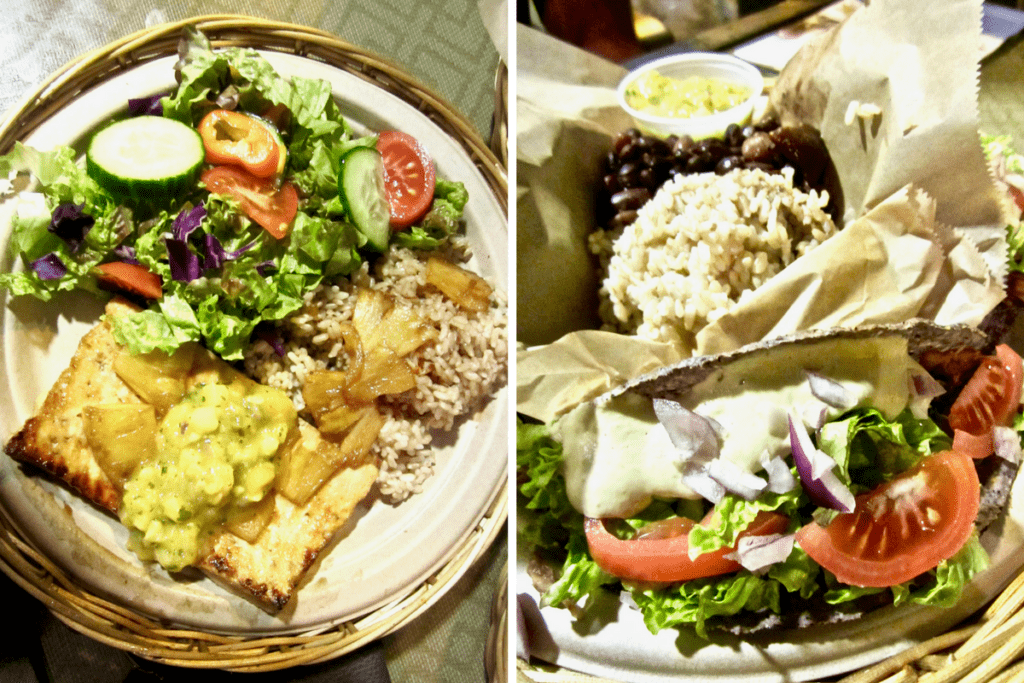 Get Sum Pizza also shares a space with Evolution Bakery & Cafe, serving lunch and dinner. When I went to Evolution to work for a few hours over lunch, I could just smell the yeasty, doughy smell of pizza and tomato sauce being baked, which we all know is totally mouthwatering.
Get Sum Pizza has a gluten free vegan crust option (they run out of it sometimes though so be sure to call ahead!), made out of local breadfruit (also called 'ulu'), tapioca and brown rice flour. Breadfruit is locally grown and is very rich in starch, so when cooked, is almost potato-like or similar to freshly baked bread. Cool eh? The crust is really amazing – even my non GF family really enjoyed it! – though it's a steep $8 upcharge.
To keep it vegan, you can go cheeseless or opt-for Daiya cheese for another $6 (so yes, that's a total of $14 extra for the vegan and gluten free crust and cheese, on top of the regular pizza price – but for a splurge or pizza craving, it's totally worth it!).
Sadly I have no photo of this pizza… it was late one night after a long day in the sun on the beach, and we totally tore right into that pizza like vultures without a second thought!
Annie's Island Fresh Burgers mainly has beef burgers but, fortunately for us vegans, also has portobello burgers and a yummy, crispy homemade taro burger (taro is a starchy root vegetable). They have gluten free buns too, though honestly I'm not sure if those are vegan. I only ate here once but it was exactly what I wanted in that moment!
Plus, they have garlic basil fries that were insanely delicious – I'd go back just for those! They also had fun and tasty mocktails – I had the passionfruit spritzer.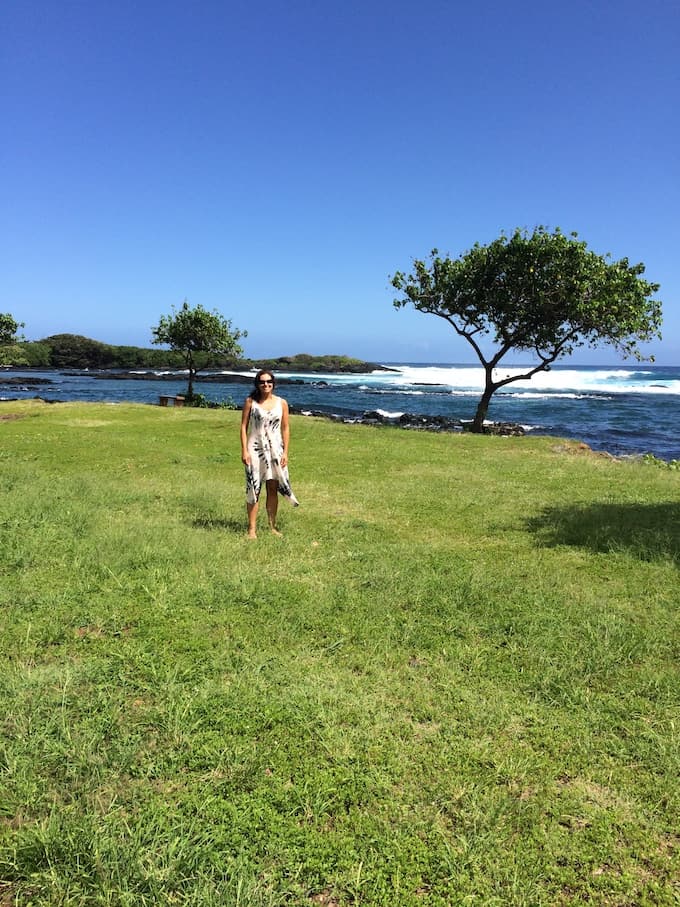 There's always one token health food store in small towns, right? This one is outside the main town, about a 15 minute drive. It's what you would expect, with a decent yet small selection of health products at a steep price. Still, I was of course grateful for it but tried just to get my specialty products there. They also have a bulk section which is really nice and I definitely utilized that as well.
Island Naturals has a hot bar, kombucha on tap and a selection of some pre-made treats and snacks. I tried the curried tofu salad one day and really enjoyed it. They also sell local food and products, like macadamia nuts and Vegan Aloha products. Vegan Aloha is a local company that hand produces plant-based delicateses out of macadamia nuts. They also make a European Style Cultured Butter that was AMAZING, but I only discovered it a few days before leaving the island. Darn!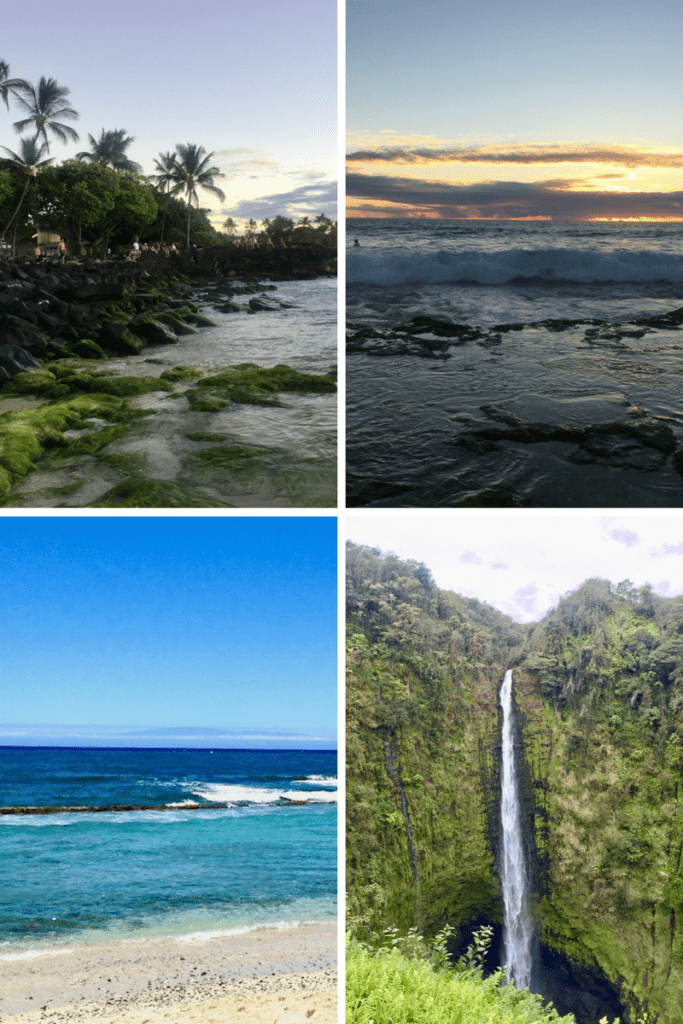 In Hawai'i, there are Farmers Markets galore and small little vendors in huts on the side of the road. They sell, of course, a variety of local tropical fruits and veggies including fresh coconuts, bananas out the wazoo, apple bananas – a local favorite (smaller, plumper and slightly more tangy/less sweet than standard bananas), mangos, papaya, ginger, limes, lemons, oranges, pineapple, and avocados the size of my head – literally! (Photo evidence below.) I got creative with my avocado uses and it inspired the birth of this dreamy Chocolate Peanut Butter Pudding dessert recipe.
The markets also sell other lesser known fruits like breadfruit (see the Get Sum Pizza section above), lilikoi (passionfruit) which are HUGELY popular all over the island (literally lilikoi everything – margaritas, kombucha, cheesecake, etc.), starfruit, lychee and pitaya or dragon fruit. I know there is way more that I didn't get to sample in the plethora of abundant options!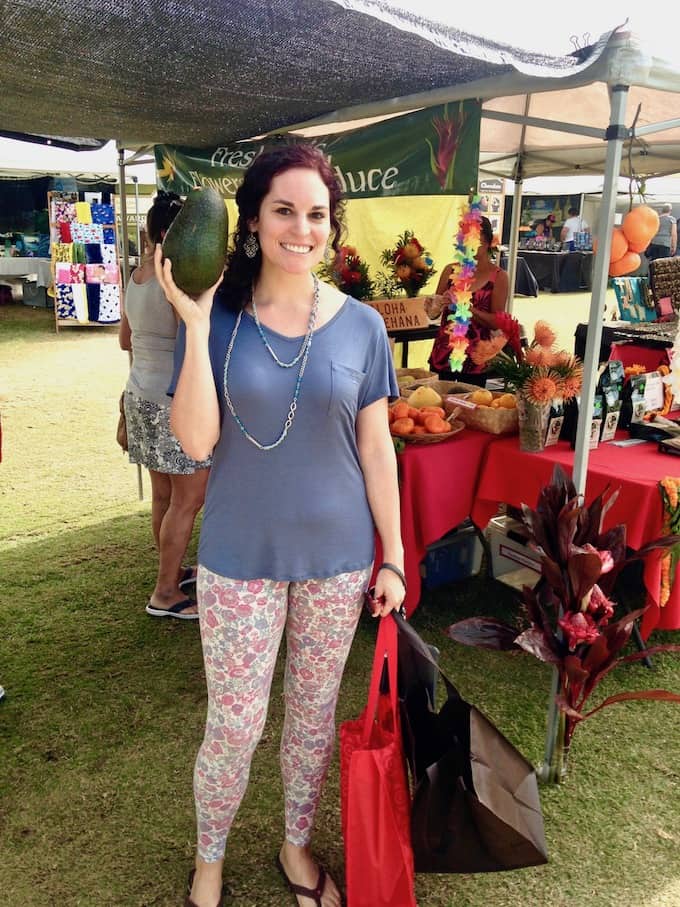 Of course the markets also have Hawaiian staples like macadamia nuts in all types of flavors – curry, garlic and onion, salted caramel, coffee, vanilla, spicy cayenne, you name it! – and Kona coffee (there are hundreds of coffee farms on the Big Island!).
Other gluten free vegan finds at some of the markets include things like kale chips, fresh spring rolls, kombucha and raw chocolates. One market even had a food truck with some vegan and gluten free food but I sadly did not get to try it as I had just eaten.
WHERE TO FIND THE MARKETS? This website is a great resource, and also – ask the locals!
There is one small market in Kona next to the Sheraton Hotel every Wednesday morning that I enjoyed, and one (mainly with produce) in the Keauhou Shopping Center on Saturday mornings (near the KTA grocery store). My favorite ones are the South Kona Market on Sunday mornings (just past Captain Cook) and the Waimea Market on Saturday mornings (about an hour drive from Kona).
On the opposite side of the island is a town called Hilo with the largest, most well known market. It's every Wednesday – Saturday with over 200 stalls of food, crafts, clothes and jewelry. I only went there once but there were some foodie gems, like the Big Island Palani Gluten Free Bakery (pictured below) who had vegan chocolate bread for sale. Yes please! We slathered some almond butter on that baby and it was de-lish!
This is not food related, but once a month on Sunday afternoons there is a Village Stroll in Kona town filled with a variety of vendors with awesome products that would make great gifts for yourself, or whomever you want to bring home a memento to!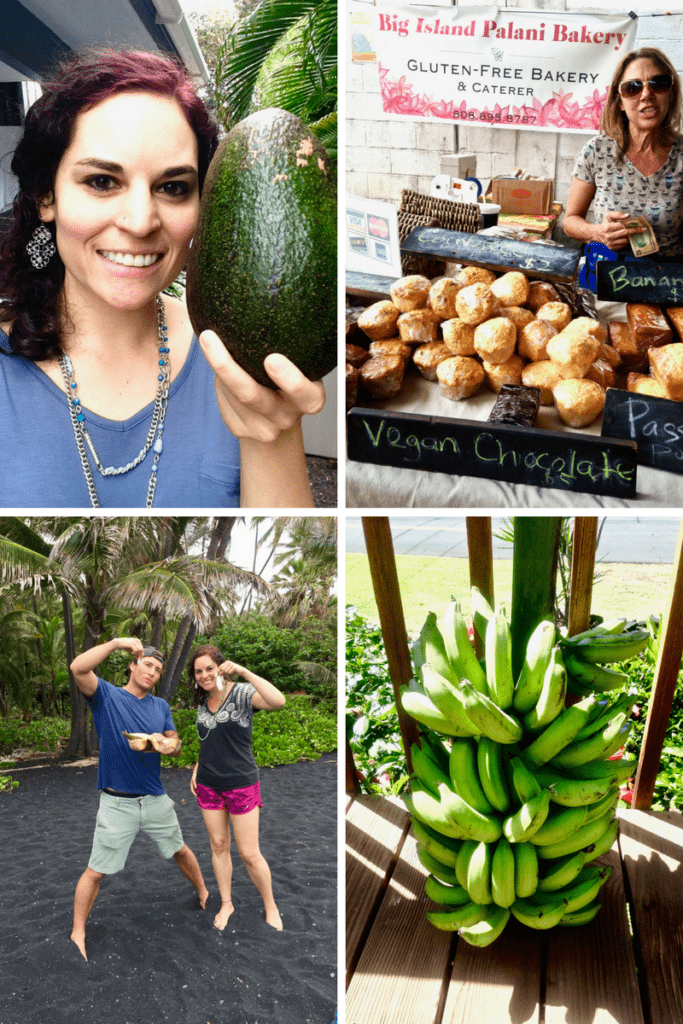 BEE BOYS – SUSTAINABLE BEE KEEPING
While honey production and bee by-products (bee pollen, wax, etc.) are NOT vegan, there is more to the story about the need for us all to become bee stewards that I learned more about while on the Big Island. Synchronicity would have me meet Kevin, one of the co-founders of BeeBoys.Org, and I had the opportunity to interview him in person to learn more about his stance on this topic and why he considers himself a 'beegan' (instead of a vegan – clever right?).
While I still don't consume honey or bee by-products – and definitely feel that the vast majority of standard industry bee production is exploitive and harmful to the bees and our ecosystem – I also feel it's always important to dig a little deeper and really understand the root of any stance or opinions we have. I learned a ton in the interview that has now changed my perspective about sustainable beekeeping practices, and I highly recommend you check out this educational post and video interview on The Surprising Truth About Honey Bees, Sustainability & Veganism.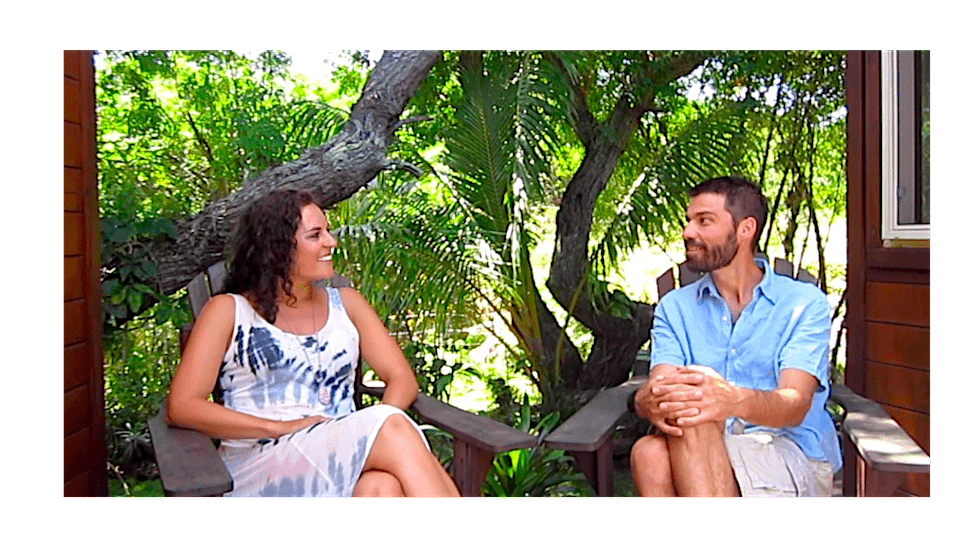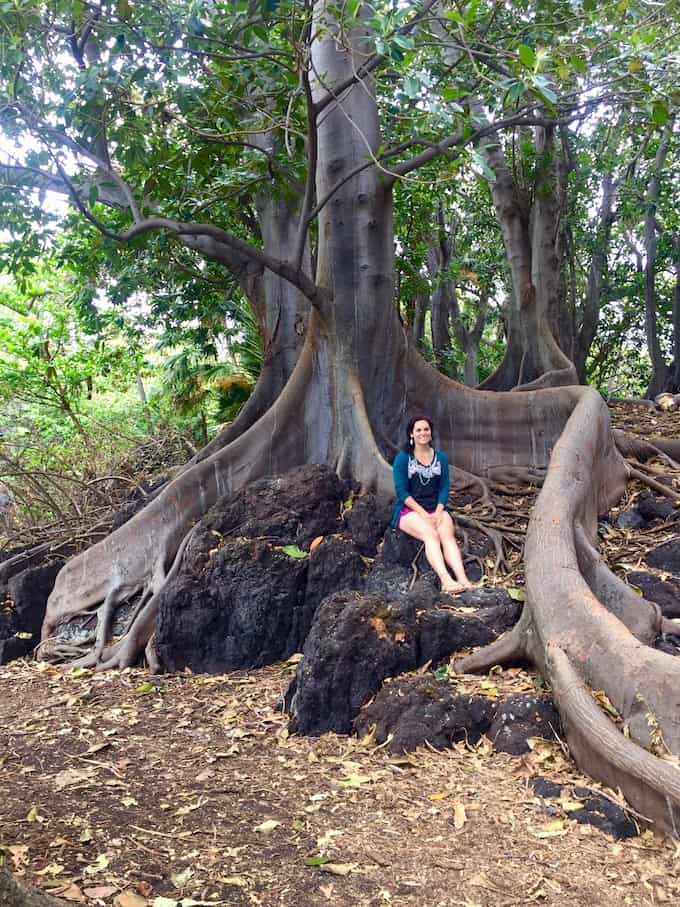 I hope you enjoyed this overview of gluten free and vegan food in Kona, Hawaii and find it helpful for your travels!
Mahalo + Aloha. ? ? ☀️ ? ? ?
Do you have any favorites for vegan + gluten free food on the Big Island? I'd love to know in the comments below!