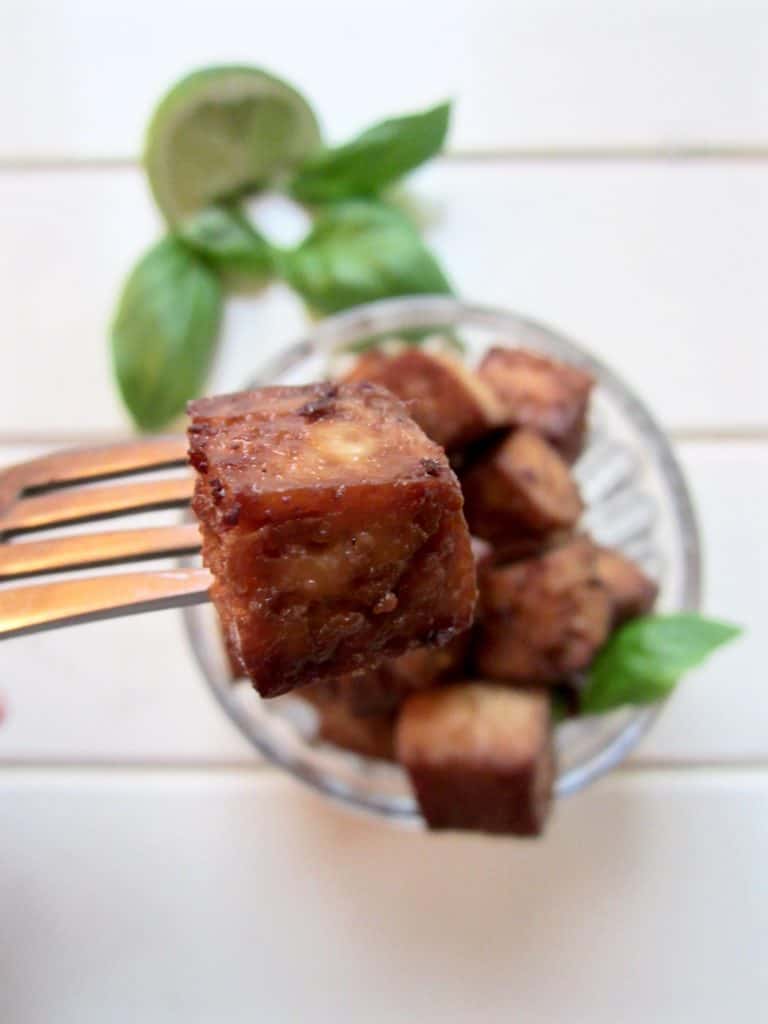 There are countless ways to make tofu, and it's super delicious when it's fried or seared on the stove. (Though really, what ISN'T delicious when fried?!) For an easier, healthier and less messy option than coating tofu and then pan frying, baking tofu results in a delightfully springy and chewy texture, with slight crispiness on the outside.
Tofu acts a sponge to whatever you cook it with, so make sure you take the time to marinade it before cooking. This recipes provides a foundation for a marinade, but feel free to experiment! Before marinading, it's important to press your tofu first for maximum absorption of the marinade and thus, better flavor. Learn how to press tofu here.

This recipe is a great source of protein (about 21 grams per serving), calcium and iron! It's good enough to eat it on its own, or mixed in with stirfrys, soups or on top of salads. On nights when I don't really feel like cooking, this is an easy answer that pairs well served with a whole grain and vegetable, such as brown rice and steamed broccoli.
I like to put out an array of condiments to top the tofu, rice and broccoli triad with, such as sweet chili sauce mixed with vegan mayo for a creamy sauce, homemade balsamic dressing drizzled all over, fresh cilantro leaves and Sriracha or Tabasco Habanero sauce. Mix it all together and you have a wonderful array of flavors that go well together, with a super simply dinner solution!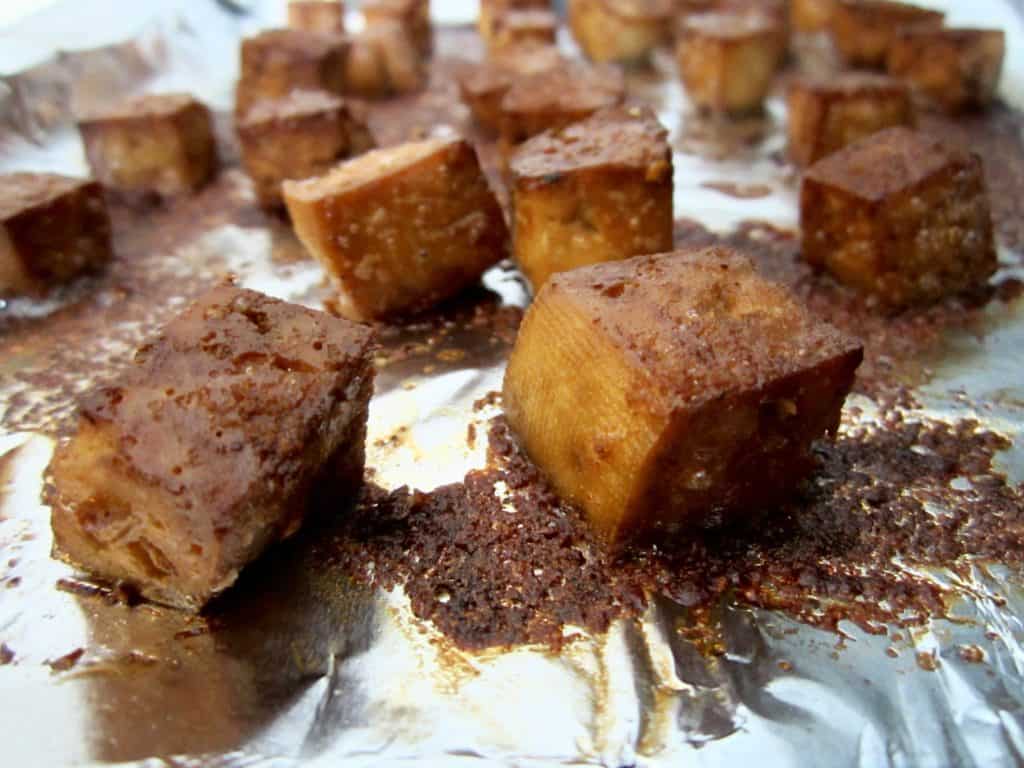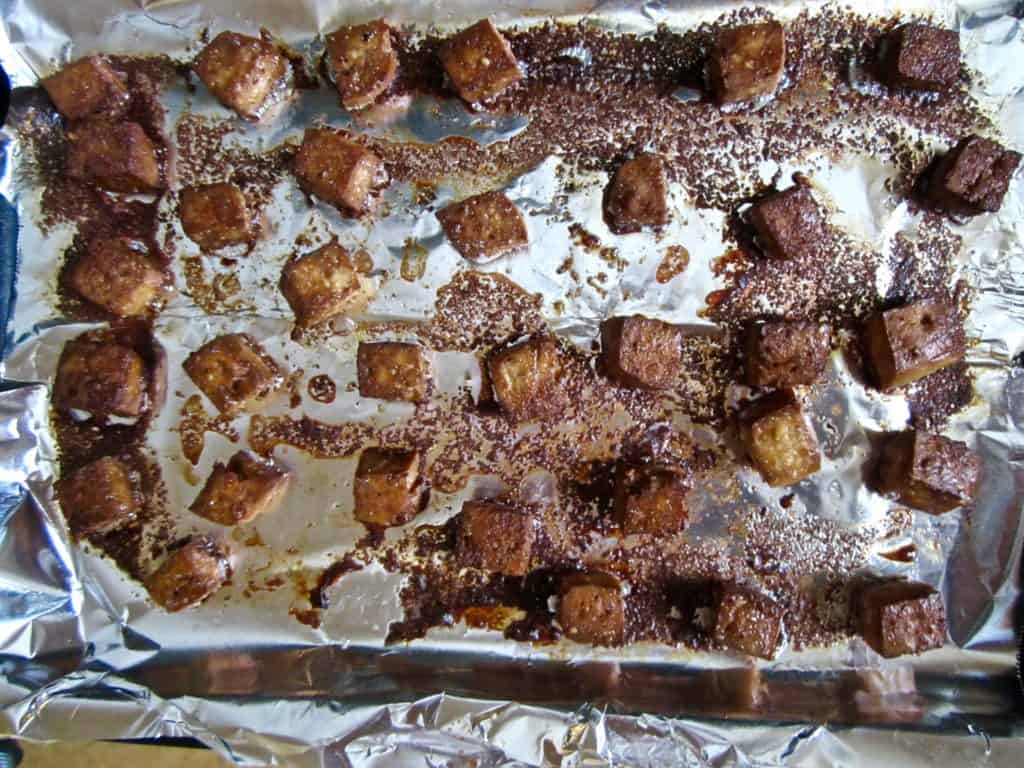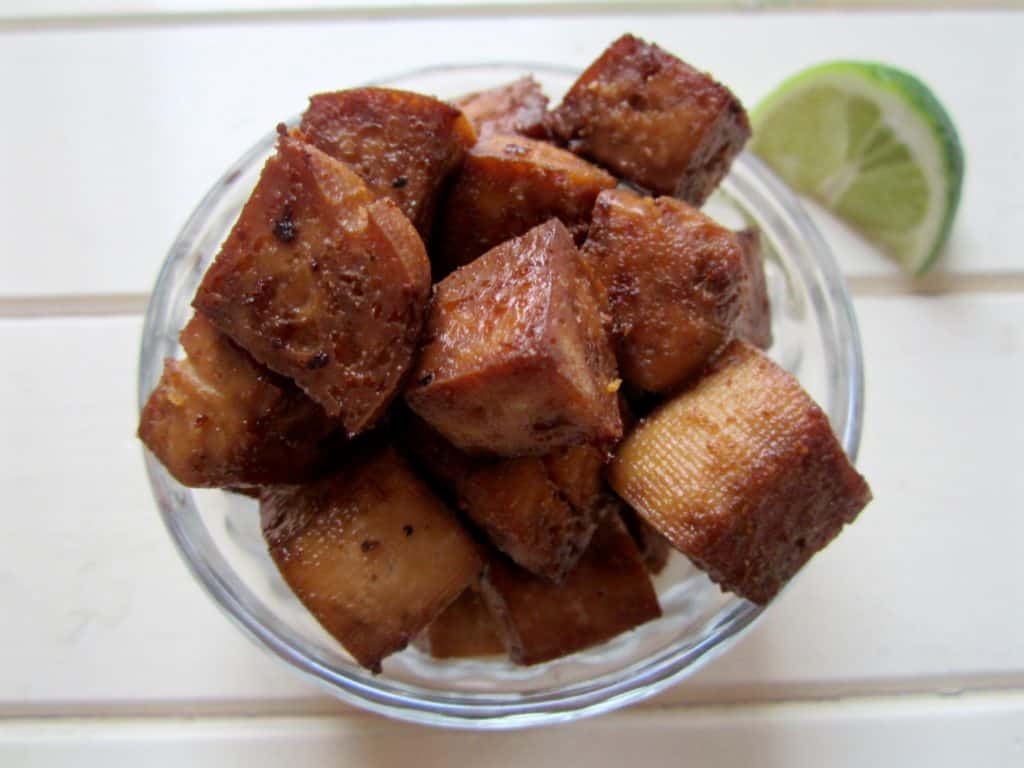 Sarah, Vegan Chickpea
3 servings
Asian Baked Garlic Tofu
Looking for an easy and healthy addition to your meal? This protein-packed tofu recipe delivers a delightfully springy and chewy texture, with slight crispiness on the outside, perfect on its own or mixed in with stirfrys, soups or on top of salads.
1 hr, 10 Prep Time
50 minCook Time
2 hrTotal Time

Ingredients
14 oz organic firm or extra firm tofu, well pressed (375g)
3 Tbsp tamari or coconut aminos
1.5 Tbsp sesame oil
1.5 Tbsp fresh lemon or lime juice
1.5 tsp garlic powder
.5 tsp red chili flakes (optional)
Sprinkle fresh cracked pepper to taste
Non-stick spray (i used olive oil spray)

Serve with:

fresh cilantro or basil
sweet chili or garlic chili sauce
your favorite hot sauce
Instructions
Drain and press your tofu for optimal results (see How to Press Tofu here ).
Slice the block of tofu lengthwise 3 times (creating 4 total strips). Cut the strips 4 times across, creating 20 cubes of tofu.
Mix the tamari, sesame oil, lemon or lime juice, garlic powder, chili flakes and cracked pepper, then pour over the tofu. Put in the fridge and let marinade for at least an hour, or up to 24 hours. If possible, stir the tofu/marinade mixture occasionally.
Preheat the oven to 350 degrees.
Cover a baking sheet with aluminum foil or parchment paper and spray with a little olive oil or cooking spray. Put the tofu on the baking sheet and reserve the remaining marinade liquid until later.
Bake for 20 minutes,* then remove and spray the tofu with more olive oil spray. Flip each piece and distribute the remaining marinade equally over the pieces, adding more cracked pepper if desired.
Bake for another 30 minutes or until they're firm and are getting dark and crispier around the edges.
Notes
*I cooked this in the toaster oven. It will likely cook faster in a regular oven.
Adapted from That Was Vegan?
7.8.1.2
2
https://veganchickpea.com/asian-baked-garlic-tofu/
Sarah Newman, SKN Creations
 This post contains affiliate links. If you make a purchase on Amazon after clicking one of my links, your costs stay the same but I receive a small commission to help support Vegan Chickpea. Thank you for your support!
Save