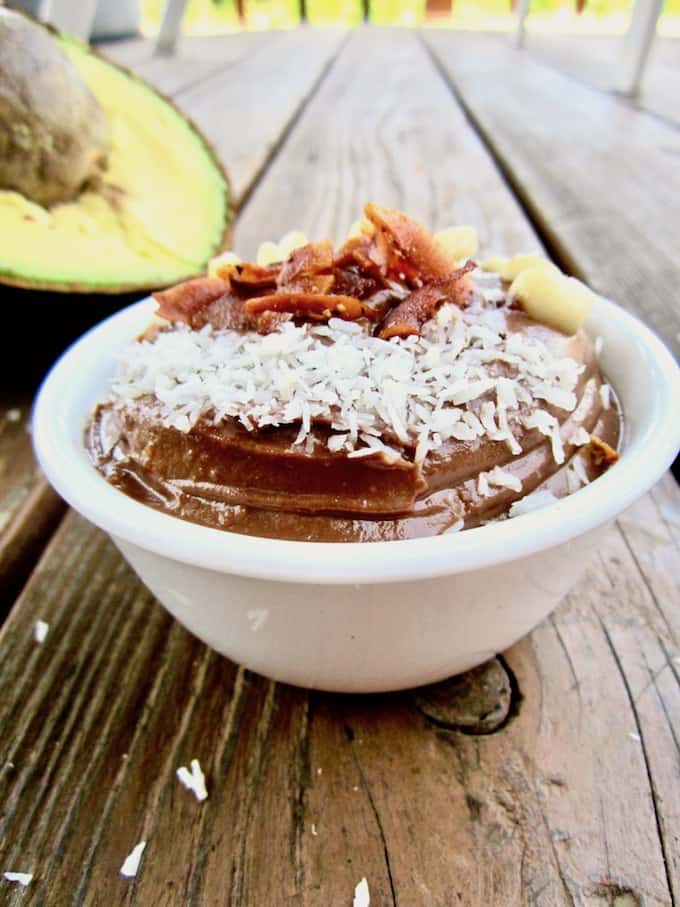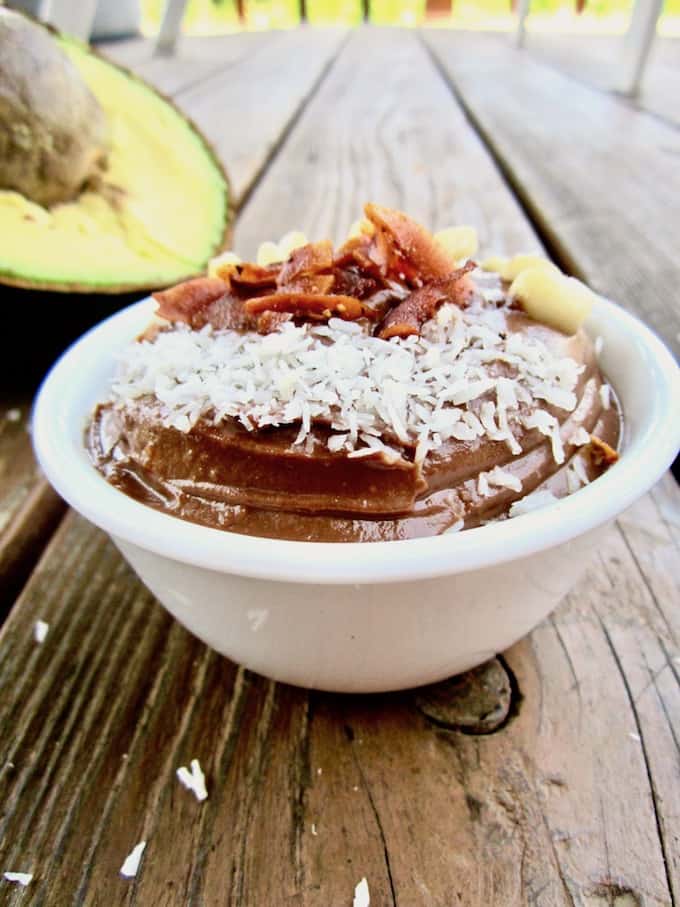 Chocolate and peanut butter. The combination of these two ingredients is unlike any other two on the planet. Am I right?!
As a kid my siblings and I always shared the fact that Reese's Peanut Butter Cups were our favorite candy, and we've all been a sucker for chocolate + peanut butter ever since.
This post is in honor of my recent 2 months in Hawai'i that I spent living with my brother, sister and brother-in-law. We LOOOOOOVED this dessert, so much in fact, that we even playfully toyed with the idea of packaging it and selling it because it's that good. We affectionately call it Pele Puddin' in honor of Pele, the name of the volcano on the Big Island of Hawai'i.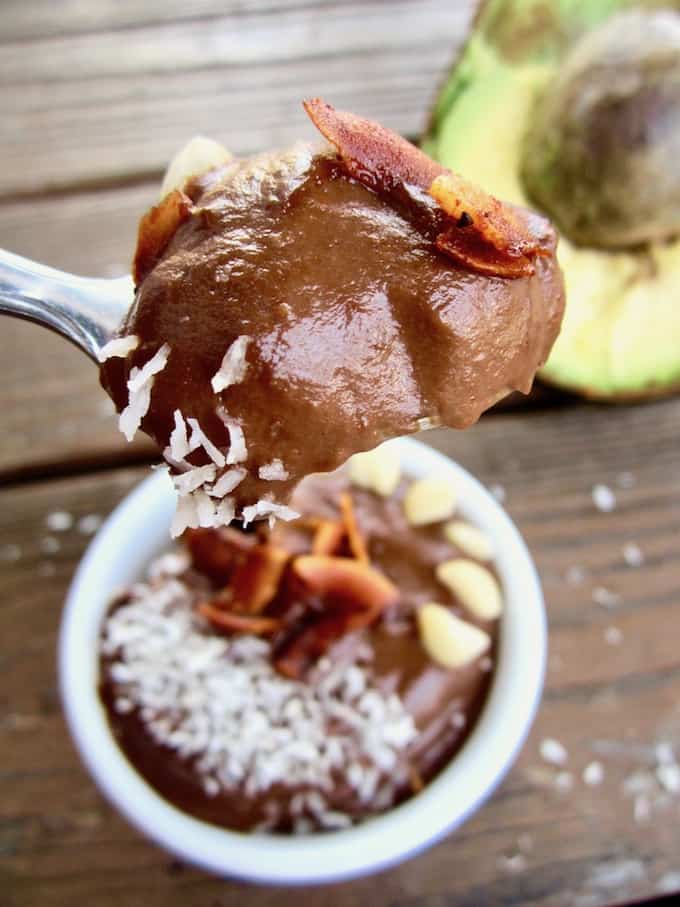 Pele in the Hawaiian religion is the name of the Fire Goddess – Goddess of lightning, wind, fires and volcanoes, and creator of the Hawaiian Islands. We were blessed to actually see Pele in action when we went to visit her. She was spewing more fresh, hot lava than she had in decades, and we got within a few feet of it! This was a rare site – even many locals who have lived there for decades haven't seen her erupt with this much flow. We also got to see the volcano smoking as lava gushed out of the cliffside, straight into the ocean below.
This was truly a mesmerizing experience that was somehow epicly powerful and yet peaceful at the same time. It was humbling and awe inspiring to see the raw material that literally births the youngest new rock and earth on the planet. Thank you Pele – I am grateful for your magic!
This is a photo of my brother David and I at the volcano with lava streaks behind us! Below that is a picture of the big lava flow we saw.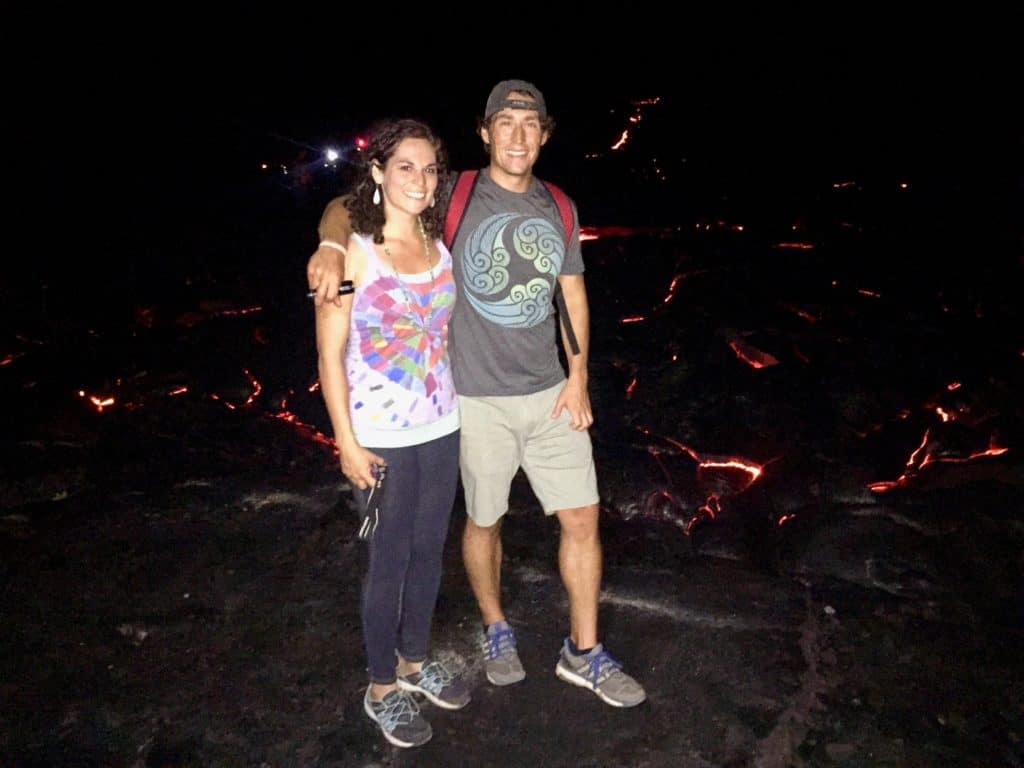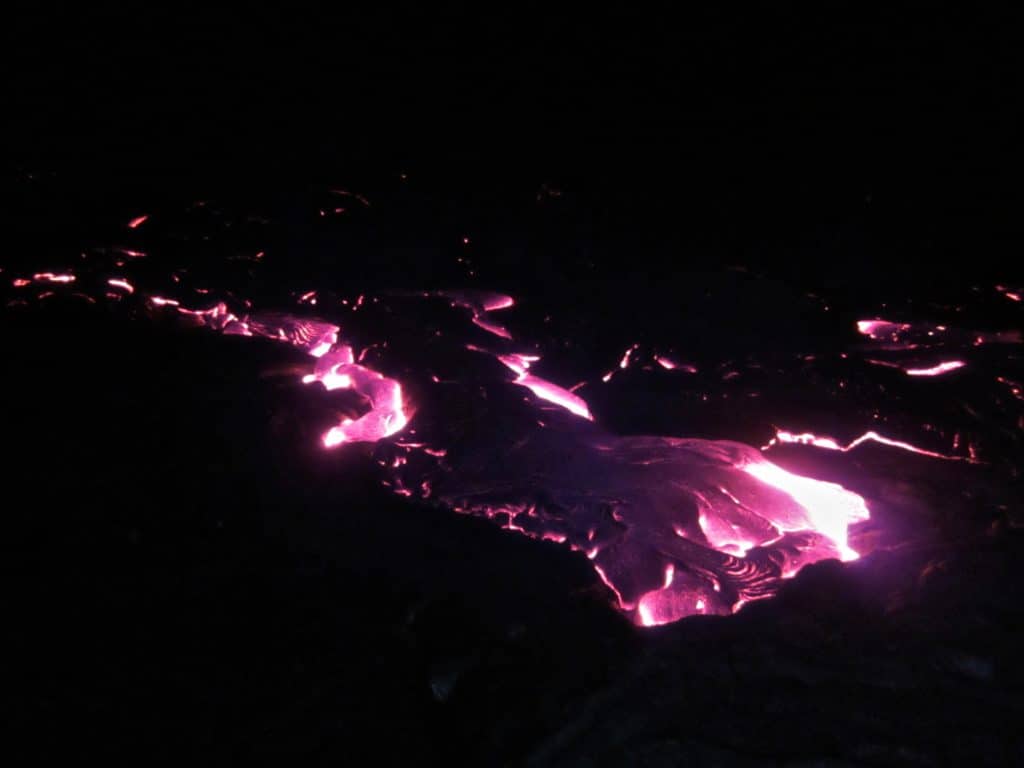 In Hawai'i there seemed to always be an abundance of avocados. We'd buy some at a market, only to come home and discover that a friend had dropped off a big box of avocados at our house that she got straight from an avocado tree. There was rarely a day in our house without ripe avocados, much to our delight! Hence, the inspiration for this pudding was born.
This pudding is:
creamy
satisfying
chocolatey + peanut buttery!
refined sugar free
raw (if using raw cacao, raw or homemade nut milk)
gluten free & vegan (as always on this blog!)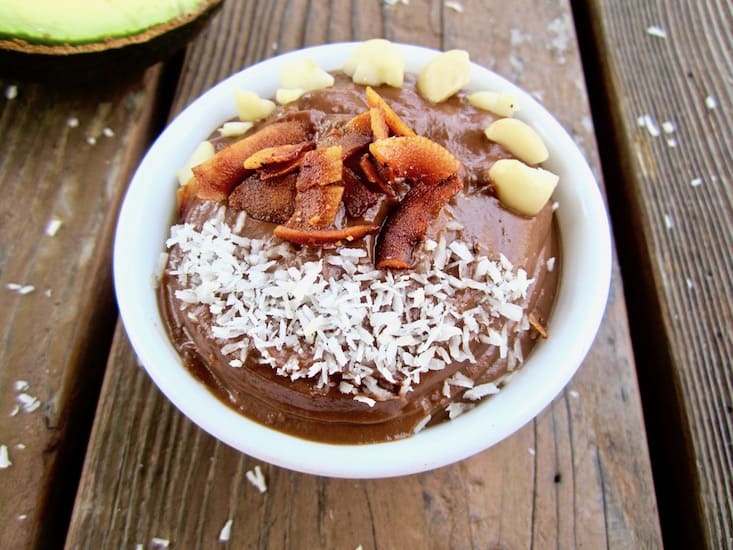 COCONUT BACON TOPPING
Let's talk about this coconut bacon topping for a minute. You may be furrowing your eyebrow going, "Really Sarah, coconut bacon on top of avocado chocolate peanut butter pudding? Have you lost your mind?" And the answer is – just trust me on this! The combo is unique and surprisingly good. I don't think I would have ever thought about topping this with coconut bacon if we didn't happen to have some laying around after a dinner where we made brussel sprouts and topped them with coconut bacon and pecans. Then the light bulb went off, because over recent years I've seen real bacon in all kinds of desserts (chocolate chip cookies, pies, even chocolate and bacon covered potato chips, WHAT?!) – so though that vegan coconut bacon would be even better, since it has the sweetness of coconut added to the 'bacony' flavor.
Do you need the coconut bacon to enjoy this dessert? Absolutely not! We ate this pudding a few times and perfectly enjoyed it without this topping. It's good plain, or topped with any of the following:
macadamia nuts (or other nuts of choice)
shredded unsweetened coconut
berries (raspberries, strawberries)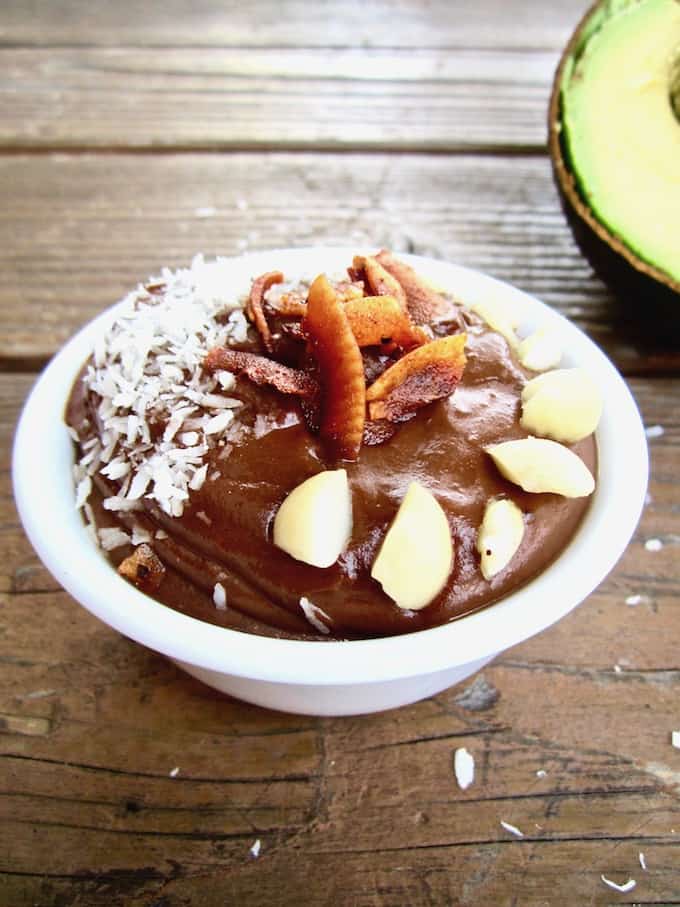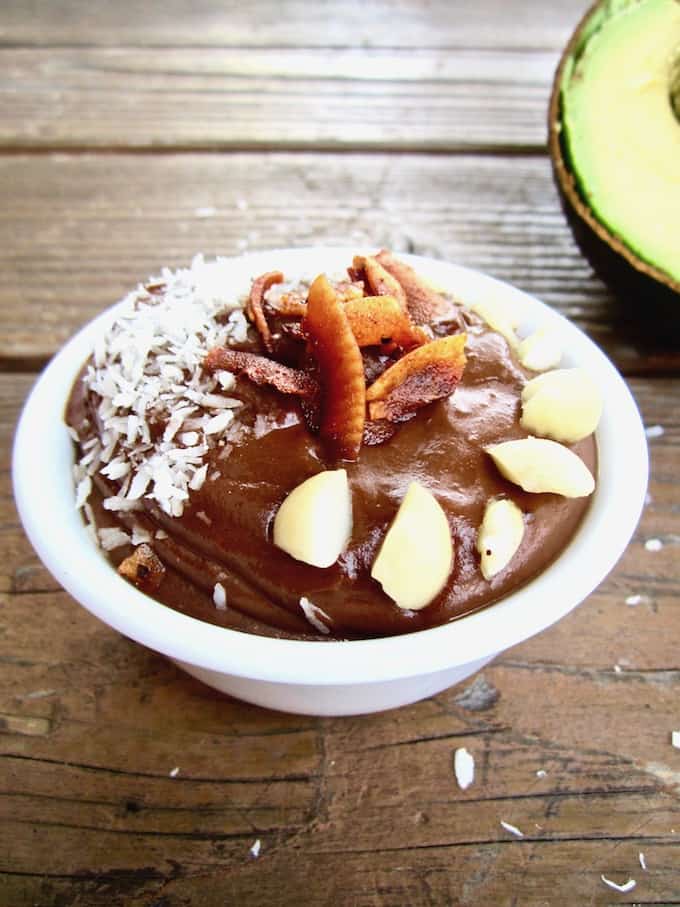 Final note: please be aware that just because this pudding is made out of avocado and is refined sugar free doesn't make it low fat! Avocados and nuts have fat, and coconut sugar and maple syrup still have fructose. So, as with any dessert, enjoy this when you want a treat but don't get fooled into thinking that this is so healthy that it can be eaten daily (even though it's way healthier than many typical, mainstream desserts!). 😉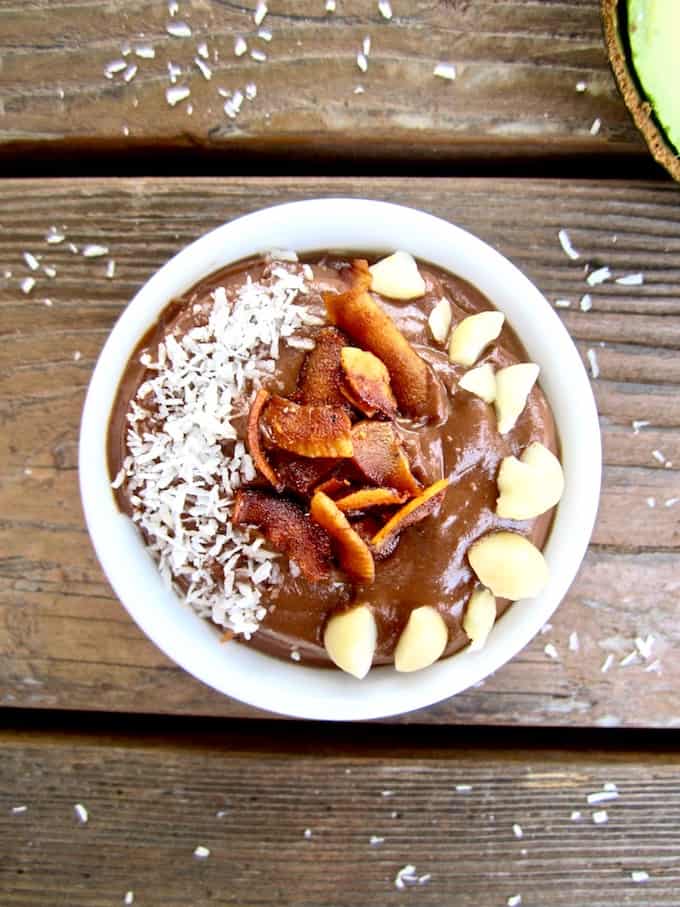 Sarah Newman, Vegan Chickpea
serves 8
Chocolate Peanut Butter Pudding with Coconut Bacon
A delightful combo of the classic peanut butter and chocolate with a creamy consistency, PLUS a sweet and savory topping of coconut bacon! Refined sugar free.
15 minPrep Time
15 minTotal Time
5 based on 1 review(s)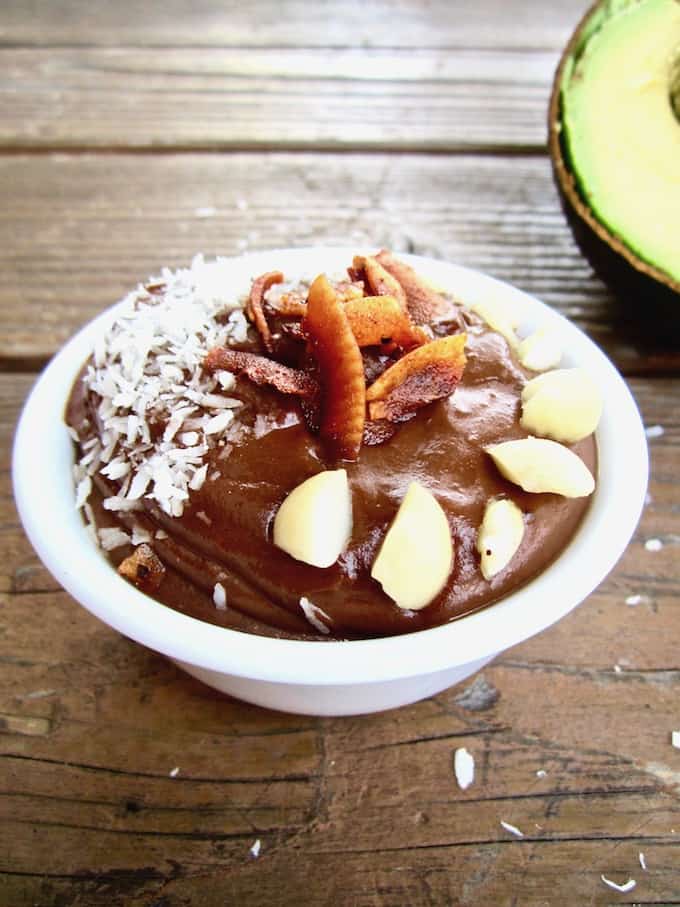 Ingredients
3 cups ripe avocado
1/2 cup + 2 Tbsp cacao powder
1/2 cup + 2 Tbsp peanut butter
1/2 cup maple syrup
1/2 cup vanilla almond milk
2 Tbsp coconut sugar
1.5 tsp vanilla extract
1/4 tsp salt

Options to serve:

macadamia nuts (or other raw or toasted nuts)
shredded unsweetened coconut
berries - raspberries, strawberries
Instructions
If you want to top this with coconut bacon, see the recipe for that here .
Blend all ingredients together in a high speed blender.
Top with whatever toppings you desire! Leftovers last in the fridge for about 3 days.
7.8.1.2
46
https://veganchickpea.com/chocolate-peanut-butter-pudding-with-coconut-bacon/
Sarah Newman, SKN Creations