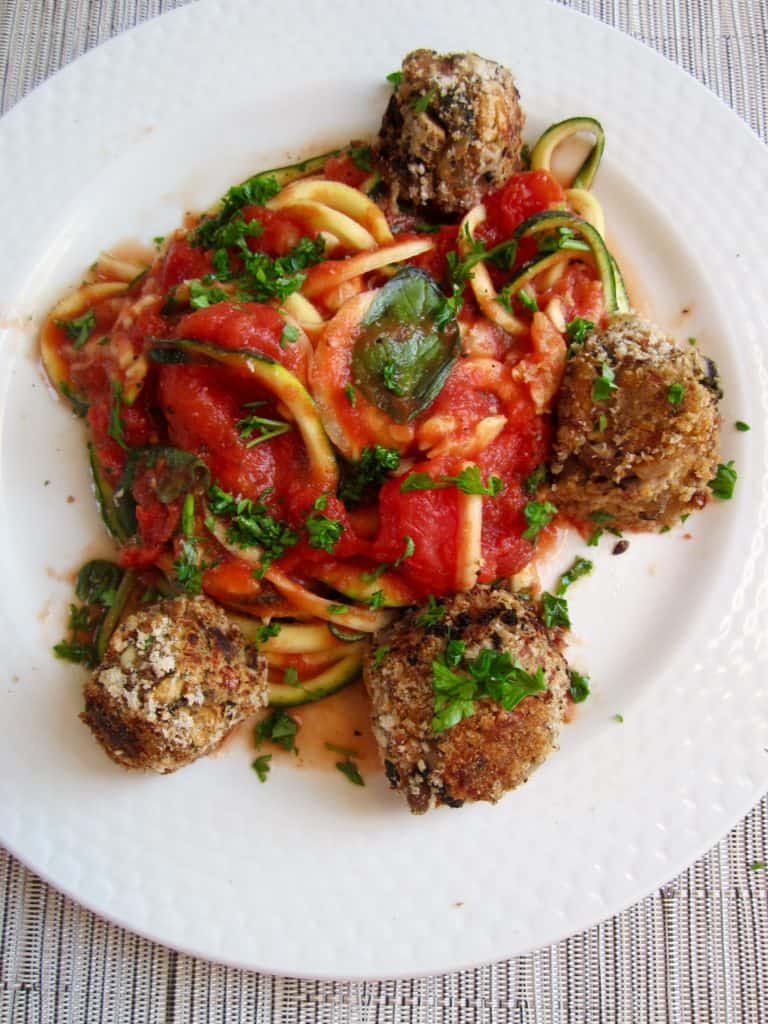 These balls are a crowd pleaser. I made these as part of a dinner for 22 people and they were hit, to vegetarians and meat eaters alike. I even got asked for the recipe! *Proud moment*
They're a perfect substitute for traditional meatballs with about 3 grams of protein per ball (thus about 9 – 12 grams per serving), are a little crispy on the outside and have a small kick from the chili powder. You can of course serve them with traditional pasta, but I really like them with zucchini pasta! See my tutorial on How To Make Zucchini & Squash Spaghetti for more about how easy it is to make veggie spaghetti.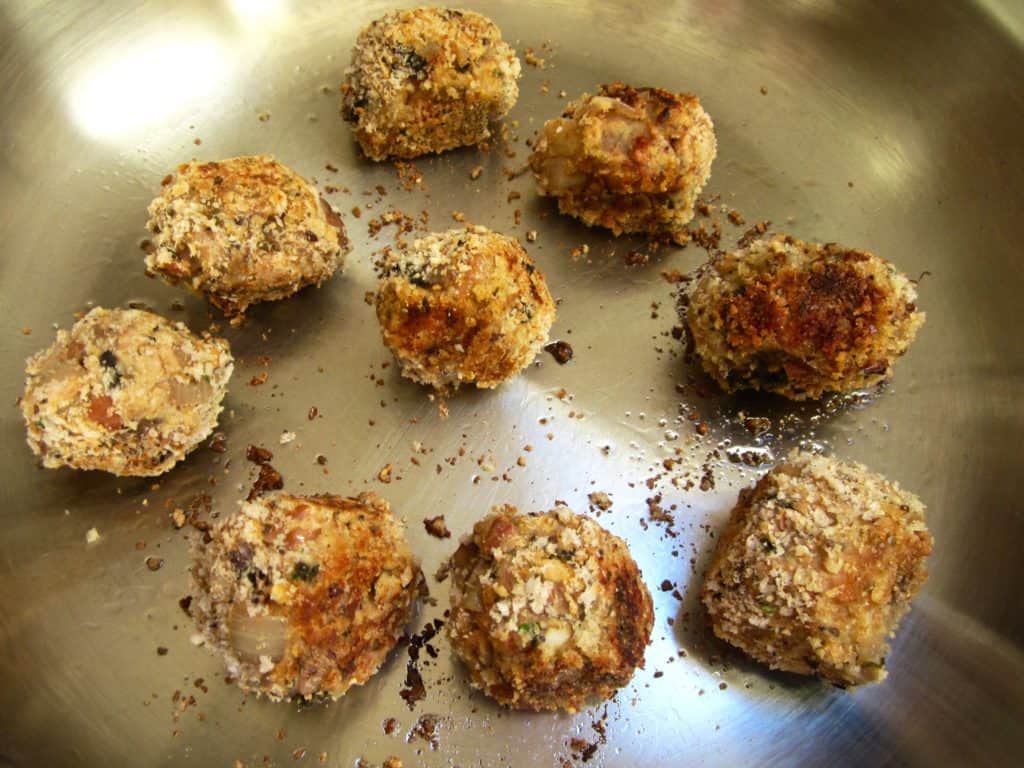 While this isn't the most clear picture, I still want to share it because I had a lot of fun putting my cooking skills to the test when I cooked at the Heart IQ Retreat Centre in the Netherlands! I had never cooked a large meal for 22 people before, but I'm happy to say that I was pleased with the turnout! 🙂
To top the zucchini spaghetti, tomato sauce and bean ball meal, I really enjoy fresh herbs like parsley and basil, as well as either some
Quick & Easy Cashew Basil Cheese
to add an extra creaminess to the pasta sauce, or
Vegan Parmesan
for some extra savoriness and crispiness. This just might become one of your favorite meals!
Bon appétit!
Sarah, Vegan Chickpea
Makes makes 10 - 12 balls
348
Spicy Bean Balls with Zucchini Pasta
Hearty and a touch spicy with 10 grams of protein per bean ball! Use zucchini pasta for a healthy alternative to traditional pasta. Even your carniverous friends will enjoy!
35 minPrep Time
30 minCook Time
1 hr, 5 Total Time

Ingredients
For the balls:

1 1/2 cups cooked pinto beans (about 1 15-oz can), rinsed
3/4 cup white onion, diced
1/3 cup parsley, finely chopped
1 cup mushrooms, finely chopped (baby bella, oyster or shiitake)
2 Tbsp red wine or red wine vinegar
3/4 cup gluten free breadcrumbs (plain or Italian-seasoned)* OR almond meal - divided into 1/2 cup and 1/4 cup
2 tsp chopped garlic
1/2 tsp salt
1/4 tsp fine black pepper
1/2 tsp chili powder (or 1/4 tsp red pepper flakes) - omit if you don't want them spicy
1/4 cup nutritional yeast
3 Tbsp olive oil, for saute (or other high heat oil)
2 - 4 zucchini (depending on size), spiralized - or regular pasta if preferred
jar of spaghetti sauce or marinara sauce

Optional:

Chopped basil or parsley on top garnish
Vegan Parmesan on top
Cashew Basil Cheese on top for a creamy sauce
Instructions
For the zucchini pasta:

See this How to Make Zucchini & Squash Spaghetti here

For the balls:

In a large mixing bowl, mash pinto beans with a potato masher or fork until well mashed.
Heat a large saute pan over medium high heat. Add 1 Tbsp of olive oil and, when hot, add in the onions and mushrooms. Saute for about 3 minutes, then reduce heat to medium. Add parsley and garlic and saute about another 5 minutes, until the onions look carmelized or softened.
Reduce heat to low, add the red wine and mix well. Just before you turn off the heat add in the salt, pepper, chili powder and any additional spices you may want. (You can taste the mixture and it should be slightly "over-seasoned" at this stage.)
Combine the mixture with the beans. Add the bread crumbs and the nutritional yeast. Your mixture should be sticky and thick.
You can place your mixture in the fridge to chill for a half hour to help with handling, or just go right into rolling the mixture into balls using your hands. Roll the balls into the remaining 1/4 cup breadcrumbs.
Preheat oven to 350 degrees (will be used to keep the balls warm and finish off the cooking process).
Heat a clean saute pan over medium high heat. Add 1 Tbsp of olive oil in and, when hot, add your rolled balls. Cook a couple minutes per side - they should be browned and slightly crispy. I usually sear 4 'sides' of the ball, so it takes about 6 - 10 minutes to cook each batch of balls (depending on your stove and heat). You can shake the pan or use a wooden spoon to move the balls around until golden brown. You'll have 2 - 3 batches of balls to cook, depending on size of balls and size of your pan. Place your cooked balls on a parchment paper covered baking sheet and place in the oven while you finish all batches and put together the rest of the meal (about 10 - 15 minutes).
Warm up your spaghetti sauce on the stove and add seasonings as desired. Chop basil and parsley for topping if desired. Rinse your zucchini noodles as outlined above and warm them on the stove.
Pull the balls out of the oven and assemble! Noodles, sauce, balls, fresh herbs and vegan parmesan if desired. The balls will firm up as they cool.
Notes
*If you don't have breadcrumbs, you can use 2 pieces of bread toasted to golden brown. Finely chopped the toast and use half in the mixture, and then use the other half for the outer coating before pan frying. OR UPDATE 6 March 2017: You can use almond meal (ground almonds) instead - I've tested and it's delicious!
Slightly adapted from Lunch Box Bunch
7.8.1.2
11
https://veganchickpea.com/spicy-bean-balls-with-zucchini-pasta/
Sarah Newman, SKN Creations