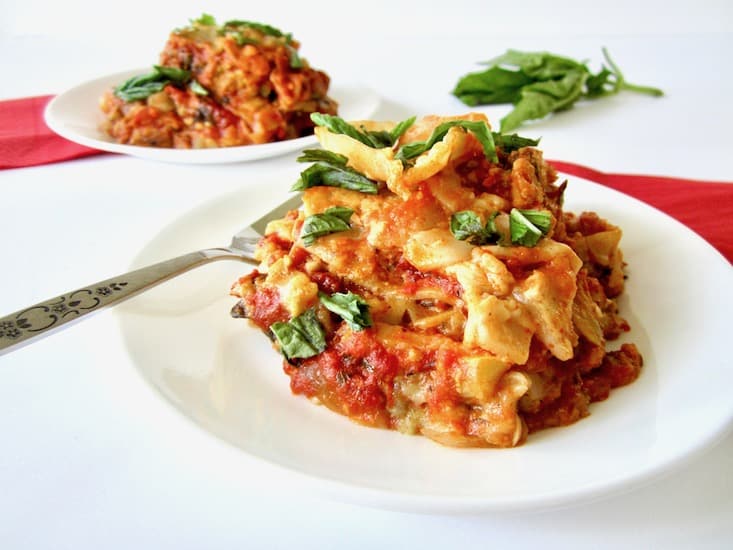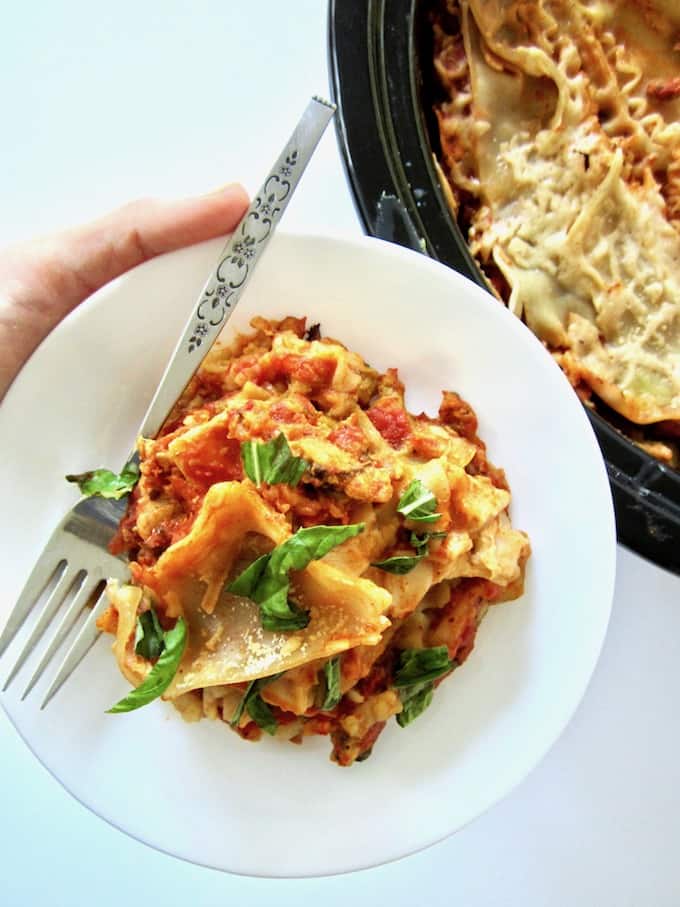 CHECK OUT THE RECIPE VIDEO HERE!
Whew, I'm back from my travels in Germany and am home in the USA for the holidays! I had an amazing 10 days with my parents traveling around southern Germany and visiting some Christmas markets – more to come on that in a post next month!
I came up with this vegan and gluten free slow cooker lasagna recipe about a year and a half ago. My brother, sister and brother-in-law were coming over for dinner and I wanted to make something easy, hearty and yummy that everyone would enjoy and not say, "Well… that was good for being vegan and gluten free." I wanted them to just say, "That was delicious!" No caveats.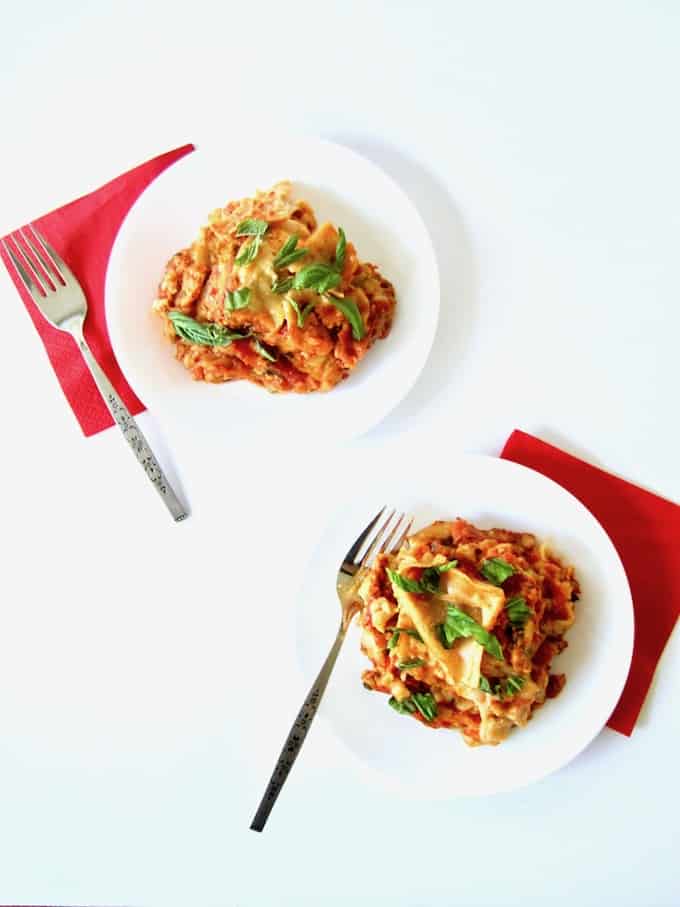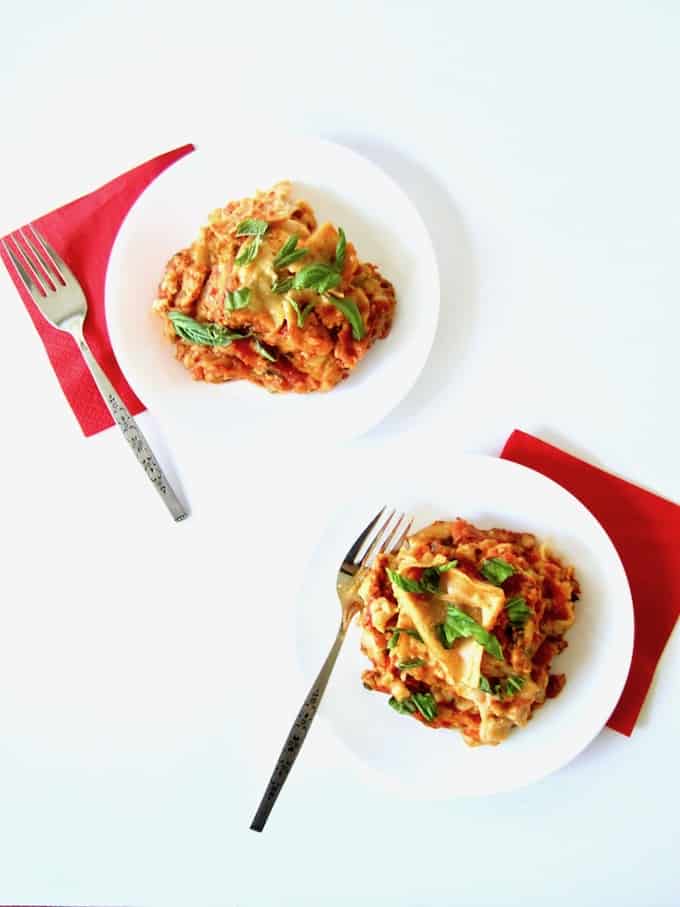 Hence, this gluten free lasagna was born and my intention came true! Everyone loved it and I made it again a couple months later at a family gathering my cousins, aunt and parents and again, everyone enjoyed it and my aunt even asked me for the recipe. 🙂 Yay!
So my friends, I'm really eager to finally get to share this vegan slow cooker lasagna recipe with you! If you have family and friends over for the holidays and are looking for a simple meal to make when you have company, then here is your answer. This recipe is flexible – feel free to substitute different vegetables, cheeses, sauces. This is simply a foundation and you can play around with it to suite your tastes!
Happy Holidays and best wishes to you and your loved ones!



STEP 1: Chop the veggies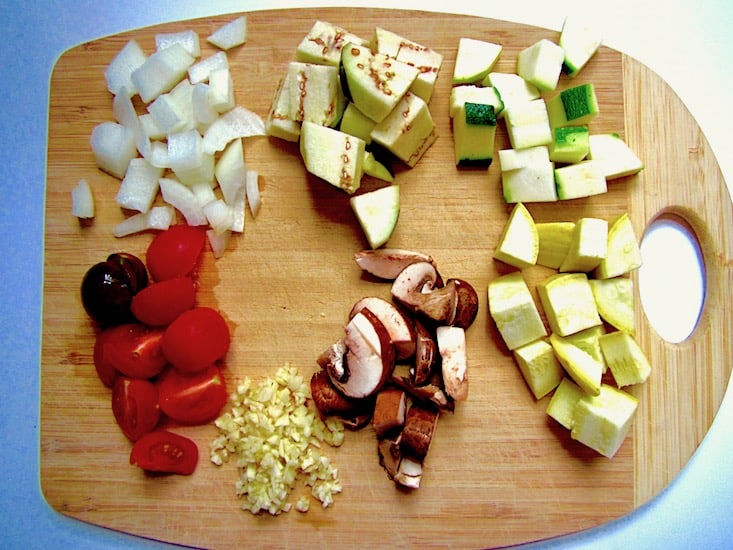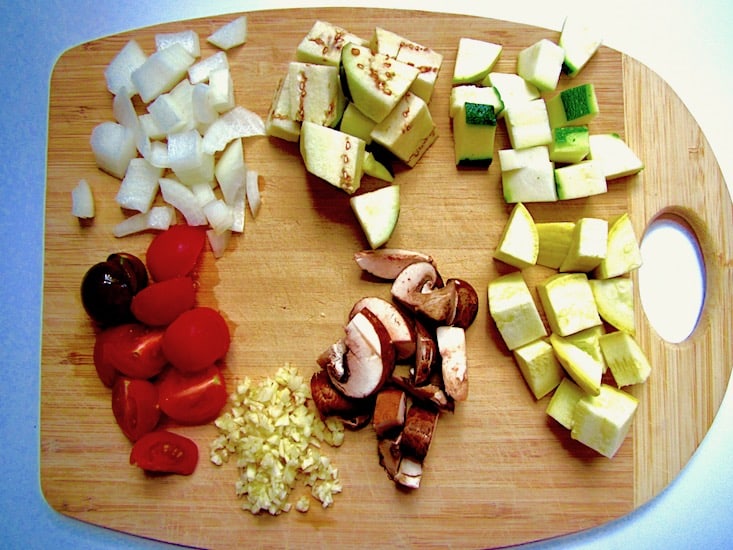 STEP 2: Saute the veggies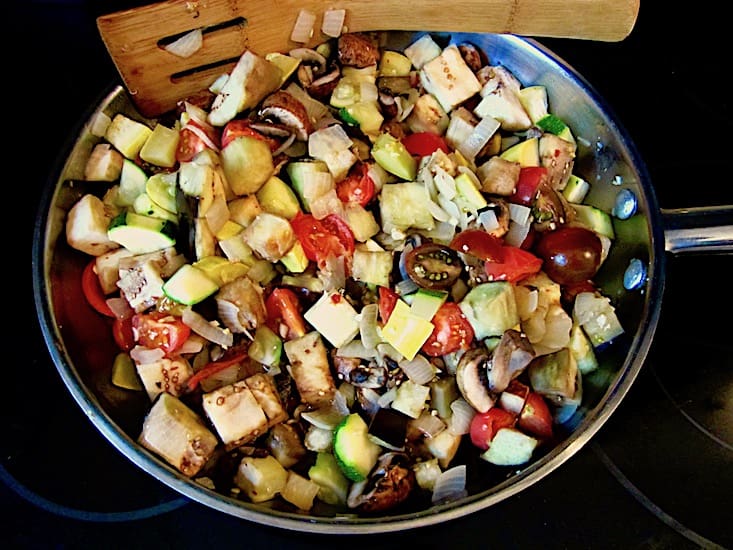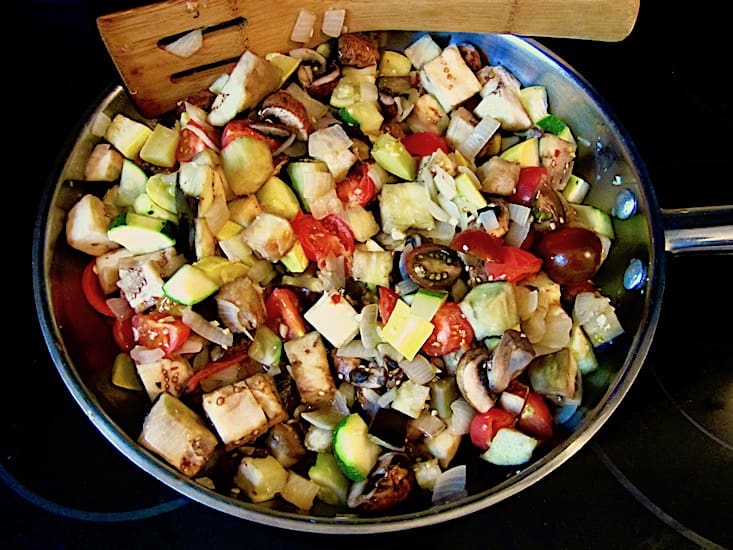 STEP 3: Layer in the slow cooker & cook on low 3.5 – 4 hours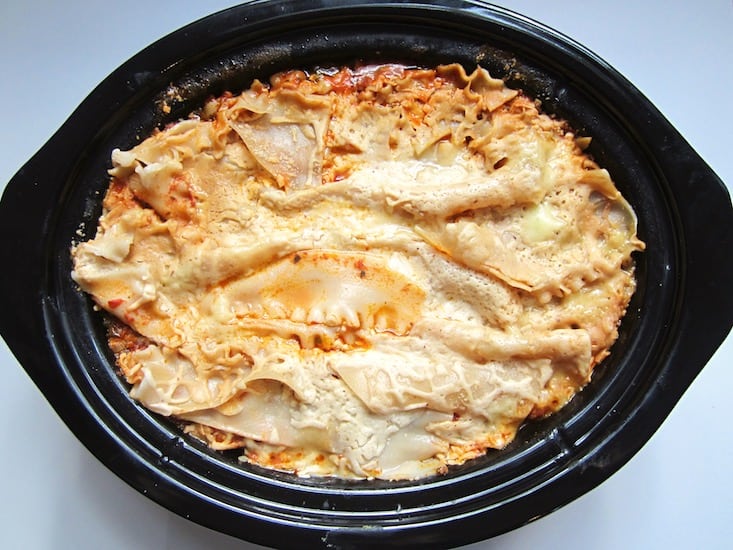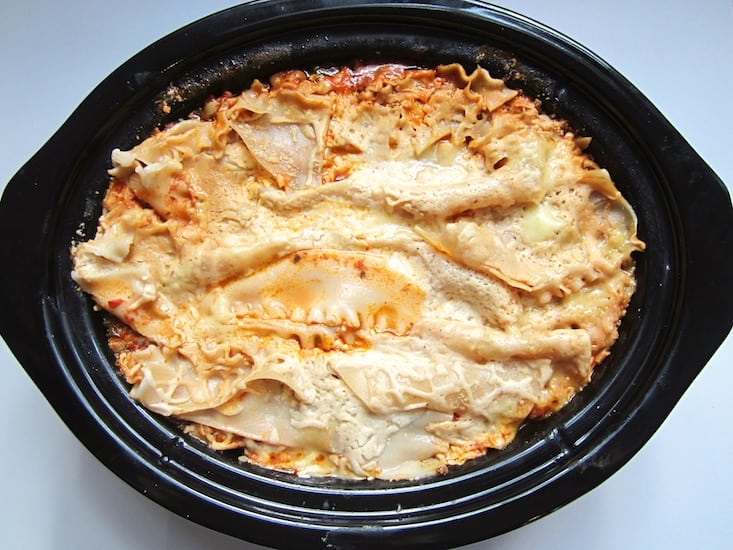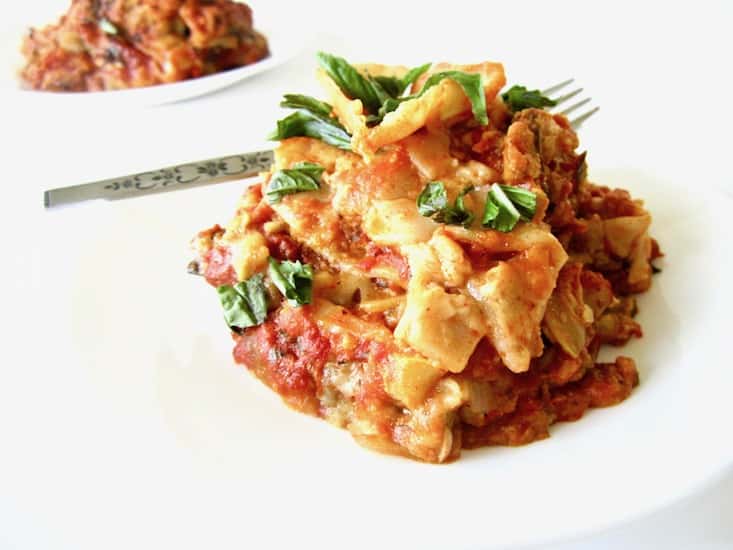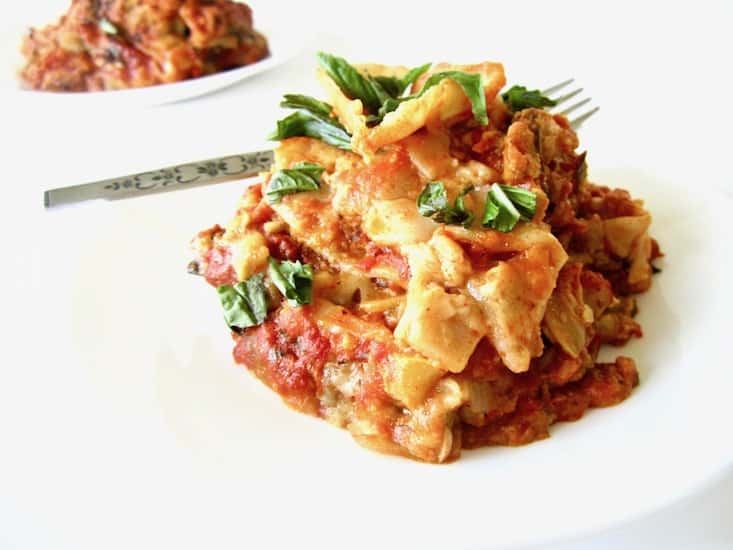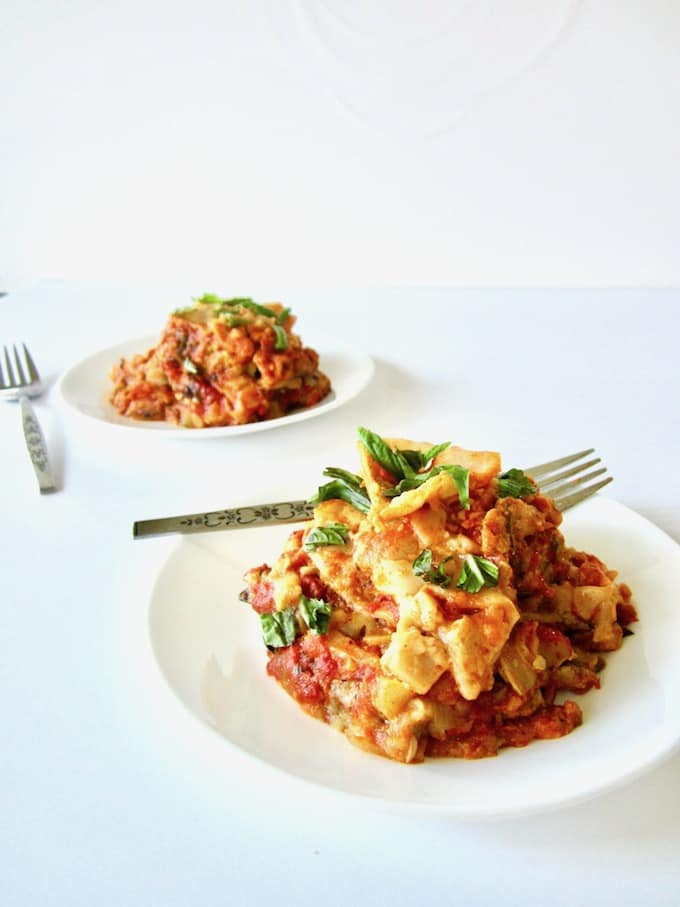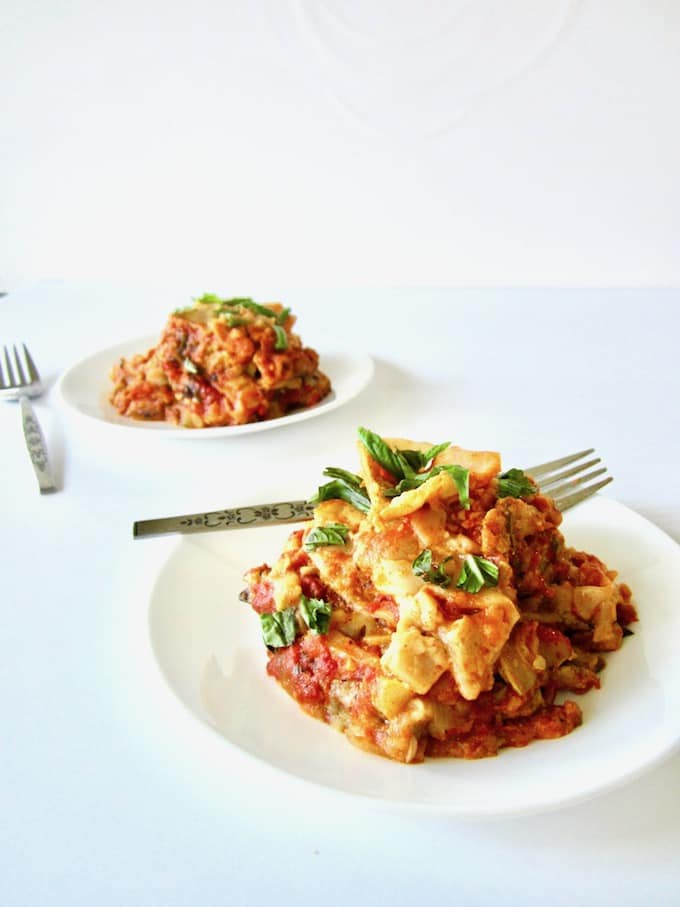 Leave a comment below letting me know a) your favorite things to make in a slow cooker and/or b) how this recipe turned out once you tried it! I love hearing from you!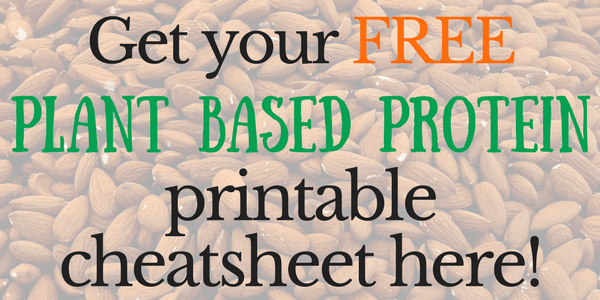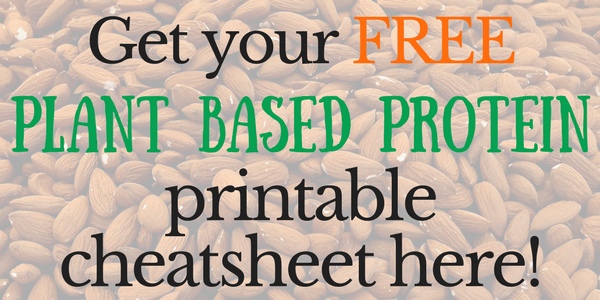 Sarah Newman
Vegan and Gluten Free Slow Cooker Lasagna
A crowd pleasing, easy recipe for your next family get together!
50 minPrep Time
3 hr, 45 Cook Time
4 hr, 35 Total Time
5 based on 11 review(s)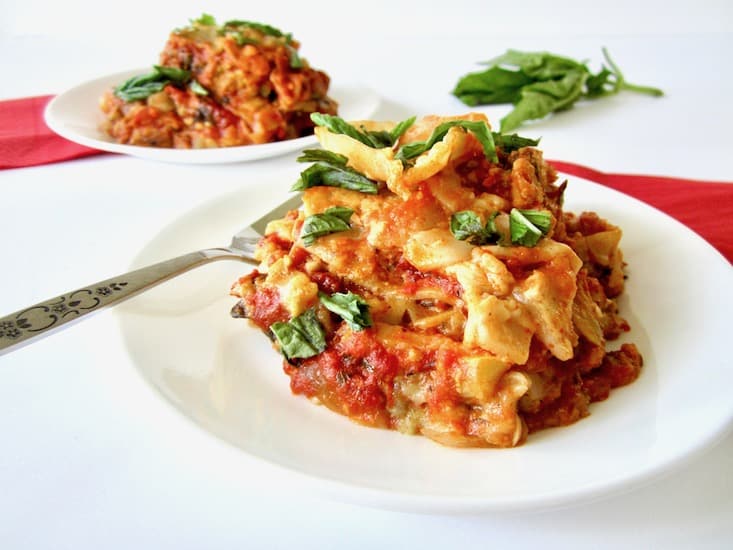 Ingredients
1 1/2 Tbsp olive oil
1 medium onion, chopped
1 medium zucchini, chopped
1 medium yellow squash, chopped
1 medium eggplant, cut into 1/2-inch chunks
2 cups chopped mushrooms
2 cups chopped cherry or grape tomatoes
4 cloves garlic, minced
1 tsp salt
1/4 tsp red pepper flakes
1/2 tsp italian seasoning (or oregano, thyme, basil, mix)
4 - 5 cups jarred tomato sauce - about (2) 24 oz jars
Package of 12 uncooked gluten free lasagna noodles
1 1/2 cups shredded vegan Mozzarella cheese (I like Trader Joe's brand, comes shredded)
1 1/2 cups shredded vegan Parmesan or Italian cheese (I like Follow Your Heart brand - Garden Herb Style Cheese, comes in a block)
Fresh chopped basil, for serving
Instructions
If you haven't already, make a batch of Quick & Easy Cashew Basil Cheese (can be prepared in advance).
Set a large skillet over medium heat. Add in the olive oil. When hot, cook the onion in the oil for 2 to 3 minutes, until it starts to soften. Add in the zucchini, squash, eggplant, mushrooms and cook for about 7 minutes. Stir in tomatoes, garlic, salt, red pepper flakes and Italian seasoning and saute a couple more minutes until the veggies are just tender. Remove from the heat, taste and season with additional salt and red pepper flakes if needed.
Spread 1 1/2 cups of the tomato sauce in the bottom of your slow cooker. Top with a layer of three lasagna noodles, breaking them as needed to fit. Using a slotted spoon, top with 1/3 of the vegetable mixture, then 1 cup of the cashew ricotta and 1 cup of sauce.
Repeat this process again twice -- noodles, vegetables, cheese and then sauce. ALTERNATE the cashew ricotta in the middle layer with half of the shredded cheese mixture.
End with a final layer of noodles and the remaining sauce. Sprinkle the top with the remaining 1 1/2 cups shredded cheese mixture.
Cover and cook on low for about 3 1/2 to 4 hours, until the noodles are cooked through. Be sure not to overcook so the lasagna doesn't burn or get too mushy. Turn off the slow cooker and let sit uncovered for 15 minutes before serving to let the lasagna set. Sprinkle the top with fresh basil before serving.
Notes
You can use different amounts of veggies, sauce and cheese. Everyone likes their lasagna different so feel free to add more or less of any ingredients to suite your taste!
You can substitute different vegan store bought cheeses for what's listed, but I recommend not leaving out the cashew ricotta.
Adapted from Oh My Veggies
7.8.1.2
35
https://veganchickpea.com/vegan-gluten-free-slow-cooker-lasagna/
Sarah Newman, SKN Creations
Save
Save
Save
Save
Save