This colorful and nutritious Massaged Kale Salad is loaded with raw veggies, chickpeas and a Chili Vegan Ranch Dressing. Mason jar containers are a convenient, grab-and-go option for an easy make ahead lunch recipe!
This shop has been compensated by Collective Bias, Inc. and its advertiser. All opinions are mine alone. #SKSHarvest #SeasonalSolutions #CollectiveBias
Thank you for supporting the brands that make it possible for Vegan Chickpea to provide free recipes and healthy plant-based living inspiration.
First, I want to start by saying that I'm sending lots of love and prayers to all those in the US and the Caribbean affected by Hurricanes Harvey and Irma. Here in the Carolinas we're counting our blessings for minimal impact and damage compared to other places. Please consider making a donation to the charity of your choice to support relief efforts – even just a few dollars per person all adds up to make a big difference!
Today, I'm bringing you a make ahead lunch idea: Massaged Kale Salad with a Chili Vegan Ranch Dressing! Yum, right?!
As a kid, I Loooooooooooved Ranch dressing! (Yes, that's Love with a Capital L.) Chicken nuggets? Side of Ranch. Fries? Side of Ranch. Onion rings? Side of Ranch. Yea, I ate healthy as a kid… okay, sometimes I'd eat a salad, but only if it was drenched in – you guessed it – Ranch!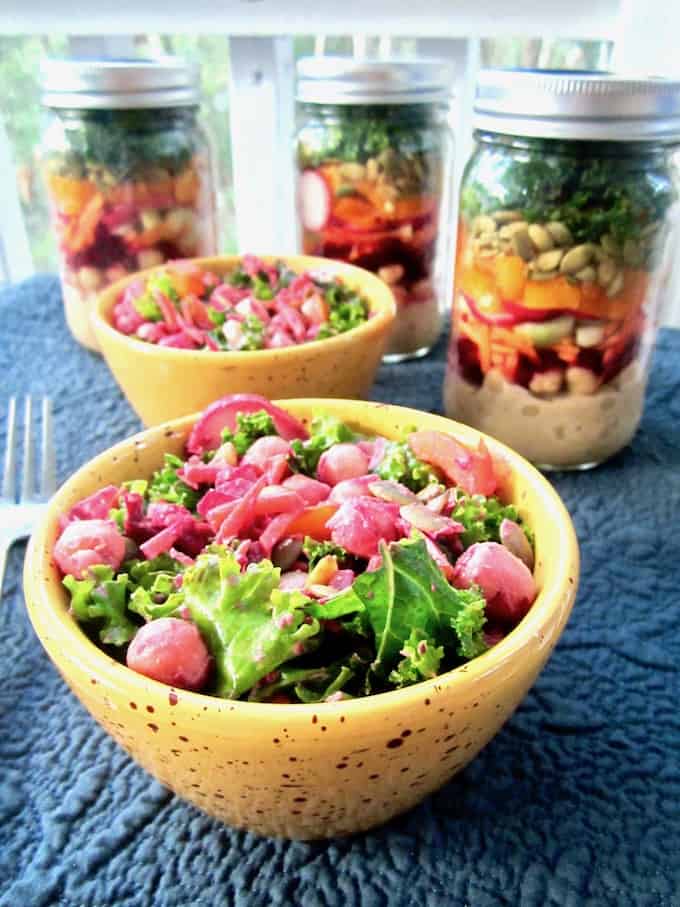 The vegan Ranch Dressing I'm bringing you today is from The Rawtarian (so yes, it's raw too!). I love her recipe so much that I didn't want to change it, but I did add some chili powder to give this sauce some flavorful fall flair. (It's not spicy at all; it has a mild chili powder flavor.) If you want more traditional Ranch dressing, omit the chili powder.
If the words 'massaged kale salad' don't make you think 'yum', then it's time to up your palette missy (or mister). I know – not everyone is a kale lover (and the Ranch-loving child in me certainly wasn't!) – but I definitely am now. While kale is available year round, it peaks in the fall so this is the best time of year to get fresh, vibrant kale!
---
---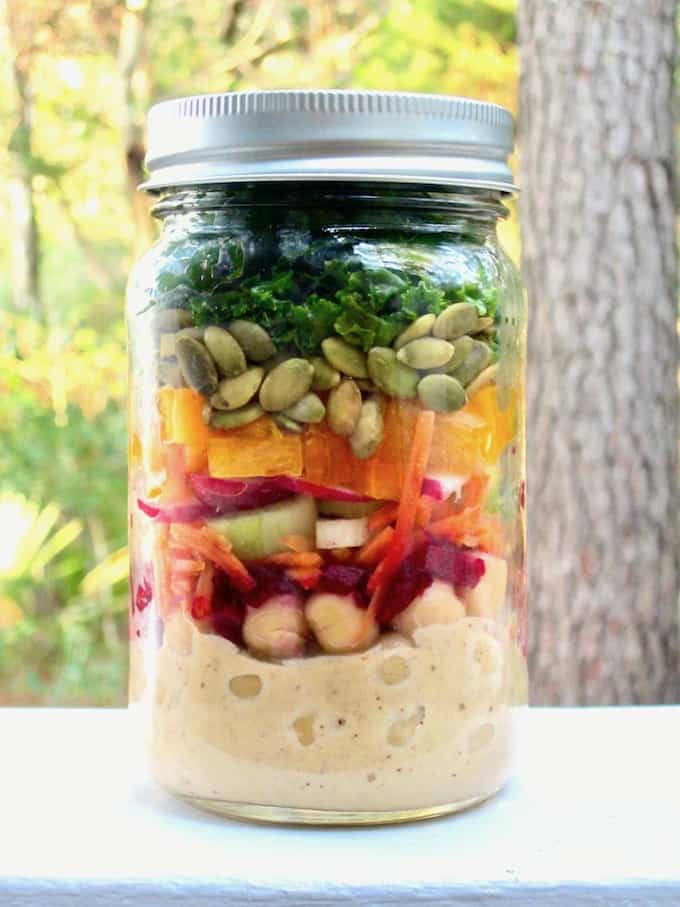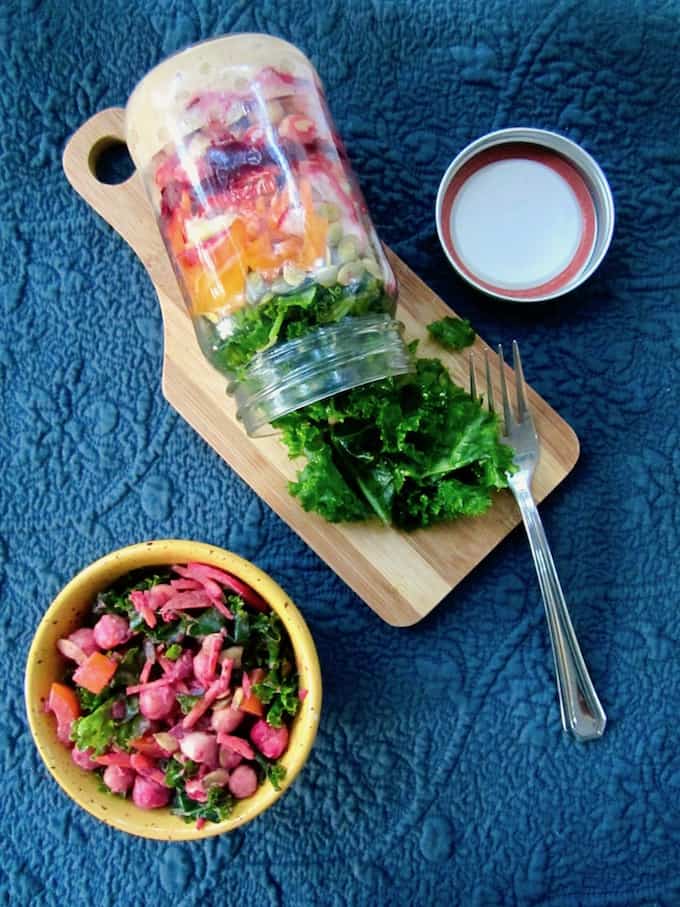 MASON JAR SALADS
Mason jar salads have been popping up all over blogs for a couple years. They're awesome because you make everything in advance and then just layer the ingredients in a jar for convenient, portable eating later.
ASSEMBLY: Start with the dressing on the bottom so it doesn't make everything soggy, and then layer in heartier foods like beans, lentils, heavier grains (like rice or pasta), carrots, beets, celery and peppers. The next layer is composed of more delicate veggies and fruits like cucumbers, tomatoes, berries and avocado. Next goes any nuts, seeds and lighter grains (like quinoa or millet) and then finally, the salad greens on top.
The salads will last a few days in the fridge – when I tested my last jar, it was 4 days after assembly and still good. When you're ready to eat it, dump it all in a bowl, toss and serve! (You'll notice that the beets in my salad colored everything else pink, in case you're wondering what pink vegetables are in these photos, ha!)
---
---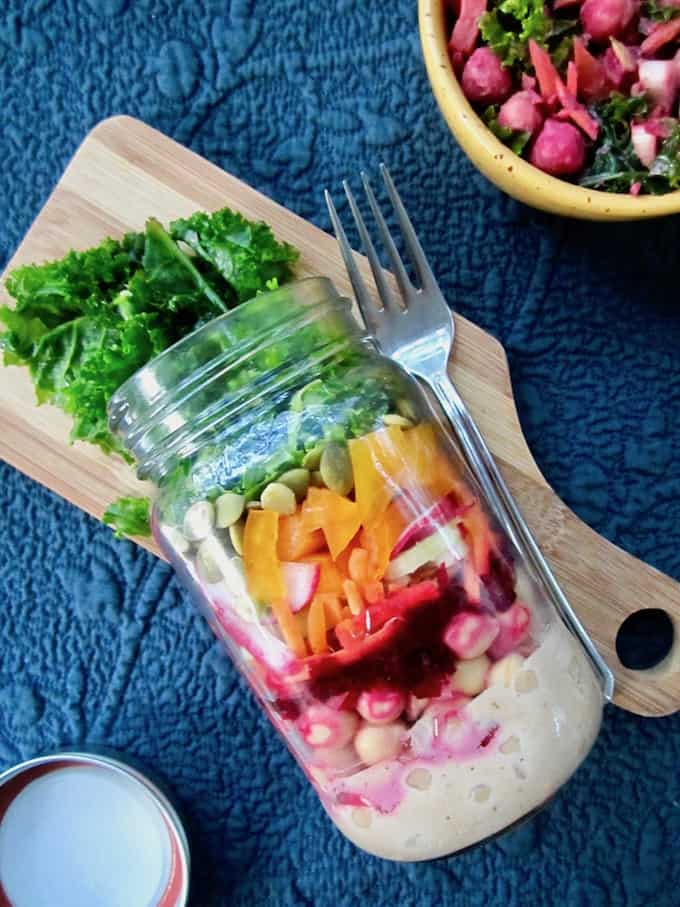 WHERE TO BUY MASON JARS
I bought these jars online at SKS Bottle & Packaging, an industry leader suppling over 6,000 options for glass, plastic and metal bottles and jars – perfect for canning season! Their glass jars are 100% recyclable and made in the USA. If you have extra berries and tomatoes for the summer, make jam or tomato sauce and store them in mason jars. This fall, you can make apple sauce, pumpkin butter and all kinds of goodies in the slow cooker and then store in mason jars. And, of course, they make great storage containers for leftovers, sauces/dressings, soups and packed lunches!
The SKS Clear Glass Mason Jars are available in two sizes with a 2 piece silver plastisol lined canning lid. The plastisol liner is activated by heat to create a tamper evident hermetic seal with the mason jars, so if you're using these jars to can and store, this is a great feature! Of course, be sure to test your products and canning techniques to reach the most secure seal.
Here's a screenshot of how to order – easy peasy, just add to your cart and then you can pay via PayPal in the checkout, which I love as I feel like my information is more secure.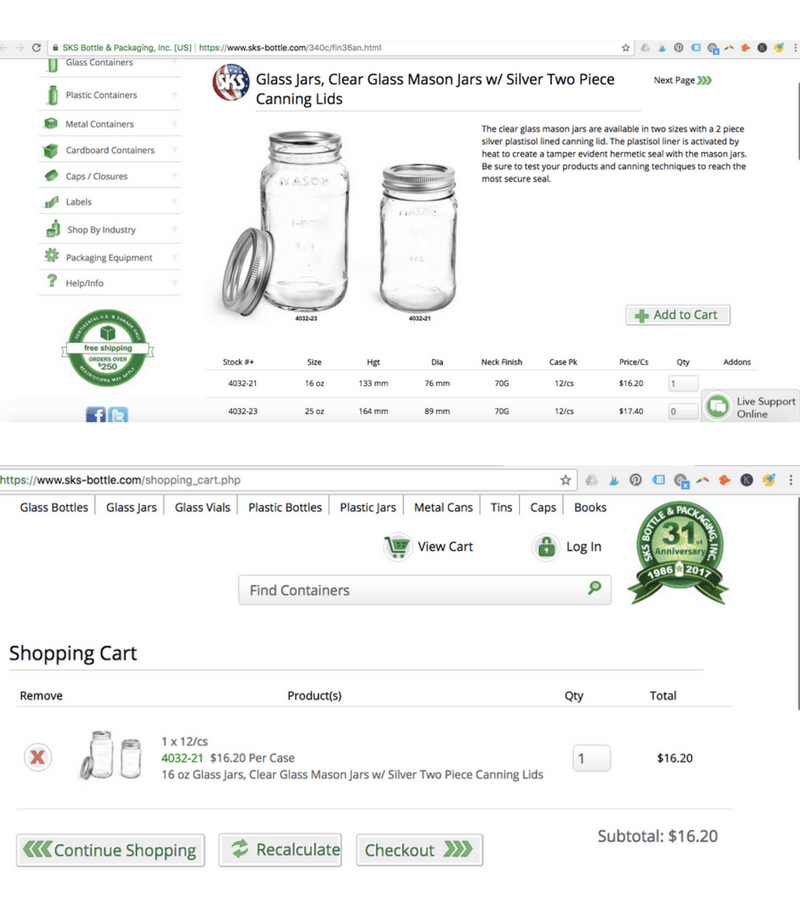 WHY MASSAGE THE KALE?
Raw kale has a tough, cruciferous exterior and is typically bitter. By massaging raw kale with lemon juice or olive oil, it literally breaks down the fibers and makes the kale more tender and sweet, plus much more easily digestible to your body. Unlike other more delicate leafy greens which tend to wilt and become soggy after chopping or physically "breaking" down, kale will keep it's soft but chewy texture without becoming mushy or too soft.
You can keep the massaged kale for a few days in the fridge and it won't get soggy, making it a perfect base for easy, on-the-go lunches. You need to massage the kale for at least a couple minutes, so roll up your sleeves, sing a song and give those fingers a good workout! 😉
---
---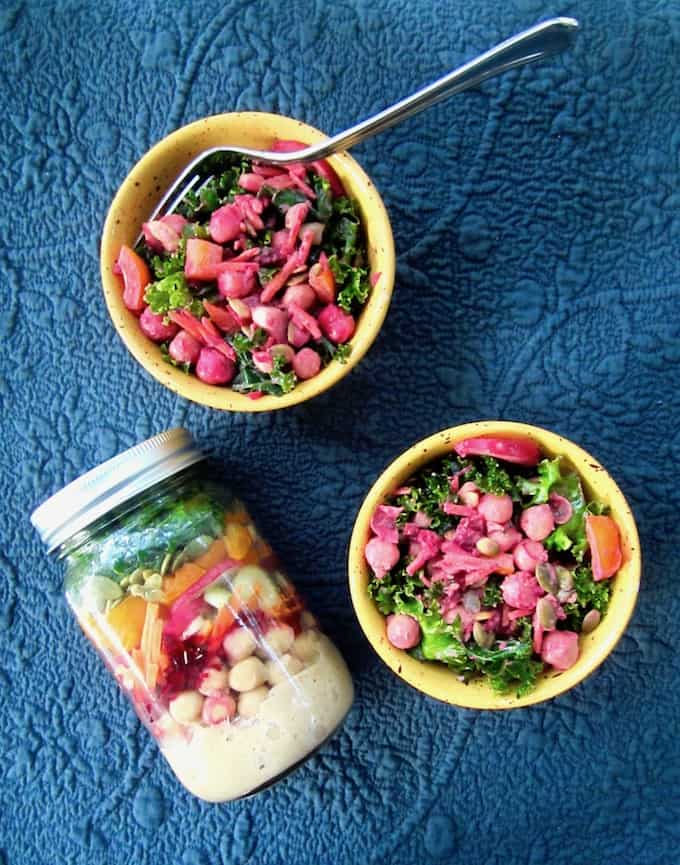 If you're looking for some make ahead lunch ideas or want to can some fruits/veggies this season, be sure to check out these SKS Clear Glass Mason Jars at SKS-Bottle.com for convenient storage options!
Have you hopped on the mason jar salad train? What do you love to put in your make-ahead salads? Let me know in the comments below! 
Sarah Newman, Vegan Chickpea
Makes 4 jars (plus extra dressing)
0
Make Ahead Lunch: Mason Jar Massaged Kale Salad + Chili Vegan Ranch Dressing
This colorful and nutritious salad is loaded with raw veggies, chickpeas and a delicious vegan dressing. Mason jars containers are a convenient, grab-and-go option for an easy make ahead lunch recipe!
30 minPrep Time
30 minTotal Time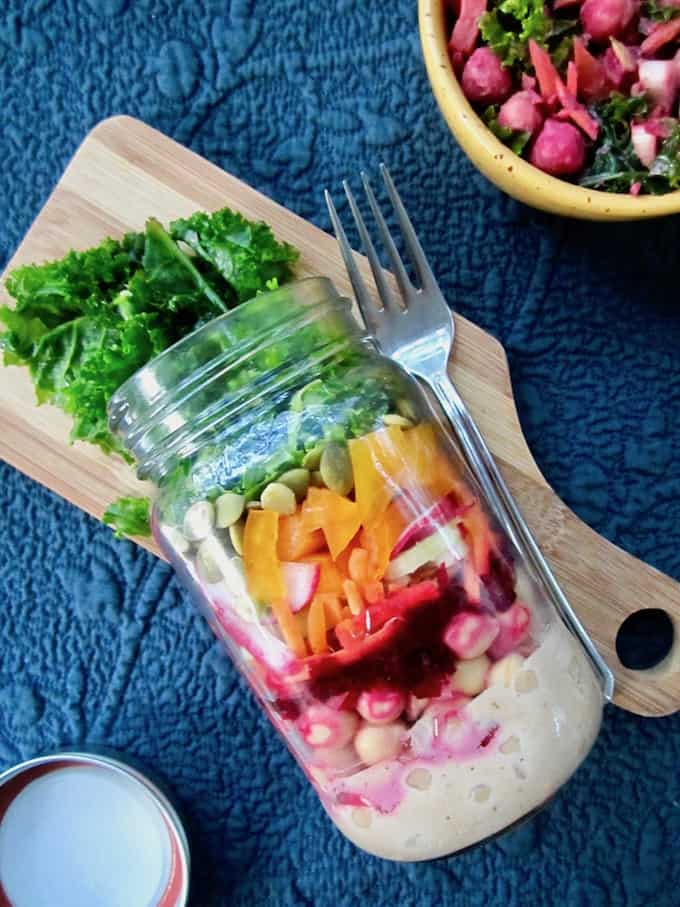 Ingredients
4 mason jars
8 cups PACKED torn kale (I bought precut to make easier; otherwise destem and cut or tear into pieces; this will seem like a lot of kale at first but it will wilt and get tightly packed into the jars)
2 tsp olive oil
1 lemon juiced
1/4 tsp sea salt
1 15-oz. can chickpeas
3/4 cup bell pepper, diced
3/4 cup shredded carrots
3/4 cup fresh beets, grated or small diced (about 2 small beets)
2 stalks celery, thinly sliced
3 radishes, thinly sliced
1/4 cup pumpkin seeds (1 Tbsp per jar)
NOTE - when I assembled my salads later, I enjoyed adding arugula, freshly sliced avocado, corn and extra dressing. You can of course put these ingredients in the jar too - how you compose these is up to you! (If you add other lettuces besides kale, don't massage those, just put them on top).

CHILI RANCH DRESSING: (makes 8 servings)

1 1/4 cups raw cashews*
3/4 cup water (or a little more)
1/3 cup extra virgin olive oil
1/4 cup apple cider vinegar
3 Tbsp lemon juice
3 Tbsp agave nectar or maple syrup (can sub some drops of liquid stevia for sugar free option)
2 cloves garlic
3 tsp onion powder
1.5 tsp chili powder (omit this ingredient if you want regular Ranch, not Chili)
1 tsp dried dill weed
1 tsp sea salt
Instructions
In a large bowl, combine the kale, olive oil, lemon juice and sea salt. Massage the kale with your hands for a few minutes. You'll notice the kale leaves will become softer and turn a darker green.
In a high speed blender, combine all ingredients for the Chili Ranch Dressing. Blend until smooth.
In the mason jars, put 2 Tbsp of the dressing in the bottom of each jar. Add in chickpeas, carrots, beets, celery, radishes, peppers. Next, add the pumpkin seeds. Finally, top with the kale. You may need to really push it down and squeeze it in there, but it will fit! (Note: You'll have extra dressing - store in the fridge for up to 5 days.)
Put on the lids and store in the fridge for up to 4 days. When you're ready to eat, remove the ingredients from the jar and mix in a bowl. (FYI - The beets will color everything pink!)
NOTE - when I assembled my salads later, I enjoyed adding arugula, freshly sliced avocado, corn and extra dressing. You can of course put these ingredients in the jar too - how you compose these is up to you! (If you add other lettuces besides kale, don't massage those, just put them on top).
Notes
*Time allowing, soak your cashews submerged in water in a bowl on the counter for at least 30 minutes. Drain the water, then add cashews to the blender. This helps the nuts digest easier in your body.
**You can make any substitutions you like for the vegetables and chickpeas (any bean or lentils will work!)
***To make this meal completely raw, omit the chickpeas.
The Ranch Dressing is from The Rawtarian (I added chili powder to her recipe for a different flavor)
7.8.1.2
65
https://veganchickpea.com/mason-jar-massaged-kale-salad-chili-vegan-ranch-dressing/
Sarah Newman, SKN Creations